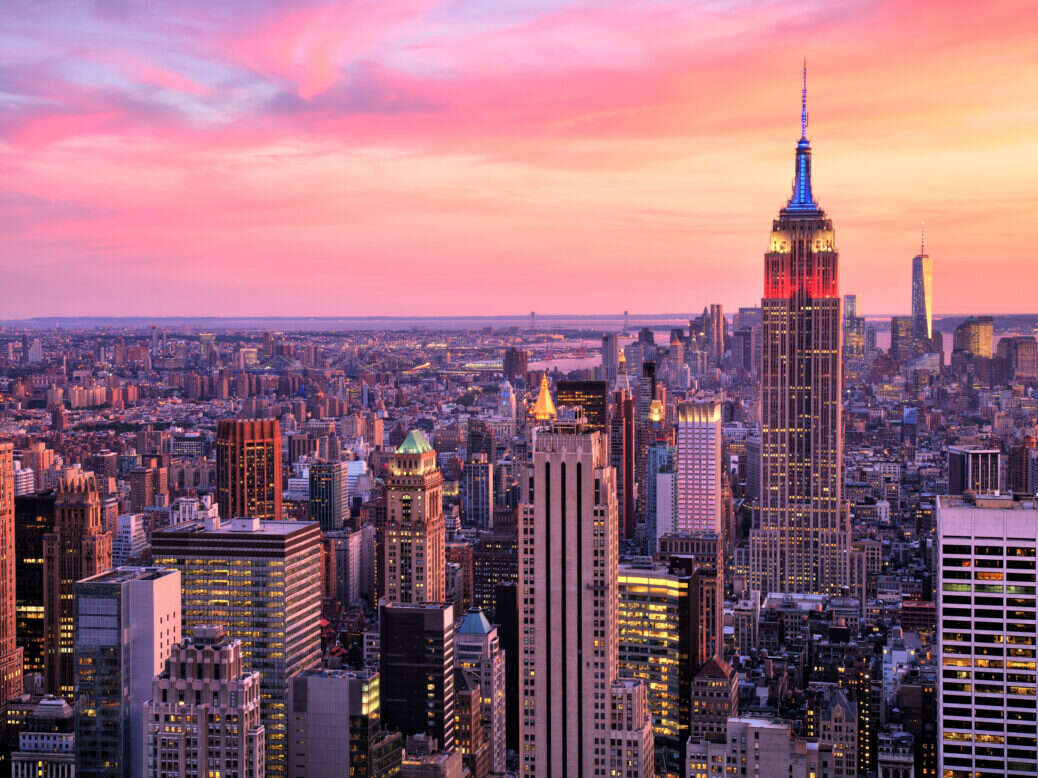 New York City is the metropolis that needs no explanation. There is no city quite like it; New York City demands our attention as much as she commands it, holding an ever-lasting presence in the global imagination. The epicentre of modern music, fashion, literature; technology, business, finance; and, naturally, fine dining. Regarding the latter, New York State's 68 Michelin Guide featured restaurants speak for themselves. With much more just as deserving of acknowledgement, rounding up the best restaurants of New York is as much of a gastronomic delight as it is a pleasurable challenge.
The globe's melting pot, New York's restaurant scene is just as vibrant and diverse as New Yorkers themselves. Whether it be street hot dog vendors or one-dollar pizza slices, 24 hour diners or iconic movie-referenced delis, this is the city that takes their eating as seriously as their partying. Outranked only by Paris, Osaka, Kyoto and Tokyo for Michelin stars, New York City – plus one addition upstate – is not only one of the best gastro scenes in the US, but across the world.
The City that Never Sleeps; the Big Apple; the Empire State; even simply, lovingly, NYC. Whether you're a born and bred 'Nu Yawker' or visiting both the city and the state for the first time, Elite Traveler has rounded up the best restaurants in New York you absolutely cannot miss out on.
[See also: The Best Hotels and Suites in New York]
Eleven Madison Park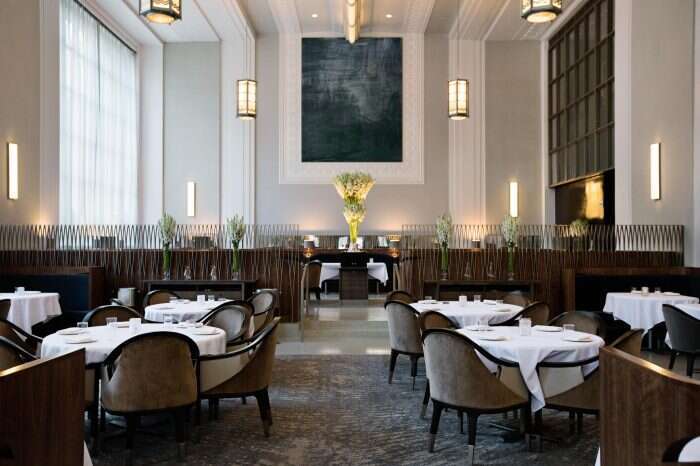 Eleven Madison Park, embodying urbane sophistication, serves modern French cuisine borne of Swiss chef Daniel Humm's obsession with simplicity and seasonal flavors, a passion that has taken this restaurant to the very top. Not just one of the best restaurants in New York, the three-Michelin-star eatery has been a regular presence in the top three of Elite Traveler's Top 100 Restaurants in the World and has also been crowned the No 1 restaurant at World's 50 Best. The restaurant's dramatically high ceilings and magnificent Art Deco dining room offer lush views of historic Madison Square Park. In addition to the main dining room, guests can also enjoy beverages from an inspired cocktail menu in the restaurant's bar area.
Last year, Humm made headlines around the world after announcing Eleven Madison Park would be going vegan. Following its lengthy closure due to Covid-19, Humm said the decision should help secure the future of the restaurant as well as the planet.
[See also: Top Suites in the World – Royal Suite, The Plaza Hotel]
Contact
Tel: +1 212 889 0905
Email: info@elevenmadisonpark.com
Website: elevenmadisonpark.com
Le Bernardin
Ever since the Michelin Guide started sending undercover reporters to New York, Le Bernardin has scored the top, triple-star rating. Chef Eric Ripert is a master of innovative seafood cuisine, creating fresh dishes subtle in the flavors of Europe and East Asia.
Both lunch and dinner are immaculately presented, and the seven-course tasting menu is outstanding. Head sommelier Aldo Sohm, named Best Sommelier in Austria four times since 2002 and Best Sommelier in the World in 2008, makes expert pairings from Le Bernardin's wine cellar. Art aficionados will love the décor, as the quality of the art pieces lining the walls gives the experience of dining in an art gallery rather than in a restaurant.
Contact
Tel: +1 212 554 1515
Website: le-bernardin.com
Daniel
Continually being praised by critics, and with two Michelin stars to boot, Daniel has become a standard-bearer for quality and excellence in food, atmosphere and service. Chef Daniel Boulud leads more than 30 meticulously trained cooks to prepare beautifully served seasonal cuisine. Daniel offers a variety of experiences from the tasting menu in the grand dining room, delectable cocktails in the intimate bar as well as made-to-measure events in the private dining room.
Contact
Tel: +1 212 288 0033
Email: danielinquiry@danielnyc.com
Website: danielnyc.com
[See also: Top Suites in the World – Suite 5000, Mandarin Oriental]
Per Se
Awarded three Michelin stars annually since 2006, this is one of the city's finest dining venues.
The cuisine, presentation, mood and surroundings all reflect chef Thomas Keller's perfectionist vision. With striking views of Central Park and its own fireplace and garden, the restaurant is a rare blend of open space and intimacy, offering discreet and understated luxury. Book a table in the 64-seat dining room or one of the two private dining rooms.
Contact
Tel: +1 212 823 9335
Email: nyinfo@perseyny.com
Website: thomaskeller.com
Jean-Georges
This quiet, romantic restaurant from culinary superstar Jean-Georges Vongerichten is loaded with awards: two Michelin stars, four New York Times stars, five diamonds from AAA and a coveted spot on the list of Les Grandes Tables du Monde.
To rival these accolades are the spectacular views of Columbus Circle through the restaurant's huge windows. Private dining and buyouts of the main dining room are available for a more exclusive experience in this world-renowned restaurant.
Contact
Tel: +1 212 299-3900
Website: jean-georges.com
Momofuku Ko
At Momofuku Ko (which means "son of"), guests are served a set multi-course tasting menu along a kitchen counter.
Chef Sean Gray uses seasonal ingredients and changes the menu frequently based on market availability. Ko has two Michelin stars, which it has retained for over a decade.
Contact
Tel: +1 212 288 0033
Website: ko.momofuku.com
Masa
Don't expect to order from a menu at Masa: Chef Masa Takayama creates dishes and serves guests as he pleases, using a wide array of exquisite and exotic ingredients, often flown in from Japan.
The three-Michelin-star chef does consider your personal tastes, however, waiting for your response to the first taste of his sushi before tailoring the rest of your omakase meal. There's only one seating for a meal at the 26-seat Masa, and your culinary experience could last up to three hours.
Contact
Tel: +1 212 823 9807
Email: reservation@masanyc.com
Website: masanyc.com
Marea
Dedicated to serving seasonal seafood cuisine, Marea – meaning 'tide' in Italian – is a restaurant not to be missed. The all-encompassing menu includes fusilli with red wine braised octopus and bone marrow and grilled Mediterranean cuttlefish.
As well as offering an abundance of seafood and Chef Michael White's famous housemade pasta, Marea also offers a mesmerizing array of wines and cocktails. The wine list is large – although not exclusively – drawn from Europe and is overseen by sommelier extraordinaire Francesco Grosso.
Contact
Tel: +1 212 582 5100
Email: info@marea-nyc.com
Website: marea-nyc.com
Chef's Table at Brooklyn Fare
Based in an upscale grocery store, this is Brooklyn's only three-Michelin-starred restaurant.
Chef Cesar Ramirez – who trained under Tribeca's David Bouley – introduces each of the 20-plus courses personally and is on hand for the duration of the meal.
The diners (18 in all) peer straight into the kitchen from their seats along a U-shaped stainless steel counter. From king crab with yuzu marmalade to fried monkfish liver with sansho, the menu is a parade of Japanese-influenced oceanic delights, updated on a near-daily basis.
Contact
Tel: +1 718 243 0050
Email: chefstable@brooklynfare.com
Website: brooklynfare.com
The Modern
Situated in the Museum of Modern Art, the food at The Modern is as carefully crafted as any of the works on the walls. Head chef Thomas Allan has created a menu filled with refined, contemporary dishes in a restaurant where diners look out on the stunning Abby Aldrich Rockefeller Sculpture Garden.
The menu is seasonal and therefore ever-evolving and is complemented by desserts from a dedicated pastry chef and an award-winning wine program. Its consistent excellence has seen earn two Michelin stars, a three-star review in the New York Times, four James Beard Awards, and the Grand Award from Wine Spectator.
Contact
Tel: +1 212-333-1220
Email: info@themodernnyc.com
Website: themodernnyc.com
L'Atelier de Joël Robuchon
The late, great Joël Robuchon's incredible legacy continues to shine brightly at this wonderful destination restaurant located just a stone's throw away from the aforementioned restaurant Del Posto.
Located in the heart of New York's Meatpacking District, this L'Atelier continues to befit a chef who held 32 Michelin stars in his lifetime. The concept was originally conceived in Paris' Saint-Germain neighborhood in 2003, but L'Atelier continues to bring bundles of energy and creativity to French cuisine.
The restaurant is fitted out with a signature red-and-black color scheme and a pristine open kitchen. Diners can expect excellent cuisine and lavish ingredients such as foie gras, truffle and caviar. Even the bread adds to the luxurious feel and is baked daily by their very own master Boulanger.
Contact
Tel: +1 212 488 8885
Website: joelrobuchonusa.com
Sushi Nakazawa
Daisuke Nakazawa remains one of the most renowned sushi chefs in the world and he puts his skills to the test at this trendy West Village bar. His passion for sushi is evident in the 20-course meal that changes on a daily basis. Ingredients are sourced both domestically and internationally to create dishes within the style of Edomae sushi.
The food at Sushi Nakazawa is unmistakably fine dining but the atmosphere here is far more relaxed than its contemporaries. Nakazawa aims to keep diners relaxed in a chic and informal environment and likes to put on a show from the open sushi bar.
Contact
Tel: +1 212 924 2212
Website: sushinakazawa.com
Le Coucou
American chef Daniel Rose broke significant boundaries in 2006 when he took Paris, the home of fine dining, by storm with his tiny 16-seat restaurant Spring. His modern approach to classic French techniques was a huge hit and he returned to the US and opened Le Coucou where he has brought a once stale cuisine back into the limelight.
There is a significant difference between Spring and Le Coucou. With its vaulted ceilings and shimmering handblown chandeliers, Le Coucou looks more in keeping with traditional Haute cuisine. The menu combines French classics with a modern American approach that appeals to both the classic crowd as well as trend-setting Millenials and is good enough for one Michelin star.
Contact
Tel: +1 212 271 4252
Email: lecoucou.info@starr-restaurants.com
Website: lecoucou.com
Blue Hill at Stone Barns
Opened in 2000 in Greenwich Village before moving Upstate to Tarrytown, Blue Hill has been producing high-quality fare for almost two decades. Executive chef Dan Barber was one of the pioneers of the Farm to Fork method and to this day most of the menu's ingredients are sourced locally from Westchester County and the eponymous farm in Massachusetts. It was awarded two Michelin stars in 2019 following Michelin's decision to extend the New York guide Upstate (some say specifically because of Barber's restaurant).
The refined menu allows the ingredients to speak for themselves. Ever changing to reflect the seasons and subsequently available harvest, a sample menu includes beautiful dishes such as softshell crab, celtuce, rhubarb and ramps and Stone Barns grass-fed beef, stew of peas, lovage and fiddlehead ferns.
Contact
Tel: +1 212 539 1776
Email: reservationsnyc@bluehillfarm.com.
Website: bluehillfarm.com/dine/new-york
Rezdora
This pasta-centric Italian eatery has only been open for a year, but it is already a staple of Flatiron's dining scene. Chef Stefano Secchi has wowed New Yorkers with his range of seasonal pasta dishes, and he returns with a new selection of summer-centric delights. Enjoy dishes such as spaghetti allo scoglio (ink spaghetti with seafood) and duck ragu. The restaurant's meteoric rise was confirmed when it was awarded its first Michelin star in the 2021 guide.
Website: rezdora.nyc