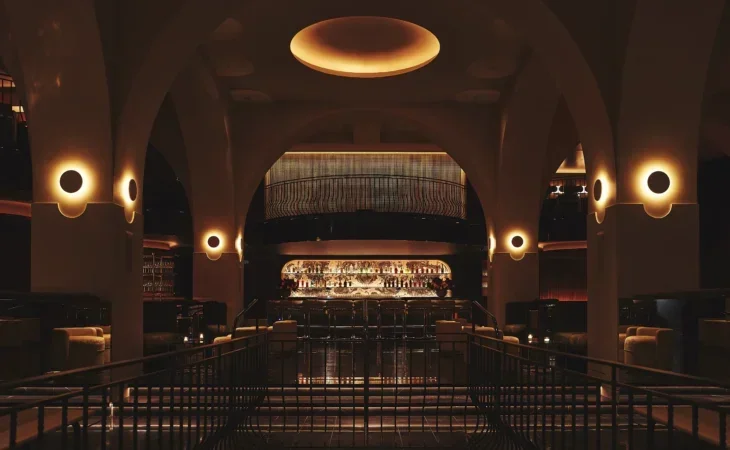 When Chelsea's Del Posto restaurant closed last year, a huge hole (literally – the restaurant covered over 20,000 sq ft) was left in New York City's fine-dining scene. Fortunately, a new lease of life is being injected into the space with the opening of Al Coro – a fun-loving but decidedly upmarket Italian by chef Melissa Rodriguez.
Aiming to separate itself from the controversy that tainted its predecessor in its final years, Al Coro is a fresh take on those often-raucous celebratory restaurants that NYC loves so much, with a firm focus on exquisitely prepared and expertly executed Italian fare.
Al Coro is the second of three dining and drinking concepts that will find a home in the old Del Posto space, found on 85 10th Avenue. Mel's – an upmarket pizzeria – began welcoming guests earlier this year, while Discolo – a lower-level cocktail bar – is set to open shortly. Together the trio marks a new era for this iconic space, with new ownership promising a far brighter future.
[See also: The Best Restaurants in New York City]
Chef
Melissa Rodriguez studied at the Culinary Institute of America before beginning her professional career at New York favorite, Oceana – an upscale seafood-forward restaurant in Midtown. Next on her resume was an impressive stint at Daniel Boulud's iconic two-Michelin-starred Daniel, where she began as line cook before climbing the ranks to become sous chef.
In 2011, Rodriguez made the move to Del Posto, eventually becoming executive chef in 2013. When Del Posto announced in 2021 that it would not reopen following its pandemic-induced closure the previous year, Rodriguez partnered with the restaurant's former manager Jeff Katz to take the space on as their own.
As chef-owner, Rodriguez will be afforded the freedom to share her own brand of fun yet traditional Italian fare, with a focus on local ingredients and celebratory dining. Under Rodriguez will be executive pastry chef Georgia Wadder, and chef de cuisine Katherine Rock.
[See also: A Guide to All Three-Michelin-Starred Restaurants in the US]
Menu
While Al Coro is undeniably fine dining, it's authentically Italian, too. This means in place of teensy-weensy small plates, the menu abounds with hearty yet refined dishes, ranging from the simply prepared to the more experimental. It's set menu only (five or seven courses), with each sitting kicking off with a plentiful selection of mouthwatering appetizers to share, from Fried artichokes with colatura caramel, candied lemons, pickled red onion and mint, to Market giardiniera with spring vegetables and pecorino frico.
The primi pasta dishes are served individually, with Rodriguez pulling inspiration from across Italy's regional culinary traditions: there's Sicilian Culurgiones stuffed with potato, fontina, mascarpone with caviar butter sauce and razor clams, as well as north-western Corzetti with roasted garlic and pine nut butter, morel ragout, and fava leaves.
[See also: The Most Exciting Foodie Cities to Visit in the US]
Heartier mains are once again communal, with a selection of fish and meat dishes served to the table. Classic Italian desserts, including a Tartufo with layers of strawberry and vanilla mascarpone with a molten strawberry cardamaro caramel center, will round off an indulgent dining experience.
As is becoming the standard, chef Rodriguez will look to the seasons when crafting her dishes, with each of her bi-monthly menus dictated primarily by what she can get her hands on at market.
[See also: Nikutei Futago Arrives in New York City]
Interiors
New York-based architecture firm MN has taken the notoriously cavernous room and transformed it into a decidedly more elegant space befitting its new identity with arches added between the room's soaring columns to create more intimate, private pockets of space for diners.
But while Al Coro's dining room is now less overwhelming than its predecessor, it's still undeniably a restaurant for groups. Of its 150-covers, most are on large ten-seat tables encouraging big, party-style dinners with friends and family – just as is the custom in Italy.
The design itself is suitably stylish, with a rich, moody color scheme warmed up with low-level lighting and plush, curved soft furnishings. A backlit stone bar at the back of the restaurant invites diners in, with the above balcony playing host to a live band that will perform each evening.
Al Coro restaurant, 85 Tenth Avenue, New York, NY 10011, alcoro-nyc.com