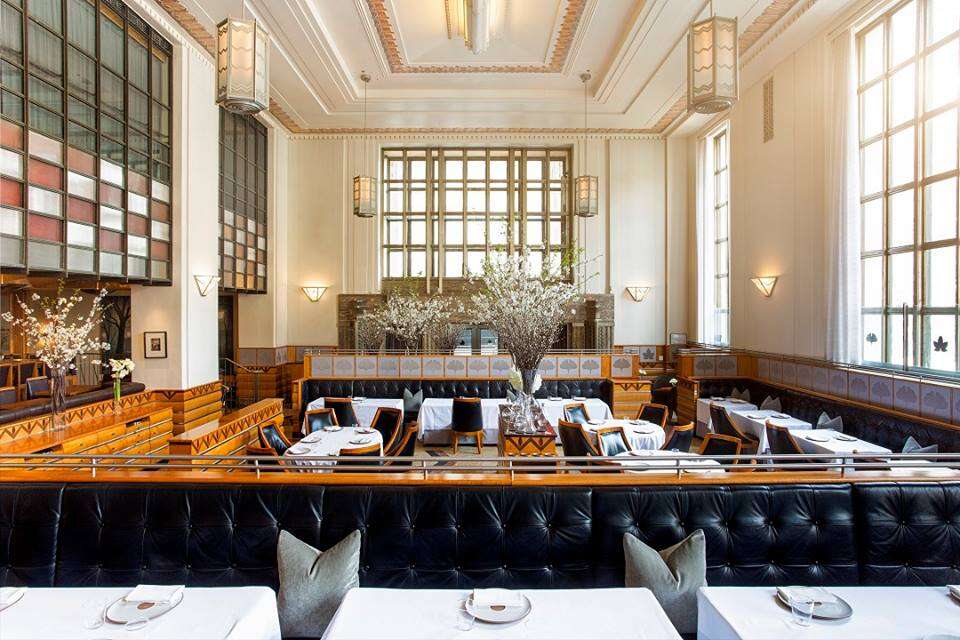 Boasting over 200 Michelin star restaurants, the USA has one of the most incredible fine dining scenes on the planet. Each year, the prestigious dining guide sends its inspectors out to all corners of the country including New York, Los Angeles, Chicago, Florida and Washington DC. While 172 gourmet eateries currently hold a single star in the 2022 guide, just 13 restaurants in the managed to scoop the coveted three-star accolade. In order to impress the inspectors, the talented chefs behind these venues have pulled out all the stops crafting exceptional menus of the highest standard. Here, Elite Traveler takes a closer look at all of the three-Michelin-star restaurants in the USA to understand what it takes to make a mark in the world of fine dining.
[See more: The Chefs with the Most Michelin Starred Restaurants]
California
SingleThread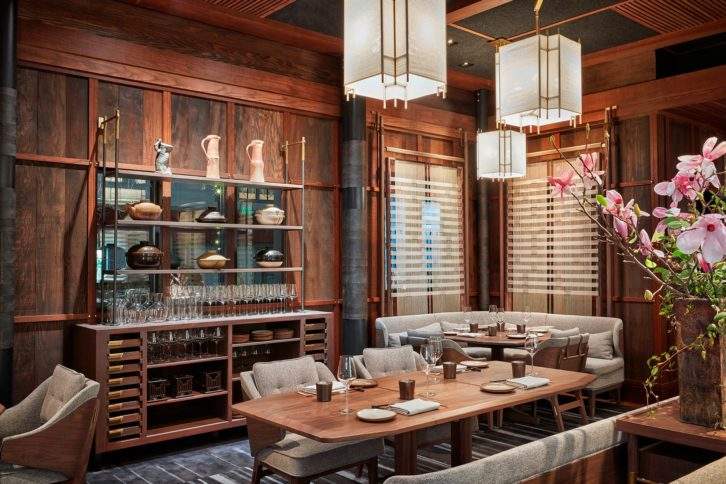 Kicking off our list of  three-Michelin-star restaurants in the USA is Healdsburg's SingleThread. The eatery offers an 11-course tasting menu, tailored to harness seasonal ingredients (many sourced from the nearby farm of owner Katina and Kyle Connaughton), and to anticipate the desires of the diners attending. Chef Kyle Connaughton burst into the cooking arena in 2016, gaining three Michelin stars not long after in 2019. The price of a dinner for two approaches $1,000, giving the possibility of a specialty such as pumpkin tartare with Dungeness crab, smoked Ora king salmon with Arctic char roe topped off with Japanese cheesecake. The restaurant is part of SingleThread Farm, a hotel-restaurant, providing the perfect spot for a weekend splurge of luxury.
Manresa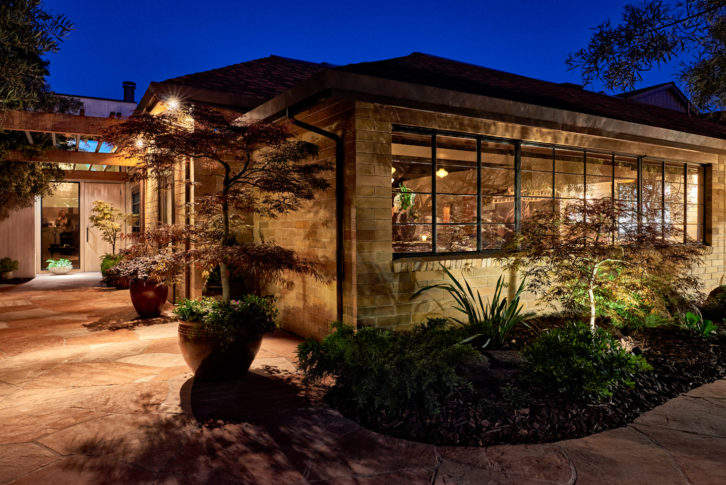 Founded in 2002 by its chef David Kinch, Manresa strives to perfect the art form of cooking. Its specialty of lightly smoked striped jack, brassicas; sweetbreads, mushroom, toasted levain soup and milk chocolate, kuri squash with toasted milk, is just one example of the kinds of compositions that could be placed before you; a mystery until they arrive. At a charge of $185 per person, with three Michelin stars awarded to it in 2016, this Los Gatos restaurant has continued to impress ever since. Specializing in Californian cuisine, Manresa creates an elite, yet highly hospitable space where the finest ingredients to create the finest foods are the priority.
Atelier Crenn
This San Francisco beauty is a French-inspired culinary haven with seafood as a key focus. With its tasting menu (costing around $335) written as a poem, the atmosphere of artistry is one that engulfs the space. Chef Dominique Crenn received three Michelin stars in 2019 and has earned the award "best female chef in the world". She transforms cooking into one of many art forms making a more colorful world for her diners; her father's paintings adorn the walls of the room, musings texture the fabric of the website, and the food blends into the expressive wonder that Atelier Crenn unlocks.
Benu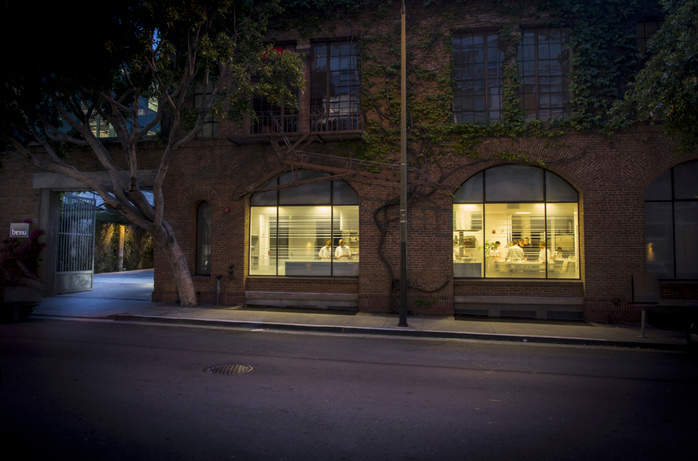 Chef Corey Lee has created what Michelin Guide names "an oasis in the heart of the city" of San Francisco. His influences are Korean, Cantonese and many more, priding himself on his elegant intermingling of Asian and Western cuisine cultures. Benu was awarded three Michelin stars in 2014 and has striven to retain them ever since. With a menu costing $325 per person, and a wine list with a selection of over 300 options, luxury is something in the foundations of Benu. This however is in no way at the expense of its relaxed, welcoming atmosphere, easing its diners into tranquillity with its culinary comforts.
Quince
Sourcing local ingredients from West Marin County and North California, with their own farm under an hour away, Quince emphasises the importance of "a true sense of place and season" in their food. Boasting three Michelin stars since 2017, head chef Michael Tusk, along with Chef de Cuisine Neil Stetz, explores Californian contemporary cuisine, charging around $198 per person (without wine). Situated in San Francisco's Jackson Square, Quince revels in the attentive, diligent service that it provides for its diners. With a focus on nature, and the team working together to produce the best experience possible, Quince will take you on a journey that will be hard to forget.
The Restaurant at Meadowood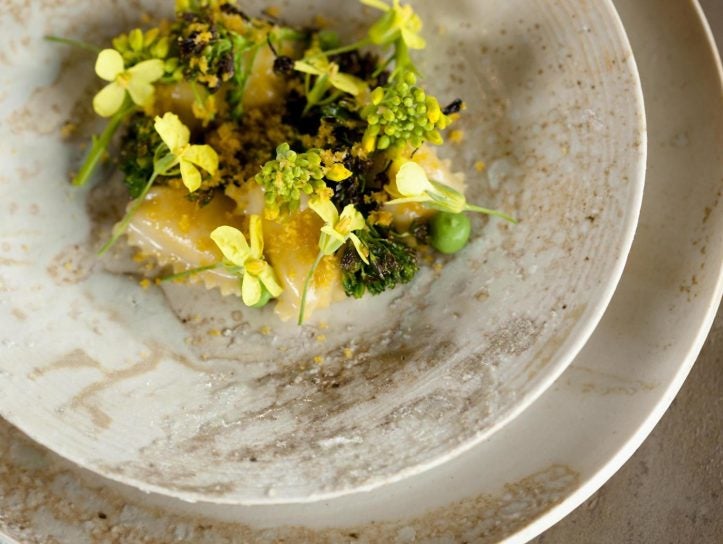 The USA sadly lost one of its much-loved three-Michelin-star eateries last year when The Restaurant at Meadowood in Napa Valley was destroyed during the wildfires. Nevertheless, we think it deserves an honorary mention on our list. Adorned with three Michelin stars in 2011, the fine dining establishment was known for nurturing special relationships with artisans, growers and foragers to positively impact the local community.
With courses and costs ranging from 10, $275, to 20, $500, The Restaurant at Meadowood spared no expense in its delivery. Head chef Christopher Kostow explored the evocative side to cooking, with specialties such as charred spiny lobster; squab pithivier and chocolate pinecone, carving out a culinary treasure hunt for diners. The talented chef is in the process of rebuilding the restaurant and will no doubt be eager to secure his eatery's place on the coveted list once again on reopening.
[See also: The 16 Best Wine Hotels in the World]
The French Laundry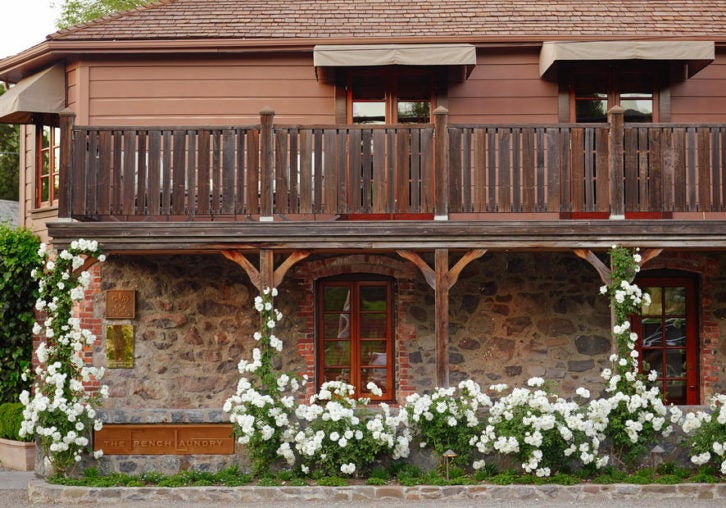 Part of the Thomas Keller Restaurant Groups, The French Laundry was awarded three Michelin stars in 2007, making Keller the only US-born chef with two three-Michelin-star restaurants. Along with the chef de cuisine, David Breeden, Keller perfects the French cuisine in this picturesque abode, whispering of a bucolic paradise from a time gone by. The daily-changing tasting menus cost $350 per person, whilst the service, striving to match the impeccable food allows the experience to run as smoothly as possible. This establishment has been distinguishing the Napa Valley since 1994, putting Yountville on the map for more than its breathtaking surroundings.
[See more: The Most Iconic Restaurants of the Elite Traveler Era]
Chicago
Alinea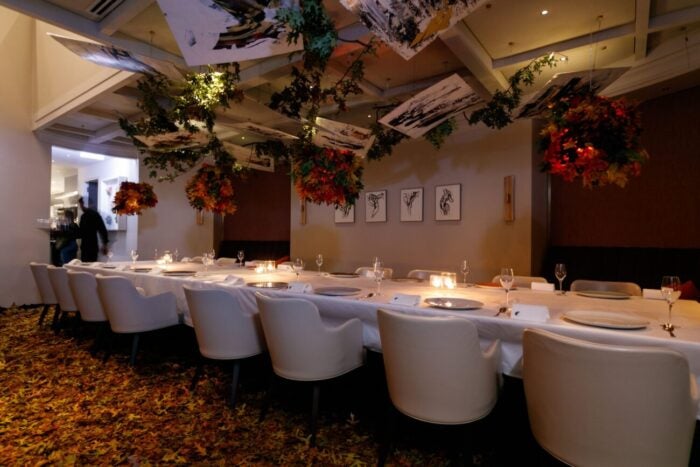 Alinea, located in the heart of Chicago, is a restaurant that aims to do food differently. With one of its seating areas promising an "intimate, immersive and cutting-edge experience", and another a "multi-sensory" menu, its chef Grant Achatz has set out on a mission of exploration. It has held three Michelin stars since 2010, and with menu options ranging from $210 to $395, it offers both tasting courses and fine dining to leave you completely fulfilled in your culinary needs. A sense of adventure just waiting to be unleashed lies behind their dishes such as their specialty of scallop noodle with Thai curry sauce and dried scallop tuile, beef rossini, Miyazaki tenderloin with foie gras, truffled jus, and French fry emulsion, and wood, hoja santa ice cream with tamarind meringue, grilled pineapple, and white chocolate crumble.
New York
Le Bernardin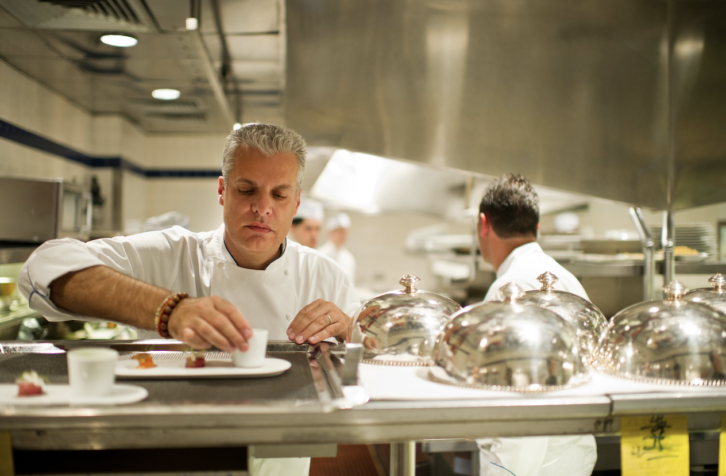 With courses ranging from $93 to $228 (the chef's tasting menu), Le Bernardin's head chef Eric Ripert provides meals echoing the French and Spanish influences that shaped his passion for food when he was a child. With seafood as the focus, highlights such as kampachi sashimi with crushed Niςoise olives, seared langoustine with balsamic-truffle vinaigrette and mont blanc have earned this New York City stunner an array of accolades. This includes three Michelin stars, which it gained in 2006 and has held ever since. Ripert identifies our emotional connection to food as a key aspect driving his work and identifies his ambition as that of creating an experience for his diners to remember.
Per Se
This New American, Manhattan-based restaurant prides itself on its innovative French flavors and techniques striving for culinary excellence. It is owned by the impressively accredited Thomas Keller, with Corey Chow as its chef de cuisine, ensuring the highest standards that are expected to accompany the Keller name. Awarded three Michelin stars in 2006, it has held on to its "worth a special journey" status since then. Starting at $325, you can relish the nine-course chef's taster menu, or head into the Salon for a sample without a reservation. Their specialty of Hawaiian heart of peach palm bavarois, herb-roasted Scottish langoustine and banana gelato with dulce de leche is just the beginning of Per Se's taste sensation.
[See also: Clare Smyth on Making her Mark in the World of Fine Dining]
Masa
Next up on our list of three-Michelin-star restaurants in the USA is Masa, a Sushi Japanese eatery that gained the coveted accolade in 2009. Dinner for one costs nearly $600, unsurprisingly earning it the title of the most expensive restaurant in the US from 2005 to 2009, according to Forbes. Chef Masa Takayama concocts sushi of the highest standard; dishes that leave you dumbfounded by their subtlety, bringing the palate to life through their intricate flavors. The specialty is Toro tartare with caviar, striped Jack nigiri and Yuzu sorbet, giving just a small sense of the sensation symphony this establishment seeks to provide.
Eleven Madison Park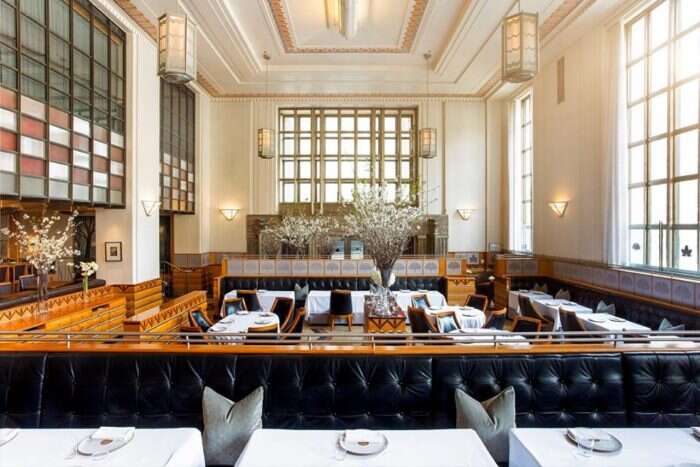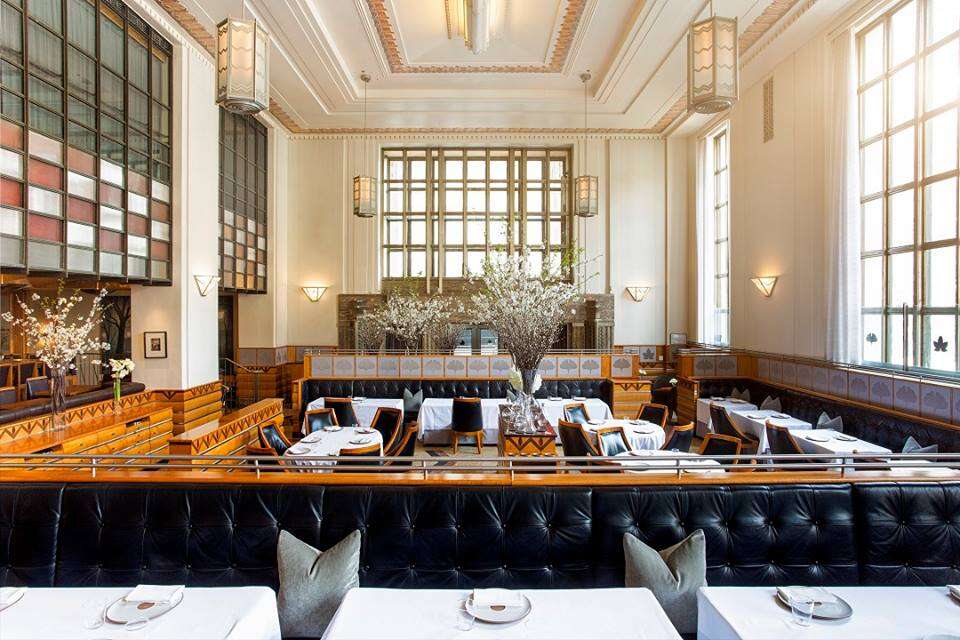 Overlooking Madison Square Park, this fine dining gem boasts the accolade of being named top of the list of The World's 50 Best Restaurants in 2017. The owner and head chef Daniel Humm, along with chef de cuisine Brian Lockwood, draws on culinary agricultural traditions of New York to fashion their modern inventions that nod respectfully to the legacy from which they came. Gaining three Michelin stars for the second time in 2018, Eleven Madison Park's lunch and dining taster menus cost $315. But that would be if you did not look at the wine list, another part of the establishment that is glittering with accolades.
Chef's Table at Brooklyn Fare
The first New York City restaurant outside Manhattan to receive three Michelin stars (back in 2012), Chef's Table at Brooklyn Fare is Japanese-French inspired and presents a personalized take on dining. Chef César Ramírez delivers a careful tasting experience, focussing on natural flavors; the price of his tasting menu is just shy of $400. Their specialty of uni toast, kinmedai with ginger and turnip sauce and frozen souffle shows Ramírez's leaning towards the perfect handful of ingredients, rather than overwhelming his diners with an abundance of inessentials. Tucked away in Brooklyn, this is a treasure waiting to be found.
Washington D.C.
The Inn at Little Washington
Last but by no means least on our list of three-Michelin-star restaurants in the USA is The Inn at Little Washington. The eatery creates a moment of pure, unadulterated indulgence for its diners; with voluptuous rooms flooded with luxurious decoration, dishes of the finest order, and an award-winning wine cellar harboring 14,000 bottles. Chef and owner Patrick O'Connell garnered three Michelin stars in 2018 (amongst his numerous other accolades) and strives to produce a modern cuisine for modern times- "healthy, eclectic, imaginative…and always growing". At a price of $315 per person, in the shadow of the Blue Ridge Mountains, a diner looking for the finest things in life can surround themselves with the fantastical, and perhaps even stay for the night if they wanted more.
[See more: A Guide to All Three-Michelin-Star Restaurants in the UK]