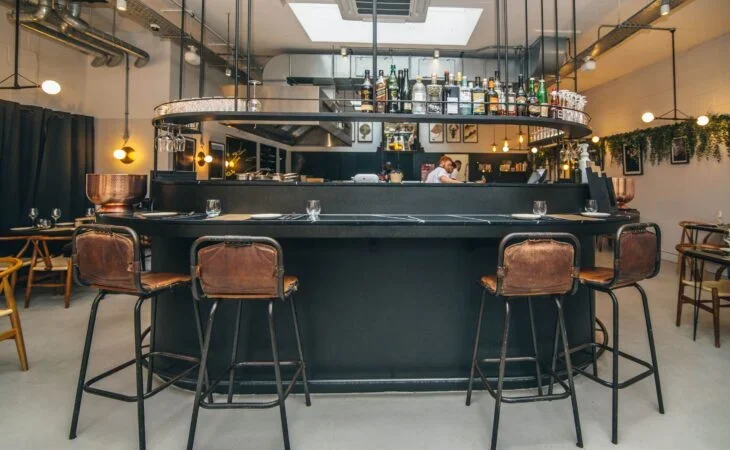 A few weeks ago, we implored you to leave the comforts of Zone 1 and head east to discover more of London's culinary delights. Now, we're encouraging you to go even further than the illustrious Da Terra, all the way out to Hackney Wick, where you will find the unassuming but brilliant Cornerstone – a little restaurant showcasing the very best of British seafood.
Although the restaurant entices gourmands from across the city – and beyond – it is at heart a neighborhood restaurant, sitting next to a quintessential Hackney (see: uber-cool) coffee shop, bar and café, where locals sit outside until sundown. Inside the restaurant, things are a little more refined, with a team of young chefs churning out some seriously impressive dishes.
Although Cornerstone first opened in 2018 to much acclaim, it wasn't until 2021 that its efforts were rewarded with a Michelin star, which it then went on to retain in the 2022 guide. Now, it's a mainstay for discerning Londoners who want fine dining without the fuss.
[See also: The Best Restaurants in London]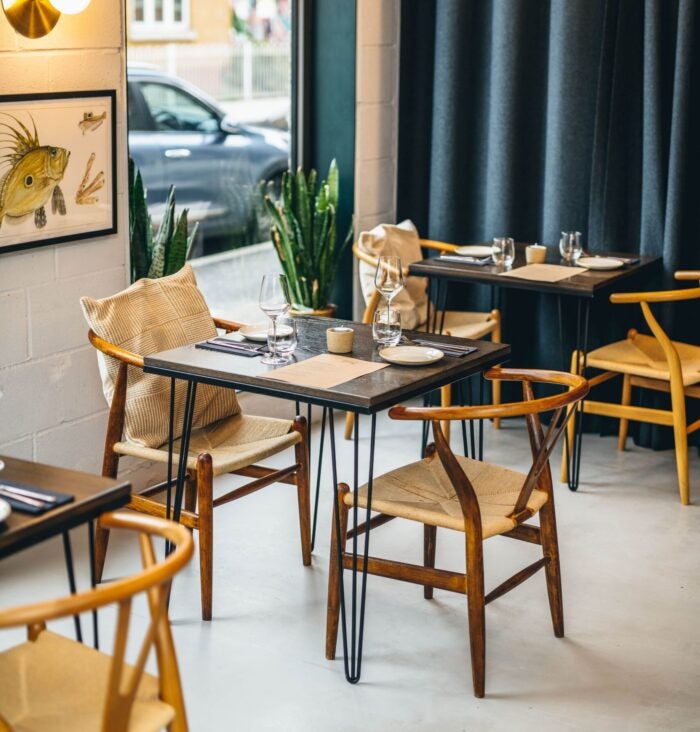 Chef
Head chef Tom Brown started his culinary career hopping around restaurants in his home county of Cornwall, before finding a more permanent home as Nathan Outlaw's St Enodoc Hotel restaurant in Rock, where he was quickly promoted to head chef.
A relocation to London saw Brown continue under Outlaw's wise leadership in another head chef role at his eponymous Michelin-starred restaurant at The Capital Hotel, before he eventually went solo with the opening of Cornerstone in 2018.
Brown is also something of a television chef, having been a finalist on the UK's Great British Menu TV show in 2018, before returning the following year as a guest judge.
Menu
Cornerstone's menu is rooted in a celebration of premium British ingredients, with simply prepared yet expertly executed dishes. Brown's flavor inspiration is clearly global – some dishes home in on Asian influences while others are firmly European, coming together to create an offering that is accomplished and confident. And, with a Cornish head chef at the helm, it should come as no surprise that seafood is the star of the show here.
[See also: Trivet Restaurant, London: A Post-pandemic Success Story]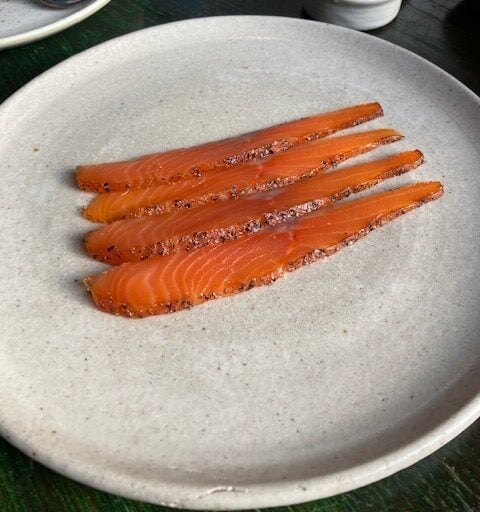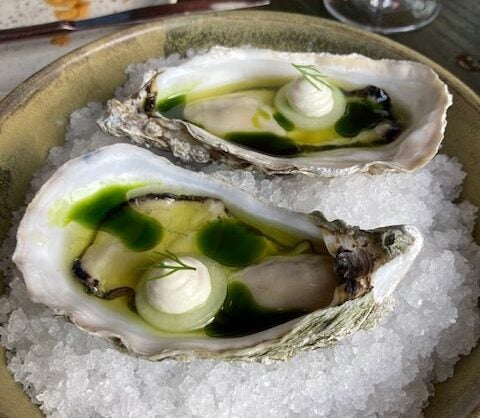 There is an a la carte choice, but naturally, the Chef's Selection menu, which showcases (about) eight dishes, is the best way to get to grips with this restaurant's character. As is becoming the standard, every course is served to share, so it's probably best to only visit with someone you're very comfortable arguing over the last bite with.
Menus change regularly depending on seasonal availability, but our evening began with an amuse-bouche of golden bite-sized choux buns filled with creamy mackerel pâté, followed by perfectly warmed and impossibly soft bread with a crab and miso butter, as well roasted crab shell and balsamic oil. This is wonderfully messy sharing food, that won't raise an eyebrow if you use a finger to get the last bit of goodness off the plate.
The signature Chalk Stream trout pastrami is a little more refined, with four vibrant slithers neatly lined in a row, as are the pickled oysters, served on ice with delicate cucumber and dill, and finished with a fiery dollop of horseradish.
Injecting a level of fun to the dining experience is the DIY soy and sea bream tartare, served underneath a satisfyingly pop-able egg yolk and sprinkled with seaweed. It's tartare as you've never had it before, and you're unlikely to return to beef in a hurry. The creativity continues with the cured gurnard, served in a creamy almond milk gazpacho, with a good dose of crunchy texture courtesy of fresh green apple, grapes and smoked almonds.
[See also:A Guide to All Three-Michelin-Star Restaurants in the UK]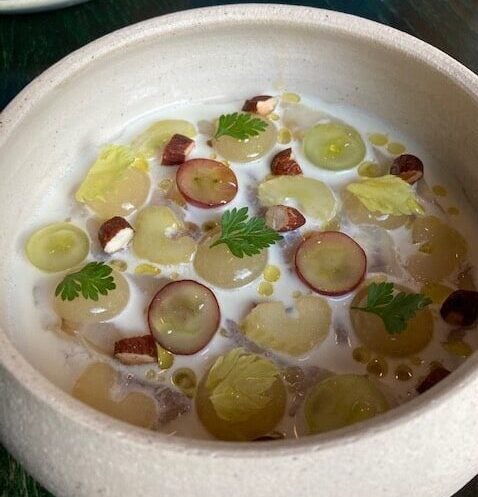 Next come the more substantial (but still sharing) larger plates: a slab of flaky hake, stuffed with an oozing pesto butter, wrapped up in crispy panko breadcrumbs and balanced on an impossibly green spoonful of basil emulsion; and Cornerstone's take on a Chinese bao bun – a pillowy bun filled with crab and served with fennel kimchi and gooseberry hoisin.
Desserts of a generous slice of Colston Basset stilton with an apricot tart, and baked cheesecake with peach, raspberries and vanilla are overshadowed by their predecessors, but that's okay – savory dishes are the well-deserving main characters at Cornerstone.
The Chef's Selection menu can be accompanied by a carefully prepared wine pairing. Diners are talked through a journey around Europe and beyond by sommelier Nicola with every glass poured. Each bottle has been chosen to showcase exciting new wines with a focus on natural, organic and biodynamic varieties. It should be said, however, that with the admirable championing of British produce on the food menu, it was a shame to not see any English wines in the pairing.
[See also: Native at Browns: Zero-Waste Dining with a Luxury Edge]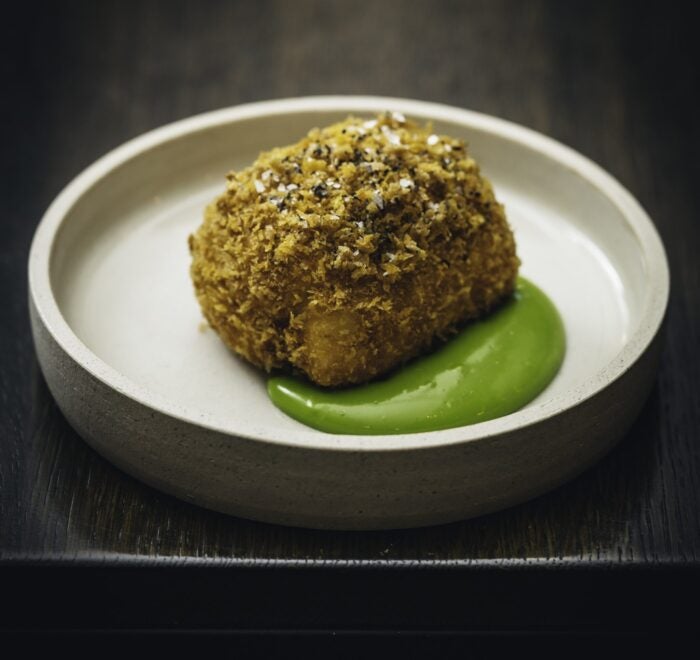 Interiors
Designed and executed by east London architect firm, Holland Harvey, the décor at Cornerstone restaurant seemingly mirrors the food coming out of the kitchen: casual and laidback, but with a serious amount of thought and care behind it.
Centered around a bustling open kitchen, the 36-seater restaurant has an undeniably industrial vibe with striking white concrete flooring and exposed metalwork, but a few careful touches soften the aesthetic. Gray felt curtains, for example, cover the exposed breezeblock walls to prevent any unwelcome echoing and comfy cushions welcome guests to their seats.
For a better look at the kitchen action, book one of the four counter-bar seats, or for group get-togethers, reserve the impressive 5000-year-old oak table, which has room for a party of ten.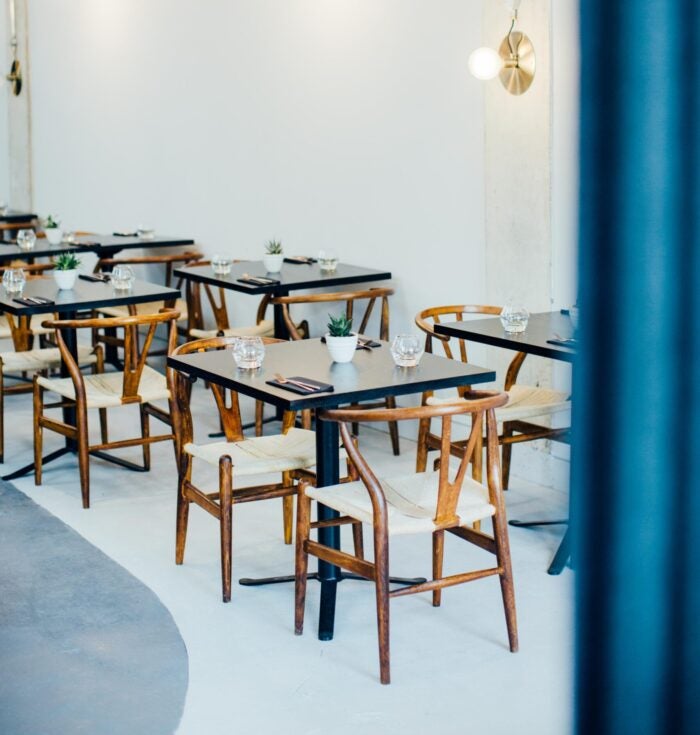 3 Prince Edward Road, Hackney Wick, London, E9 5LX, cornerstonehackney.com