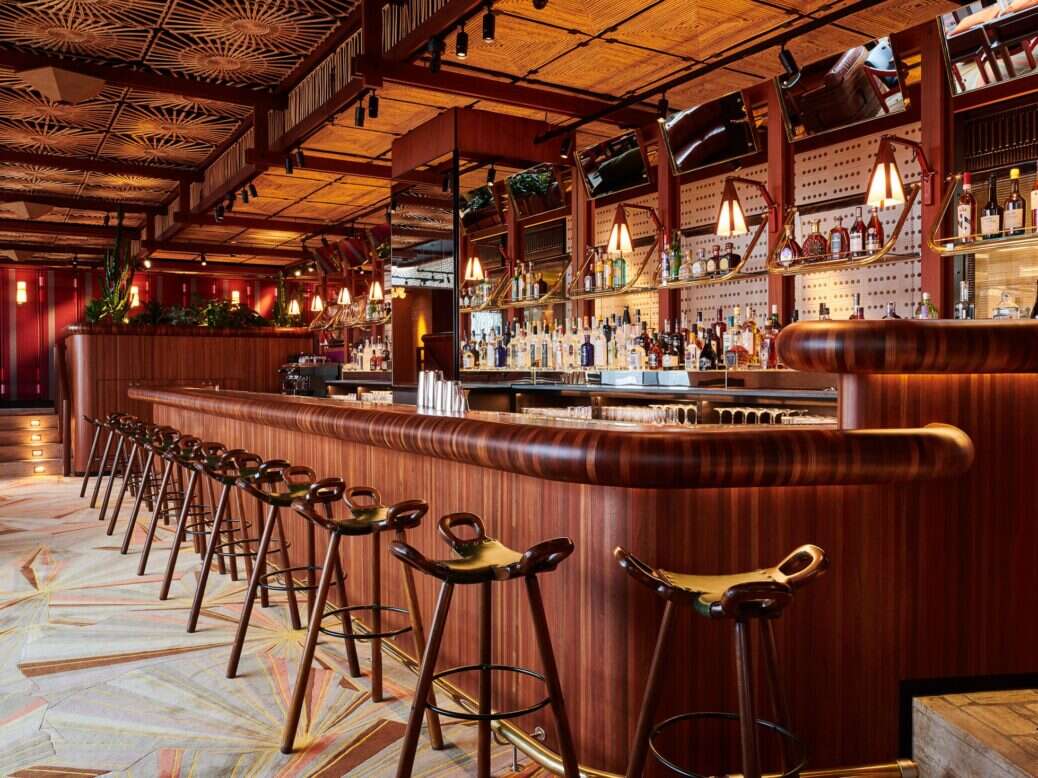 Although it opened back in 2019, the various Covid-19-related closures have meant that Decimo – and indeed the rest of the London iteration of The Standard – still oozes that incomparable level of cool usually reserved for new openings.
Found up on the 10th floor of the brutalist building in the heart of King's Cross, and accessed via a fun exterior elevator, Decimo is helmed by chef Peter Sanchez-Iglesias. Like the rest of The Standard, it's a mix between grown-up glamour and playfulness, with a menu that doesn't take itself too seriously and a bold interior that others might struggle to pull off.
The hotel isn't short of chic dining and drinking spots. Also on the 10th floor is Sweeties, The Standard's newest cocktail bar, where a giant disco ball and bold entrance sculpture (go see it for yourself) hint at raucous late-night escapades, but it's just as great for a pre-dinner cocktail. Right up on the top is The Standard Rooftop, while down on the ground floor you'll find yet another bar, Double Standard.
[See also: Luca: Tradition Meets Modernity in Historic Part of London]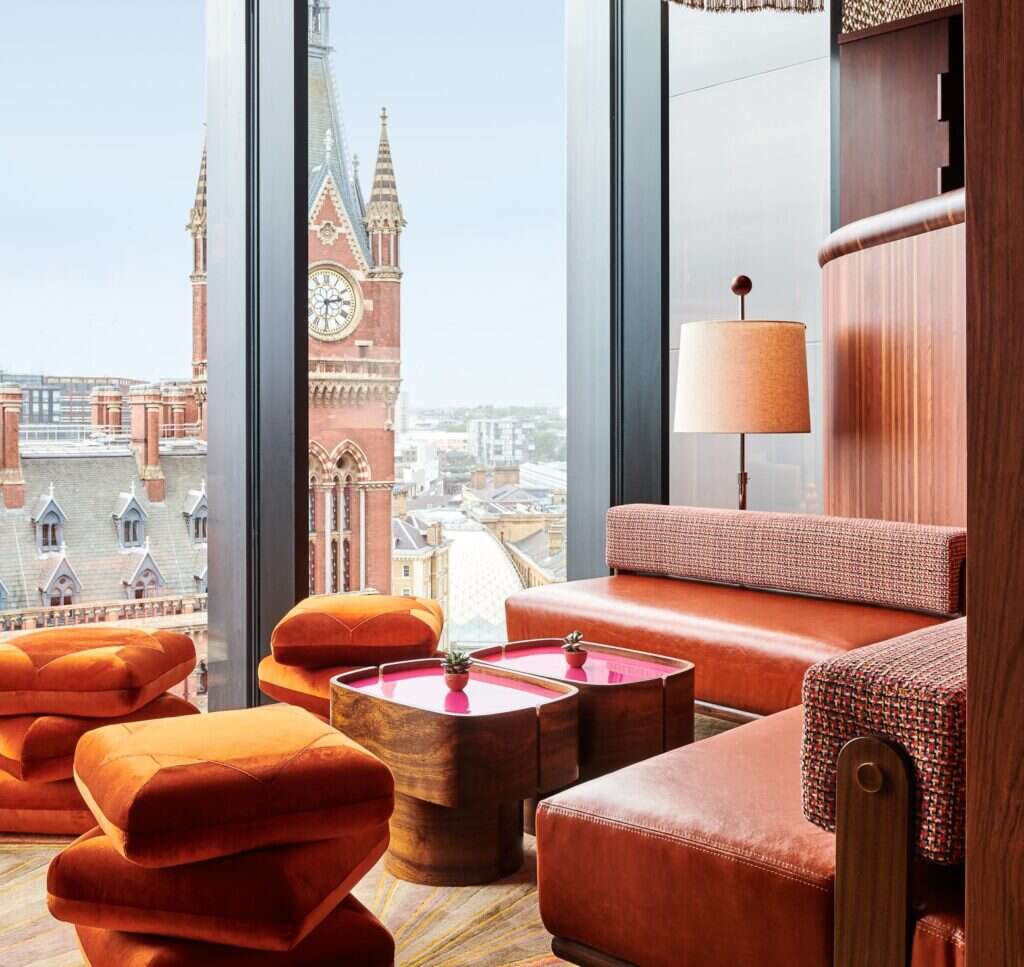 Don't let the abundance of bars and over-the-top décor fool you into thinking Decimo is all style and no substance, however. As the hotel's flagship restaurant, the dishes leaving its kitchen are thoughtful, moreish and, most importantly delicious, with chef Sanchez-Iglesias and his team clearly having taken the trials and tribulations of the past three years in their stride.
Chef
The beginning of Peter Sanchez-Iglesias's culinary career was nothing short of a baptism of fire, with the self-taught chef stepping up to helm the kitchen at his family's restaurant, Casamia, in his hometown of Bristol.
Under his lead, and with the support of his brother and parents, Casamia went from strength to strength, transforming from a simple trattoria to a fine dining destination centered around seasonal ingredients and vibrant cooking. In 2009 it was deservedly awarded its first Michelin star, making it one of just a handful of restaurants in the city to boast such an accolade.
[See also: The Best Fine Dining Cities in the UK]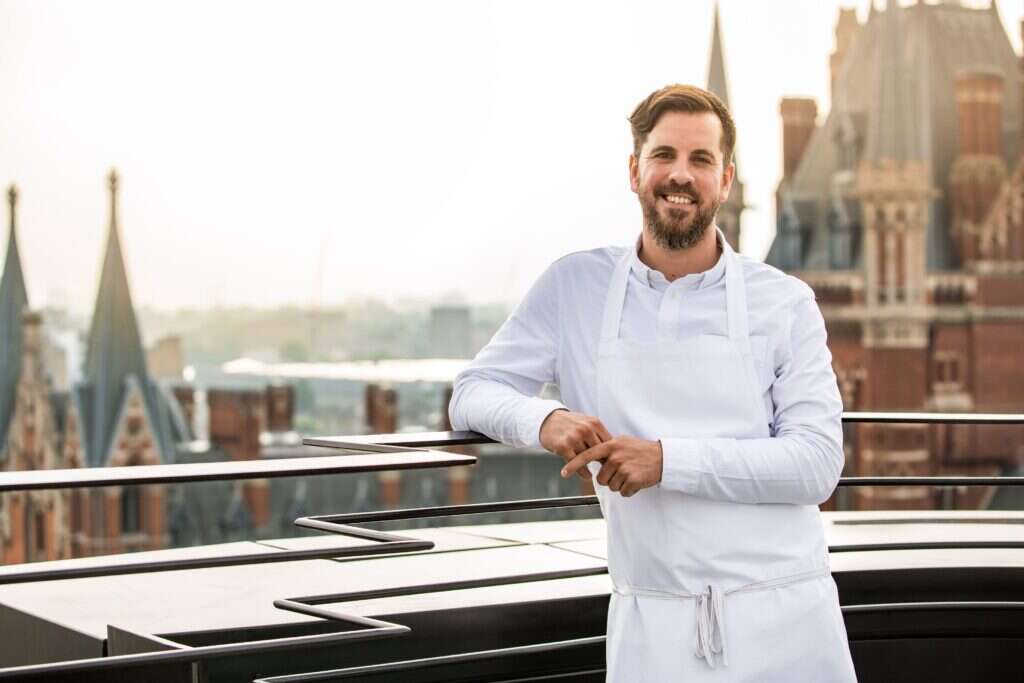 Building on the momentum of the first restaurant, Sanchez-Iglesias opened his second eatery, Paco Tapas, in 2016. Less than a year later, a Michelin star was bestowed on the Andalusian-inspired spot, cementing Sanchez-Iglesias's status as a culinary star in the making.
Despite its success, this summer, Sanchez-Iglesias announced that Casamia would be shuttering its doors for the final time to make way for a new dining concept. Bristol's – and indeed the rest of the UK's – gourmands are still awaiting news on what that new venture will look like.
Decimo marks the chef's first foray into the diverse London dining scene, giving him the opportunity to build on his now-signature Spanish-inspired cuisine in a glam setting. Time will only tell as to whether it can maintain his impressive Michelin track record.
Menu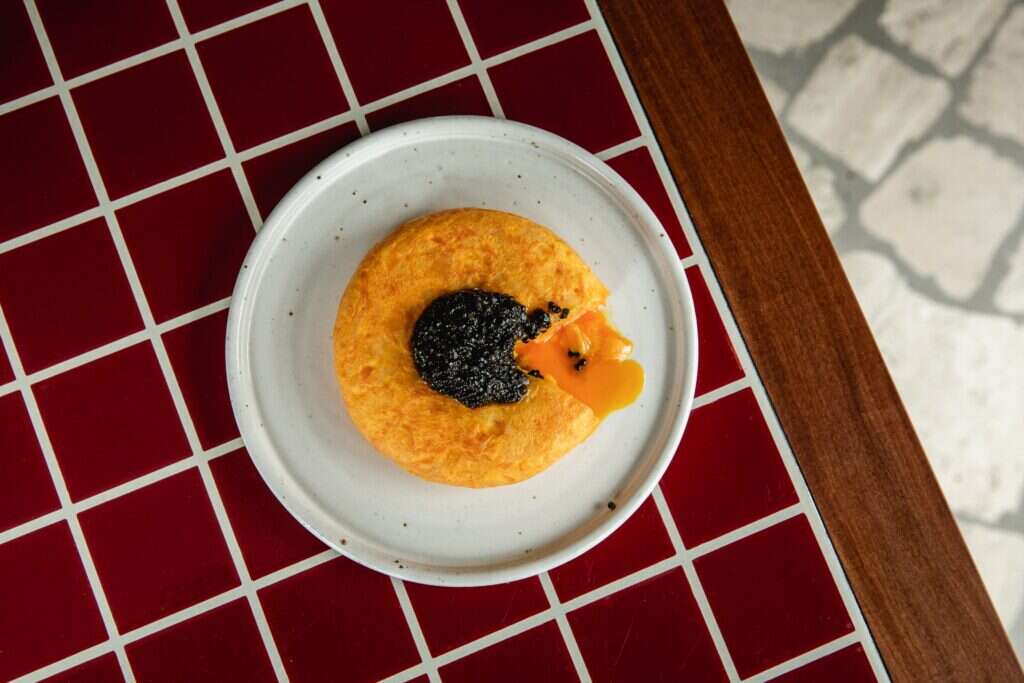 Decimo brands itself as being a fusion between the related cuisines of Mexico and Spain. The open kitchen operates around a huge wood-fired grill, promising to weave wisps of subtle smokiness through the menu.
Before you even get started on the food, though, be sure to order one of Decimo's signature margaritas. There are no less than five on the menu, but you can never go wrong with a classic. There's also a serious list of mezcals to choose from, including a pre-dinner tasting flight, with a focus on traditional and authentic labels.
Like most of London's trendiest dining spots, the menu is designed to be shared, launching with a para picar (for the table) section. As always, bread is a must – Decimo's comes straight from a turn on the open fire and is doused in olive oil. Hold a slice or two back for mopping up later on.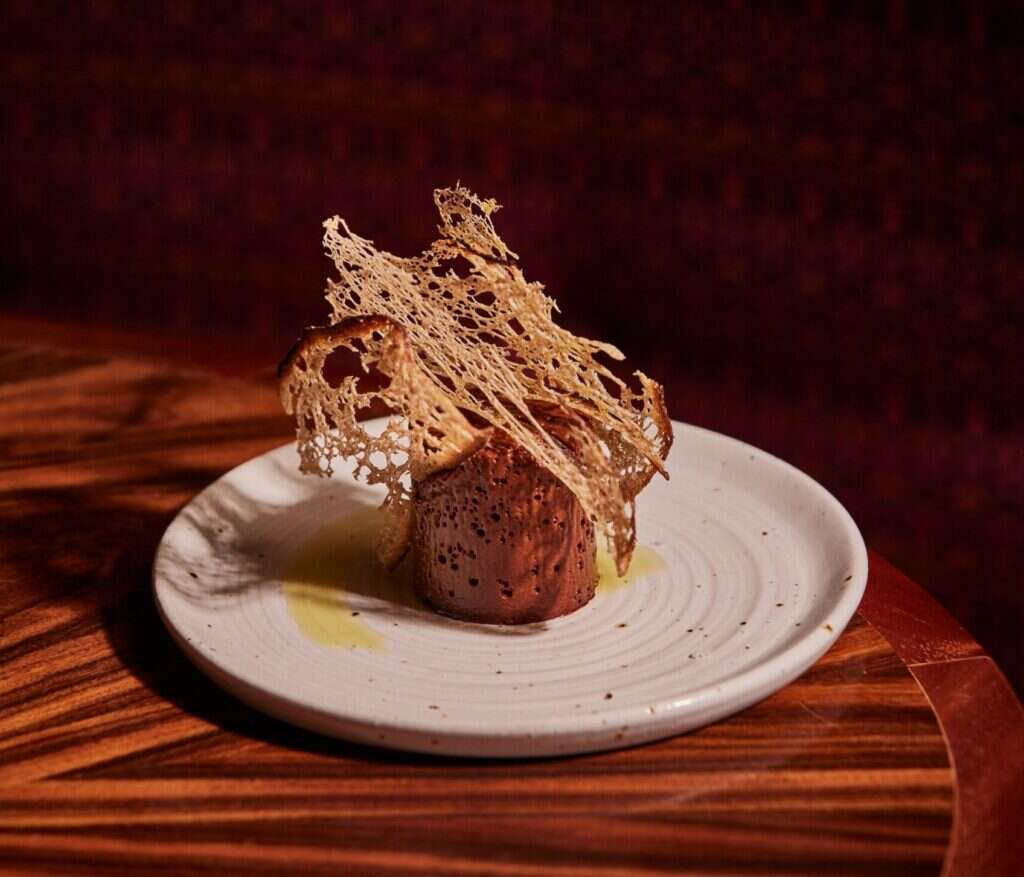 Other unmissables are the oozing Spanish tortilla (with an option to add a dollop of caviar), the tangy Manchego quesadillas that are spruced up with a hit of lime, and the individually portioned softshell tacos.
There are no entrées, as such, with mix and match vegetable, fish and meat dishes taking the place of a traditional main course. The pork ribs slathered in a sticky, sweet, smokey and devilishly spicy mole glaze are a must, as are the hand-dived Orkney scallops, cooked directly on the wood fire and served simply in their shells. Fried potatoes can never be ignored on a menu, and at Decimo, they're beautifully crispy and served alongside a silky aioli.
Desserts here are no mere afterthought either. If you've room, go for the serious chocolate mousse, served with wafer thin crisps of brown bread and a drizzle of olive oil. For a lighter end to the meal, the single scoop of tangy pineapple sorbet is a winner.
Interiors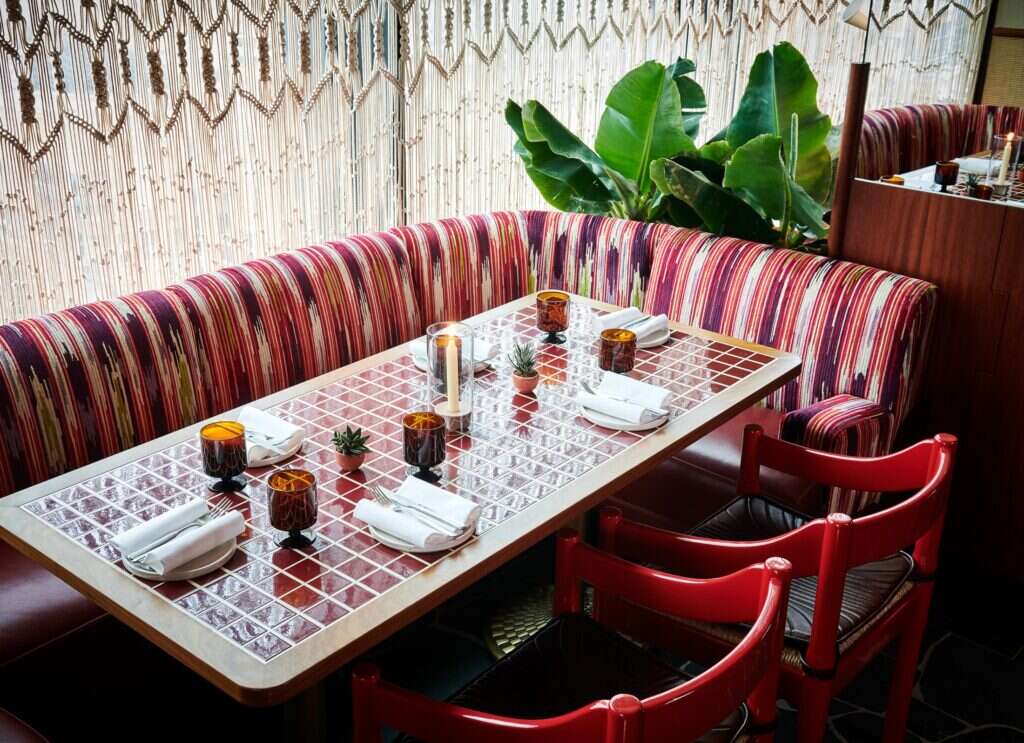 The whole of The Standard is beautifully designed, and Decimo is no exception. With a backdrop of the grand St. Pancras station on one side and out to central London on the other (try to go at sunset for the best view), the restaurant is an artfully eclectic mismatch of styles, curated by Shawn Hausman.
Lining the ceiling is a huge rattan display, while the banquette seats look like carbon copies of those usually seen on the London Underground. The windows are shrouded with intricate macrame drapes, while the garish carpets and crazy paving floors look to be straight out of the seventies. It all sounds bizarre but comes together to create an uber-cool restaurant that clearly isn't afraid to show off.
Recommending a trip to the toilet sounds odd in a restaurant review, but just trust us when we say that isn't to be missed either.