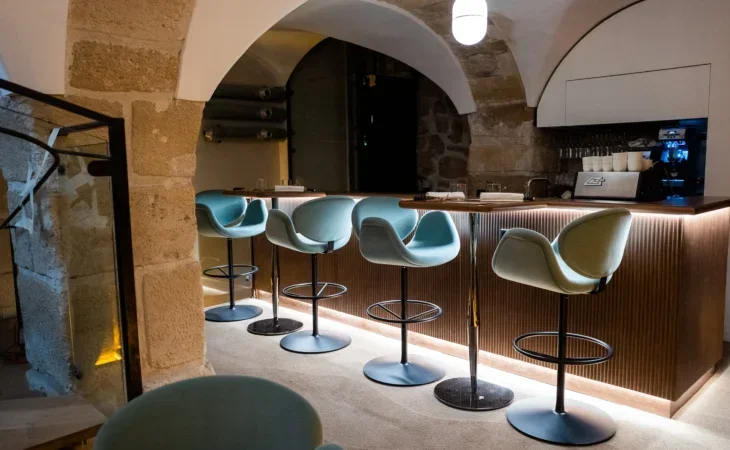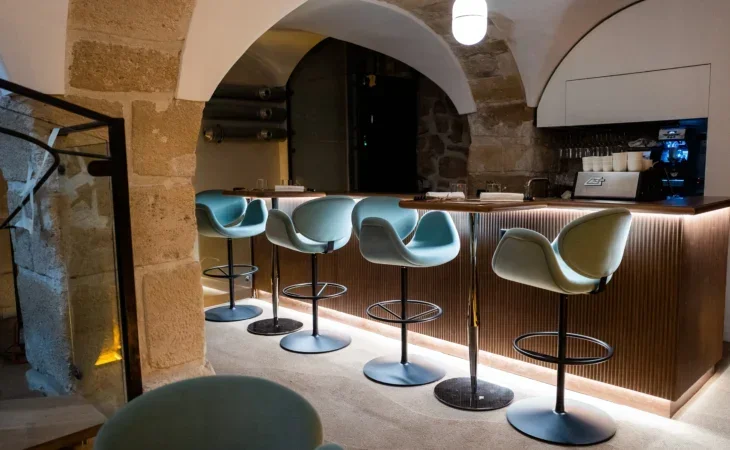 With over 150 Michelin stars scattered through its historic streets, making a mark on Paris's restaurant scene is no mean feat; Granite, however, seems to be making a pretty good go at it.
Helmed by Anne-Sophie Pic alumni, Tom Meyer, the restaurant was awarded its first star in this year's Michelin Guide France, a mere six months after opening, cementing its status as one to watch.
Tucked away on the discrete rue Bailleul, just moments away from the Louvre and the banks of the Seine, the unassuming doorway invites diners in for a dining experience that verges on experimental but is rooted in classic French haute cuisine. The restaurant itself is spread across three floors, with the opportunity to spread a meal from the intimate downstairs cellar all the way up to the light-filled upper dining room.
Less than a year in, Granite is quickly climbing up the ranks as Paris's latest must-visit restaurant with Thomas Meyer only becoming more promising as he eases into his latest role.
Chef
At just 29 years old, it's fair to say that Tom Meyer is by far one of the youngest head chefs on Paris's esteemed fine dining scene. However, what he lacks in age he undoubtedly makes up for in stellar credentials.
His culinary experience is vast, with stints at the French Riviera's Hôtel Château de La Chèvre d'Or and Restaurant de l'Hôtel de Ville in Switzerland. The real star on his already impressive resume, however, is his time in Valence, where the incomparable Anne-Sophie Pic entrusted him as the head of her test kitchen at Maison Pic.
Meyer has also proved his gastronomic prowess in a number of culinary competitions, taking home the trophy in the 2017 Le Taittinger Prix Culinaire and coming runner up in the prestigious Bocuse d'Or in 2019.
With all these accolades under his belt, it is no surprise then that in 2021 Parisian restaurateur extraordinaire Stéphane Manigold enlisted Meyer to take the helm at his newest fine-dining destination. And so, Granite was born.
[See also: Jean Imbert Takes the Helm at Plaza Athénée]
Menu
While Meyer and his team are evidently respectful of French gastronomic tradition, they're also not afraid to push some boundaries, putting daring and bold dishes in front of diners. For example, rich turbot meets its match with smoked toad beetroot, pinot noir bond and a pink geranium champagne sauce – a pink and white delight that looks more like a sweet cheesecake than a fish dish.
Elsewhere on Granite's menu, the beloved asparagus is elevated to new heights with the addition of praline hazelnut, lavender gel and coffee powder. For dessert, there's a Smoked ice vanilla mousse (ice cream, if you will) with sake, millet crunch and caramelized Jerusalem artichoke skins to delight in.
[See also: The Chefs with the Most Michelin Star Restaurants]
This is smart cooking that takes ingredients that virtually every diner will know and love and reimagines them in a way that few will have tried before. The menu is offered in three ways: for lunch; in five courses; or a seven-course blowout.
Having very clearly taken lessons in ingredient sourcing from the culinary greats he trained under, Meyer knows the importance of carefully selecting producers. Each has been chosen based on their commitment to producing and procuring ingredients with both the planet and people in mind.
The drinks list has been just as meticulously created to shine a light on those producers doing good. Head sommelier Julien Mascarell has scoured France to find the finest winemakers, with a particular focus on small-scale producers. The resulting wine list is a map of the finest in the country.
[See also: The Most Anticipated Restaurant Openings of 2022]
Interior
As you would expect, Granite's interiors are about as sleek as they come. The space is imagined by French architect, Michel Amar, who, true to his signature style, has delivered a luminous finish to the restaurant, with a focus on playing with light – be it the abundance of natural light on the first floor or clever use of low-level strip lighting in the intimate cellar.
True to the restaurant's name, the design details nod to natural elements. Covering the wall of the main dining room is a multi-dimensional wooden art installation, while the downstairs bar is shrouded in stone arches. Even the tableware is suitably organic feeling, with plenty of rough edges, textured ceramics and raw finishes.
Pair this with contemporary seating in shades of blue, perfectly polished wooden tabletops and swish marble counters, and Granite's interior becomes every bit as elegant as the dishes that leave Meyer's kitchen.
Granite Restaurant, 6 Rue Bailleul – 75001, Paris, granite.paris