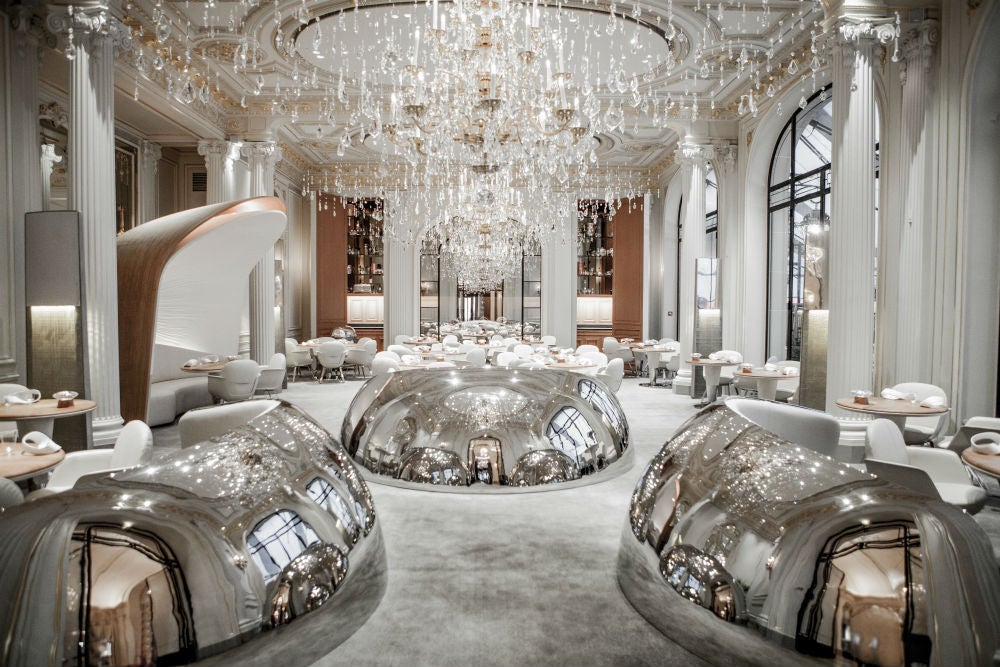 Every year chefs at the best restaurants across the globe wait nervously to find out how they've fared in the Michelin guide. For many, achieving a coveted star – or three – is the high point of their career. Of course, impressing the Michelin inspectors isn't easy. Widely regarded as the golden standard of fine dining, it is only by serving dishes of the highest caliber that talented chefs can hope to stand out with the most Michelin stars.
At this point, it's important to note that stars are awarded to restaurants and not to individual chefs themselves. Despite this, Michelin stars are tied closely to a chef's career and are often used as a measurement of performance in the highly competitive world of fine dining. For example, Alain Ducasse, who leads this list with a remarkable 20 stars, is no longer head chef of his eponymous restaurant at The Dorchester, and yet the restaurant's impressive three stars remain a testament to Ducasse's legacy.
With this in mind, our guide is a carefully curated list celebrating the chefs with the most Michelin stars in accordance with those awarded to their restaurant empires. And so, without further ado, meet some of the world's most revered living culinary masters.
Alain Ducasse – 20 Michelin stars
Alain Ducasse at The Dorchester***
Le Meurice Alain Ducasse**
Le Louis XV***
Beige Alain Ducasse**
Alain Ducasse at Morpheus**
Benoit*
La Bastide de Moustiers*
Muni Alain Ducasse*
Blue by Alain Ducasse*
Le Grand Contrôle*
Muni La Terrasse*
Esterre*
Hostellerie de l'Abbaye de la Celle*
Alain Ducasse will surely go down in history as one of the culinary greats. Although he currently has a total of 20 Michelin stars across his restaurant empire, throughout the years the figure has been almost double this. Ducasse forged his career underneath some of the most noted chefs of the era, including Michel Guérard and Gaston Lenôtre, eventually taking on his first head chef role at La Terrasse at Hotel Juana. Under his leadership, the restaurant was awarded two Michelin stars in 1984.
Previously it was Alain Ducasse at Plaza Athénée that was regarded as the chef's flagship, but last year, 21 years after he first took the helm, Ducasse departed from the iconic restaurant, and with it went three stars from his portfolio. The new chef, Jean Imbert, has since won back one of them.
Now it is Alain Ducasse at The Dorchester and Le Louis XV that tend to be the most well-known – and the most awarded, with each boasting the maximum three Michelin stars. Le Louis XV also holds the title of the first restaurant to ever achieve such an accolade.
While each of the two three-star restaurants maintains Ducasse's signature style, each has a slightly different focus: The Dorchester offers classic French haute cuisine in modern settings, whereas Le Louis XV serves traditional Ducasse dishes with a Mediterranean influence.
[See also: A Guide to All Thee-Michelin-Starred Restaurants in Spain]
Martin Berasategui – 12 Michelin stars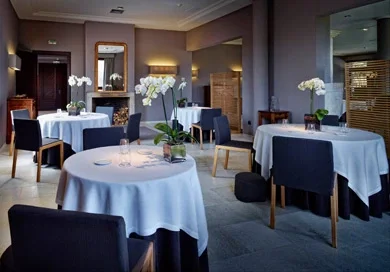 Lasarte***
Restaurante Martín Berasategui***
MB**
eMe Be Garrote*
Oria*
Ola Martin Berasategui*
Fifty Seconds*
At the time of writing, renowned Spanish chef Martín Berasategui boasts a total of 12 Michelin stars across his wide network of restaurants, the majority of which are in his home country. Although born in Spain's Basque Country, Berasategui completed the majority of his culinary training in France, where he learned classic techniques under the likes of Didier Oudil, Michel Guerard and, at a later date, Alain Ducasse.
When Berasategui began his culinary career, there were no Michelin-starred restaurants in Basque Country, meaning he is now often heralded as a leader in the distinctive cuisine and accredited for bringing it to the world stage.
Berasatugei's flagship restaurant, Restaurante Martín Berasategui – which he opened with his wife Oneka Arregui in 1993 – received its first Michelin star just six months after opening and was awarded the maximum three stars by 2001. Located less than five miles from his hometown, the Martín Berasategui Restaurant celebrates the bold flavors of Basque Country cuisine, using both classic and modern techniques.
Pierre Gagnaire – 12 Michelin stars
Pierre Gagnaire, Paris***
Sketch (Lecture Room and Library) ***
Pierre Gagnaire, Tokyo **
Gaya par Pierre Gagnaire*
Duende**
Pierre Gagnaire, Seoul*
Le Comptoir de Pierre Gagnaire*
Having begun his career with a pastry internship at Nelson in the French city of Saint-Étienne in 1964, Pierre Gagnaire has climbed the culinary ladder to become one of the most celebrated chefs of our age, currently holding 12 Michelin stars across his restaurants.
While his signature cuisine remains true to the classic styles of French cookery, Gagnaire is not afraid to introduce innovative methods and ingredient combinations, with the chef's ethos articulated in his mission statement: 'Facing tomorrow but respectful of yesterday.' This strive for a modern and more creative take on traditional cookery has seen Gagnaire noted as being at the forefront of fusion cuisine.
Included in his wide list of starred restaurants is the flagship Pierre Gagnaire in Paris, which is found inside the opulent Hotel Balzac. Gagnaire also oversees the menu at the famous London hotspot, Sketch, including the three-Michelin-starred Lecture Room and Library, which we at Elite Traveler have named as one of London's most exclusive destinations.
[See also: The Most Iconic Restaurants of the Elite Traveler Era]
Yannick Alléno – 12 Michelin stars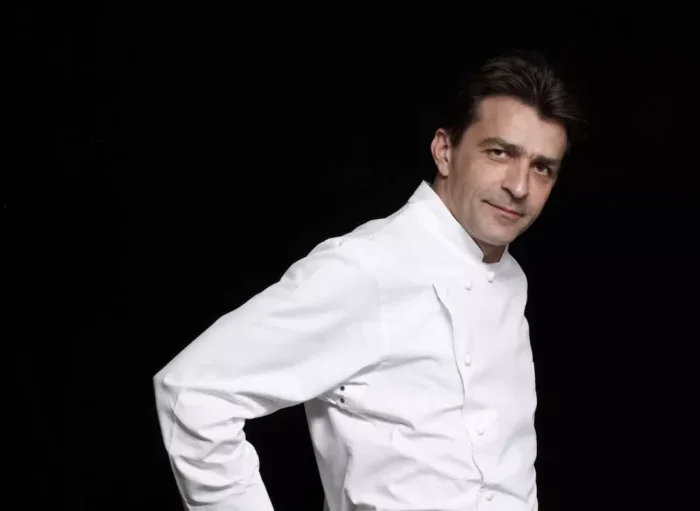 Le 1947***
Alléno Paris au Pavillon Ledoyen***
L'Abysse au Pavillon Ledoyen**
Pavyllon*
Fre*
STAY by Yannick Alléno**
Pavyllon, un restaurant de Yannick Alléno, Monte-Carlo*
Yannick Alléno is another French chef who is unafraid to push the boundaries of fine dining while remaining respectful of its origins. His immersion into the world of food began at an early age; he spent much of his time in the kitchens of his family's bistros in his hometown of Paris. Since then he has cut his teeth in some of the world's finest kitchens and worked with some of the most renowned chefs, including the likes of Roland Durand and Gabriel Biscay.
In his bid to transform the culinary world and leave a lasting impact on the industry, Alléno has hallmarked his own movement: Modern Cuisine. The Modern Cuisine manifesto outlines the use of fresh produce, respect for the seasons and highlighting foraged ingredients among its 18 guiding principles, pushing the movement firmly into the realms of sustainable fine dining.
Across his global restaurant network, Alléno currently has a total of 12 Michelin stars, including his two three-starred restaurants in France – one in Paris and the other in Courchevel – as well as other outposts across Europe. All of his restaurants celebrate Alléno's signature take on French cuisine in decidedly stylish settings.
Andreas Caminada – 9 stars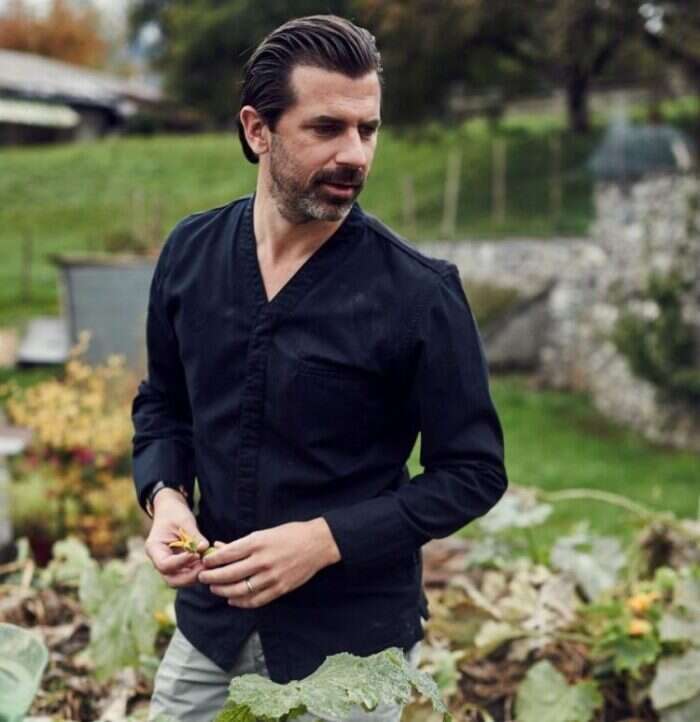 Schloss Schauenstein***
IGNIV Bad Ragaz at Grand Resort**
IGNIV St. Moritz at Badrutt's Palace**
IGNIV Zürich at Marktgasse Hotel*
IGNIV Bangkok at St. Regis*
Swiss chef Andreas Caminda has been running the three-Michelin-starred Schloss Schauenstein restaurant in the tiny town (the smallest in the world, in fact) of Fürstenau since 2003. The three set menus on offer are of varying lengths and each showcase the modern, thoughtful Swiss cuisine for which Caminda has become famed.
As well as receiving three of Michelin's standard stars, Schloss Schauenstein has also been awarded a Green Michelin star in recognition of its commitment to using fresh organic produce, and support of farmers operating to the same high standards.
In addition to his first celebrated restaurant, Caminda has also gone on to launch the IGNIV group, which currently has four outposts. This includes IGNIV Bad Ragaz at Grand Resort and IGNIV St. Moritz at Badrutt's Palace, which have both been awarded two stars by the Michelin guide, as well as the one-starred IGNIV Zürich at Marktgasse Hotel and recently awarded one-starred IGNIV Bangkok at St. Regis, bringing the total number of Michelin stars across Caminda's empire to an impressive nine.
Anne-Sophie Pic – 9 Michelin stars
Pic***
Anne-Sophie Pic**
La Dame de Pic, London**
La Dame de Pic, Paris*
Le Dame de Pic – Le 1920*
Across her five restaurants (including the flagship Parisian destination that has been in the family for almost a century), Anne-Sophie Pic currently holds an impressive nine Michelin stars. Adding an imaginative touch to her family's classic style, Pic's cooking is rooted in experimentation, with intriguing ingredient combinations and unusual methods often featuring on her menus.
In addition to making history as the first (and for now, only) female French chef to run a three-Michelin-starred restaurant, Pic is also making waves on the sustainable cuisine scene. Elite Traveler recently named her among the new wave of eco-conscious chefs thanks to her emphasis on vegetables and commitment to using locally sourced ingredients. These attentions have also garnered Maison de Pic a green Michelin star.
In addition to Pic's three Michelin-starred French restaurants, she also has acclaimed outposts in London and Switzerland, both of which remain true to her distinctive, modern style of cooking.
Gordon Ramsay – 7 Michelin Stars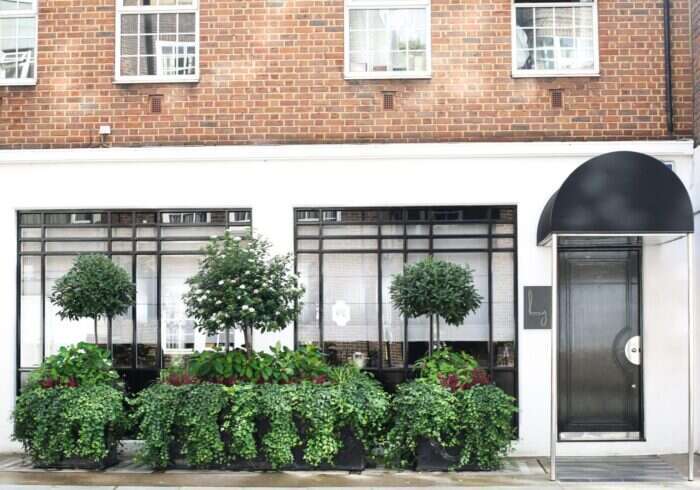 Restaurant Gordon Ramsay***
Le Pressoir d'Argent – Gordon Ramsay**
Pétrus by Gordon Ramsay*
Gordon Ramsay au Trianon*
Gordon Ramsay's hot-headed nature and notorious television series have garnered him quite the reputation. However, underneath the fiery exterior is a remarkably talented chef who has forged his own niche in an industry full of greats.
Ramsay has been exposed to the prestigious world of fine dining from early in his career, having famously trained underneath Marco Pierre White, Albert Roux, Joël Robuchon and Guy Savoy. His first experience of leading a kitchen came in the mid-nineties when he assumed the head chef position at Aubergine which, under his leadership, was awarded the maximum three Michelin stars.
Flash forward to the present day and Ramsay's global restaurant empire is impressively diverse, spanning from lofty fine dining establishments to casual American-style grills. His signature Restaurant Gordon Ramsay contributes to three of Ramsay's seven Michelin stars and holds the title of being London's longest-running three-Michelin-starred restaurant. The menu showcases the finest of British ingredients, from Scottish seafood to Lake District lamb.
[See also: A Guide to All Three-Michelin Star Restaurants in the UK]