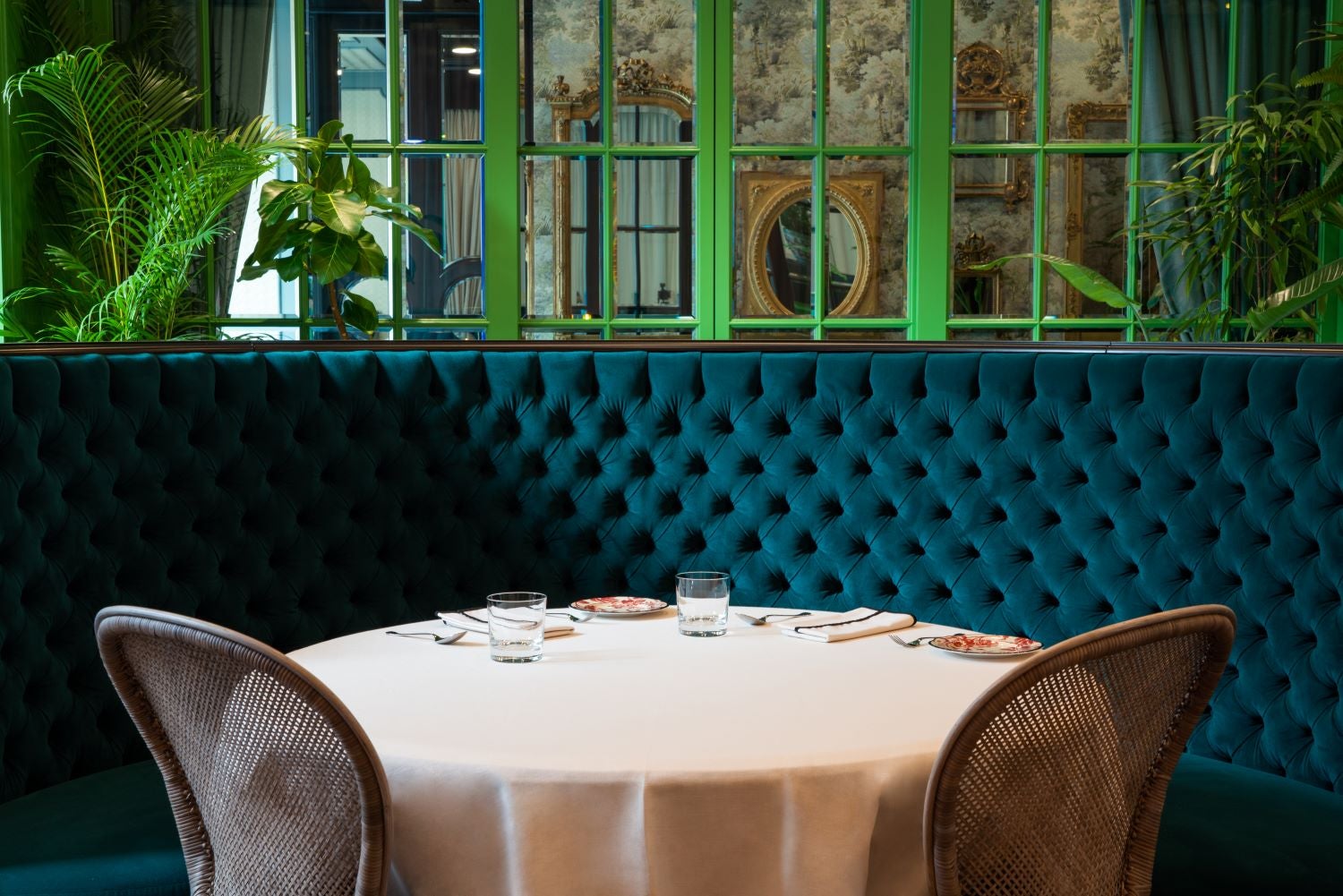 First came Florence in 2018, then Beverly Hills two years later; now it is the turn of Tokyo to welcome the uber-stylish Gucci Osteria da Massimo Bottura.
Perched on the top of the Gucci Namiki flagship store in upmarket Ginza, the newly opened Tokyo eatery represents the third culinary outpost for the Italian fashion house. And it has a lot to live up to. The original Florence restaurant led by chef Karime Lopez achieved a Michelin-star just one year after opening. Then, in near-identical fashion, Gucci Osteria da Massimo Bottura Beverly Hills followed suit. But with a name as legendary as Massimo Bottura attached, this doesn't come as a huge surprise. 
Though Bottura himself isn't actually a regular fixture in the kitchens of any of the Gucci restaurants that bear his name, the Italian chef — whose three-Michelin-starred restaurant Osteria Francescana is considered amongst the world's best — has played a leading role in its success. Add into the mix the youthful energy of Maison Gucci and the results have proven irresistible, to both Michelin inspectors and to the throngs of diners attempting to get a reservation.
All three Gucci Osteria's share the same culinary philosophy that rides the wave of the seasons with creativity, elegance, playfulness and sensuality. However, each also possesses its own unique identity reflective of its location. 
This couldn't be more true at the new Gucci Osteria Tokyo, which affectionately embraces its Japanese home without forgetting its Italian roots. A self-styled  "Italian Ambassador in Japan", guests at the Asian outpost can expect a unique dining experience that truly incorporates the diversity and identity of its location.
"Like Italy, Japanese food and produce are so intertwined in its culture that it has rightly become one of the greatest global cuisines," said Bottura. "Japan holds a special place in my heart, and I'm excited to be able to welcome everyone to our little piece of Tokyo."
Chef 
At the helm of Gucci Osteria Tokyo, Bottura has placed fellow Italian chef Antonio lacoviello. The rising culinary star —who worked under Bottura at Osteria Francescana — combines contemporary Italian technique with the finest artisanal Japanese produce from land and sea. 
Menu 
lacoviello developed Gucci Osteria Tokyo's colorful menus alongside Bottura and Lopez. The restaurant's à la carte menu includes Gucci Osteria signature dishes such as the famed Emilia burger and Tortellini with Parmigiano Reggiano cream. But there are also imaginative takes on Italian-centered dishes and new seasonal Japanese-inspired creations. These include the inventive 'Pronto Luisa', a creamy edamame risotto with pea miso caramel, as well as a Milanese version of Wagyu beef. 
The five- and seven-course tasting menus continue to unite these two culinary powerhouses in a truly beautiful and complex fashion. The star dish might just be the whimsically named 'A Parmigiana that Wants to Become a Ramen'. This takes its inspiration from Parmigiana (a traditional Italian recipe) and Ramen (a Japanese specialty). To create it, roasted tomato and eggplant cream are emulsified with sesame oil and parmesan. Spaghetti is used instead of soba noodles alongside garlic, oil and chili. Roasted and au gratin aubergine is topped off with 36 months aged parmesan, while an oxidized aubergine broth with shio koji (a traditional Japanese fermented grain) marries the plate together.
The food is complemented by an extensive wine list and guests can also enjoy champagne and light snacks as a traditional Italian aperitivo from 4-6pm daily, served on the restaurant's rooftop terrace. 
Interior
Seating 48 guests in the main dining room and 12 on the terrace, the meticulously curated interior at Gucci Osteria Tokyo takes its lead from the original Florence outpost, with nods to the Italian Renaissance and the signature eclectic mix of aesthetics that Gucci does so well.
Through a dream-like floral entrance hall, a vibrant green palette greets diners in the form of rich peacock velvet banquettes and pea-green paneling. Marble tables, wicker chairs and Gucci wallpaper up the sophistication stakes, while a unique hand-painted floor and traditional Japanese plants distinguish the Tokyo eatery from its overseas siblings.
Gucci Osteria da Massimo Bottura, 6-6-12, Ginza, Chuo-ku, Tokyo, 104-0061, gucciosteria.com
[See also: Playing With Fire: Chef Bryce Shuman Opens Sweetbriar]