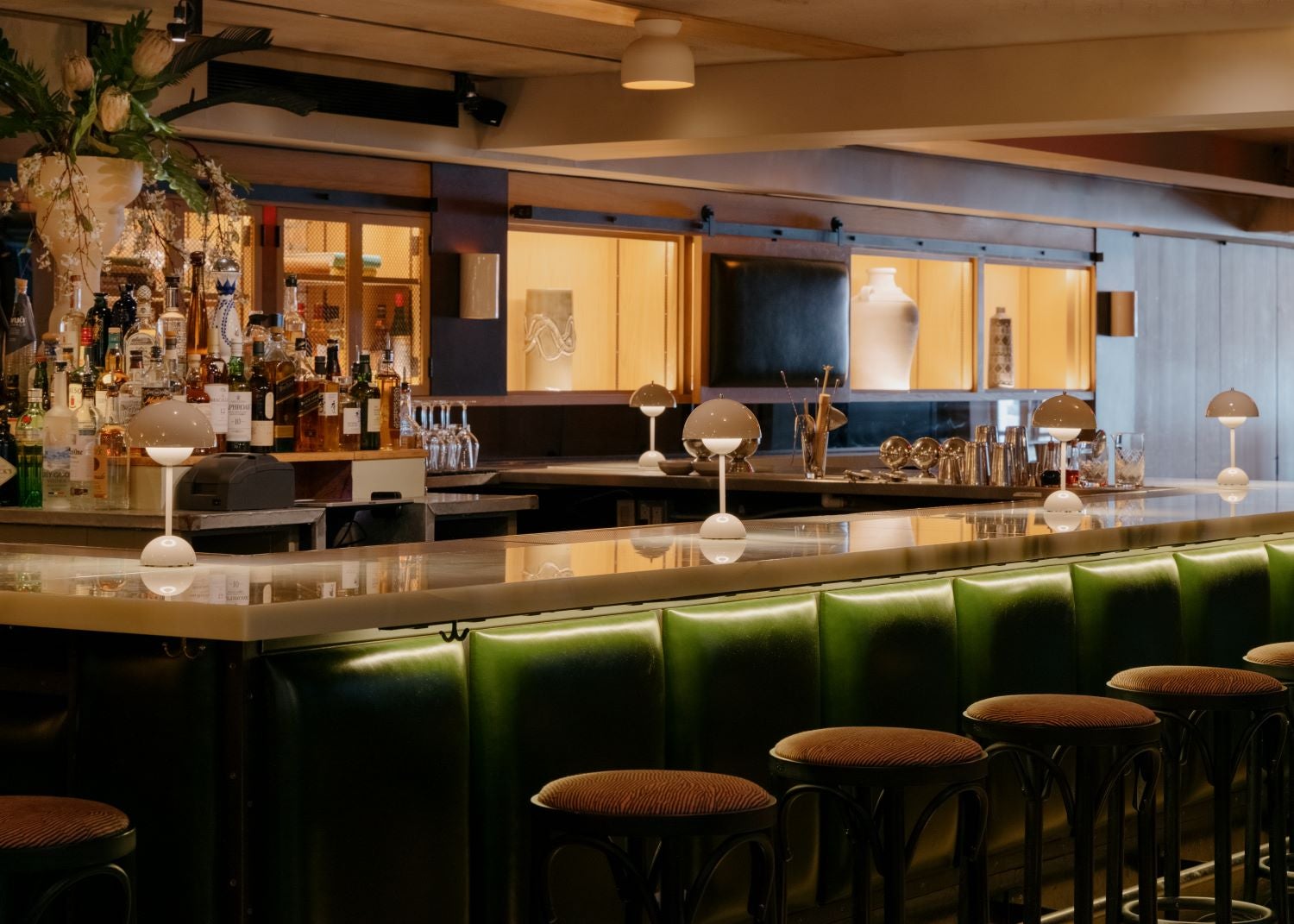 As fall draws in, many of us start to crave warm and comforting dishes, and there is a new restaurant in Midtown serving up just that: Bryce Shuman's Sweetbriar. 
Of course, there are plenty of places in New York City to grab a warming bite, but Shuman (previously of New York's three-Michelin-starred Eleven Madison Park and one-Michelin-starred Betony) has taken this one step further. At Sweetbriar, cooking with live fire is the name of the game. 
Focusing on seasonal New American cuisine, Shuman sources the freshest seasonal vegetables, prime meats and sustainably caught fish. These are then charred, grilled, roasted and seared using wood, charcoal and smoke for a bold and flavorsome hit. But the flames aren't just for show — at least not for the most part. Shuman chooses this method of cookery to enhance the food's natural flavors. And he's talking from experience. 
[See also: Chef John Fraser Champions the Aegean at Iris in Midtown]
The Chef
It's probably fair to say that Shuman knows his way around a barbeque better than most other chefs with Michelin-starred institutions under their belts. After pulling down the shutters for a final time at Midtown's much-loved Betony where he was executive chef, his most recent project was RnR, a successful BBQ-focused pop-up. 
Here, Shuman served up a mouthwatering selection of all American delights (think succulent spareribs, crispy fried chicken and gooey mac and cheese). "Smoking ribs this past year has really taught me that the best flavors come from cooking with wood," says Shuman. "At Sweetbriar, I'm excited to focus that energy into the creation of delicious new dishes, using the best of what the season brings us."
Menu 
Unpretentious and welcoming, Sweetbriar is slightly more relaxed than some of Shuman's previous Michelin-starred gigs, but the menu is equally as exciting. Overflowing with New American fusion-style dishes, guests can expect to choose from an impressively eclectic mix of snacks, appetizers, mains, and sides — expertly prepared using a wood-burning oven and charcoal grill. 
The veggie-focused snack menu contains dishes such as Crispy romanesco with pickled chili mayonnaise and Pretzel crisps with ricotta mustard. Appetizers are next and the selection includes seasonal vegetable dishes such as Grilled artichoke with garlic and chive aioli as well as deliciously sticky Grilled sweet chili chicken wings and Ahi tuna crudo with zingy cucumber and yuzu dressing. 
The main course is where it gets really tricky. The house-made pizzas are particularly tempting but diners are likely to be swayed by the sharing options of Grilled whole Mediterranean sea bass for two with fresh salsa verde or Grilled short rib for two, drizzled with dry-aged beef jus. 
For those less interested in sharing, the choices are equally impressive and include whole grilled shogun hen served with beluga lentils and mushroom broth or the Half-rack of black pepper maple ribs with cornbread. Inventive side dishes such as Embered kohlrabi with black garlic vinaigrette and grilled Bartlett Pear with tarragon add a new dimension. 
With such a full menu, we asked Shuman what his favorite dishes were. "I really love our fire-roasted kuri squash, the beet salad with turmeric yogurt and watercress — and, of course, the smoked black pepper maple duroc ribs with cornbread," he responds.
Shuman is passionate about acquiring much of Sweetbriar's ingredients locally: "We are sourcing from different places: Union Square Greenmarket, Norwich Meadows Farm, Mountain Sweet Berry Farm, Berried Treasures, Kerman, and Sycamore Farms, to name a few," explains the chef.
Interior
Housed within the former Covina restaurant space within the Park South Hotel, the space has been transformed by interior designer Lea Cojot (responsible for projects including SoHo House and Brooklyn's soon to open 74 Wythe). 
The restaurant's interior features fluid shapes inspired by the 60s and 70s paired with modern finishes. At the front of the restaurant is a relaxed lounge dressed in hues of deep-rosy pink and golden mustard. Through in the main dining room — which can accommodate up to 56 — an emerald green bar topped with a green onyx counter is illuminated by 60s-inspired flowerpot pendants. This is complemented by sage green velvet chairs that surround contemporary wooden dining tables. 
Currently open for dinner, Sweetbriar is set to launch a lunch and weekend brunch menu in the coming weeks. And if Saturday morning brunch wasn't enough of an event already, guests will be treated to live music (a mix of yacht rock and blues) from the in-house band, as well as guest performances. This is feel-good dining at its best.
Sweetbriar, 127 E 27th St, New York, NY 10016, www.sweetbriarnyc.com