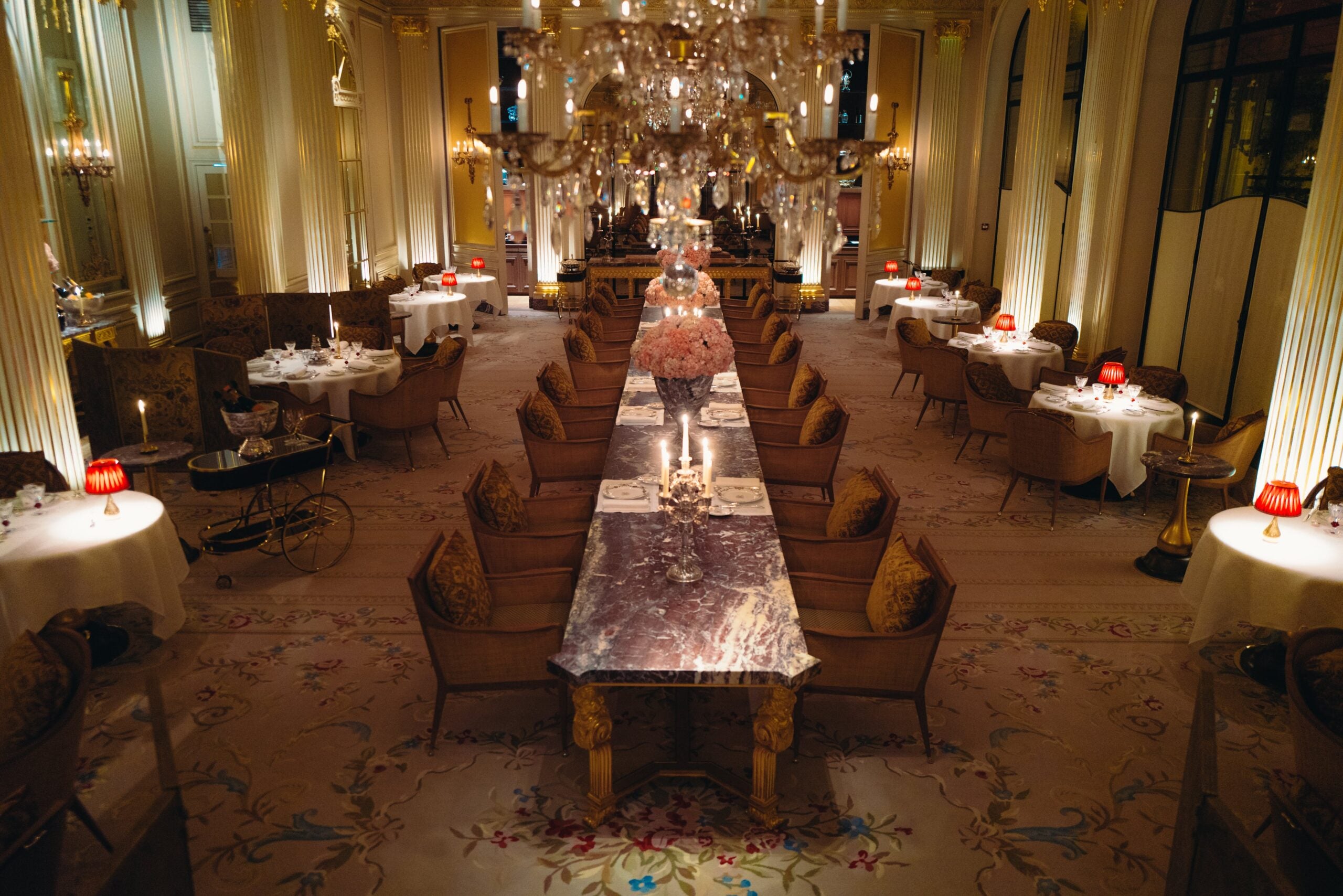 Jean Imbert has undertaken a mammoth task. Earlier this month, he and his team opened the doors to Jean Imbert au Plaza Athénée, which was once the flagship restaurant of one of the world's most decorated chefs, Alain Ducasse.
In the past 21 years, the restaurant, which sits within Paris's incomparable Hotel Plaza Athénée, has grown to impossible heights under Ducasse, earning the maximum three Michelin Stars within just one year of opening. Aside from symbolizing the peak of haute cuisine, Alain Ducasse was also one of the first great French chefs to prove that fine dining and sustainability could go hand in hand when he all but removed meat from his menu in favor of more environmentally conscious ingredients.
And so, when the news broke of Ducasse's replacement, the culinary world went into overdrive. Who was Imbert, a chef who had not yet earned a Michelin star of his own, to take over one of Paris's finest three-starred institutions?
While the outrage was mostly prompted by snobbery, it's fair to say that Imbert was a wildcard choice of replacement for Ducasse, with the chef boasting a more media-friendly persona than the generation of Old Guard classic chefs that preceded him. He notoriously runs with a celeb crowd, counting the likes of Beyonce, Jay-Z, Justin Timberlake and Pharrell Williams, with whom he owns two restaurants, as fans, with a lively social media presence to boot.
The all-important question is, though, can he not only fill the biggest shoes in gastronomy but also make this iconic restaurant his own? Only time will tell.
[See also: The Most Anticipated Restaurant Openings of 2022]
The Chef
Don't let his reputation fool you into thinking that Imbert isn't cut out for gastronomy's top job. The 40-year-old French chef is classically trained (he studied at L'institut Paul Bocuse in Lyon), has worked under some of the French greats (Antoine Westermann among others), and opened his first restaurant at the tender age of 22 (Paris's L'Acajou) to much acclaim.
Following the opening of his first restaurant, he went on to compete in the French version of Top Chef, ceremoniously winning series three. Of course, there's solid restaurant experience too: On top of L'Acajou and his two restaurants opened with Pharrell (Swan in Miami and To Share in Saint-Tropez), Imbert's name is on Paris's BB Blanche and he's even been enlisted to run LMVH and Dior's flagship restaurants. In fact, the only thing missing from his resume is that star – and that might all be about to change.
Despite what first impressions might suggest, Imbert's cuisine is rooted in family – most notably his beloved grandmother. His first restaurant eventually merged into Mamie, a new iteration that the pair ran together. Imbert made the decision to shut Mamie last year, following his grandmother's death, but there's no doubt that her influence will run through into what is undoubtedly his biggest venture yet.
The Menu
It seems as though Imbert has embraced rather than shunned his reputation, with each dish on the compact new Jean Imbert au Plaza Athénée inspired by a classic French recipe, with a contemporary flourish. "With tremendous humility, I had this desire, ingrained in me since childhood, to pay tribute to this classical French cuisine, which is both sumptuous and fascinating, and which transcends trends throughout the centuries while remaining deeply modern," Imbert says.
A modern take on the head-turning Langouste en Bellevue, for example, is served with a cascade of jelly medallions along its back, while the classic Vol-au-vent gets a theatrical upgrade, with a lavish serving of its three sauces presented in front of diners. The Turbot souffle, which is cooked whole before being deboned and assembled at the table, is another showstopper.
The show's finale is the dessert course, when a ceremonious bell rings, the restaurant's lights dim and a window opens to reveal the pastry chefs adding the finishing touches to their creations. As with the rest of its menu, Jean Imbert au Plaza Athénée pays tribute to French classics in its offering. Each Ambassadeur is individually hand-decorated with rose petals, the Crêpe Soufflée à la clementine is flambéed with Grand Marnier at the table and the Puit d'amour is seared with a red-hot iron.
While Imbert is deterring from Ducasse's industry-shaking decision to cut most meat dishes from his menu, he is equally as considerate in his sourcing of ingredients. Priority is given to French producers and suppliers, with whom Imbert has fostered relationships for many years. Vegetables, for example, are grown at the organic La Ferme du Perche, which is to the east of Paris, while all of the restaurant's fish, shellfish and crustacean will be sourced off the shores of Brittany, an area that Imbert has visited since childhood and has inspired much of his cuisine.
Supporting Imbert in delivering his culinary vision are Jocelyn Herland and Mathieu Emeraud, who will together lead the kitchen team, while the pastry division will be run by Angelo Musa and Elisabeth Hot.
[See also: Our Favorite Restaurant Openings of 2021]
The Interiors
To reimagine the iconic dining room, Imbert sought the help of Paris-based designer and architect, Rémi Tessier. Internationally renowned for his simple yet striking style, Tessier's work spans across jet, yacht and residential projects with many an award received for his ventures.
Tessier and Imbert were both committed to showcasing the history of the restaurant, and together enlisted a team of master French craftspeople to embellish and reveal its original details. The dining room's dominating columns, domed ceilings and careful woodwork have been adorned with regal gold leaf, while below, a vast 39-ft Breccia marble table takes the center stage.
Adorning this show-stopping masterpiece of a table are vases from the same marble, as well as antique candlesticks and silverware hand-selected by Tessier and Imbert themselves. On the fringes of the dining room, smaller circular tables are lit by individual lamps, creating a romantic sense of intimacy. The chairs and carpets have also received special attention, with both designed and tailor-made for the venue by Rémi Tessier.
And of course, the food itself is given an impossibly beautiful canvas, with each dish served onto Limoges crockery featuring a historical design that has been specially created for the restaurant.
Jean Imbert au Plaza Athénée, 25 Avenue Montaigne, Paris, 8th Arrondissement, dorchestercollection.com/hotel-plaza-athenee
[See also: The Best Restaurants in Paris]