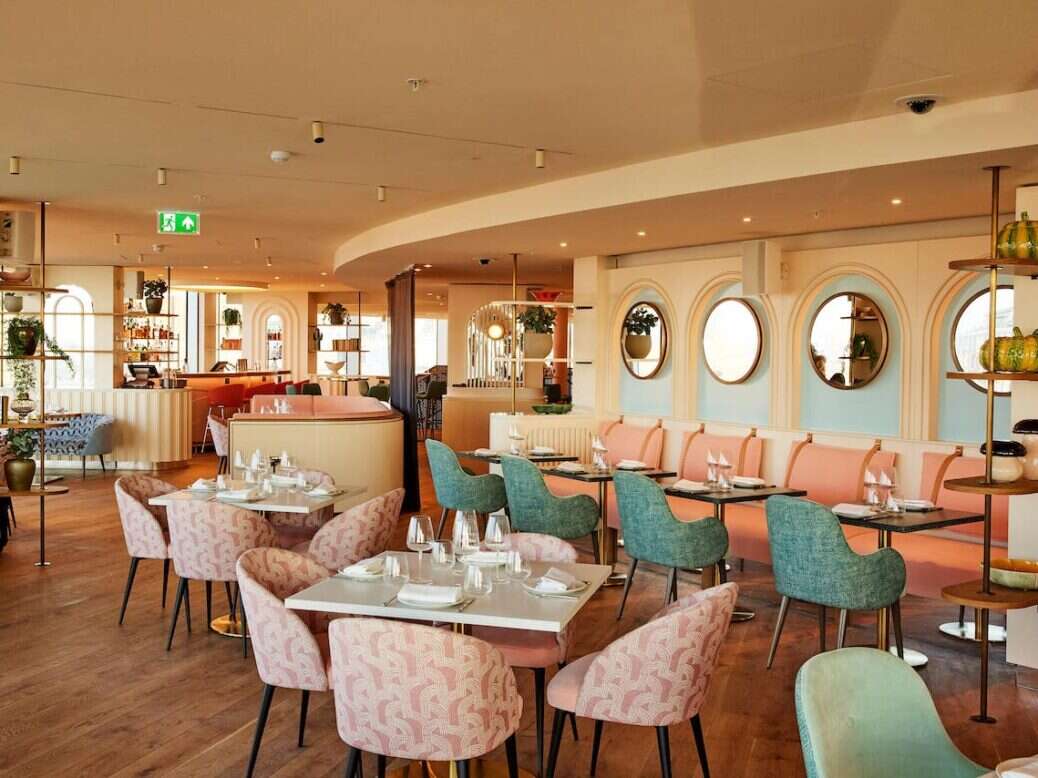 London isn't short of redevelopments. The city is awash with cranes, building sites and posters promising to become hubs for locals and tourists alike. But one that seems to already be making the impact it promised is Battersea Power Station.
A Grade II listed icon, Battersea Power Station has recently re-emerged as a brand-new lifestyle destination encompassing everything from a high-end shopping mall and cinema complex to residential apartments and sports facilities. So big is the project that the London underground was extended to cater to the anticipated visitors.
And where the people go, so follow the restaurants. While, for now, most of those fall into the more casual chain outlet category, on the 15th floor of art'otel London Battersea is Joia – the newest (and first London) restaurant from celebrated Portuguese chef Henrique Sá Pessoa.
[See also: The Best Private Dining Rooms in London]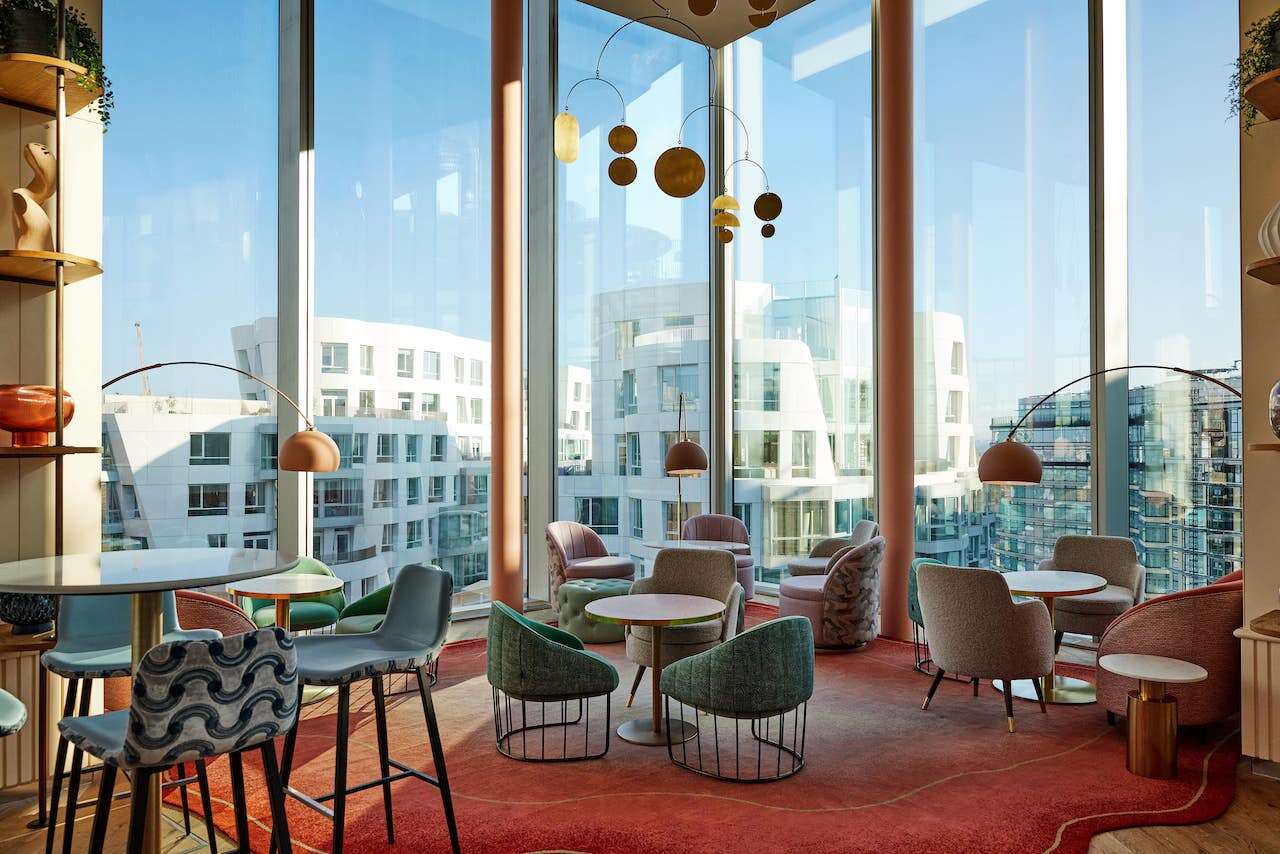 Although separated from the buzz of central London (despite that Zone 1 accreditation), a fun yet refined menu and beautifully photogenic interior come together to secure Joia's growing reputation as a must-visit.
Chef
Lisbon-born Henrique Sá Pessoa first trained at the prestigious Cordon Bleu Institute before gaining that invaluable practical experience at restaurants across his hometown.
In 2009, however, he went it alone and opened his first solo restaurant, Alma. Following a relocation, in 2018 Alma was awarded two Michelin stars, cementing Sá Pessoa's status as one of Portugal's finest culinary talents.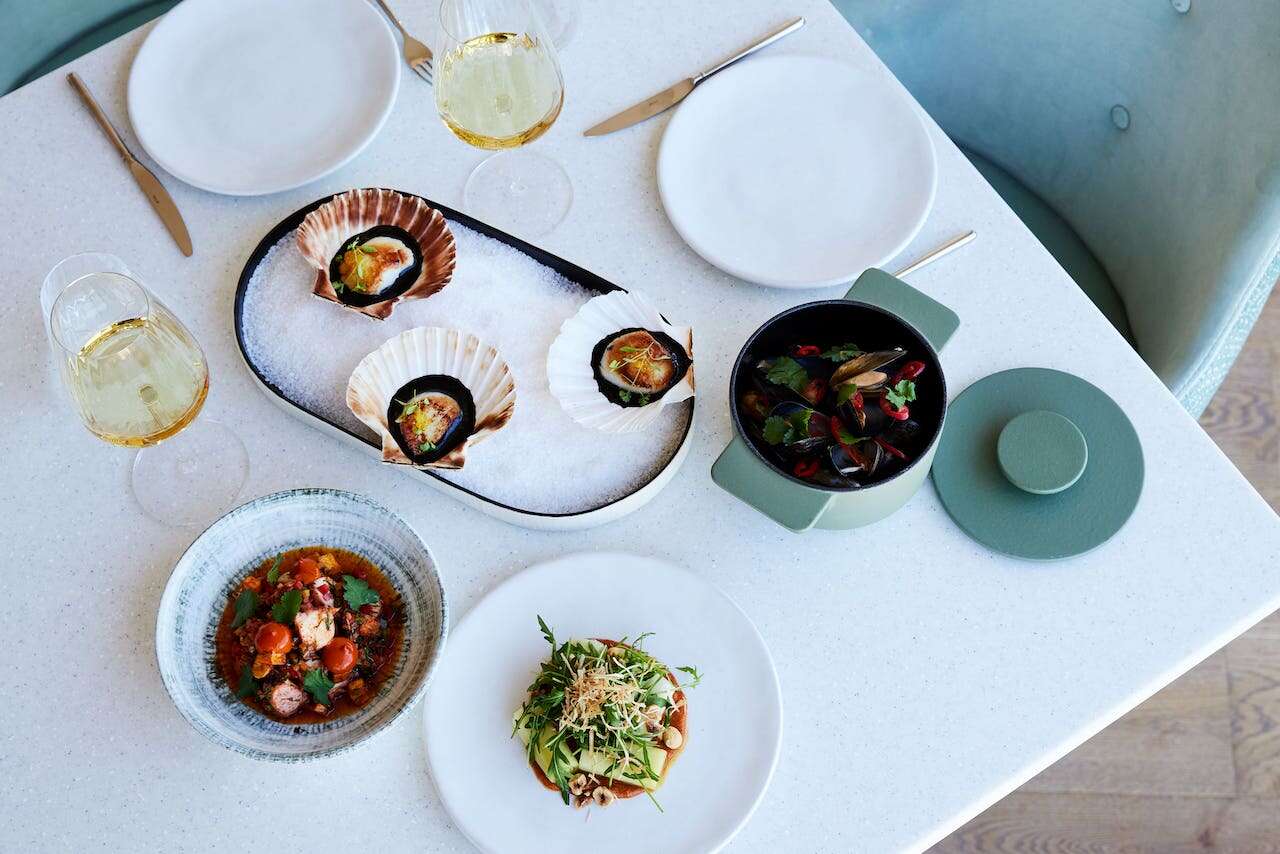 In 2021, Sá Pessoa launched his now multi-site partnership with the art'otel brand with the opening of Arca, art'otel Amsterdam's signature dining destination.
Despite his global reach, the chef's primary culinary influence firmly remains that of Portuguese and Spanish traditions, with his signature style celebrating and refining the two country's distinct techniques, flavors and ingredients.
[See also: Michelin Star Guide 2023: Best Restaurants in the UK Announced]
Menu
Diners at Joia are presented with a placemat-sized menu of dishes that celebrate the influence of Iberian cuisine – that is, broadly, the food of Portugal and Spain. While this might have traditionally meant homecooked food prepared for the family, at Joia, things are taken up a notch.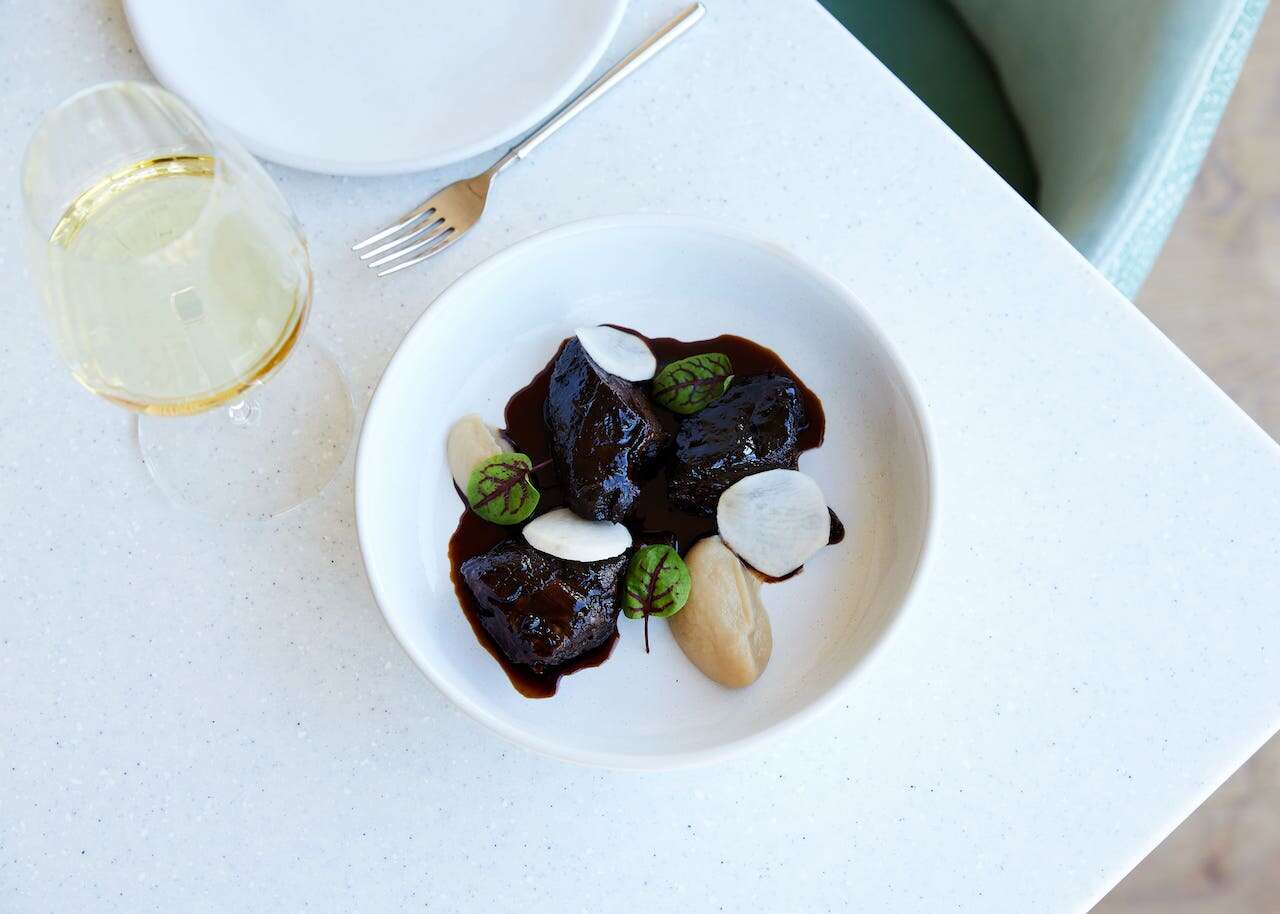 On the snacks section, the beloved croqueta isn't messed with too much (nor should it be), with a soft, gooey middle dotted with chunks of chewy Iberico ham wrapped up in a crispy panko outer and topped with melt-in-the-mouth slithers of Papada ham.
The Octopus Salad, which we were told is a chef signature, lives up to its rep with charred chunks of octopus swimming in a sweet, smoky tomato sauce, livened up with peppers and generously doused in olive oil. 
When it comes to entrees, a Josper oven promises to add a touch of smokiness to not only an 850g slab of 30-day-aged Angus forerib, but also Piri Piri cabbage, Carabineros Prawns and a fish of the day. For us though, the highlight came in the form of Braised Pork Cheeks, glazed in a thick, sticky Cola-black Madeira sauce with apple puree, the remainder of which was mopped up with a portion of Patatas Bravas. 
[See also: Le Manoir aux Quat'Saisons Continues to Dazzle]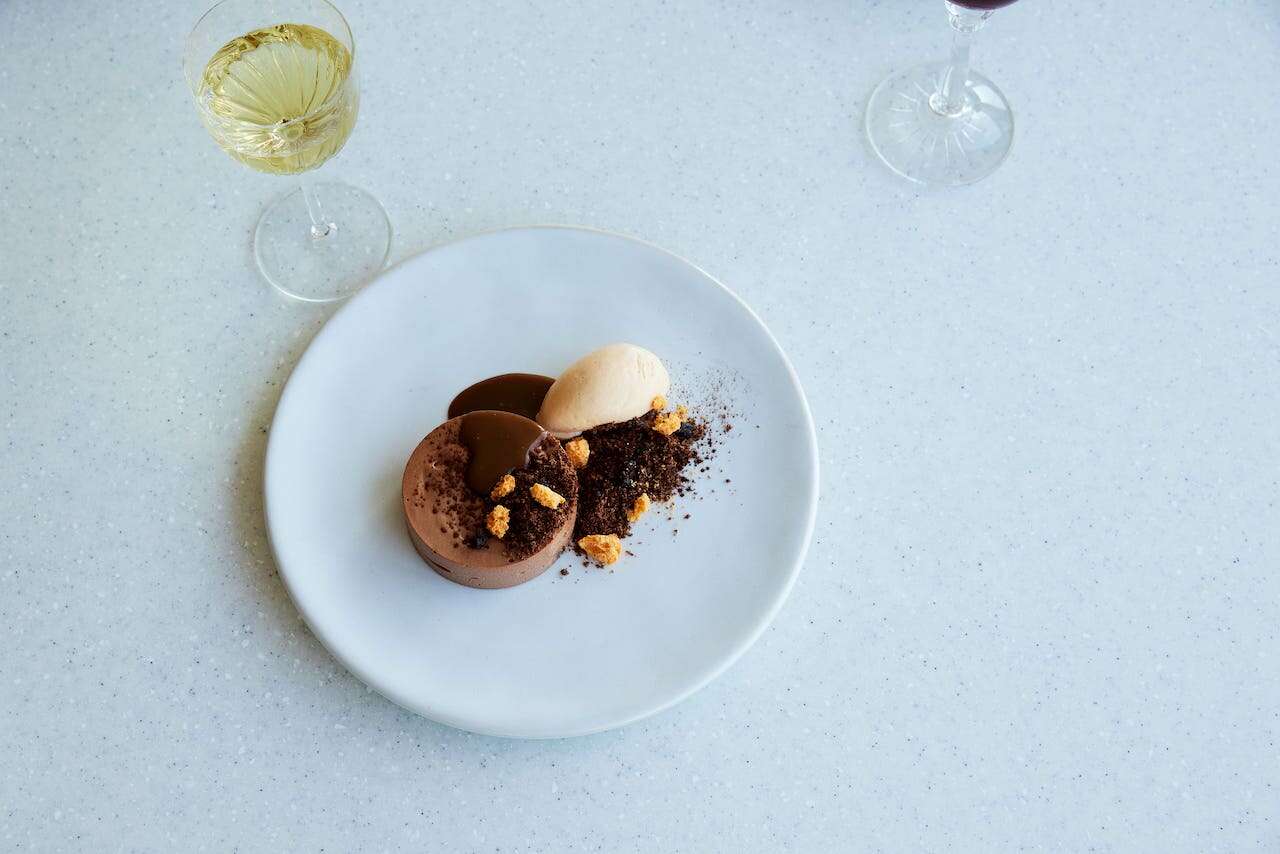 While meat and fish are key players in Iberian food, veg dishes are no mere afterthought on this menu. The Grilled Leeks are buttery, soft and sweet, with a generous swipe of smoky, nutty romesco sauce and toasted hazelnuts for that lovely crunchy texture. The classic Spanish tortilla lacked the runny middle we were promised, but a dollop of pungent aioli on the side made up for it.
Desserts are where things go super off-piste though – and not in a bad way. Chorizo ice cream admittedly won't be for everyone, but its smoky pepperiness cuts through the accompanying dark chocolate mousse brilliantly. We didn't try them, but the Pão de Ló sponge cake with goat's cheese ice cream and the fresh berries with raspberry ganache and olive oil sorbet sound just as intriguing.
[See also: The Ninth: Food Retakes the Spotlight as Fire Memories Fade]
Interiors
Just like the rest of the new and improved Battersea Power Station below, Joia is flash and perfectly polished. Don't be worried about formality though; despite the restaurant's elevated look, the trainer-wearing team is friendly, knowledgable and keen to make recommendations.
From a long peach-colored entrance, the restaurant opens up into a light-filled space dotted with mid-century furnishings and pretty pastel tones, all brought to life by Russell Sage Studio. The main dining area is bright and open, with virtually all tables enjoying a view of the open kitchen toward the far end. For a real close-up, book the chef's table.
Truthfully though, while Joia's interiors are lovely, the star of the show is the view. From its vantage point near the very top of the hotel, on one side the restaurant looks out over the larger-than-life towers of the power station, and from the other, over to the skylines of west London. (Although those with acrophobia might want to consider booking a table toward the back of the restaurant.)
From the main restaurant, a grand staircase leads down to the Joia Bar – a cavernous space with more floor-to-ceiling windows (this time double height) making the most of that spectacular view. 
Joia Restaurant, art'otel London Battersea Power Station, 15th Floor, 1 Electric Boulevard, London, SW11 8BJ, joiabattersea.co.uk
[See also: The Best Hotel Bars in London]