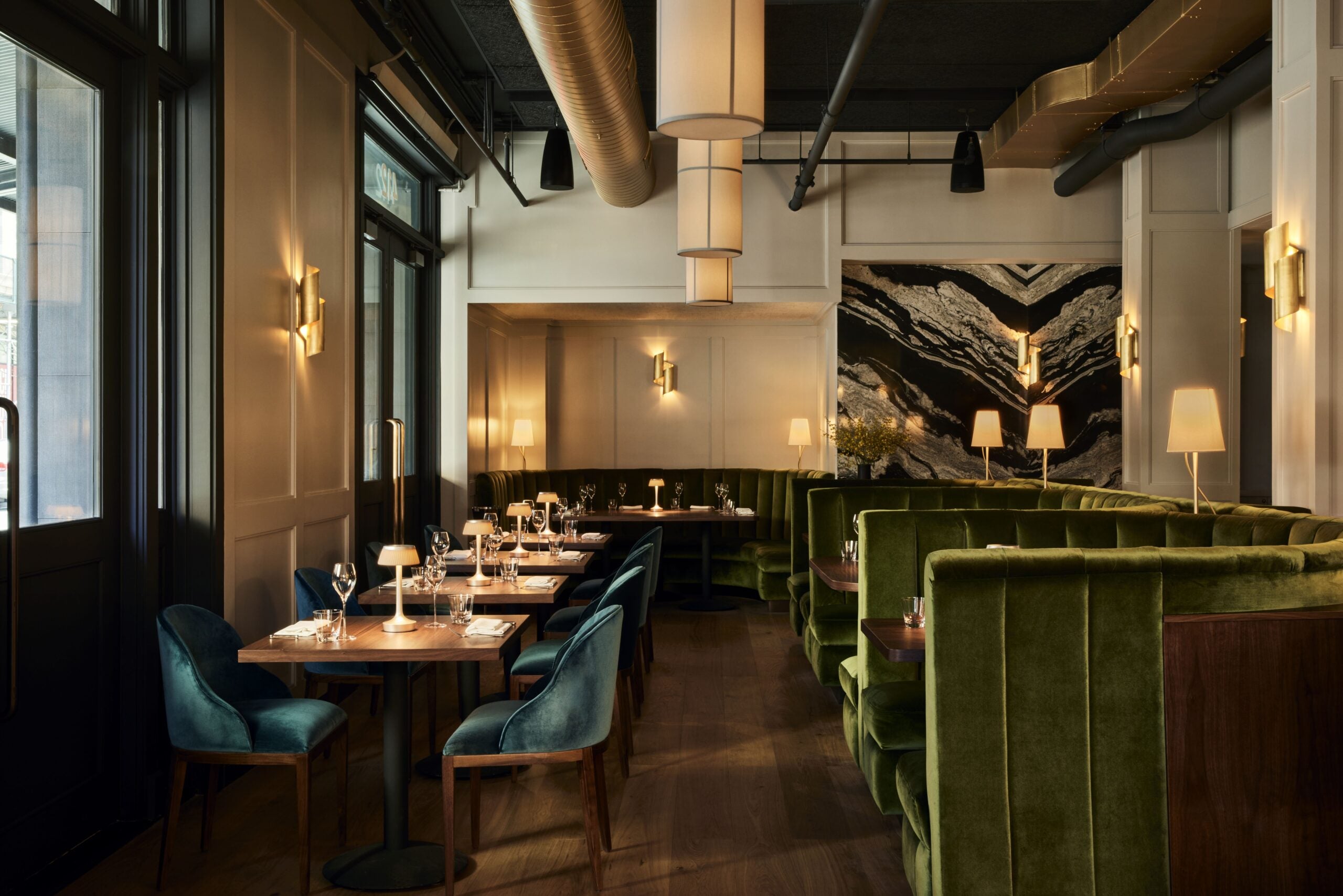 Sitting on the corner of Greenwich and Laight Street, L'abeille is one of the latest additions to Tribeca's ever-growing list of exciting eateries. And, with its refreshingly welcoming come-as-you-are type attitude, we couldn't imagine a better NYC spot for this up-and-coming restaurant.
Having opened in late March, L'abeille launched with the bold aim of bridging the gap between sophisticated French cuisine and bistro-style NYC dining to create what its calling 'bistronomy.' The result is meticulously created food with a focus on locally available ingredients, without the stuffiness that you might usually get in your typical fine dining restaurant.
And with a roster of vets from the likes of Joël Robuchon and Per Se behind the scenes, we've got a feeling that this contemporary take on gastronomy might just make L'abeille an NYC classic in the making.
[See also: The Most Anticipated Restaurant Openings of 2022]
Chef
The brains behind L'abeille's rotating tasting menu, as well as its à la carte offering, is executive chef and co-owner Mitsunobu Nagae. Originally born in Japan, Nagae's passion for French cuisine led him to Lyon, where he studied at the prestigious Tsuji Culinary Institute.
His studies evidently fared him well, with the young chef going on to take his first professional role in the kitchens of the three-Michelin-starred Régis et Jacques Marcon. From here, Nagae's CV quickly became littered with stints at some of the most prestigious restaurants in the world, from Château Restaurant Joël Robuchon in Tokyo to e.t.c in Paris, and most recently New York's L'atelier Joël Robuchon.
For his first solo project, Nagae is deftly blending culinary traditions from his home country with the elegance and precision of French cuisine, with the utmost respect for flavor profiles and ingredient provenance.
[See also: A Guide to All Three-Michelin-Star Restaurants in the USA]
Menu
Nagae takes inspiration from daily and seasonal availability in his six-course prixe-fixe tasting menu, with each dish a careful meeting of both modern and traditional cooking techniques. The flavors and ingredients are very clearly heavily influenced by Nagae's time in French kitchens but with a few classic American and Japanese touches. A combo like this might be tricky to pull off, but Nagae's background seems like it just might be a recipe for success.
Recent sample dishes include St-Jacques scallop carpaccio with beetroot gazpacho; Miso-glazed roasted pigeon glazed with bourbon sauce; and Grilled beef with caramelized spring onion, heirloom potato and triple-cream soubis sauce. Desserts are mostly fruit-forward, with dishes such as Orange with meringue and honey ice cream, and Strawberry with lychee, rose and basil promising to be a refreshing finale.
Much thought has clearly gone into the drinks list too, with beverage director (and fellow Joël Robuchon alumni) John Mckenna curating a France-focused wine selection that highlights the country's most prolific growers, as well as shining a light on a few under-the-radar producers. Ask for a paired recommendation and you're likely to discover a brand-new favorite.
There's also an impressive cocktail list with a few interesting combos. In the Evita, lemon verbena-infused gin is teamed with alfalfa honey vanilla beans, pear and lime, while the Sterling Mason features a mix of banana-infused rum, espresso muscovado syrup and coconut water. We'll take one of each, please.
[See also: Victoria Blamey Goes Solo at Mena in New York City]
Interior
Responsible for creating L'abeille's distinct Paris-meets-NYC vibe is designer, Marta Carvalho, who has cleverly connected Tribeca's industrial-feel streets with a warm, welcoming interior. Clean lines and pared-back finishes are the signatures here, with plush touches such as velvet seating and lamp lighting adding a touch of luxe.
Smartly adding an extra level of dimension to the 54-cover space, seating is separated into different sections. There's high countertop seating with a front-row view into the kitchen, big comfy booths and classic restaurant-style seating. During the warmer months that we're all counting down to, L'abeille will throw open its doors to the sidewalk, where an extra 12 al-fresco covers will be made available.
L'abeille, 412 Greenwich Street, New York, NY, 10013, labeille.nyc