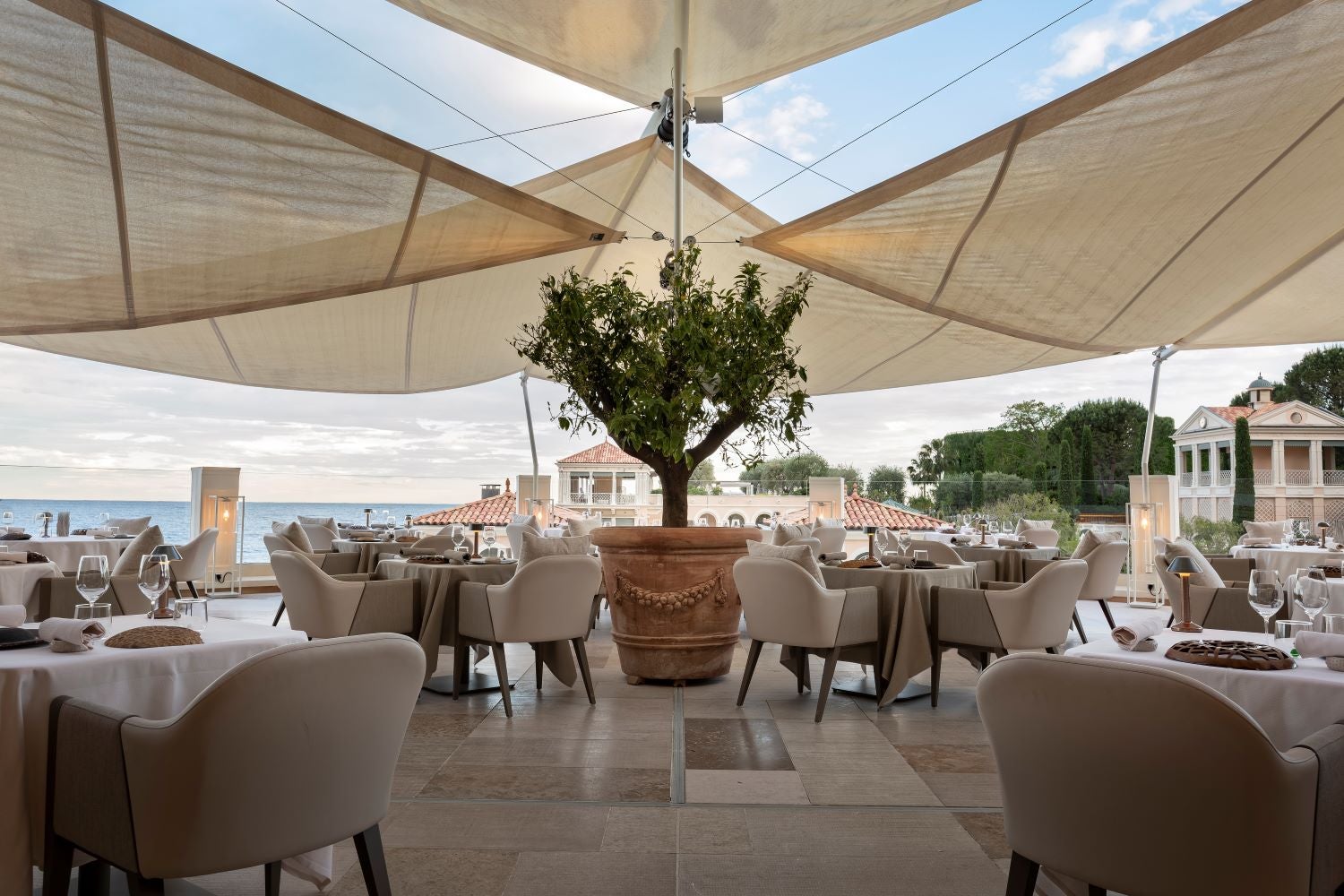 You might think that chef Marcel Ravin's biggest achievement would be earning a Michelin star for his restaurant Blue Bay at the Monte-Carlo Bay Hotel in Monaco. But the Martinique-born chef, who was promoted to the rank of Knight of the French Legion of Honor in 2017, is modest about his accomplishments. 
"For me, nothing changed with the Michelin star but of course, I was very proud," the chef tells Elite Traveler ahead of dinner at Blue Bay. "It's about keeping this level of excellence [going] and making Caribbean cooking more visible around the world." 
[See also: Our Favorite Restaurant Openings of 2021]
Ravin describes his cooking as a "mix of cultures", creatively fusing the creole flavors he grew up with in his grandmother's kitchen with the bountiful produce from the Côte d'Azur. This has led the chef to create a culinary identity unlike any other. Ravin puts this down to something he calls his "mind palate" — that is his memories of dishes, spices, produce and recipes of Martinique that he seamlessly weaves through his creative menu at Blue Bay.
"Food was a big part of my life when I was growing up with my grandmother. We had a fruit and vegetable garden and would eat what we grew," shares Ravin. The chef promised himself he would have his own vegetable garden one day and that ambition became a reality when he took to the helm of the Monte-Carlo Bay Hotel facing the sparkling Mediterranean. 
The hotel has dedicated 4,300 sq ft of coveted Monte-Carlo real estate to an organic fruit and vegetable garden nurtured by urban agriculture firm Terre de Monaco. It is this unique green space in the heart of the five-star hotel, along with a plot at nearby Le Jardin des Antipodes in Menton that Ravin sources all his fresh fruit and veg. "The vegetable garden forms the center of my cooking," the chef explains. "The menus evolve with the garden. Then I decide what fish and meat will work with that vegetable." 
The Chef
Ravin first arrived in Monaco at the age of 21 and knew in his gut that he would return one day. Twenty years later, his hunch proved to be correct. 
After building a successful career working in Michelin-starred kitchens in France and Belgium, in 2005 he got the call he had been waiting for. Ravin was invited to lead the culinary offering at the newly built Monaco Hotel and the jewel in the crown would be Blue Bay. 
Since Blue Bay opened, Ravin has garnered a legion of fans from both Monaco and afar, with HRH Prince Albert II amongst his guests.  
Respecting the seasons is essential for the chef, as is sourcing meat and fish locally and sustainably. "We have also [signed] a charter called 'Mr Goodfish' and it's a way to respect marine resources," says the chef. "For example, there is no red tuna on the menu because it is a protected species," says Ravin. 
Menu 
Visiting in February, we were given the choice of Blue Bay's seven-course 'Winter Solstice' Menu or the nine-course menu entitled 'Marcel's Agoulou' which featured the same dishes with a couple of delectable additions. 
Dinner starts with an ice-chilled glass of Laurent-Perrier champagne from the restaurant's champagne cart, giving you time to peruse the menu. A wine list of 400 bottles is easily navigated with the help of Blue Bay's knowledgeable sommelier. 
The arrival of the beautifully intricate first course shortly follows — a colorful miniature feast of four 'snacks'. The star is a sea mullet tartar with sweet tropical hints of mango and fiery chili served on crisp tapioca. There is also a delicate tart encasing smooth sweet potato and truffled pecorino — just the right amount of indulgence. The final two dishes — a spiral of Mediterranean grilled squid with a gleaming tamarind sauce along with a tiny avocado and artichoke curry veloute — are a perfect example of the chef's skill in fusing flavors. 
Those opting for the nine-course menu at Blue Bay will be treated to Oyster Perle de Monaco next, featuring green papaya, scallop whipped cream and roasted peanuts. This is followed by one of the chef's signature Blue Bay dishes: The Monte-Carlo Egg. Served in a giant porcelain egg, it features a divine velvety mix of egg with truffle, cassava and maracuja juice (passion fruit in creole). 
The next course is titled 'Our Garden for Inspiration', leading to much speculation of what might appear. A plate of vibrant green broccoli fresh from the hotel's garden doesn't disappoint, flavored with the bright citrus aromas that only Mediterranean lemons can produce. 
Pure indulgence follows in the form of sweet crab cloaked in an indulgent green coconut-infused broth with a crown of caviar to bring a hit of mild sea saltiness.
For the main event, guests have the choice of two dishes: tender veal cheek served with tamarind foie gras ravioli or delicately cooked John Dory with puffed rice and a tangy beetroot and hibiscus sauce. Rich in color and flavor, the attractive dish is made all the more pretty with a sprinkling of dainty hibiscus flowers carved from beetroot. 
Palates are cleansed with the pre-dessert: sorrel sorbet, yogurt emulsion and cassava crumble adorned with olive oil drops and pollen served in half a coconut. Nature's produce at its finest. 
There is a choice between two desserts but if you can, it's best to share as both are wonderful. The first is Menton citrus fruit harvest, which is served with white chocolate and an incredible seaweed ice cream. The second, what Ravin has named 'Chocolate of my childhood', is a chocolate-lovers dream. Three miniature chocolate dishes arrive: hot chocolate served with Martinique-style bun bread, a warm chocolate melting pudding and spicy chocolate truffle. Far from chocolate overload, the chef manages to bring out a rainbow of flavors from the three offerings. 
Interior
If you can peel your eyes away from your plate, Blue Bay's setting is truly special. A grand open dining room with large windows and an open kitchen leads to a magnificent outdoor terrace boasting unobstructed panoramic views of the Mediterranean.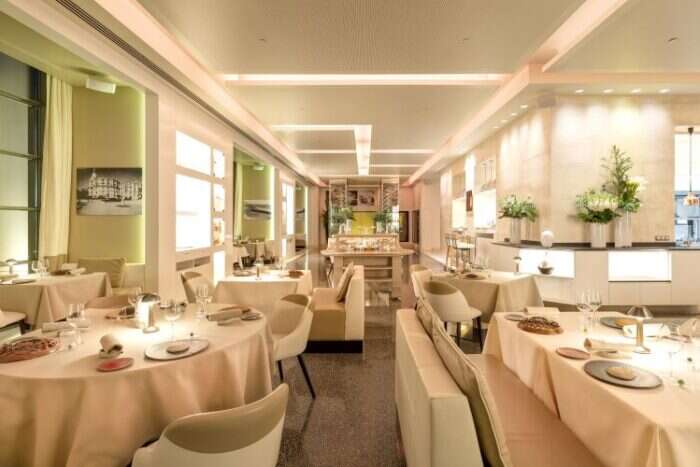 Ravin has added his own personal touch to the setting, like teaming up with a Martinique-based potter to design customized plates. 
Despise the sea views, the best seat in the house has to be at La Tabel de Marcel: two stools perched at a counter at the side of the open kitchen where you can watch Ravin and his team cook up culinary magic.
Blue Bay, Monte-Carlo Bay Hotel,  40 Av. Princesse Grace, Monaco, montecarlosbm.com
[See link to full story: Hélène Darroze at Villa La Coste Opens in Provence]