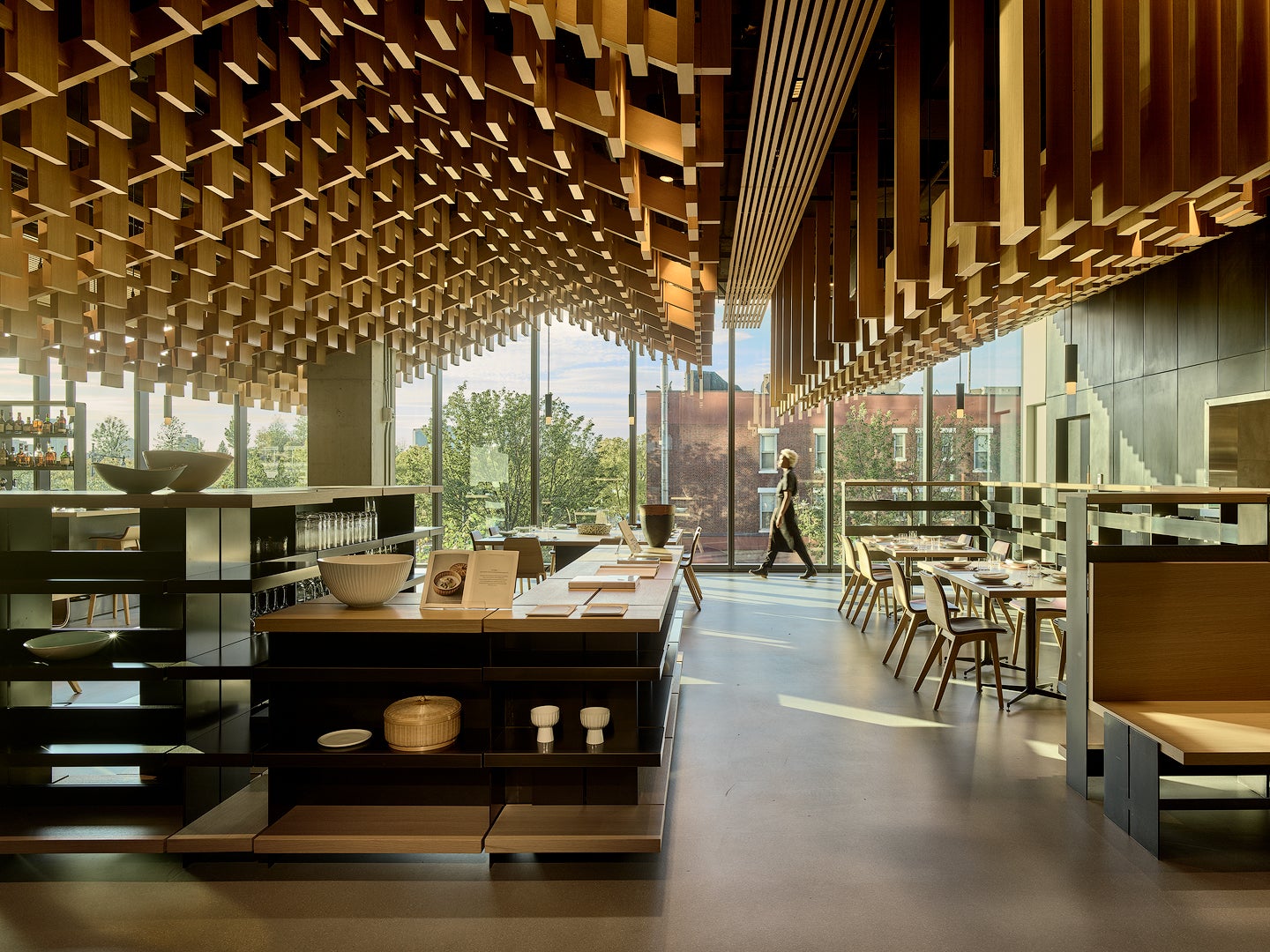 At first glance, a New York car showroom is a somewhat curious space for Onjium — a hugely admired Korean fine-dining restaurant that celebrates ancient stories and flavors — to have chosen for its new US outpost. 
But that is only part of the story. Genesis House, the Seoul Michelin star restaurant's new home in New York's Meatpacking District, is so much more than that. Following in the footsteps of Lexus and Mini, Genesis House is the latest automotive brand to launch an experiential destination where cars feel like somewhat of an afterthought and culinary excellence takes a starring role.
[See also: The Best Restaurants in Seoul for Elevated Korean Cuisine]
Korean in its architecture and harmonious-feeling within its innovative interior, Genesis House also features a traditional tea pavilion, arts and events space, and library. It represents a partnership between the car brand and Arumjigi, a non-profit whose mission is to uphold and celebrate Korean culture. This couldn't fit better with Onjium's ethos of cultural and culinary preservation (the Seoul restaurant even holds Korean history and cultural classes at the restaurant twice a month).
Chefs 
Led by Onjium Culinary Studio's head chef-artisans Cho Eun Hee and Park Sungbae, the New York eatery boasts the same commitment to authenticity that can be found in Seoul. "We curated the menu for Genesis House to have the same techniques and practices that we celebrate at Onjium in Seoul. [It] is not just a restaurant, but a research institute seeking to preserve traditional Korean culture," explains chef Cho, who is one of three female chefs in South Korea to hold a Michelin star and a certified trainee of Korean royal court cuisine. 
That same dedication is shared by chef Park. "Our cooking is about taking modern interpretations of traditional recipes and lending more subtle and nuanced flavors to dishes inspired by the Korean noble class and Imperial cuisine of the Joseon Dynasty (which lasted from 1392-1910)," he explains. 
"Each course tells a story of the royal families it was inspired by, refreshing these historical recipes for the modern palate. We'd like diners to walk away with an understanding of the old stories and flavors of Korean cuisine in a new light. Onjium's vision is to continue to pass down these traditions and keep them alive for a modern-day audience."
Menu 
Onjium New York's seven-course tasting menu certainly does speak to Korea's noble past. Featuring a selection of delicate banchan (small dishes served alongside rice), this is food that is deeply considered and lovingly prepared. The elegant menu includes offerings such as Suranchae — a seafood delicacy bringing together abalone, diver scallop, and snow crab dressed in a pine nut sauce, following a recipe that was served to distinguished guests of the noble Choi family clan in Gyeongju.  
Seolyamyeokjeok, a marinated grilled beef sirloin with sunchokes (Jerusalem artichoke) dish, also tells a story. "It's a play on an ancient Korean recipe traditionally cooked in the snow," explains chef Park. "To make it, they would wait for a snowy night to grill beef. The beef would be marinated and in order to prevent the sweet marinade from burning, they would alternate the beef from the grill to cool it by dipping it into the snow. As a homage to this ancient tradition, we grate some chestnut over the grilled wagyu to represent the snow." 
[See also: Our Favorite Restaurant Openings of 2021]
Sustainability is intertwined into Onjium's culinary ethos, from ancient fermentation techniques used to preserve ingredients, to the restaurant's take on po, which is served at the beginning of the tasting menu or can be ordered as a side dish. "It's a Korean jerky meant to be enjoyed as light bites, which we've created in the spirit of not wasting any products," explains chef Cho.
"We craft the menu according to the seasons and source our ingredients locally. This means we've had to swap out some ingredients we use in Seoul for more local ingredients found in New York." An example of this is the tasting menu's Baekhwaban dish. "Mountain root is swapped with easier-to-find parsnip [from] the local New York markets instead," she explains. 
There is also a varied a la carte menu that features anju – essentially nibbles to be enjoyed over a drink — such as seaweed or lotus bugak (a type of chip). Diners can also pick from a selection of kimchi; small and large plates; and noodles and rice dishes (try the Namul dubu bap – inspired by temple cuisine, Onjium uses fresh soy to make its own tofu which is paired with gold rice and local greens).
Onjium's traditional desserts have a western influence and the eclectic drinks menu features house-made seasonal herbal teas and cocktails that marry Korean spirits with unusual botanicals to create a twist on well-known classics. 
Interior 
Inspired by Unhyeon Palace, the personal residence of the last emperor's father, Onjium's New York interior combines elements of old and new, just like its cuisine. 
A swathe of oak shingles, similar to a Korean traditional roofscape, appear almost hovering above head, while the simple but serene space is decorated with ceramic and metal vessels.
Genesis House Restaurant by Onjium, 40 10th Avenue, New York, 10014, genesishouse.com
[See also: New York's 2021 Michelin-Star Restaurants Revealed]