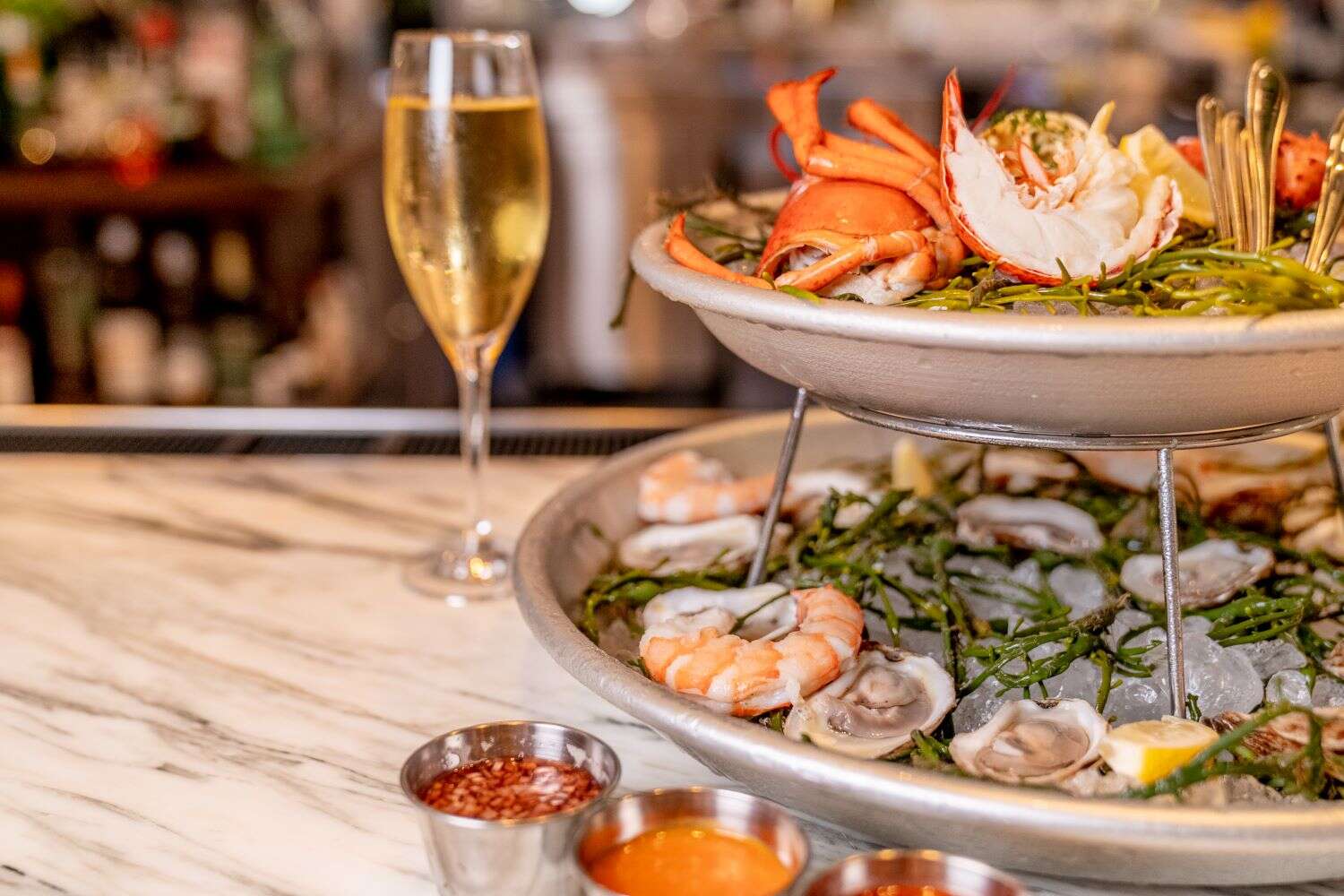 The pandemic has been a time of change and re-focus for many chefs. This couldn't be more true for Jonathan Benno who launched Bar Benno in the iconic Evelyn Hotel in the NoMad neighborhood of New York last Friday. 
Benno is no stranger to the Art Deco confines of The Evelyn. Pre-pandemic, the hotel was home to Leonelli restaurant and bar, his Roman-inspired trattoria and cocktail bar. Bar Benno now takes its place and marks a departure from the Italian food the chef grew up eating and first won critical acclaim for cooking (the modern Italian fare at Benno's nearby Lincoln Ristorante was awarded a Michelin star in 2018.)
This shift will continue later this month as Benno's namesake fine-dining restaurant at The Evelyn – simply named Benno – re-opens after a pandemic-enforced hiatus. The one-Michelin star restaurant previously focused on dishes inspired by the area where Italy and France meet (Liguria and Provence.) However post-pandemic, its feet are firmly on the French side of the border. Bar Benno is almost like its more formal sibling's casual and accessible counterpart, ideal for easy-going lunches and dinners with friends and family. 
[See also: One White Street Opens in New York's TriBeCa]
The Chef
The chef's move towards French cuisine is not out of the blue. Having worked with the acclaimed Danikael Boulud of New York's two-Michelin-star Daniel, as well as a serving six-year tenure under chef Thomas Keller as the chef de cuisine of three-Michelin-Star Per Se, Benno has benefitted from the mentorship of some of America's greatest purveyors of French gastronomy. 
"It's not enough for us to just reopen Benno, I want to expand it further," says the chef. "When we began planning Bar Benno I really wanted to focus on my foundation in French food and technique, the kinds of dishes I remember traveling and cooking in France."
Bar Benno is the chef's New York homage to the bistronomy movement in Paris that has seen celebrated chefs open more casual eateries with an emphasis on cuisine and ingredients. His intention is to elevate traditional dishes, combining the skill and execution he is known for with a focus on quality, seasonality and accessibility. 
The Menu
Like many of the Parisian bistros that the Connecticut-born chef admires, local ingredients are the star of the show at Bar Benno. "I have lived and worked in New York City for most of my career and am thrilled to be working with farmers at the Union Square Greenmarket again," explained Benno. "Our menu will also feature seafood from the north-east, dairy products from Vermont and locally raised beef, poultry and pork."
A good starting point for any meal at Bar Benno is the Fruits de mer section of the menu. The most impressive of all the options is the Plateau which gives you a bit of everything including six oysters on the half shell, jumbo shrimp cocktail, Maine lobster remoulade and tuna tartare.
There is also a rich selection of hors d'œuvres including a terrine made with Berkshire pork and foie gras and escargot with a garlic custard and parsley butter. 
Main courses are split into two categories: Plats principaux and Frites comprises (aka French fries included). In the first, you'll find items from Bar Benno's rotisserie such as chicken with celery root gratin and prime rib of beef with sauce Bordelaise. The Frites comprises section keeps things even more laid back with offerings like French dip au jus smothered in comté cheese and caramelized onions served with beef consommé. 
For dessert, the marquise au chocolat or the cinnamon pots de creme are the perfect way to round off dinner. 
Interior
'If ain't broke, don't fix it' is the approach taken at Bar Benno. Housed within one of The Evelyn's timeless dining rooms, not much has changed since the departure of Leonelli. The art-deco and art-nouveau details that hint at the 116-year-old hotel's art and jazz heritage remain fully intact. The centerpiece remains a lively horseshoe-shaped bar, the perfect place to enjoy Bar Benno's L'Apéritif happy hour.
[See also: Elite Traveler Launches World's Top Restaurants Database]