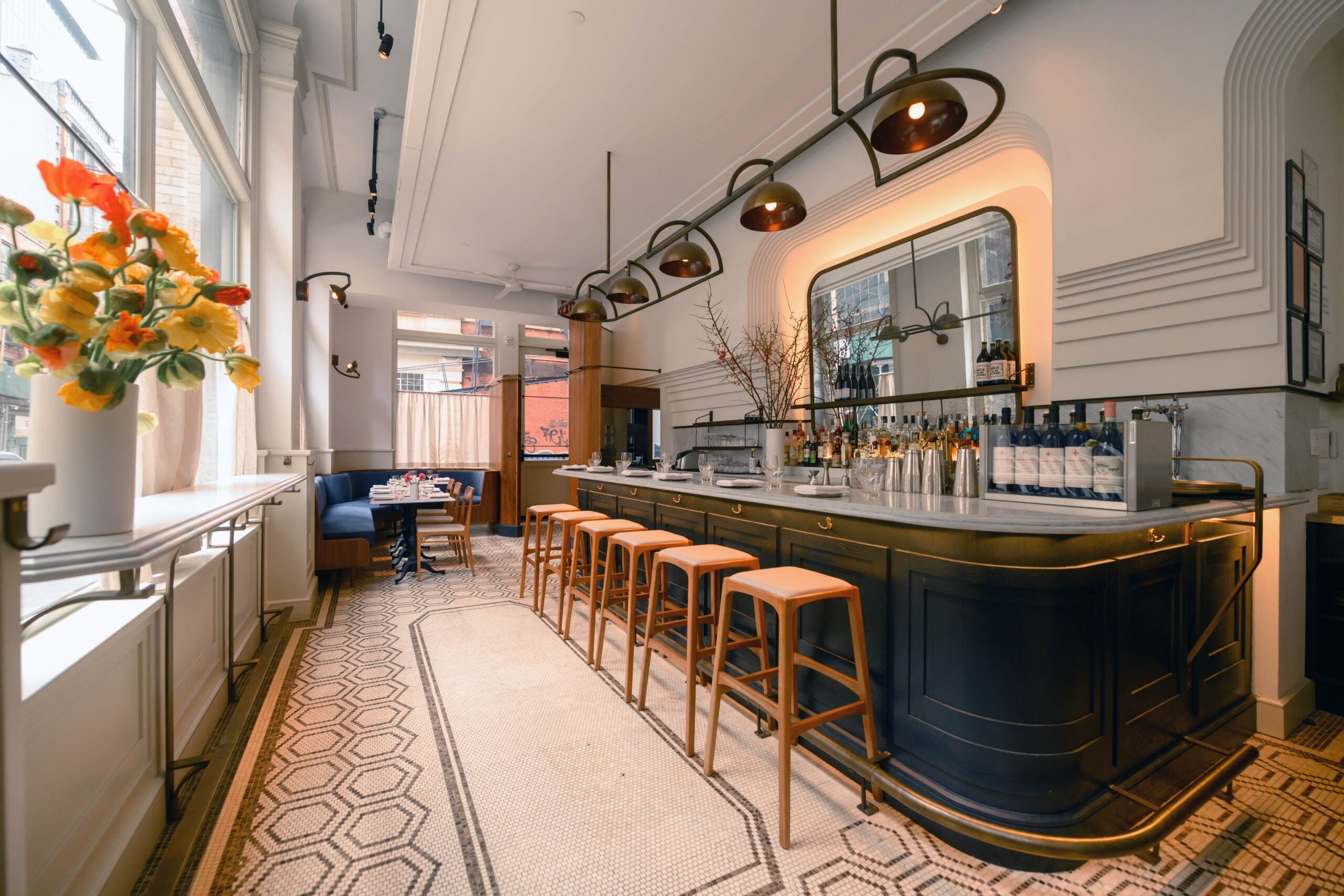 Victoria Blamey has received bountiful praise during her many stints in some of the country's best restaurants – now, the chef is going solo with the opening of Mena in New York City in January.
Found tucked away on Cortlandt Alley – which despite its somewhat gritty experience is one of the city's most iconic addresses – Mena is on its way to becoming one of Tribeca's hottest dining spots, with a chic design and thoughtful menu getting the city's biggest foodies talking.
What really sets the restaurant aside in a city that is always buzzing with new openings, is the level of personality that shines through from chef Blamey. "Mena is a very personal, intimate project that represents my journey and where I'm at right now," she says. "We're excited to create a community here that will hopefully only continue to grow and develop as we evolve."
Chef
Although chef Blamey was born and raised in Santiago, Chile, her culinary career has taken her around the globe with stints at some of the best restaurants in the United Kingdom, Australia, Spain and eventually, the US.
In the past decade, Blamey has been making her mark on the New York City dining scene, having taken up positions at the likes of Corton, Atera and Chumley's, before assuming the role of executive chef at the much-loved Gotham Bar & Grill. Following her departure from the restaurant, Blamey homed in on her own unique style of cooking as well as explored the culinary traditions of her Chilean heritage in a series of chef-in-residence programs, the most notable of which was at the pioneering Blue Hill at Stone Barns.
And with the room for expression afforded in her residencies, Blamey has truly discovered her culinary identity. The food she is serving at Mena, which marks her first solo restaurant, is by all standards thoughtful, personal and modern, and a true reflection of the wealth of experience that Blamey has under her belt.
[See also: The Best Restaurants in New York City]
Menu
While Mena initially opened with just a prixe fixe menu, the restaurant has now expanded its offering to include an à la carte, with each dish a celebration of South American cuisine, as well as a showcase of the skill and knowledge that Blamey has nurtured throughout her fine dining career.
The menus will rotate regularly to reflect seasonal availability, but recent highlights include ME Snow Island Oyster with seaweed gremolata; Savoy Cabbage with scallop mousse, sea lettuce and vin jaune; and VT Woodbury Pheasant, dry-aged with mole. On some evenings, there's also an extra treat in the form of an off-menu dish inspired by Blamey's childhood.
Desserts are equally as intriguing: Milk Cloud with seaweed ganache, kelp butter and Chilean hazelnut sits alongside a Winter Pavlova with angel hair squash, confit etrog and citrus curd.
While flavor is naturally Blamey's first priority when crafting her menus, special attention has also been paid to plating stunning-looking dishes. Each one is very clearly the product of meticulous attention to detail; the result is simply beautiful.
Sustainability was also a top priority for Blamey. Her menus champion ingredients from farmers committed to conscious growing practices and purveyors using responsible ingredient sourcing, with preference given to local and seasonal goods.
The wine menu continues to uphold Mena's commitment to sustainability, with an eclectic list of bottles from organic and biodynamic producers. There's also a serious cocktail selection that deserves proper perusal, with simply named serves like Rum (Flor de Caña, house-made coconut milk and pineapple); Pisco (Macchu Pisco, pomegranate and citrus); and Mezcal (Yola Mezcal, Velvet Falernum, kiwi and green chartreuse) all vying for drinkers' attention.
[See also: The Most Exciting Foodie Cities to Visit in the US]
Interior
In a city like New York, no corners can be cut when it comes to interior design, with local firm Cycle Projects brought on to imagine Mena's chic 50-seat dining room. The space now benefits from wall-to-wall windows, which cast an abundance of natural light over the cool blue banquette seating which wraps around the walls.
On the floor, an intricate mosaic tile pattern grabs the eye as soon as you enter the restaurant, while bouquets of fresh flowers soak up the sun. Taking center stage, however, is the striking bar, complete with brass detailing and a customer overhead light fixture.
Mena's rotating art displays celebrate the vibrancy of New York, with a series of works by photographers, ceramicists and painters lining the restaurant's walls.
Mena, 28 Cortlandt Alley, Tribeca, New York City, NY 10013