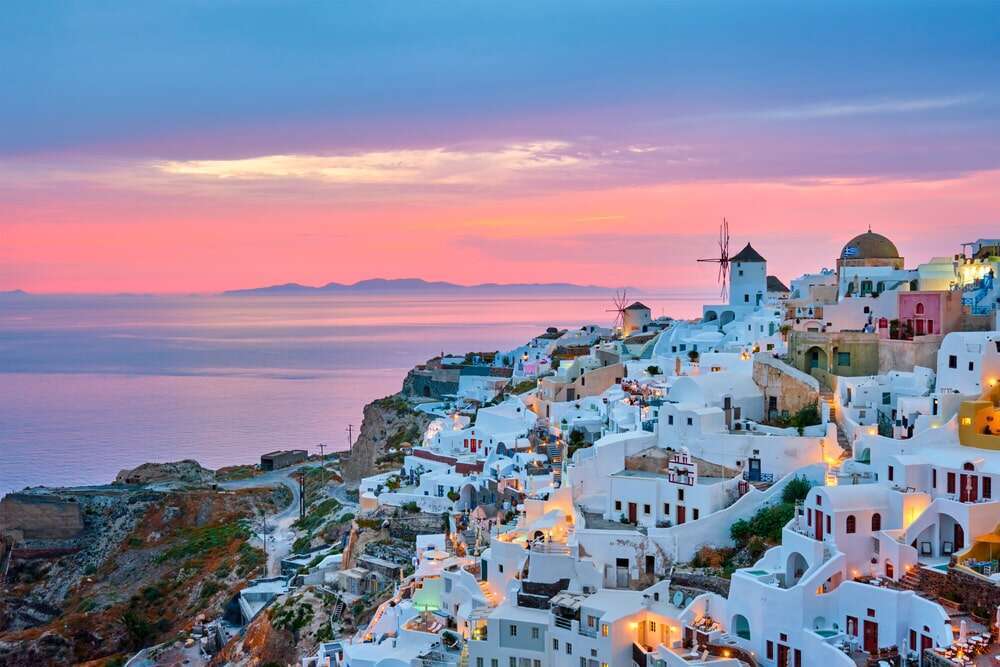 With uninterrupted views over the island's famous caldera and chefs who have garnered their fair share of awards, Santorini has a smattering of outstanding dining venues. While the island has become a haven for luxury holidaymakers, with outlandish superyachts literring every bay and opulent hotels on each cliff, its food scene still retains the essence of traditional Greek island cuisine.
From glamorous cliffside spots to authentic tavernas, the best restaurants all have one thing in common: a respect for local, fresh ingredients and the traditions of the island's signature food. One night could see a table piled high with beautiful seafood; another evening could be all about rich, heart stews. For a small part of the world, Santorini's food scene is a varied one.
Our top picks of the best restaurants in Santorini promise sublime cuisine, beautiful settings and warm, authentic Greek service. Yiamas!
[See also: The Quietest Greek Islands to Visit This Year]
Selene
This award-winning fine dining restaurant in the village of Pygros is a well-established favorite here on the island. Since it was established in 1986 in its former Fira setting, Selene has garnered great acclaim for championing local cuisine and by showcasing the best produce from Santorini's farmland and vineyards. Dishes are then prepared with a modern approach.
Try seafood plates such as Cycladic Spinialo with octopus, botarga, sea bass, sea urchin, hornbeam, shellfish and yellow pepper sauce, or a hearty meat dish such as lamb with eggplant puree, lamb sweetbreads, black olive paste and caper chutney. Selene also offers culinary experiences that include cooking classes, tastings and degustation menus.
Lycabettus Restaurant
Perched on the edge of a hillside overlooking the Aegean Sea, Lycabettus offers one of the most scenic dining spots on the whole of Santorini. Watch the sunset over the horizon and the stars emerge as you dine on the finest local ingredients.
The cuisine is a match for the scenery with genuinely inspired dishes from executive chef Pavlos Kiriakis. Kiriakis cut his culinary teeth in Michelin star restaurants Spondi, Azurmendi and Benu. The menu is an ode to Greek and Mediterranean fare with a strong emphasis on fresh seafood dishes. Diners can choose from the a la carte menu but the ultimate experience in the nine-course taster. The menu changes regularly but always offers enhanced versions of classic Greek cuisine. A recent iteration of the menu offered dishes such as 'grouper with capers fricassée & fennel' and 'lamb racks with eggplant, yoghurt & tahini'.
Nobu Santorini
Having begun welcoming its first guests this summer, Nobu Santorini has instantly made its way onto any list of the best restaurants on the island. Serving up the group's world-famous signature cuisine, Nobu Santorini makes the most of its incredible seafront location with plenty of locally inspired dishes, as well as the Nobu favorites like Miso Black Cod and Yellow Tail Sashimi. The setting is equally as special, with its spot high up on the cliffs promising plenty of those postcard-perfect ocean views. The restaurant is open to non-guests, but those staying at the hotel can enjoy the privilege of Nobu private dining from their suite.
[See also: Inside Sani Resort: Greece's Most Luxurious Eco Destination]
1800-Floga Restaurant
As the award-winning 1800-Restaurant is now located beneath Floga Restaurant in an 1845-built mansion in Oia—combining to become known as 1800-Floga Restaurant—this is a dining spot worth seeking out for its sea views and restored interiors that give a sense of Santorini's past, as well as for its gourmet cuisine. In the atmospheric dining room or up on the scenic rooftop garden, tuck into traditional Greek cuisine that's been given a contemporary touch and presented artistically on the plate. These dishes can then be paired with award-winning wine from Santorini and beyond.
[See also: Elite Traveler's Top Restaurants]
La Maison Restaurant
From its elevated setting in the village of Imerovigli, La Maison Restaurant commands impressive views over the caldera, making it especially appealing at sunset and cementing its staus as one of the best restaurants in Santorini. Here, the chefs aim to express the culinary identity of Santorini and the surrounding region through a menu of Mediterranean fusion cuisine using fresh local ingredients. Expect dishes such as urchin risotto, baked monkfish with beetroot puree, and lamb shank with white beans and smoked feta mousse.
[See also: The Best Restaurants in Athens]