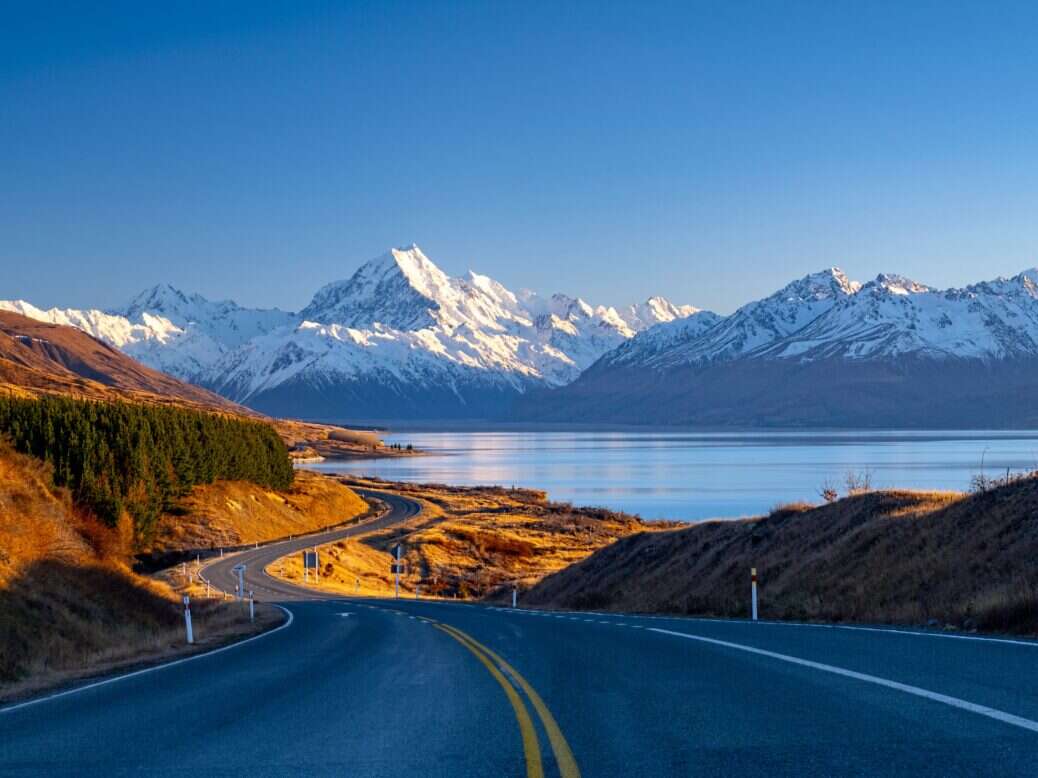 Located off the southeast coast of Australia, New Zealand's two primary islands (of a total 600!) are aptly named North Island and South Island. The latter achieved international fame as the ethereal shooting locale for The Lord of the Rings movies.
Less-visited North Island features equally striking geography, from the flat-topped plateaus in the north and the volcanic cones of the interior to the steep sandstone slopes and sharp ridges in the south. Approximately 650 miles worth of roads connect tip to tip; engage with each landscape, as every route is a scenic one.
North Island's natural bounty offers world-class trout fishing, remote cliffside golf courses, geothermal spas, and uncrowded surf and diving spots. (Worth a reminder: the southern hemisphere's seasons are inverted. Depending on the time of year, activities require specific planning and wardrobe.)
The indigenous Māori people match the milieu. Their manaakitanga, or hospitality, is warm and welcoming. Indulge in thriving wine regions and a rapidly expanding design and fashion scene.
[See also: Stargazing and Whale Watching in New Zealand]
Auckland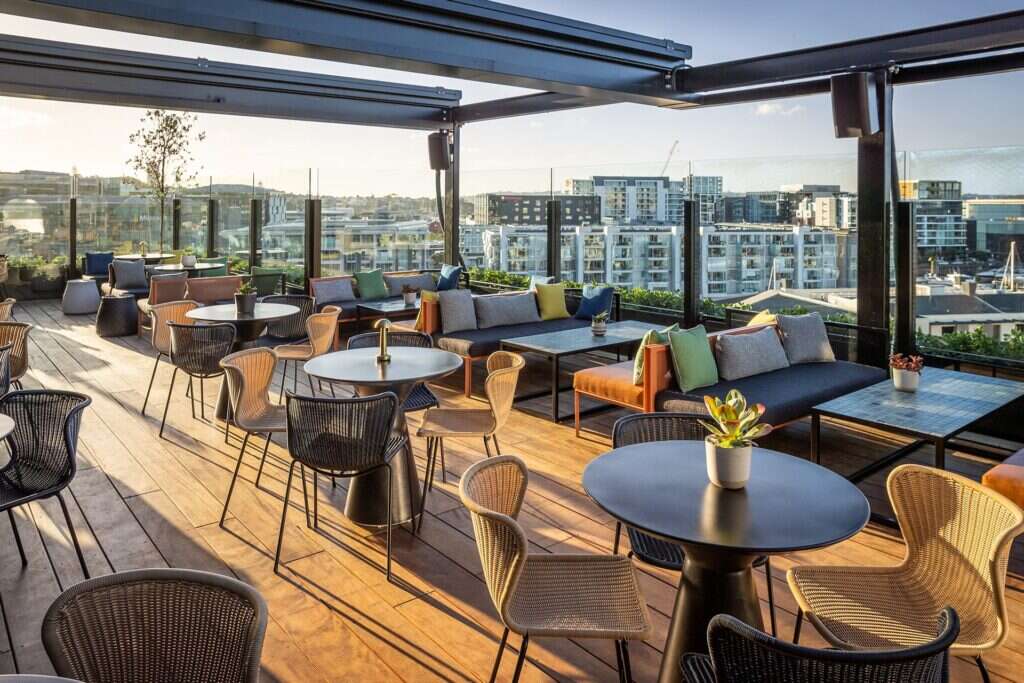 New Zealand's largest city, Auckland houses one-third of the country's estimated five million inhabitants. Since Auckland sits between two large harbors, waterfront views are plentiful, especially from the handful of Landing Suites at the Hotel Britomart. Check into the Rangihoua Suite, located on the top floor of the hotel, and enjoy the private terrace and outdoor fireplace. Book a spot at the Libraries, a reserved space within the hotel for private dinners or apéros.
A stone's throw from the Hotel Britomart, Trelise Cooper creates a modern, bold take on womenswear. A dame, the namesake woman behind the brand, opened her first boutique nearly 40 years ago and continues to steer Kiwi fashion. Nearby Ahi encapsulates New Zealand cuisine, where the food is simultaneously laid-back and sophisticated. The wallaby tartare and salt-baked celeriac (with Te Puke truffle) explore local flavors, while the agria potatoes with mushroom ketchup provide a unique flavor journey. Potter Rachel Carter supplied the stoneware; she throws and glazes daily in her by-appointment-only West Auckland studio.
Socialize under the stars at the Rooftop at QT Auckland and explore the art-forward hotel, or head underground to Caretaker, a speakeasy-style libations bar that reinterprets the classic beverages of yesteryear.
Northland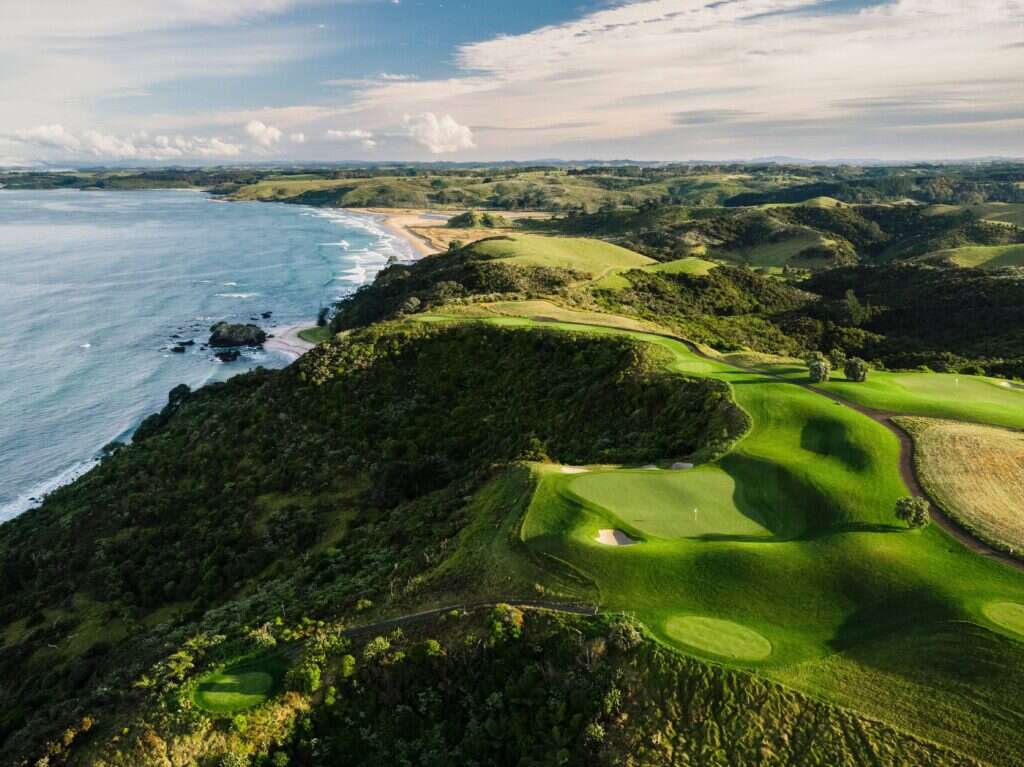 A roughly three-hour-and-30-minute drive north leads to The Lodge at Kauri Cliffs in Northland. The region is renowned for its spectacular coastlines, marine reserves and kauri forests. On the property, there's a par-72 golf course (hole 17 features a particularly jaw-dropping view of the Bay of Islands) as well as Pink Beach, a shell-strewn private beach. The resting place of one of the indigenous Māori's original seven migratory waka is also found on the Lodge's lands.
Due to its remote locale, every night there is a complimentary cocktail hour with books, wood-burning fireplaces and board games aplenty. At dinner, opt for the house-made gluten-free bread and sample a Lighthouse Gin and Bootleggers tonic, both of which are locally crafted.
Less than two hours' south is the launch point for Dive Tutukaka. Charter a private boat, equipment and personal guide, and head to the Poor Knights Islands, which Jacques Cousteau called one of his top 10 dives in the world. Sixty dive sites are scattered among the handful of islands. A marine sanctuary, creatures like Sandager's wrasse, demoiselle, blue maomao and sharpnose pufferfish swim toward rather than away from divers, a rare but exciting reality. Underwater cathedrals and caves provide a diverse seabed, nurturing healthy reefs and ecosystems.
Raglan
Head southwest, from the east coast to the west, and arrive a handful of hours later in Raglan, a surf town famed for its left-hand point break. Check into the Round Tent, a chic yet cozy private retreat in a yurt outside town.
The corner of Bow St and Wainui Road marks the center of Raglan and is home to The Shack and Wyld. Both are local breakfast and lunch spots serving town favorites, including Raglan Food Co's Greek-style coconut yogurt. Specializing in teas and tonics, The Herbal Dispensary and Organic Grocery Store has been a town staple since 1996. With over 80 varieties of teas and a custom blending station, options abound.
Hire Makarini Milroy, owner of Raglan Surf School, for surf lessons or board hires. He has an encyclopedic knowledge of swell, wind and surf spots.
Tongariro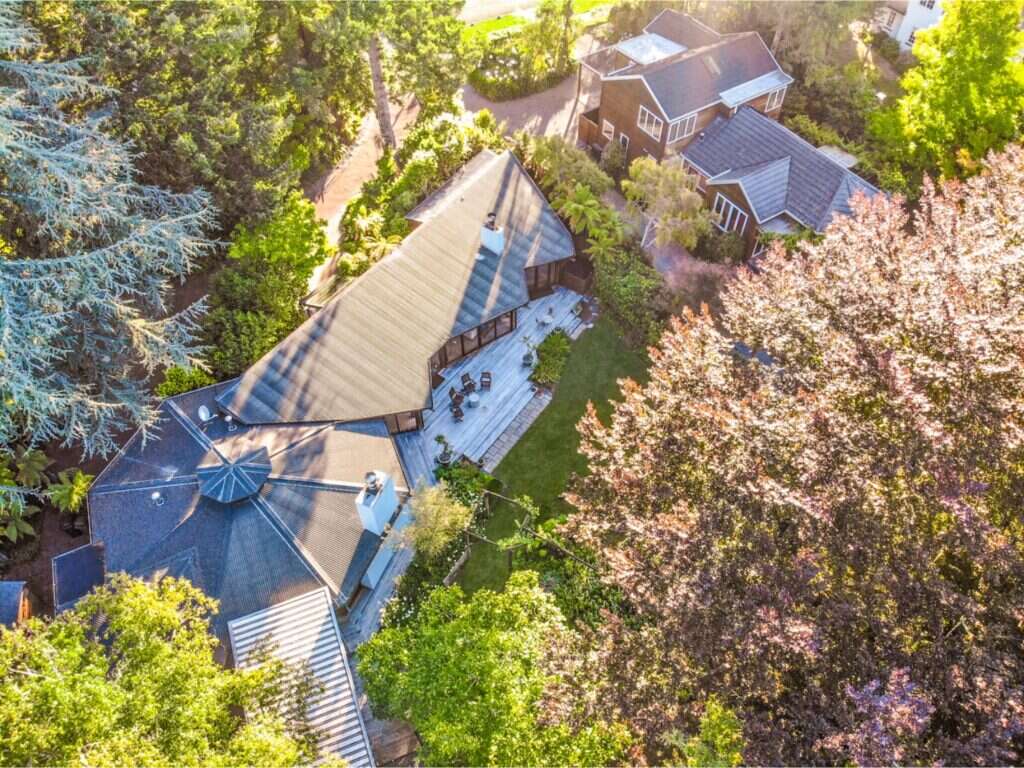 A deeply knowledgeable and respectful duo, husband and wife Jason and Rebeca Bleibtreu, own and operate River Birches Lodge, a luxury hideaway within walking distance of the Waipakihi River. Bleibtreu can arrange and outfit guests for guided fly fishing afternoons as well as private excursions to the Tongariro Crossing, a one-day trek across the volcanic landscape of Mount Tongariro.
Walkers pass ancient and recent lava flows that originated from nearby Mount Ngauruhoe before climbing up to the South Crater, a mountainous realm marked by eroded volcanic terrain. A further ascent lands hikers at the rim of the Red Crater, with glorious panoramic views of the Tongariro National Park.
After a day on the mountain, begin dinner with the house marinated olives at Hare & Copper, served warm with fried oregano from the garden. Greenlipped New Zealand mussels come in a Malaysian curry sauce that balances spice and heat masterfully. It's difficult to decline the roast bone marrow with bacon marmalade and toasted bread.
Cape Kidnappers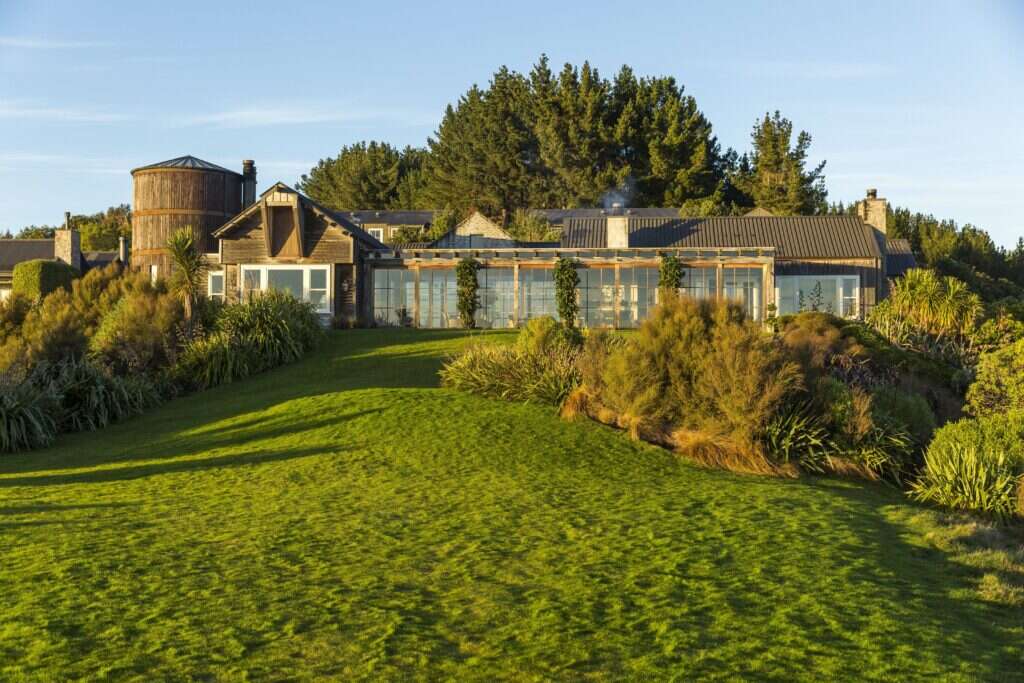 Since you must pass directly through Taupō town en route to Cape Kidnappers, grab a coffee and take a stroll. The Woolshed curates a collection of artisan New Zealand wool clothing and housewares. Replete Café & Store is equal parts shopping, cafe and dining, with a focus on sustainable design and light fare.
Two-and-a-half hours east is The Farm at Cape Kidnappers. Check into the Owner's Cottage, a four-bedroom, four-bathroom cottage set atop 6,000 acres of stunning pastureland in Hawke's Bay. Slip into a bubble and salt bath and overlook the rugged coastline, or opt for a Can-Am tour. Inhale the mineral sweetness of ocean air and the views towards Ocean Beach and Bare Island. Traverse the farm and explore around the village of Napier and the surrounding ranges, including but not limited to an old creek bed, across expansive farmland and down to Rangaika Beach.
Book a vineyard tour and tasting dinner at Craggy Range, a family-owned winery sitting in the shadow of Te Mata Peak. Served with gooey Camembert butter, honey and salt thanks to head chef Casey McDonald (who comes from a Michelin background), the potato focaccia pairs beautifully with the 2020 Te Muna Sauvignon Blanc (Martinborough), an aromatic white.
[See also: Searching for the Southern Lights in New Zealand]
This article appears in the 30 Nov 2022 issue of the New Statesman, Winter 2022/23