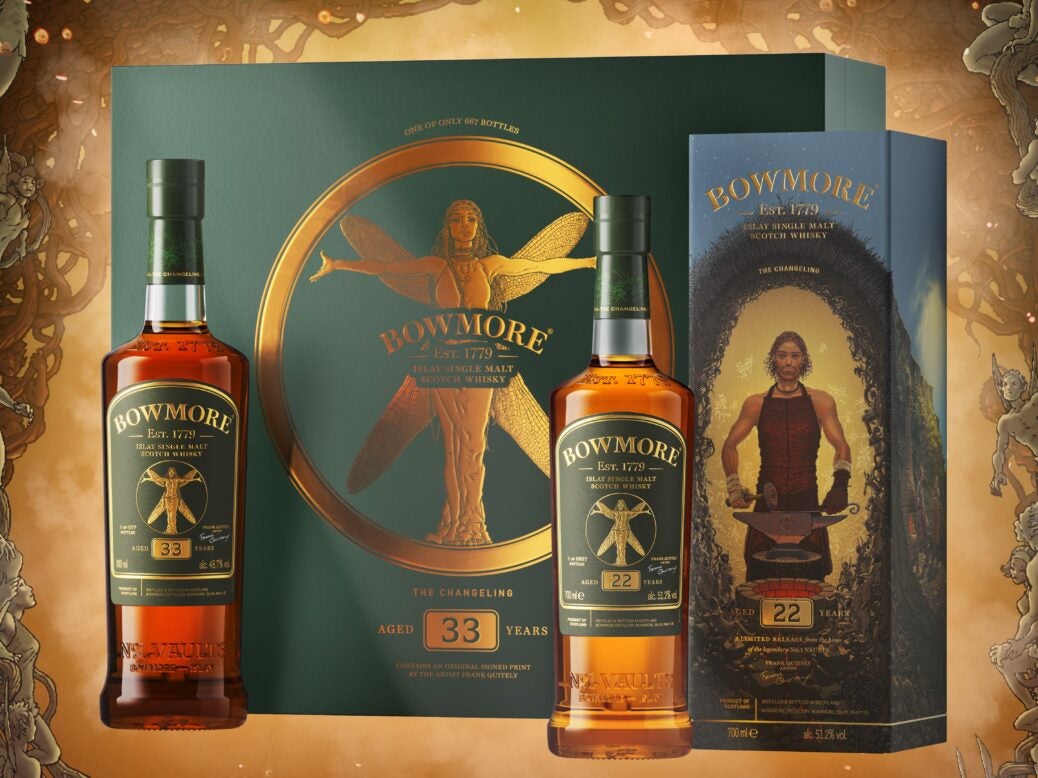 Bowmore has once again partnered with acclaimed graphic artist Frank Quitely to produce two limited Scotch whisky expressions that tell the story of one of Islay's ancient legends, The Changeling.
In what can now be classified as an annual series, The Changeling follows on from last year's No Corners to Hide debut and once again includes two whiskies designated for the travel retail market. The 22 Year Old is limited to 6,667 bottles and the 33 Year Old is limited to just 667 bottles.
Like last year, which depicted the tale of the devil visiting Islay (where Bowmore is located), terrorizing locals and then escaping in a whisky barrel, Quitely has sought inspiration from one of the island's many myths and legends in The Changeling.
[See also: Bowmore Reveals Ultimate Rare Collection]
This myth tells the story of a blacksmith's son who was one day found unresponsive in bed. A wise man told the blacksmith that the boy he saw was in fact a changeling and that his real son had been taken by the Fairy Folk.
Following a daring rescue attempt that included a bible, a dagger and a cockerel, his son returned to the workshop and promptly forged a sword the likes of which had never been seen. His time in the fairy world left him with unexplainable powers, which transformed the family's fortunes overnight.
Quitely, a man famous for depicting fantastical visions in graphic detail, produced the artwork for both presentation cases as well as the bottle labels in his signature style.
"To continue to tell these incredible stories through such awe-inspiring and special whiskies is both hugely exciting and rewarding for me," Quitely said. "This time we are starting from a different place, with a very different narrative to bring to life but I needed to make sure this was an evolution from No Corners to Hide. The whiskies themselves are captivating and it's vital to me that I do them justice in my work."
Bowmore master blender Ron Welsh sought to ensure both The Changeling 22 Year Old and 33 Year Old paid homage to the myth by making each expression undertake a transformation of their own.
Both whiskies spent most of their maturation in American oak hogsheads before being finished in port casks, bringing a completely new dimension to their flavor profiles whilst maintaining the traditional Bowmore style.
The 22 Year Old spent its final two years maturing in white port casks, which instilled a light and floral quality to the liquid. The result is something more akin to a peated Highland malt with flowers and summer fruits mixed in with the peat smoke and minerality that Bowmore is best known for.
[See also: Bowmore and Aston Martin Reveal ARC-52 Whisky]
The 33 Year Old spent its final 18 months in Tawny port casks, known for giving whisky a rich flavor defined by dark fruits and Christmas spice. However, this whisky's main evolution appears to have come from the heavily-charred American oak cask, which has supercharged the iodine and sea salt, giving it a flavor profile similar to Bowmore's neighbor, Laphroaig.
On the whisky making process, Welsh said: "Taking this story of transformation as the inspiration, we've brought together different maturation styles to shape the character of each of these exquisite expressions. The choice of port casks to add a distinct dimension to their characters is an intentional, and vital, part of the creative process. Keeping the story firmly front of mind, the whisky tells its own story, defined by intriguing flavors and aromas which bring the story to life and immerse the senses."
Bowmore The Changeling is available exclusively in select travel retail outlets from November 2022 at an RRSP of $440 for the 22 Year Old and $3,300 for the 33 Year Old.
The Elite Traveler Holiday Gift Guide launches on November 2 with over 100 ideas across 10 categories. Visit the Elite Traveler Holiday Gift Guide here.