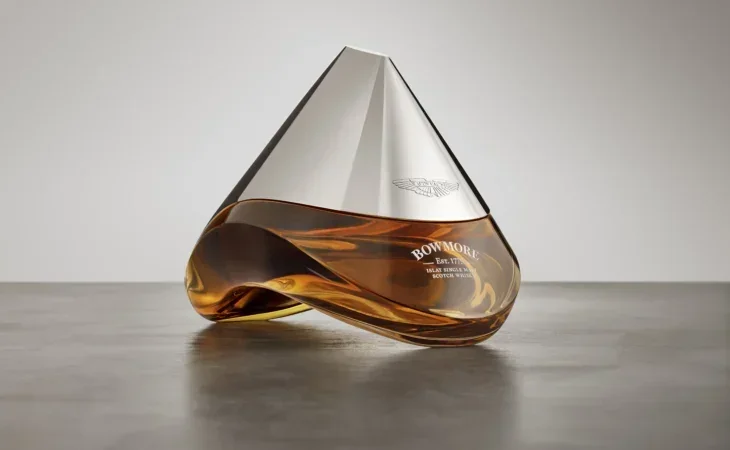 Almost two years since Aston Martin and Bowmore revealed their debut collaboration, the partnership has hit new heights with the release of ARC-52. The highly-aged whisky, one of the oldest ever released by Bowmore, is the first in a new series and is presented in a decanter that pushes the limits of bottle design.
The 52 Year Old is not just one of the oldest ever released by Bowmore, but one of the most expensive. Each decanter will be priced at $75,000, and that is excluding local taxes. But with just 100 available, demand will far outstrip supply.
There is, in fact, evidence to suggest that $75,000 is cheap. The original collaboration, the Black Bowmore DB5, originally sold for $65,000 but was soon going for almost double that at auction. Today, you can buy one from a luxury London retailer for – wait for it – $260,000. How's that for a rate of return?
[See also: Ladyburn 1966 Edition Two Captures Spirit of the 60s]
Even so, Bowmore and Aston Martin have left nothing to chance with ARC-52. This project is two years in the making and both luxury brands have pulled out all the stops to ensure buyers get value for money. First, the decanter: Designed by Aston Martin using the latest 3D printing technology, it is better described as a vessel. Inspired by the idea of moving forward, it has been designed to look as if it is in perpetual motion.
The man behind the decanter, Aston Martin's chief creative officer Marek Reichman, told Elite Traveler: "Think of a sprinter on the blocks. They're neither rocking backward or moving forward, they're perfectly poised on their fingertips and the tips of their toes.
[See also: Tasting Notes: Bowmore Ultimate Rare Collection 2021]
[See also: Aston Martin Residences Reveals Signature Penthouses]
"The whole point of this shape is balance. It shows the liquid and it shows the amount of time that it takes to make something. And one of the greatest things about producing a car or a great whisky is its time. It takes time to create what we would call perfection in beauty and Bowmore would call perfection in taste."
The striking top is made from high-grade aluminum and can only be removed with a bespoke magnetic key, which activates a complex mechanism and reveals a novel bottleneck. The glass (crystal was considered too reactive for this whisky) is hand blown and has indentations underneath to allow the owner to hold and pour it with precision.
Reichman said: "There's a beauty in the first time you open a bottle of whisky when it's got its cork in there and its foil wrap over the top. You take the foil wrap off, and you've opened the bottle. You can tell here, you open the bottle, then you seal the bottle, you seal a lock afterward. However, if you look at it from certain angles, you wouldn't know whether it's been opened or not."
Bowmore ARC-52 Tasting Notes
Aston Martin went to such lengths with the vessel because they knew they were getting something special from Bowmore. Speaking at a discreet launch at Aston Martin's Silverstone HQ, master blender Ron Welsh revealed this expression is made from the oldest casks in Bowmore's stocks that were not already designated for future releases.
ARC-52 is a marriage of two cask styles – one refill European Oak, one refill American Oak – both aged for at least 52 years and bottled at 42.3%. There is nothing unusual about that combination, but what is rare is a whisky that reaches such an age whilst retaining its vibrancy and freshness. That is what sets ARC-52 apart.
Welsh said: "With ARC-52, the complexity of this single malt is unquestionable and to achieve such perfect balance not only defines its physical form but unites beautifully in every drop of this stunning whisky. Working with Aston Martin remains hugely rewarding and fascinating for me. It continues to inspire and show us a different way of working, with absolute precision, and has allowed us to create what, in my opinion, is the best Bowmore over 50 years old that I've ever tasted."
[See also: Course of a Feast – The Singleton's New Epicurean Odyssey]
Here's what we thought:
Appearance: A deep gold.
Nose: Orchard fruits and mandarin with just a hint of smoke and sea salt. A bit of time in the glass reveals those elusive minty notes reserved for only the oldest of fine and rare whiskies.
Palate: Remarkably fresh. A fruity start with green grapes and clementine coming through alongside Bowmore's signature light-peat style. The wood influence begins to take over, with notes of hazelnuts and walnuts.
Finish: The medicinal finish comes through right at the end as the fresh fruit fades and evolves into something more indulgent like butterscotch.
Verdict: We know not many of these bottles will be opened in the near future. This will be an investment for some, artwork for others. Only a small fraction of those will buy it to drink. But it will inevitably be consumed one day, and those lucky individuals will enjoy a whisky that has been aged to perfection. So often, whiskies of this age can be overwhelmed by the wood, but this has kept a remarkable level of vibrancy whilst absorbing the best characteristics of an excellent aged whisky.
Bowmore ARC-52 will be available in the UK, Germany, Netherlands, USA, Canada, China, Singapore, and Global Travel Retail for $75,000 (ex VAT/duty) from late summer 2022, bowmore.com
[See also: Bowmore Unveils the Myth-inspired No Corners to Hide Series]