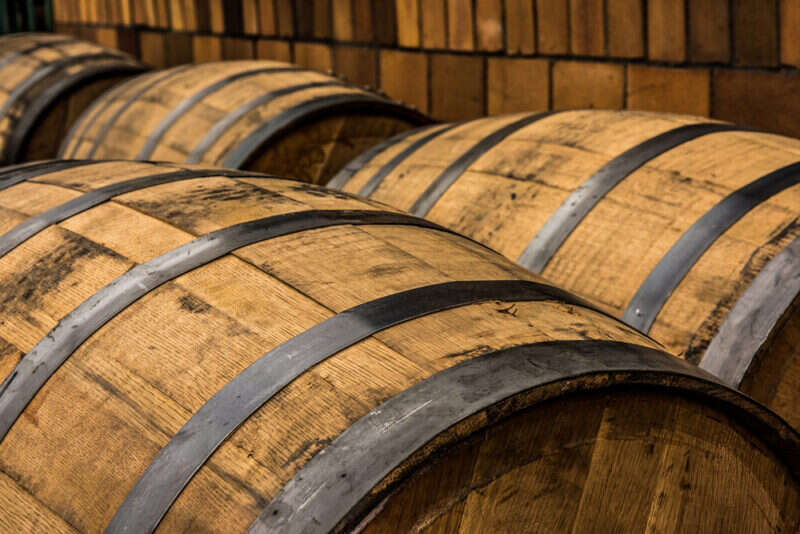 Order an old fashioned or a whiskey sour from any cocktail bar and you will be hard-pressed to guess whether it has been made with bourbon or rye. The difference between bourbon and rye can be subtle to the untrained palate, but it is unmistakable to those vested in the industry. From the actual ingredients used to their historical significance, we uncover the tangible differences between two of America's favorite spirits.
[See also: The Best Bourbon Brands in the World]
History
Although bourbon is the more popular of the two American whiskies today, rye whiskey was once the dominant force. Rye whiskey production dates back to the late 18th century and was prevalent in the northeast states. The industry was essentially obliterated by Prohibition, with just a handful of companies surviving to see the other side. Once prohibition ended, demand for rye whiskey failed to recover. Today, the best example of the industry's legacy is WhistlePig, which produces some of the finest rye whiskey at its Vermont distillery.
Bourbon has always been associated with Kentucky. Distilling began at a similar time as rye after Scottish and Irish settlers brought their farming and whiskey knowledge from Europe. Similarly, the industry was left ruined by Prohibition laws, with all distilleries forced to stop production. Many, however, were granted permission to bottle whiskey for medicinal purposes, which carried them through to the other side. Bourbon does not need to be made in Kentucky to carry the name (a widely believed falsehood), but it is true that almost all the best-known distilleries are located within the state.
[See also: The Best Sipping Tequila Brands in the World]
Ingredients and Distillation
There are notable distinctions in each spirit's history and culture, but the most obvious difference between bourbon and rye is the ingredients that go into them. American rye whiskey must, by law, be distilled with at least 51% rye in its grain mixture. The other 49% is usually made up of corn and malted barley, although the finer rye whiskies will opt for a much greater proportion of rye, up to 100%. Bourbon, conversely, must have at least 51% corn in its grain mix.
From there, the process is very similar. Rye whiskey tends to be distilled in smaller stills (25 gallons) for a more authentic pre-Prohibition taste, while bourbon is generally distilled in much larger quantities (50+ gallons). Both must be aged in newly charred American oak barrels and cannot be over 125 proof at the point of entry. There are no rules for minimum age, but a rye and bourbon must be aged for at least two years to be considered "straight" and be bottled at a minimum of 40% ABV.
[See also: The Macallan Red Collection Sells for Almost $1m at Auction]
Taste
It can be difficult to tell the difference between a young rye and a young bourbon, but over time the two liquids can veer off in opposite directions. A well-aged rye imparts a spicy and savory note on the palate, while bourbon's corn base usually offers a much sweeter profile. This can change drastically if the liquid is "finished" in a different cask, meaning it is aged in an old sherry cask to infuse it with more sweetness.