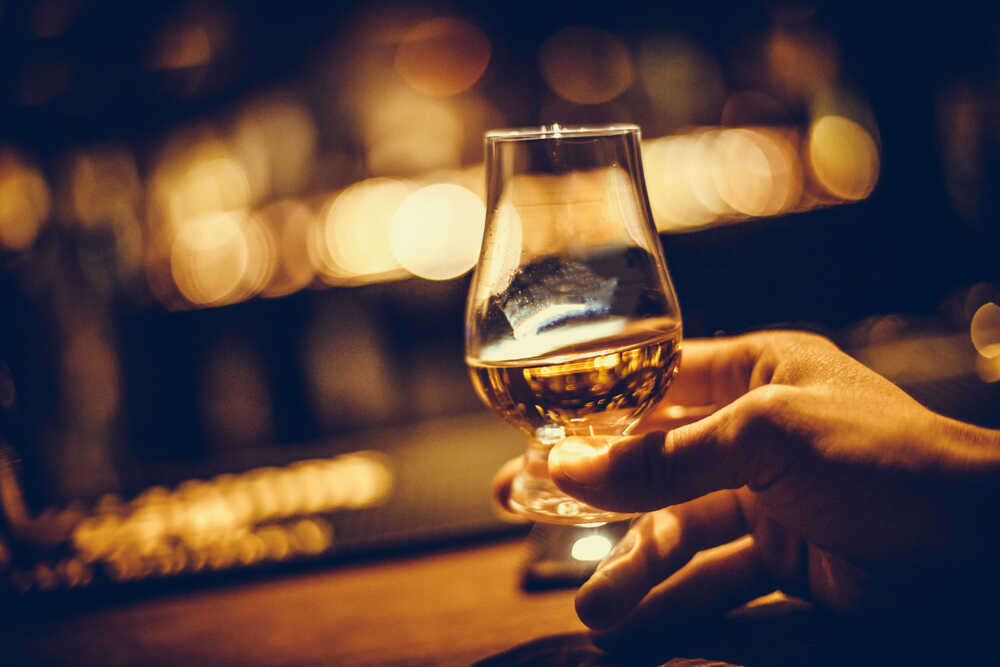 One thing that the Irish and Scots will bitterly disagree on is who invented whiskey (spelled without the E if referring to Scotch). Ask spirit-loving patriots in both Celtic nations and you'll receive conflicting answers depending on which side of the Irish Sea you find yourself, with both claiming to have been the original creators. While a whole book could be written debating the true origins of the "water of life" (and many have) what we do know for sure is that there are a lot of similarities but also some key differences between Irish whiskey vs Scotch whisky.
[See also: The Difference Between Bourbon and Rye Whiskey]
History of Irish Whiskey and Scotch
Although the jury might still be out on who gave birth to the strong stuff, what can be agreed is that both countries have a long and distinguished pedigree of producing world-class whiskey. Ireland is home to Bushmills, the world's oldest licensed whiskey distillery, with the Antrim producer's official records stretching back to 1609; a whole 165 years before Scotland's disputed first distillery, The Glenturret.
But official openings don't give us the full picture, and in actual fact, the first official record of Irish whiskey is from 1405, much to the upset of the Scots, whose earliest written evidence is nearly 90 years later in 1494. Truth be told, whiskey production was widespread in both countries hundreds of years prior to this. 
Although Ireland was once the world's dominant producer, all that changed with a string of 20th century events that would nearly wipe out the Irish industry – namely the Irish War of Independence and the hefty export tariffs and restrictions that followed, not to mention two world wars as well as US prohibition. By 1980, there were just two functioning distilleries left on the entire island of Ireland. The 20th century was a very different story for Scotch, and by 1994 Scottish whisky exports were worth a record $2.8 billion.
Ireland has bounced back in recent years and has re-established itself as a global player, with 18 distilleries and counting, though there's still a long road ahead to catch up with Scotland's 130.  
Defining characteristics of Scotch vs Irish Whiskey 
There are a handful of key rules that all distillers must abide by to be granted the protected titles of either Scotch or Irish whiskey. 
It won't come as a surprise that by law, Scotch whisky must be distilled and matured in Scotland. Furthermore, the maturation process must take place in oak casks for at least three years and the whisky bottled at a minimum strength of 40% ABV. 
Irish whiskey has nearly the same requirements but of course must be produced on the island of Ireland and can be distilled on either side of the border. The notable exception between Irish whisky vs Scotch is that Irish whiskey can be matured in casks made of woods other than oak. This can seriously influence the flavor profile, but the majority opt for oak due to its hard-wearing and porous nature.
Not so much a rule, more a tradition, Irish whiskey tends to be triple distilled, giving it what some consider a smoother, more accessible taste than its Scottish counterpart, which is generally distilled twice. There are exceptions, however, with Lowland Scotch brand Auchentoshan (whose founders are said to be Irish) producing triple-distilled whisky and Irish single malt The Tyrconnell distilled just twice. 
[See also: The Best Scotch Whisky Brands in the World]
Types of whiskey
Both nations offer their own takes on single malts, single grains and blends, but where the Emerald Isle goes it alone is its single-pot-still whiskey (named after the copper pot the whiskey is distilled in). 
This uniquely Irish style of whiskey is similar to a single malt in that it is produced in one distillery, but where a single malt is made using 100% malted barley, single-pot-still whiskey combines malted and unmalted barley. The raw barley generates its distinctively rich and somewhat spicy character.
[See also: Behind Midleton Very Rare's Dair Ghaelach Series]
However, a great taste wasn't the key motivating factor behind the creation of single-pot-still whiskey – more of a lucky coincidence. Like so often in whiskey's checkered history, it came down to cold, hard cash, with the Irish creating the variety in the 18th century to avoid paying skyrocketing taxes on malted barley. Today it has achieved global popularity, with acclaimed single-pot-still whiskey brand Redbreast standing proudly as one of the most highly decorated Irish whiskeys.
Taste the difference between Scotch whisky vs Irish whiskey
For most, the proof of the pudding is in the eating, or in the drinking in this case. So what are the differences between Irish Whiskey and Scotch when it comes to taste? 
Of course, Irish pot still whiskey has a unique flavor; Redbreast's 27 Year Old is its oldest permanent expression and is one of the finest on the market. Matured in bourbon, sherry and ruby port casks, it has a nose of vanilla and exotic fruit, followed by a luxuriously rich taste including plum, cherry and mature wood. Brands like Greenspot and Dingle are also rising up the ranks.
When it comes to Irish single malt and Scottish single malt, the biggest difference you'll notice when it hits your taste buds comes from the number of distillations. Typically, doubly distilled Scotch whisky is more fiery than Irish whiskey, which is mellower in taste. Speaking of fire, another difference is the absence of peat in Irish whiskey production. Scotch, predominantly that from Islay, is famed for its earthy, smoky taste, achieved from burning peat to dry the barley in the malting process. Peat is all but absent from Irish whiskey (with the exception of Connemara single malt). Excellent examples of Scottish peated whisky are Ardbeg, Bowmore and Lagavulin, all renowned for their powerful single malts.
[See also: The Finest Rare Whisky and Spirit Releases of 2021]