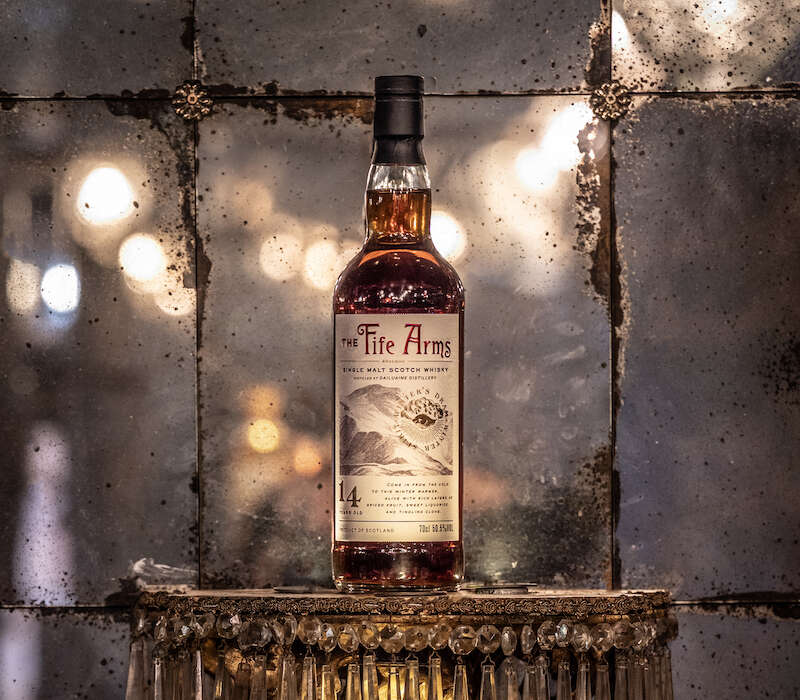 Historic Scotland hotel, The Fife Arms, is adding to its signature whisky portfolio with the release of its first single cask Scotch, set to hit the market on November 1.
Matured at the Dailuaine Distillery, around 50 miles from the hotel, the 14-year-old The Fife Arms Single Cask Selection No.1 was aged in an ex-sherry cask, with renowned whisky writer Dave Broom enlisted to help select the final cask.
Inspired by the universally lovely experience of enjoying a dram of whisky in the warm, while the cold descends outside, Broom, along with independent bottling company, Adelphi, selected a liquid that conjured images of winter. "'Winter' drams are filled with rich dark fruit, mulled spices, marmalade – they smell of a Scottish Christmas but they can be enjoyed all year round," he said.
The Fife Arms Single Cask Selection No.1 is deep in color, with layers of spiced fruit and tingling clove coming alive on the first sip. The whisky is bottled at 50.5% – managing director of Adelphi, Alex Bruce, suggests a drop of water.
[See also: The Most Expensive Whisky Ever Sold at Auction]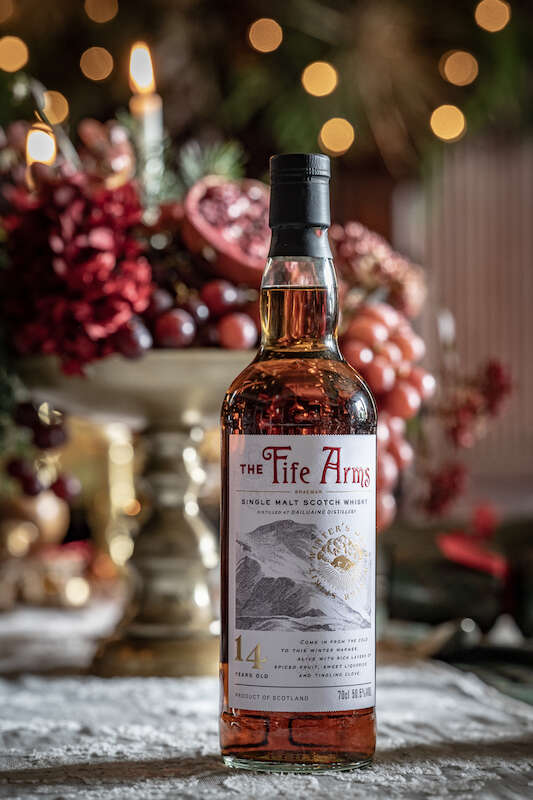 Priced at £225 (approx. $273), each of the 353 individually numbered bottles comes with a bespoke wool-felt holder, designed by Bill Amberg. The British-made organic material was selected for both its sustainable credentials as well as its shock-absorbing and insulting properties. Once the bottle of whisky has been emptied, the carry case is intended to be re-used, over and over.
This launch marks the second from the Braemar hotel, which commissioned its first own-label whisky (a blended malt Scotch) back in 2021 to mark the opening of Bertie's – its unique whisky bar which, instead of displaying bottles by distillery, region or age, arranges them by flavor profile. 
[See also: The Macallan Launches Collab with Stella and Mary McCartney]
The motivation for this is two-fold: Firstly, it encourages seasoned whisky drinkers to discover new favorites, but it also demystifies the notoriously secretive industry, allowing newer drinkers to easily discover their preferences.
"Bertie's is an unusual bar in that you don't just drink a dram and go. You want to dedicate a few hours to it," Katy Fennema told Elite Traveler back in 2022. "… If you go by regions, it's quite alienating for novices. But to be able to work your way through an experience in a tasting led by flavor just opens up people's worlds."
[See also: The Dalmore Cask Curation Series: A Bond of Scotch and Sherry]