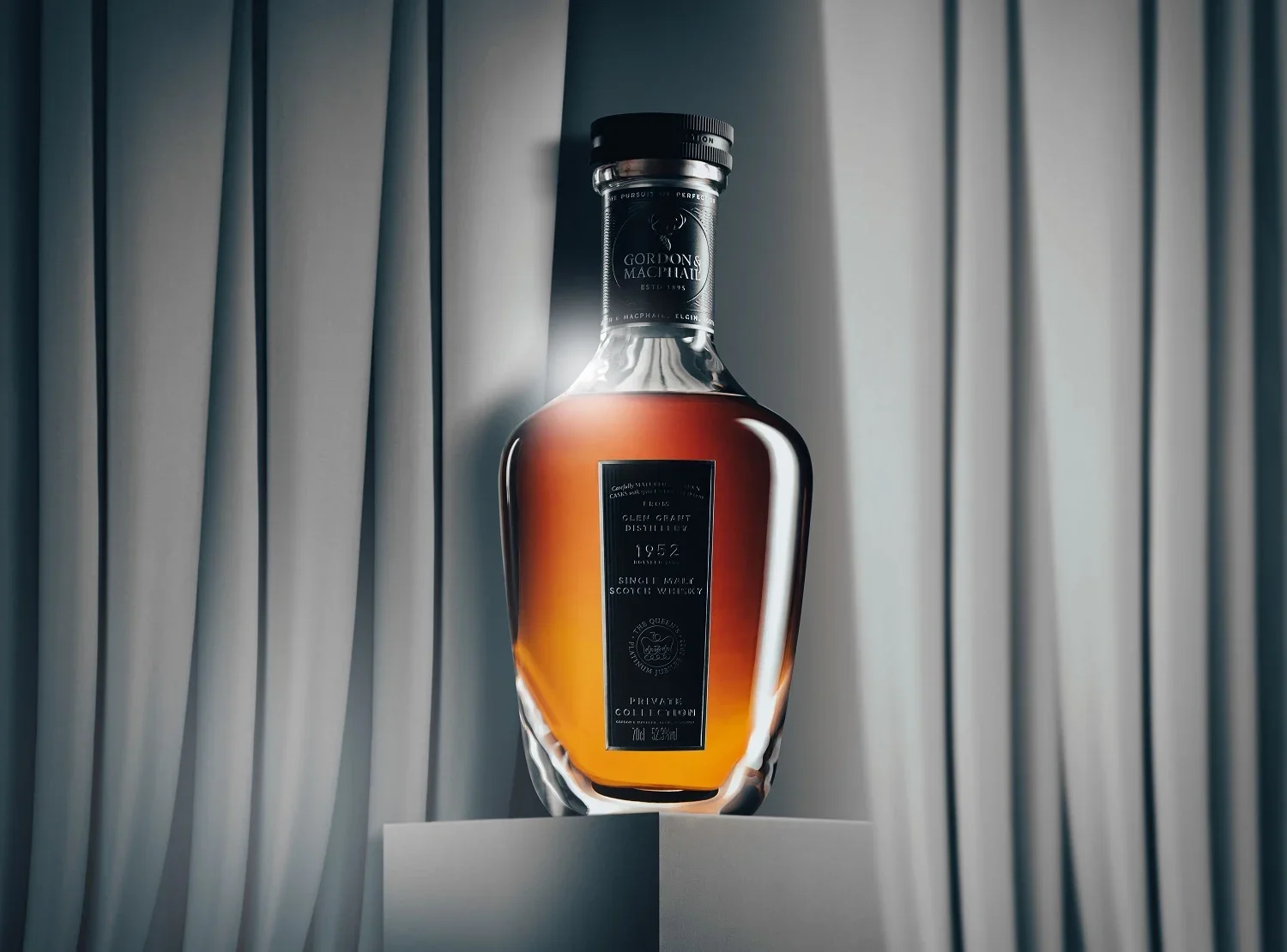 Independent whisky bottler Gordon & MacPhail has released an ultra-aged Scotch whisky to mark HM Queen Elizabeth II's Platinum Jubilee. Celebrating 70 years on the throne this summer, the independent whisky merchants have aptly bottled a whisky distilled in 1952, the same year of her accession to the throne.
Fans of The Crown will know how much Queen Elizabeth II has achieved in her seven decades as Head of State. All the while, a very special cask of Glen Grant whisky (a first fill sherry butt) sat aging in Gordon & MacPhail's revered Elgin warehouse. In an industry where we are growing used to extremely old whisky, the frame of Her Majesty's reign lends perspective into just how long this liquid has taken to reach its peak.
To further align with the landmark, Gordon & MacPhail purposefully extracted and bottled the whisky on February 6, 2022, the exact day Queen Elizabeth II's reign surpassed 70 years. Bottled at a remarkable cask strength of 52.6% ABV, there are just 256 bottles of this exceptional Platinum Jubilee whisky available worldwide.
[See also: Gordon & MacPhail Reveals Mr George Legacy 1957]
Ewen Mackintosh, Gordon & MacPhail managing director, said: "It's an honor to release this exceptional single malt whisky to commemorate Her Majesty The Queen's Platinum Jubilee. Matured over seven decades in our own casks this single malt provides an opportunity to enjoy a style of Speyside whisky which is distinctly different to those created today."
In another fitting tribute to Queen Elizabeth II, Gordon & MacPhail have committed to donating £20,000 ($25,230) to Scottish charity Trees for Life. The Queen's Green Canopy Initiative, launched this year, invites anyone and everyone to plant a tree to mark her 70th year. Trees for Life, which aims to plant 100,000 rare and native trees in Scotland per year, will use the donation to further its environmental ambitions.
[See also: The Macallan Celebrates New York in Latest Whisky Release]
Tasting Notes
Appearance: The first thing that strikes you about this whisky is its light golden color. Sitting in a first-fill sherry butt for 70 years, the assumption would be that the cask would impart a deep mahogany color, but far from it. Just like Her Majesty, this whisky has held up remarkably well over the years, something that is also evident in its strength of 52.6%.
Nose: Initially, a flurry of rum-soaked raisins, eventually giving way to light citrus notes like mandarin and orange peel. A touch of water brings out more honeyed notes and heightens the wood's influence with an underlying note of old leather and mint.
Palate: A burst of citrus zest follows through from the nose with mandarins and stewed summer berries. Remarkably light for a first-fill sherry cask of this age, particularly with a drop of water. Bring the ABV down to roughly 40% in order to enjoy those zesty Speyside notes.
Finish: Lots of oak spice with dried tobacco and peppermint. A touch of water extends the finish by giving the citrus notes more legs before the spice eventually wins the day.
Score: 8.5  – complex, but approachable. At cask strength, the tannins take over the palate towards the end, but a dash of water pares that back and allows an array of sweeter notes to shine through.
Gordon & MacPhail Private Collection 1952 Platinum Jubilee whisky from Glen Grant Distillery is available worldwide for an RSP of £20,000 ($25,230)*. For more information, visit gordonandmacphail.com
*Prices may vary due to local taxes
[See also: Redbreast Introduces Dream Cask Double Cask Edition]