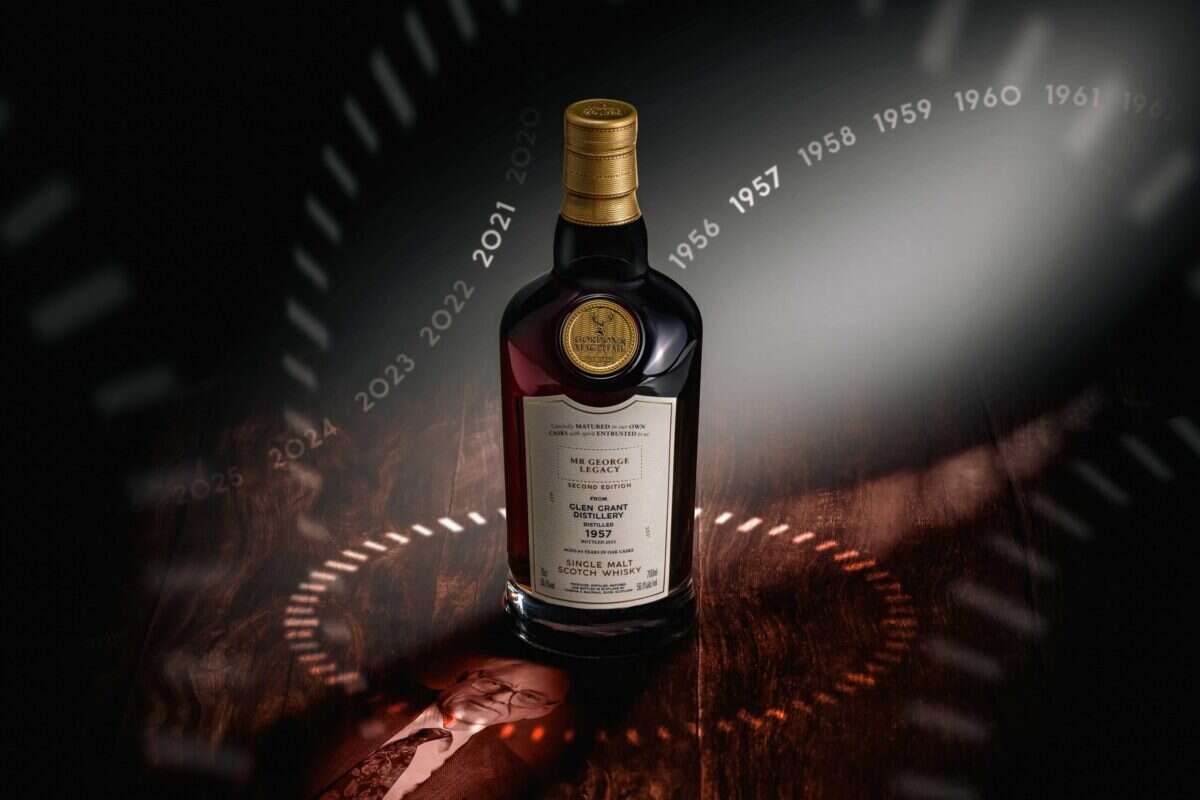 Gordon & MacPhail has added another rare single malt whisky to its Legacy collection, which honors the life and work of its former visionary leader George Urquhart. The new expression, a 64 Year Old from Glen Grant distillery, is the second label added to an annual series that is fast becoming one of whisky's most exclusive collections. Its debut release, revealed in 2021, was even older at 67 years.
The extraordinary age of both the first and second release is testament to the independent bottler's commitment to a long-term approach. Still owned by the same family after 125 years in the industry, Gordon & MacPhail boasts some of the oldest stocks of Scotch whisky as a result.
Urquhart, who was affectionately known as 'Mr George' during his working life and has also been heralded as the "father of single malt", was in large part responsible for this philosophy. He insisted on keeping whiskies in casks for as long as they needed to mature, forgoing short-term financial gain for his pioneering search for the perfect dram.
[See also: The Macallan Celebrates New York in Latest Whisky Release]
That philosophy has led Gordon & MacPhail to significant success as fine and rare whisky has transformed into a collectible rather than a consumable. When it comes to age, Gordon & MacPhail can outcompete the biggest distilleries in Scotland. Its 80 Year Old, released in 2021, was the oldest single malt ever bottled until The Macallan beat it with an 81 Year Old just a few months later.
Stuart Urquhart, grandson of Mr George and Gordon & MacPhail's operations director, said: "In some industry quarters my grandfather was fondly thought of as slightly eccentric due to his relentless focus on maturation, painstakingly selecting the right cask to match with each particular spirit.
"He was intrigued to know how long the whisky might take to reach its peak and would have known he might not be around when that moment came. That is his legacy to our family and to whisky drinkers who love the rich complexity of the ultra-aged single malts he laid down decades ago."
[See also: Tasting Notes: Last Drop Distillers 2022 Collection]
Much of whisky's collectible appeal is its rarity and the new Mr George Legacy 1957 certainly has that going for it. Taken from a single first-fill sherry butt (No. 3483), the new expression is limited to just 298 bottles. With demand far outstripping supply, customers will have to stump up £6,000 ($7,400) to get one.
But whether collecting or drinking, each buyer will get an extraordinary whisky for their money. Distilled in 1957, the Mr George Legacy 1957 has retained remarkable strength at 56.1% ABV. Spending its entire maturation in a first-fill sherry butt, a combination of cask influence and strength give the whisky a remarkable color and a complex character.
Urquhart said: "The latest release in the Legacy series comes from Glen Grant, for which my grandfather had a particular affinity. Local to us in Speyside, Glen Grant was the first distillery to use a purifier in distillation which resulted in a lighter spirit. Back in the 1950s, the spirit would have been slightly smoky due to floor maltings and a small level of peat being used – which is a style rarely seen in today's modern Speyside whiskies – giving this whisky a charred oakiness that is perfectly balanced by long-term maturation in a sherry cask made of American oak."
Mr George Legacy 1957 tasting notes
Appearance: A deep mahogany. This is about as dark as whisky gets.
Nose: A rich bouquet of sherried notes. Cinnamon and ginger mix in with marmalade, sultanas and a hint of nutmeg. Akin to an indulgent fruit cake with a strong glass of sherry alongside.
Palate: This is a seriously complex whisky and not for the uninitiated. Having been in its cask for 64 years, the dram needs a healthy dash of water to bring those vibrant flavors on the nose through to the palate. Once the fiery oak spice has been tamed, a symphony appears. Dark fruits shine through alongside a wisp of tobacco. After time in the glass, the fresh notes of this whisky's Speyside background appear with a hint of grass and orange zest.
Finish: After some time, the strong cask influences come to the fore with a strong oak spice finish before that unusual, but delightful, hint of smoke leaves a lasting impression on the palate.
Score: 8 – an interesting whisky with multiple layers of complexity, but suspect it'll be too much sherry and wood for some palates.
For more information, visit gordonandmacphail.com
[See also: Kevin O'Gorman on Creating Midleton Very Rare 2022]