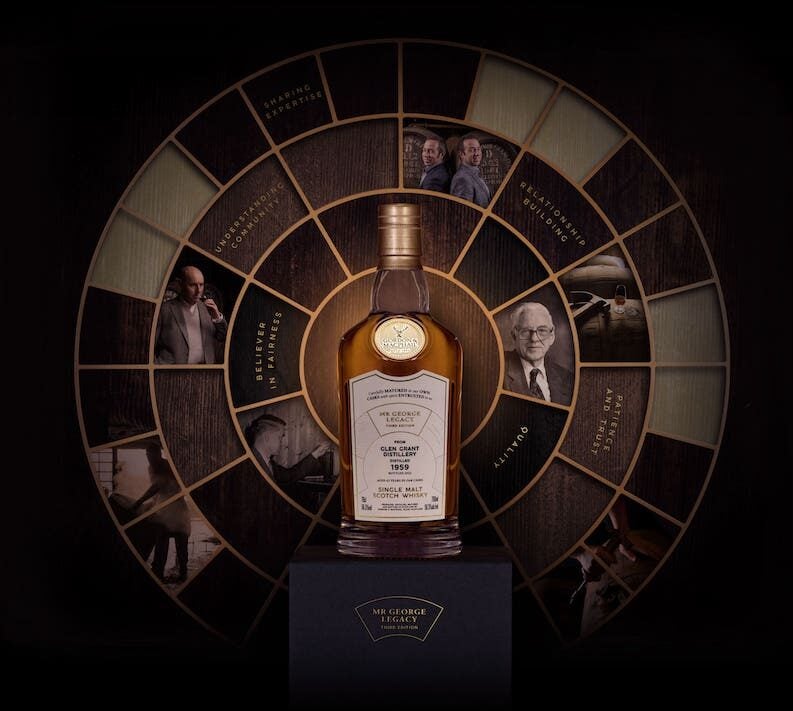 Gordon & MacPhail has added a third exceptionally-aged Scotch whisky to its popular Mr George Legacy Series, this time drawing a 63-year-old whisky from the Glen Grant distillery. The whisky is notable not only for its age but for being drawn from the independent bottler's final cask from 1959.
The series is named after George Urquhart, otherwise known as the Father of Single Malt. Founded in 1897, Gordon & MacPhail is still in the hands of the owning family. Mr George, as he was fondly known during his tenure at the company, was part of the owning family's second generation.
Joining the company in 1915, Urquhart championed single malt whiskies, going against a market almost exclusively focused on blends. He also believed in keeping whisky in the cask for much longer than industry norms. Today, Gordon & MacPhail reaps the fruit of his vision. The company's recent 80 Year Old, which sold for around $100,000 a bottle in 2020, was at the time the oldest Scotch whisky ever bottled.
At 63 years old, The Mr George Legacy Third Edition is up there with the oldest it has ever released. It also follows a rich tradition of ultra-aged whiskies aged in one of Gordon & MacPhail's own first-fill sherry butts. There was enough to fill 368 bottles – an impressive yield for such an old cask – at a cask strength of 56.5% ABV.
[See also: The Most Expensive Whisky Ever Sold at Auction]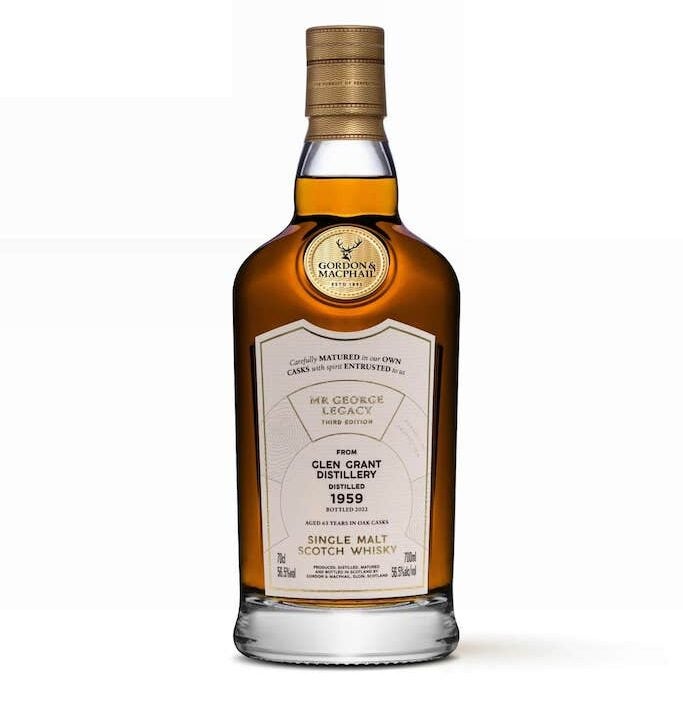 The fact that the whisky still retains so much of its original strength is a testament to the company's emphasis on cask quality. A high-quality cask with thicker staves will lose less liquid to evaporation. It's no exaggeration to say that Gordon & MacPhail were focusing on this decades before even some of today's most revered whisky brands.
The third edition follows on from the first and second, both of which were of similar age, strength and rarity.
Stuart Urquhart, grandson of Mr George and Gordon & MacPhail's operations director, said: "Ninety years ago, my grandfather joined Gordon & MacPhail as an apprentice to his father, John, and his philosophy and principles live on through the business today.
"His attention to detail and unwavering commitment to quality remain the foundation stones of our business, along with a forward-looking approach and refusal to bow to convention. This greatly aged single malt whisky is a fitting tribute to this ethos."
Mr George Legacy Series Third Edition Tasting Notes
Nose: Sweet. Caramel and dried fruits. Plenty of life left in it. A drop of water brings out citrus notes tangled with a pleasant nuttiness from the wood.
Palate: An oily texture. No tannins. A mixture of very sweet and savory. An initial burst of dried fruit, pear drops, orange oil and cranberries. A drop of water brings out subtle flavors of walnuts and dark chocolate.
Finish: A long finish with warming spices, nutmeg and cinnamon alongside a delicate fresh mint tingle.
Conclusions: Distinctively a Gordon & MacPhail whisky. Plenty of character and depth, but needs time and a seasoned palate to get underneath it. Very similar to the other whiskies in the series. It benefits from a drop of water. Taking the ABV to around 50% opens it up perfectly.
The Gordon & MacPhail Mr George Legacy Series Third Edition will be available for an SRP of £6,499 ($8,100), although local prices and taxes may vary. For more information, visit gordonandmacphail.com
[See also: Harrods Opens Interactive The Macallan x James Bond Experience]