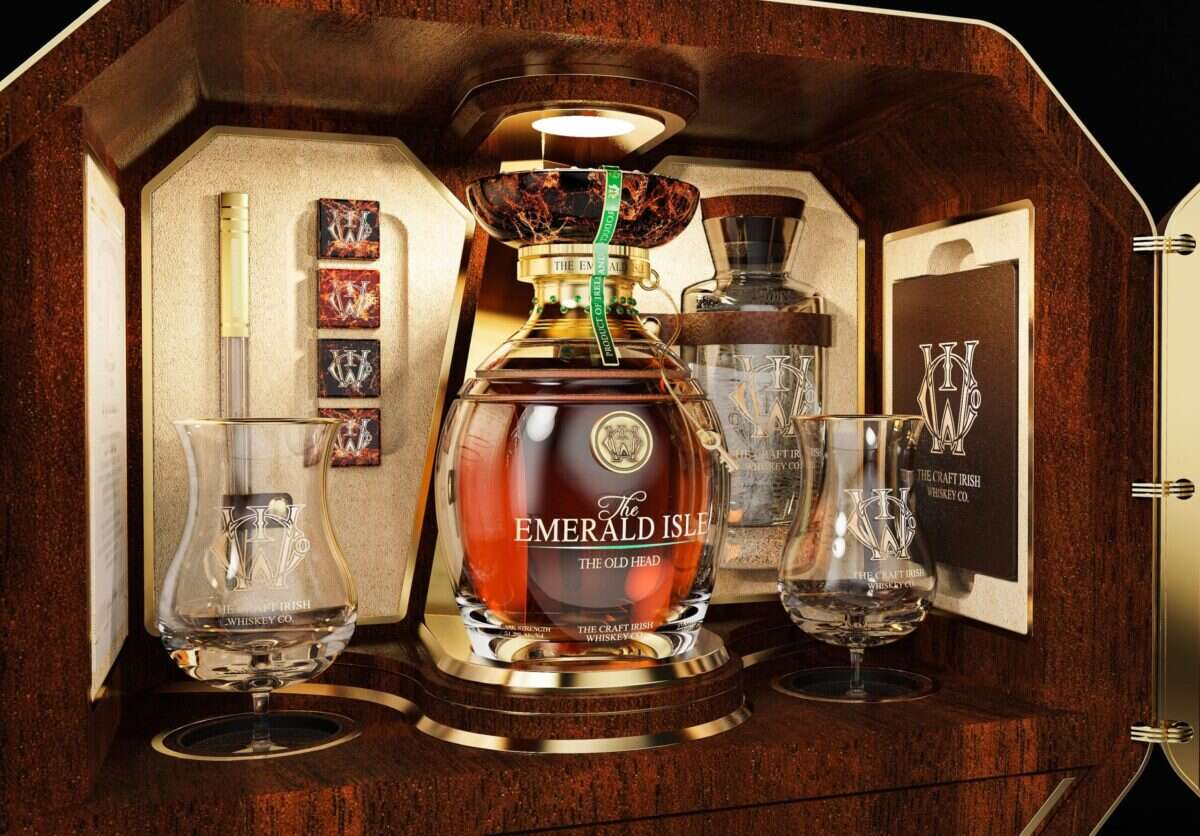 From $50 bottles to $50,000 crystal decanters, the demand for fine, rare and limited-edition whisky and spirits continued to grow at pace in 2021. As an investment, the rarest Scotch whisky bottles continue to offer dizzying returns with other spirits like Irish whiskey, rum and tequila riding on its coattails.
New releases from prized distilleries sell out in a flash only to reappear at auction, often selling for more than double the original price. The spirits industry has done its utmost to keep up with demand, releasing a slew of incredible liquids over the last 12 months and breaking price records in the process.
It has been a privilege to sample the extraordinary spirits featured below, especially as many of the bottles now only exist as commodities in portfolios. Some may never be opened. Want to get your hands on a bottle of the below? Then be prepared to dig very deep into your pockets.
[See also: Sustainable Whisky and Spirits for Eco-Conscious Drinkers]
The Craft Irish Whiskey Co, Emerald Isle Collection
Irish whiskey sits far behind Scotch in both levels of production and collectability, but many would argue it has always remained on par for quality. Ireland also boasts both the first mention of the strong stuff in literature and the world's oldest operational distillery, but a combination of Prohibition and politics left the industry in tatters in the early 20th century. It has never recovered.
Jay Bradley founded The Craft Irish Whiskey Co in 2020 with the aim of reinstating his country's position at the top table. One year in, he's doing a great job. It took him just two releases to claim a significant record. The Emerald Isle Collection (pictured above) became the most expensive whisk(e)y ever sold at auction when it went for $2m. There is one big caveat: the whiskey sat alongside a stunning Celtic egg and one-of-a-kind timepiece from Fabergé. Much of that value would have been for the jewels, but the whiskey is inarguably precious as well.
The only way to try this liquid is to purchase one of the seven sets, making it one of the rarest in the world. The whiskey is powerful and rich, as you'd expect from a liquid aged for 30 years and finished in rare Pedro Ximenez casks. It offers notes of banana and caramel on the palate followed by tobacco and Christmas cake spices. At the time of writing, just one set is yet to be sold, but appreciation moves fast in this industry. It'll now cost you over $3m to get it.
Offers in excess of $3m, craftirishwhiskey.com
The Singleton 54
One of six distilleries operating in the quaint town of Dufftown, Speyside, The Singleton shares hallowed ground with some of the biggest names in Scotch, including Glenfiddich and The Balvenie. The biggest of them all, The Macallan, is just a short drive up the road. Comparatively small, The Singleton punched above its weight in 2021 with the release of its oldest and rarest single malt, a 54 Year Old limited to just 235 bottles.
The Singleton 54 was aged in a European oak cask for 52 years before a two-year finish in a strong Pedro Ximenez-seasoned sherry cask. Moving such an old liquid into such an active cask is a bold move, but the results were spectacular. The dark amber liquid offers a complex array of sweetness akin to sticky toffee pudding. A long and warming finish gives way to stronger wooded influences of oak and teak alongside delicate pepperiness.
It was a personal highlight of the year and the world's leading spirits writer, Charlie Maclean MBE, agrees. He described it as "an astonishing dram… I have never encountered a whisky like this before." Praise doesn't come much higher than that. Each of the 235 bottles were handcrafted by Baccarat and are presented in beautiful leather-lined wooden cabinets.
$40,100, thesingleton.com
[See also: Course of a Feast: The Singleton's New Epicurean Odyssey]
Brora, Triptych
When the restoration team first walked into the ghost distillery of Brora three years ago, it appeared as if time had stood still. Production had stopped suddenly in 1983 and workers had simply downed their tools and walked away. It seems preposterous that it closed due a sudden fall in demand, because today Brora is one of the most revered names in Scotch. The casks that were left behind aged beautifully and today the last remaining bottles from its original stocks sell for tens of thousands of dollars. Owners Diageo invested millions to bring the distillery back to life and the first new cask was filled in May, 2021.
The occasion was marked with the release of Brora Triptych. The striking set includes three variations of Brora's turbulent past: the smoky Age of Peat, the 48 Year Old Elusive Legacy and the 38 Year Old Timeless Original. Each one stands alone as a superb Highland Scotch, but the depth of character of the Elusive Legacy alone explains why collectors pay so much for a Brora label. There is a clue to each liquid's rarity in the size of the decanters. Each one is unusually 50cl and just 300 sets were made available.
Today, you can only buy this by visiting the distillery on Scotland's northeast coast, but some have saved themselves the journey by paying a premium at auction.
$41,400, malts.com
Dictador, Generations en Lalique
Industry experts have long speculated that rum would follow Scotch's lead in the collectability stakes. In 2021, those predictions started to ring true with the release of the ultra-premium Dictador Generations en Lalique. To create it, master blender Hernan Parra used some of the Colombian company's finest casks from 1976. Successfully nursing rum for over four decades requires dedication and skill. Due to the heat and humidity, the ageing process can be three times faster compared to the Scottish Highlands. The hard work has paid off in more ways than one.
Bottled at 43%, the liquid has a level of complexity on par with any aged Scotch. The rum offers notes of dark chocolate and rich leather before a natural sweetness takes over with layers of black cherry and orange peel. An exceptional and complex tasting experience is rounded off with a strong toasted cigar tobacco finish. A special liquid needs a special decanter, so Dictador asked French artisans Lalique to create something that would allow the rum's natural color to reverberate around whatever room it was sitting in.
It obviously caught the eye of a few enthusiastic bidders at Sotheby's. Bottle 0 of 300 (the "proof bottle") sold for $41,950, a record for a rum sale at the auction house. The other 300 were made available through Dictador's concierge service for just shy of $20,000.
$19,500, dictador.com
Midleton Very Rare, Silent Distillery Chapter Two
When Midleton Very Rare revealed its Silent Distillery collection in 2020, it proved there was an appetite for ultra-premium Irish whiskey. Chapter One, a 45 Year Old, was the oldest and most expensive Irish whiskey at the time. More importantly, it was a superb dram. But Midleton Very Rare outdid itself 12 months later with the release of an even better, even older whiskey: a 46 Year Old. Priced at $45,000 ($5,000 more than Chapter One), the Silent Distillery Chapter Two told us what we already knew: whether it comes from Ireland or Scotland, demand is increasing.
The 70cl bottle also came with a small sample of the whiskey, allowing would-be collectors to at least try the whiskey before stashing it away. After all, something this good needs to be drunk. The liquid was first aged in bourbon and sherry casks for 20 years and then remarried in refill bourbon casks. It had a short stint in flavorsome port pipes before finally reaching its peak in a single bourbon cask. It was then unusually transferred back to a single bourbon cask for a final mellowing. The result is a deeply complex whiskey offering spice and sweetness. Notes of oak and hazelnuts combine with apples and lemons before giving way to a stronger finish of star anise and ginger.
There was just enough whiskey from that single cask to fill 70 bottles, immediately making it one of the rarest releases in the history of Irish whiskey.
$45,000, midletonveryrare.com
Gordon & MacPhail, Glenlivet 80 Year Old
There is an arms race going on within Scotch, one that values age above all else. Like any good arms race, the provocateurs flatly deny its existence. The Scotch decides when it's ready, not the marketing team. It is, however, timely that Gordon & MacPhail released the world's oldest Scotch whisky less than a year after losing the title. To be fair to the family-owned independent, it had already bottled the extraordinary Glenlivet 80 Year Old when The Macallan revealed a 78 Year Old in 2020.
The release was first bottled in February 2020 and held back due to the pandemic, but what is another 18 months when you have already waited 80 years? Waiting is certainly a theme that runs through Gordon & MacPhail. It is only with unwavering patience and skill that the owning family were able to nurse this Glenlivet whisky to such an age. Despite spending so long in first fill sherry butts, this Scotch remains vibrant and fruity, balancing inevitable woody spice with notes of orange oil, aniseed and figs. Aptly, the Scotch offers an exceptionally long finish that continues to evolve, transforming into hints of spearmint.
World renowned architect Sir David Adjaye designed a decanter as unique as the liquid. Known for his major buildings, he offered an outsider's view to bottle design. The result is something the architect describes as a temple, rather than a decanter. The cube shape and generous amounts of crystal makes it difficult to carry and perhaps even pour, but it certainly shows the deep amber liquid in its best light. The decanter sits in a bespoke 'pavilion' constructed with sustainably sourced oak, a tribute to the unbreakable relationship between the wood and whisky.
Decanter No 1 of 250 was sold at Sotheby's for $192,000. Demand for the other 249 will far exceed supply.
$110,000, gordonandmacphail.com
[See also: Whisky's Carbon Problem: Can it Become Sustainable?]
This article appears in the 29 Nov 2021 issue of the New Statesman, Winter 2021/22