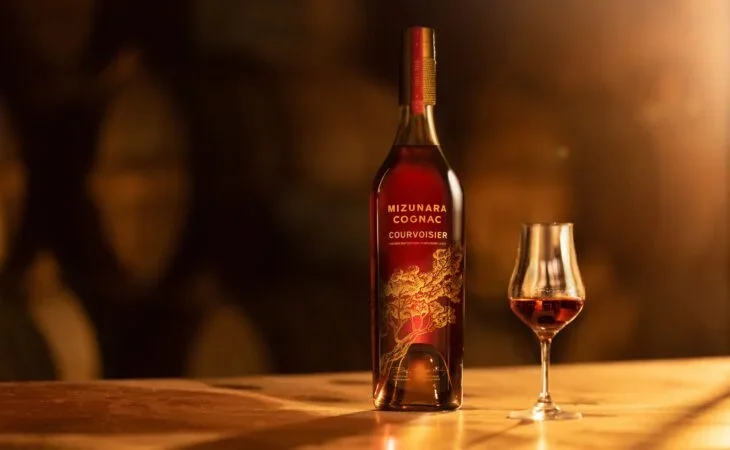 Not much changes in Cognac. From the finest expressions to the supermarket shelves, the cognac industry prides itself on delivering a consistent product year after year. But every now and again, a brave blender comes along with the aim of creating something new. Courvoisier's Patrice Pinet was one such cognac blender, who took a rare chance to utilize one of the most sought-after oak casks in the world, crafted from the Japanese mizunara tree.
A first-of-its-kind collaboration, the Courvoisier Mizunara flies in the face of convention, but any blender in Pinet's position would have taken the opportunity. The origins of this daring experiment began in 2015 when the president of Suntory visited Courvoisier shortly after they took control of the house. The president asked Pinet if there was anything they could do to help, to which he responded: "Can I have a mizunara cask?"
It was a bold request. Just 200 mizunara casks are made every year and every blender in the world wants one. Even those who get them can find them incredibly difficult to work with. The wood is fragile, unpredictable and susceptible to leaks. But it is considered worth the effort because, if the stars align, it can impart extraordinary flavors on the liquid inside. After much deliberation, Suntory agreed to send one of these precious casks and Courvoisier took delivery of a brand new 500-liter puncheon.
Pinet wasted no time in filling it with something precious. He used a Grand Champagne cognac, the region's most prestigious cru, that had been aging in typical French oak barrels for over a decade. That's young by cognac standards, but Pinet deliberately chose something fresh that the mizunara cask could get its teeth into. He gave it six months to work its magic, but upon first taste, he was left underwhelmed.
The cognac was bitter, drying and nowhere near what they had hoped for. He went to Suntory's chief blender Shinji Fukuyo for an explanation. He was told to be patient. Mizunara, a slow-growing oak tree, takes time to take effect. And after three years, the cognac was transformed and ready to be released to the world.
[See also: Maison Hennessy Unveils Dame Jeanne Decanter]
[See also: The Macallan Unveils 2022 M Collection Whiskies]
Pinet said: "We are living in two different countries with two different cultures, but deeply connected in our values and respect for our artistry. I knew the mizunara cask was an unconventional choice for Courvoisier and together with Shinji, we saw the potential for the notoriously temperamental wood to enhance the unique characteristics of the exceptional cognac and complement the Maison's signature floral House style."
Just 500 bottles of the Courvoisier Mizunara have been released and will be available for an RRP of $2,000 in US markets and £2,000 in the UK. However, judging by the price that mizunara-influenced whiskies reach on the secondary market (upwards of five figures), you will be hard pushed to find it at that price.
While this edition may be strictly limited, Courvoisier can and will use the cask again. There will be other editions, perhaps featuring longer maturation periods and further evolutions of the typical cognac profile. This is the vanguard of cognac maturation, and only the first step on what could be a long and fascinating journey.
Courvoisier Mizunara Tasting Notes
The house's signature floral style has taken on new life with the addition of a strong wood presence, which manifests itself as a yuzu spice. Bottled at a higher-than-normal 48%, this cognac leaves a punch on the palate, much more than your standard XO. This spice is needed to balance the wooded notes.
The typical cognac freshness dominates on the nose with tropical fruits mixing in with jasmine blossom. The mizunara influence only comes to the fore upon tasting, with the wooded spice mixing perfectly with the vanilla, mango and passionfruit. The finish is long and evolving, with a final burst of sandlewood lingering on and on.
It is certainly an interesting spirit and fascinating by cognac's usually predictable standards. As such, it is a must-try for anyone interested in the art and romance of experimentation. After all, mizunara casks are so rare that any opportunity to taste a liquid graced by its influence should be taken.
[See also: Kirsteen Campbell on Making the World's Oldest Whisky]