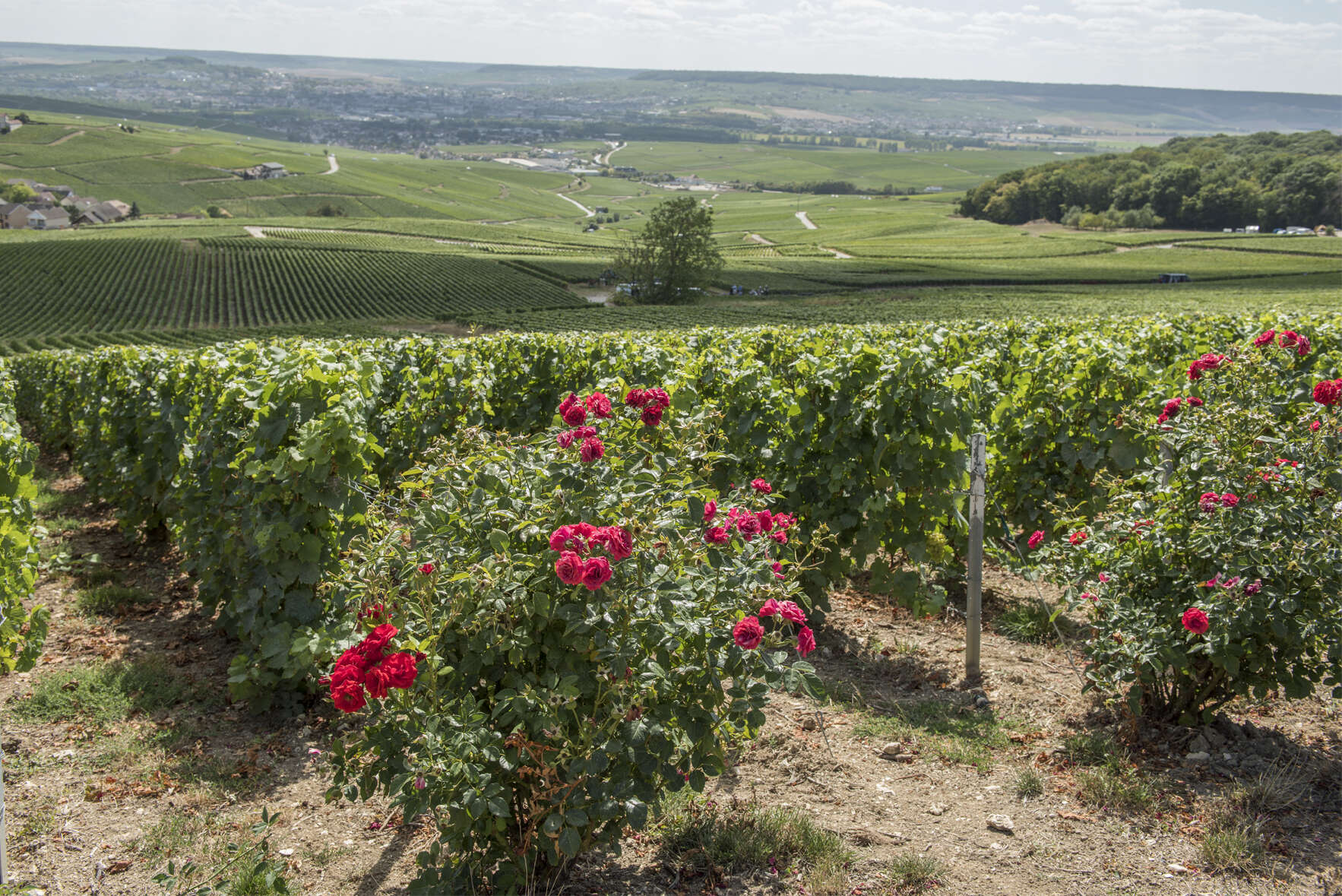 Champagne is always the holiday season's essential pleasure drink. That soft pop of a cork and the exuberant palate-caressing bubbles in the glass make great fizz the perfect aperitif and the ultimate way to greet friends and welcome a new year. Happily, you can feel virtuous about sipping it, too. The Champagne region was the first in the wine-growing world to go green by calculating its carbon footprint, and even its biggest players have been polishing up their eco-credentials.
Moët Hennessy, which owns six top Champagne brands — the ubiquitous Moët & Chandon and Veuve Clicquot, less well-known Ruinart and Mercier, and iconic Dom Pérignon and Krug — has gone all-in on sustainability in a very public way.
At the Living Soils Forum they hosted in Paris in 2020, company CEO Philippe Schaus outlined a half-dozen initiatives, from banning herbicides in their vineyards by the end of 2020 to investing 20 million euros in a new research center for environmentally friendly viticulture that opened in 2021.
[See also: Responsible Wineries Creating Sustainable Fine Wine]
In a conversation after the company's 2021 biodiversity roundtables, Schaus explained that "We're progressing even faster than I hoped." Flowers and plants to attract bees flourish between their vine rows. Waste is all recycled or reused, and water consumption is reduced by a third.
With a new chief sustainability officer, the company is partnering with experts like Reforest' Action, whose mission is to preserve and restore forests around the world. This year, Ruinart announced plans to plant nearly 25,000 trees and hedges in a large vineyard by 2022 to help regenerate the soil. All this is a big deal. The six champagne houses buy from hundreds of growers and produce millions of bottles of bubbly, so what they do deeply influences the entire region.
One of the most revolutionary projects is Ruinart's new lightweight, recyclable yet fancy packaging called 'second skin.' Made of textured, molded paper, it curves around the bottle like an elegant, snugly fitting coat. Many people don't realize that the typical bulky champagne gift box, along with the glass bottle and shipping, account for two-thirds of a wine's carbon footprint. A much greener alternative, second skin is nine times lighter than one of those champagne boxes, reducing the carbon footprint by 60%.
"Nobody has all the solutions for protecting the environment and fighting climate change," says Schaus. "But the more people who share what they learn, the more mankind will benefit." Now, that's something well worth toasting with a glass of champagne.
Take Two // Festive Fizz
NV Ruinart Blanc de Blancs Brut Second Skin This all-chardonnay champagne, Ruinart's signature cuvee, comes wrapped in the new green packaging. It's fresh, vibrant, crisp and elegant, with flavor notes of lemon custard and green apples. The first established champagne house in the world is loaded with history.
$95, ruinart.com
2006 Krug Clos du Mensil Blanc de Blancs Brut Intense and pure, this fizz comes from a tiny walled plot of chardonnay vines. With 23 days over 30 degrees in normally chilly Champagne, this vintage was a harbinger of climate change. Rich notes of toasted brioche are offset by a crisp freshness.
$1,260, clos19.com
[See also: World of Fine Wine Reveals World's Best Wine List Winners]
This article appears in the 29 Nov 2021 issue of the New Statesman, Winter 2021/22