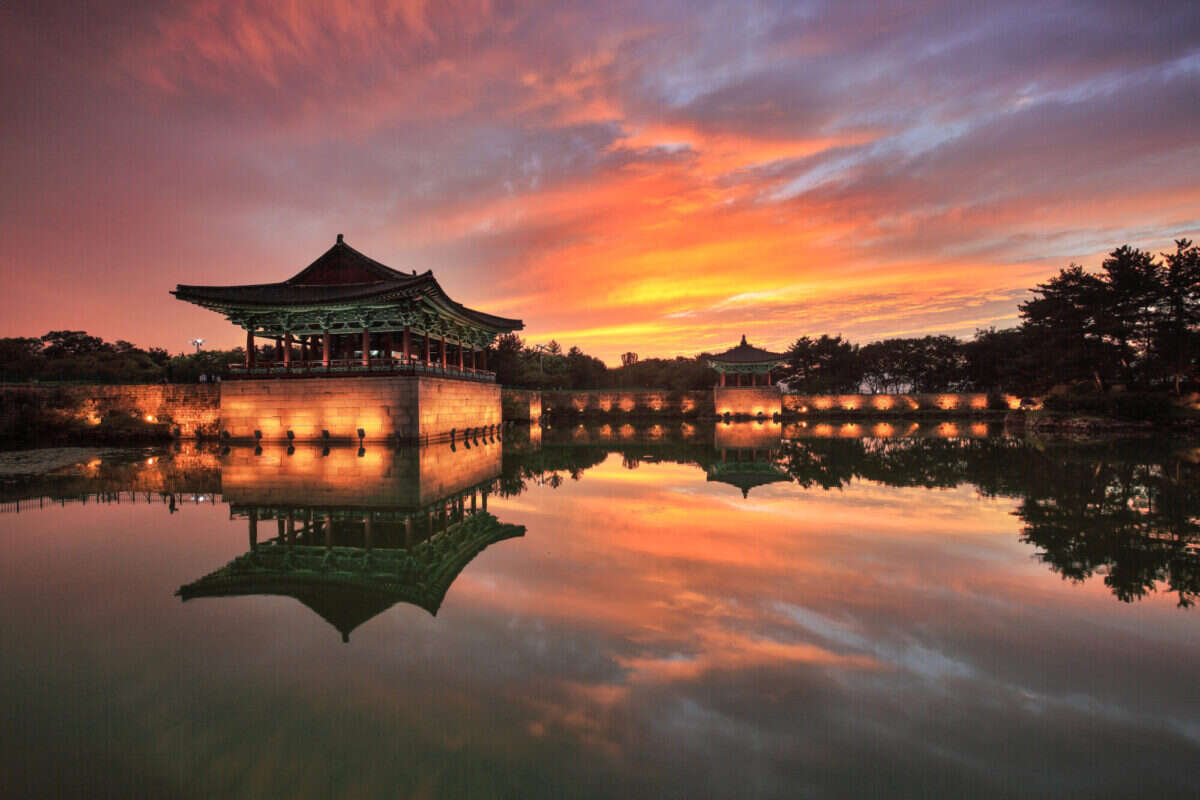 Those who travel to South Korea enter an ancient landscape defined by thousands of years of religion, philosophy and scholarship — as well as unmatched natural beauty. Korea has one of the highest concentrations of Unesco World Heritage Sites on the planet, boasting 15 destinations of utmost cultural or natural significance to humanity. It speaks to a complex and storied history – dating back to prehistoric times.
Many of these cultural highlights were built during the Joseon period, in which a single dynasty ruled over Korea from 1392 – 1897. Seowon, a group of educational pavilion-style buildings found in central and southern Korea, exemplify this period. Intended to facilitate connections to the landscape, they illustrate a historical process in which Neo-Confucianism from China was adapted to Korean conditions. Promoting an appreciation of nature and the cultivation of mind and body, their legacy can be observed in Korean culture today.
Korea also possesses a wealth of temples that also speak to the country's rich historical legacy. Be sure to visit Haeinsa, the head temple of the Jeogye Order of Korean Seon Buddhism. Inside you will find the Tripitaka Koreana, over 80,000 printing woodblocks which were carved in the 13th century and have been perfectly preserved.
With so much choice, deciding where to begin can feel overwhelming. Here, Elite Traveler selects just some of the highlights for those wanting to immerse themselves in Korean history and heritage.
Palaces and Tombs
Most visitors will begin their voyage of Korean historical discovery in Seoul, so where better to start than Changdeokgung Palace, added to the Unesco World Heritage List in 1997? It is one of the five grand palaces built by the kings of the Joseon Dynasty.
Changdeokgung is uniquely designed to blend into the surrounding natural environment with Unesco describing it as an "outstanding example of Far Eastern palace architecture and garden design". Changdeokgung translates as 'The palace of prospering virtue,' and was home to a succession of Joseon rulers.
[See also: South Korea's Best Wellness Escapes]
After viewing one of the favored palaces of Joseon royalty it seems fitting to visit some of their final resting places. The Royal Tombs of the Joseon Dynasty are a collection of over 40 tombs which can be found in 18 locations across Korea — although the majority are in and around Seoul.
According to pungsu-jiri (Korean geomancy) — the belief that good land lets the dead rest in peace — all of the tombs are placed in areas of outstanding beauty, with a protective hill to the back and water to the front.
Fortresses
From Seoul, consider heading southeast to Namhansanseong, a fortress town 20 minutes' drive from the city, originally created to act as a capital in times of crisis.
Elements of the fortification can be traced back to the first millennium, however, the majority of what remains at the beautiful site was constructed in 1624. The main purpose of this mountain stronghold was defense. Sitting at 1574 ft above sea level, it provides stunning views of the surroundings and ample time to spot your enemies.
Just over 20 miles south of Seoul you will find Suwon, a city of 1.3 million people, and the provincial capital of Gyeonggi-do — Korea's most populated province. At the center of Suwon lies Hwaseong Fortress, built from 1794 to 1796 by King Jeongjo to honor the remains of his father Prince Sado.
Due to the complex design, new cranes and pulleys (nongno and geo-junggi) were invented to lift huge stones into place. Such technological innovation is now regarded as clear evidence of scientific and technological exchange between the East and West.
[See also: South Korea's Regional Culinary Delights]
The historic villages of Hahoe and Yangdong
Having enjoyed the thriving metropolis, venture further south where you will find life ticks by at a slower, more relaxed pace. The village of Hahoe in Andong and Yangdong village near Gyeongji have hardly changed in over 600 years offering, a window into South Korea's past.
These villages were recognized as world heritage sites in 2010 and are captivating representations of what life must have been like during the Joseon period. The location of each village was chosen following traditional positioning methods meaning each has a lush mountain and forests to the rear.
The villagers, who still live in these historic hamlets continue ancient traditions like Seonyu Julbul Nori, a biannual festival where onlookers will be enthralled by a firework display over the Nakdong river.
[See also: The Best Restaurants in Seoul for Elevated Korean Cuisine]
The kingdom of Silla
The World Heritage sites featured so far were constructed during the Joseon period, but head to the city of Gyeongju on Korea's southwest coast and you will find the Gyeongju Historic Areas. This collection of sites represents the history and culture of the Silla, an ancient kingdom which lasted for 1,000 years from 57BC to 935AD.
The historic areas of Gyeongju are sometimes referred to as one of the largest outdoor museums in the world. A highlight you shouldn't miss is Mount Namsan — a mountain regarded as sacred by the Silla people — and its large depictions of the Buddha carved into the rocks.
Also close to the city of Gyeongju are Bulguksa Temple and the incredible Seokguram Grotto.
Seokguram Grotto is a deep structure dug out of the mountain in 751 AD. As you walk through the grotto it describes a journey to nirvana with engravings of figures on its walls. Finally, you enter a large domed room featuring a monumental 12-ft Buddha staring out to sea. Along with the devas, bodhisattvas and disciples, sculpted into the surrounding walls, it is considered a masterpiece of East Asian Buddhist art.
The Bulguksa Temple, which is two miles west of Seokguram, also exemplifies some of the most celebrated Buddhist sculptures on the planet. The Cheongungyo and Baegungyo bridges, connecting the temple's two prayer halls, are the only such structures of the Silla Period to have survived fully intact. Their rainbow-shaped arches are believed to be the earliest use of arches in stone bridges and fortress gates.
[See also: Immerse Yourself in Korean Culture with a Temple Stay]
Jeju Volcanic Island and Lava Tube
A journey south through the country ends on Jeju, a volcanic island formed over millions of years by the volcanic activity of Mt Hallasan, South Korea's tallest mountain.
The central part of the island is Hallasan National Park, a lush, protected area which includes rare plants and incredible levels of biodiversity.
Featuring multi-colored carbonate roofs and floors, and dark-colored lava walls, the Geomunoreum lava tube system is considered as the finest such system of caves on the planet. These enormous tubes formed between 100,000 and 300,000 years ago and provide visitors with an unparalleled visual experience.
It is not just the natural environment that has been shaping this unique destination for millennia. Pillemot Cave boasts archaeological remains which date back to the stone age, proving there have been humans on Jeju for over 10,000 years.
For more information on the best heritage sites in Korea, visit the Korea Tourism Organization
Back to the Elite Traveler x Korea Tourism Organization Hub