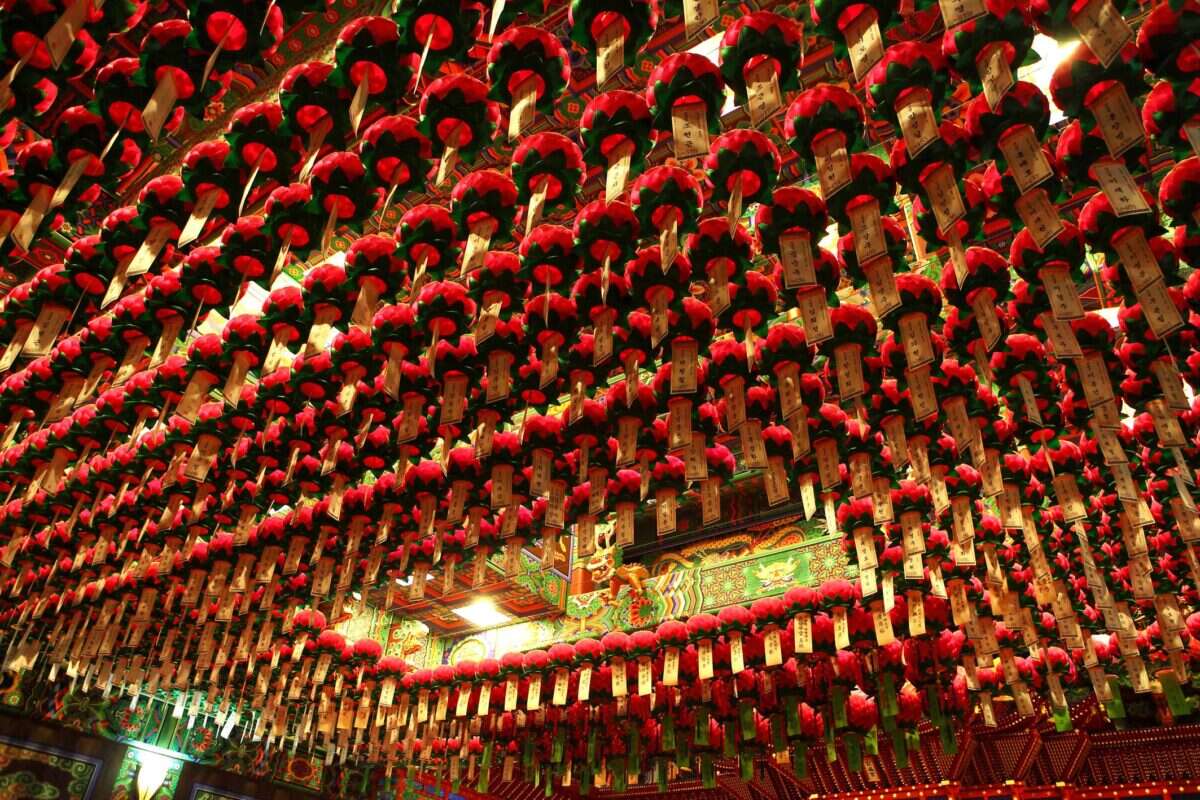 South Korea's bustling capital never slows down. No matter the time, day or night, you'll always find something to do. But for those looking to escape the stresses of city life, there is another way to immerse yourself in Korean culture. Beyond the towering skyscrapers and busy streets, hundreds of ancient Buddhist temples lie waiting to be explored.
For those looking to experience the tranquillity of monastic life first-hand, many of these spiritual sites are open to the public for overnight stays as part of the country's official Templestay program. Whether you're hoping to embark on a journey of self-discovery, connect with nature, or simply learn more about Korean Buddhist culture and history, the program is welcome to everyone.
While the activities at each temple vary, you can expect traditional tea ceremonies, meditation sessions, prostrations (bowing to the Buddha), outdoor walks, cooking classes and plenty of locally sourced vegetarian food. Throughout your stay the idea is to become completely present in the moment, achieving the ultimate Buddhist state of inner peace.
With so much choice, deciding where to begin can feel overwhelming. Here, Elite Traveler has picked the very best temple stays South Korea has to offer for every type of traveler.
Hwagyesa
Located in the foothills of Samgaksan Mountain in northern Seoul, it is easy to forget you're in a city at the Hwagyesa Temple. Away from the crowds and surrounded by trees, it's the perfect setting for those eager to explore a spiritual sanctuary without having to leave the capital. Built by monk Shinwol in 1522 AD during the Joseon dynasty, the temple was destroyed by fire in 1618 and later rebuilt in 1866 by King Gojong. Next to the temple, you'll find Oktakcheon, a small spring famous for its supernatural healing powers. During your stay, you can expect plenty of meditation, mountain hiking, tea-drinking, and – on the last Saturday of every month – the practice of 3000 bows to the Buddha.
Baekyangsa
For food lovers, a visit to Baekyangsa in the breathtaking Naejangsan National Park is a must. The temple was established by Zen Master Yeohwan in 632 AD and is located just three hours from Seoul by bullet train. The third season of Netflix show Chef's Table features monk chef Jeong Kwan preparing delicious vegan meals for the temple's community. Those inspired to visit can take part in a traditional cooking class with Kwan herself, to learn about her spiritual cooking philosophy and how to fuel the body for optimum mental clarity, while avoiding artificial flavors, animal products and pungent ingredients like onions and garlic. Other highlights include communal meals, making your own prayer beads and meditation classes with Kwan. Make sure to hike up the mountain in the direction of Unmun Seon Room to take in the stunning views of the temple below.
[See also: South Korea's Regional Culinary Delights]
Golgulsa
At the foot of Hamwolsan Mountain, just outside the ancient Silla dynasty city of Gyeongju, lies Golgulsa. The sacred site is the only cave temple in Korea – featuring 12 large caves – and is home to many precious relics including a giant Buddha carved into the limestone rock face that dates back to the ninth century. Golgulsa is also famous for sunmudo, a traditional Korean form of moving meditation and martial art that harmonizes mind, body and breathing. During your stay, you'll have the chance to take part in sunmudo training, prostrations, sitting meditation and early morning chanting – the perfect antidote to the stresses of modern life.
Bulguksa
For those keen to learn about Korean Buddhism's history and culture, look no further than Bulguksa. Situated on the slopes of Mount Toham on the outskirts of Gyeongju, the temple has been listed as a UNESCO Heritage Site and is considered a masterpiece of Buddhist architecture and art from the golden age of the Silla kingdom. Bulguksa is home to six of Korea's national treasures including two gilt-bronze statues of the Buddha, Cheongungyo (Blue Cloud Bridge) and the Dabotap and Seokgatap stone pagodas. Activities during your stay include a guided tour of the temple, tea ceremony and lotus flower lantern making.
Haeinsa
According to legend, Haeinsa was first built in 802 AD by King Aejang as a sign of his gratitude for the Buddha's mercy after two monks helped cure his wife's illness. The temple burnt down in 1817 but was rebuilt the following year and is still home to the Tripitaka Koreana (the entire Buddhist scriptures carved onto more than 81,000 wooden printing blocks) which managed to survive the fire. Located in a beautifully remote area of Gayasan National Park, a couple of hours from Daegu, Haeinsa is perfect for those wishing to fully immerse themselves in nature while soaking up traditional Korean Buddhist culture. The two-day program features monastic formal meals, Seon meditation and a visit to the mountain hermitages above the temple, home to many respected monks.
Sudeoksa
As one of the few temples not to be destroyed during the Japanese invasions of Korea, Sudeoksa's main hall is South Korea's oldest wooden building, dating back to 1308. Other cultural treasures include a scroll painting of Rocana Buddha and the Three-Story stone pagoda. Situated on the southern slopes of Deoksungsan in the South Chungcheong Province, it's worth taking an early morning hike to the top of the mountain to watch the sunrise. Early morning prostrations, meditation walks in the wood and tea ceremonies are among the activities you can expect during your stay.
For more information on the best restaurants in South Korea, visit the Korea Tourism Organization