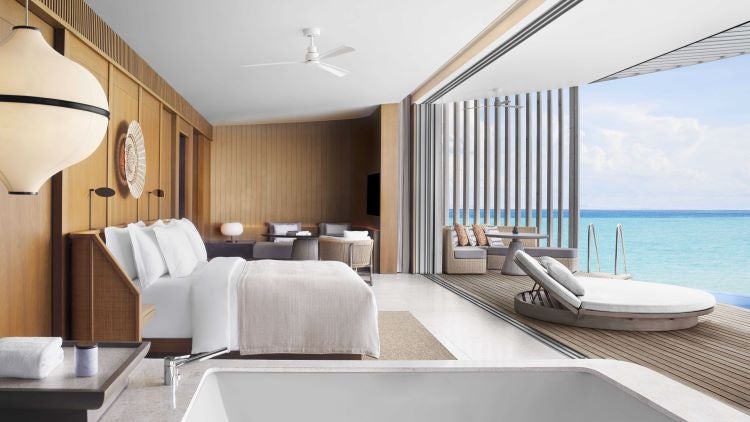 There could be no other place for the Ritz-Carlton Maldives' new resort. The Fari Islands — an archipelago of four pristine islands on the northeastern tip of the North Malé Atoll —  are set to usher in the next generation of luxury guest experience. The exclusive destination is on a mission to not only nurture the personal wellness of its guests but also the precious island and marine habitat that surrounds it. 
[See also: Top Suites in the World – Seven South, The Ritz-Carlton, Grand Cayman]
Not just any hotel has been invited to set up home on the archipelago and the Ritz-Carlton Maldives, Fari Islands is just one of three exclusive resorts which also includes Capella, set to open next year and the newly opened Patina Maldives. 
After a short boat ride or a scenic seaplane flight from Velana International Airport, the first stop for guests staying at The Ritz-Carlton Maldives will be the picturesque shores of Fari Marina Village. Here a vibrant Beach Club along with charming boutiques and eateries form part of the archipelago's communal heart. But don't let this fool you. The Ritz-Carlton Maldives is a bastion of sumptuous seclusion, and once through its doors, guests can choose their level of involvement with the outside world, ranging from complete immersion into the wealth of offerings the resort and the wider Fari Islands have to offer, or 100% privacy within the blissful surrounds of a private villa. Though most guests will probably opt for a bit of both. And that is the beauty of this new destination. 
[See also: Inside the New Hotel Castello di Reschio]
Whether it's families in search of exploration or couples and individuals looking to while away the hours from the comfort of a plush beachside daybed, the 100-villa Ritz-Carlton Maldives will deliver. Minimalist architecture that embraces the natural environment meets golden sands and turquoise waters as the resort invites guests to embrace the 'circle of island life'. This phrase could be open to individual interpretation, but it sounds good to us. 
Stay
Inspired by that same circular flow, the resort centers around a ring of chic overwater one- and two-bedroom villas.  For guests who would prefer to stay on solid ground, the resort's one- and two-bedroom beachside villas are equally impressive. Whether overwater or beachside, each property offers spacious living that flows seamlessly between indoor and outdoor thanks to a set of magnificent panoramic sliding doors. Step through them to a sun deck with a private infinity pool and astounding views. This is further enhanced by the resort's minimalist design, respectful of its visual impact on the environment it eagerly draws in its natural surroundings.
However, the most prized of all accommodation at the Ritz-Carlton Maldives comes in the form of the 16,150-sq-ft Private Beach Residence. The sprawling three-bedroom villa comes complete with its own private beach, a master suite with its own outdoor pool and an in-house spa and chef. 
No matter which villa you opt for, in typical Ritz-style, service at the resort is highly personalized, and each suite is assigned an 'Aris Meeha' or island butler.
Relax
Cocooned in the middle of the circular ring of overwater villas is the cylindrical Ritz-Carlton Maldives Spa. The spa acts as an ethereal floating sanctuary over the turquoise lagoon and is reached via a three-minute walk across a stilted pontoon.
A relaxation lounge, salon and nine spacious treatment rooms await guests, each inspired by and aligned with the ancient Chinese philosophy of Yin and Yang energies. The gentle scent of camellia flower and the use of natural materials through the interiors all add to the sense of calm as wooden louvered screens give a glimpse of the azul waters below.  A state-of-the-art 'Chien – Kan Suite' will also offer nearly 1,200-sq-ft of private wellness space and includes a steam shower, sauna and bath.
The Ritz selected eco-conscious skin-care experts Bamford to develop a bespoke signature treatment menu, complete with therapies inspired by the natural world. Highlights include the Bamford Signature Journey, a two and half hour immersive healing experience that features an island-grown coconut oil massage with a combination of Japanese Shiatsu and Swedish motions releasing tensions followed by a sacred hot stone treatment. The ritual is completed with relaxing breathwork with Maldivian seashells and a fragrant bath to soak away any impurities. 
Dine 
The balance between high-end, beachside and wellness-focused dining is struck with seven distinct culinary venues with global influences to choose from.
Set within a beautiful lantern-inspired overwater space, the Summer Pavilion restaurant takes inspiration from its Michelin-stared namesake located 2,000 miles east at The Ritz-Carlton Millenia in Singapore. The restaurant serves contemporary Cantonese cuisine including slow roast duck and steamed tiger prawns designed to be shared and paired with fine Chinese teas and selections from the extensive wine cellar.
Iwau, which translates into 'to celebrate' in Japanese, is an elegant open-air teppanyaki and sushi restaurant; whereas a more European vibe greets guests at La Locanda, serving up rich espressos in the morning, aperitifs at sundown as well as a menu inspired by the cuisine of Southern Italy.
[See also: Mövenpick Resort Kuredhivaru Maldives' Island Buyout]
The family-friendly Beach Shack is a relaxed spot to dine on shared plates and grilled seafood but if you're looking for something more glamorous, head to Eau Bar. Fresh oysters and caviar is served alongside cocktails crafted with organic and fresh ingredients, while sunset is celebrated each evening with a captivating drum and fire ritual.
Two further culinary offerings from The Ritz-Carlton Maldives, Arabesque and Tum Tum, are located at Fari Marina. Guests can reach these via dhoni, a traditional wooden fishing boat that will transport guests the eight-and-a-half minute journey to the island hub at any time of day.
Protect 
The Ritz-Carlton Maldives has taken its environmental responsibility seriously from day one and to limit the impact of the build, the resort was created using a series of prefabricated buildings. This reduced the need for heavy operations within such a pristine environment and enabled the resort to lower its footprint. 
Clever design means the natural breeze is harnessed to cool the public spaces, and highly-sophisticated glazing has been installed elsewhere to limit the use of air-conditioning (which is powered by solar energy along with the hot water system.) 
The resort has also brought its successful marine conservation and education initiative run in partnership with legendary environmentalist Jean-Michel Cousteau to the region for the first time. The Ambassadors of the Environment Program will see the resort roll out a menu of immersive ocean experiences for guests of all ages. As well as diving and snorkeling expeditions, it will kick off with a 215,00-sq-ft coral planting project to reverse the impact of climate change on the rich aquatic ecosystem surrounding the atolls.
One-bedroom Ocean Pool Villa from $3,623 per night, ritzcarlton.com
[See also: Hotels Making a Difference on World Oceans Day]