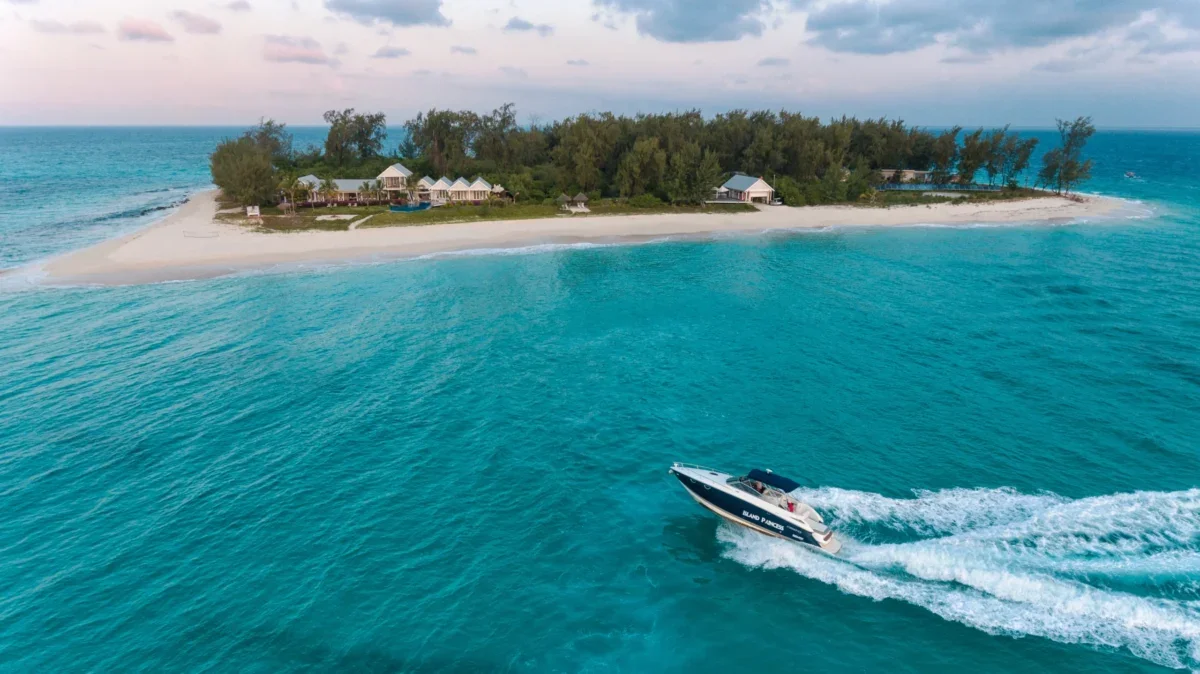 Pierre Delvaux will never forget the first time he saw Thanda Island. The CEO was flying back from Mafia Island, off the coast of Tanzania, when he caught a glimpse of an archipelago below and asked the pilot to circle back.
"I was blown away by the colors of the coral reef," he remembers. "I've seen a lot of ocean in my time, but there was something about the colors – every shade of turquoise – that was just extraordinary."
When Delvaux stepped foot on the island a couple of months later, it was more beautiful than he could have imagined. "The sand is so white and the particles are so loose that your feet sink in and it squeaks beneath your feet," he says. "I knew I'd found what I was looking for."
[See more: The Most Extravagant Island Suites in the World]
Delvaux had spent months searching East Africa for the perfect setting to create a private island retreat with Swedish billionaire entrepreneurs Dan and Christin Olofsson. The trio had already carved out a reputation for developing exceptional luxury travel experiences, having previously launched Thanda Safari, a private game reserve in northern Zululand.
But Delvaux hit a stumbling block when he discovered the idyllic island was, in fact, part of the protected Shungi Mbili marine reserve. It took eight long years to negotiate a lease agreement with the Tanzanian government.
"I was treated with mistrust," recalls Delvaux. "I'm from South Africa, and with the apartheid past, I think the government was very skeptical of foreigners. So many developers had come before, made promises and then done nothing."
After much persuasion, the CEO finally managed to convince the government to let him develop the island – on the condition there would be intensive investment in both conservation and uplifting the local community.
Leasing a marine reserve for exclusive use was, says Delvaux, "an ambitious dream that people said was impossible. Imagine if I came to London and said 'I want to lease a piece of Hyde Park exclusively for no one but my own guests'. What would the government say?"
Securing the lease was just the start of the hard work. Despite becoming a protected marine reserve in 2007, the island had been stripped of its marine life and the coral reef badly damaged by destructive fishing practices.
"The first few years were really difficult," admits Delvaux, "getting rid of fish traps and gillnets, and floating buoys around the marine reserve." Perhaps the biggest challenge, he says, was educating the local fishermen on sustainable fishing.
"We had to show that there was a place for them, that we would buy fresh fish from them if they didn't fish in the marine reserve and stopped using explosives," he explains. "Of course, you can't go into a local community and expect things to change overnight – they had been fishing for centuries with no rules. It was an educational learning curve."
From signing the lease, it took just 18 months to transform the uninhabited marine reserve into Thanda Island – an ultra-luxe private island retreat powered entirely by solar energy and only available for exclusive use.
[See more: Iconic Private Island Resorts That Give Back to the World]
With prices starting at an eye-watering $33,000 a night, what can guests expect from the tropical hideaway? One thing is certain: there will be no prying eyes. Thanda Island is 12 nautical miles from the closest inhabited island and a forty-minute helicopter flight from Dar Es Salaam on Tanzania's Indian Ocean coast. The 20-acre island sleeps up to 18 guests across two traditional wooden banda chalets and a breezy New England-style villa.
Then, there's the small team of staff – 75% of whom come from neighboring Mafia Island – which includes a private chef and housekeeping. And, if you can bring yourself to leave the island, Thanda owns its own chopper with a pilot on standby to whisk you away on a day trip to the Zanzibar archipelago or for an afternoon of diving at Chole Bay.
This may sound like heaven, but you'd be forgiven for wondering how private jets and helicopters fit in with Thanda Island's sustainable ethos. "A lot of luxury and responsible tourism appears to be in contradiction with one another," acknowledges Delvaux.
However, he stresses, "luxury has the biggest multiplier effect in the entire industry. If the money is spent responsibly and reinvested in an authentic way, it can have a huge impact. And in our business that's exactly the secret: the fewer the people, the greater the impact."
The CEO points to the hundreds of thousands of dollars Thanda Island's wealthy guests pour into the ongoing conservation and community uplift initiatives. These include the Star for Life program, which provides children at six schools across Tanzania with a three-year life skills course, the Entrepreneur Development initiative which helps local people to set up their own businesses, and the extensive coral reef rejuvenation program helmed by a full-time resident marine biologist.
For Delvaux, it's been immensely rewarding to watch the marine reserve recover and evolve. "It took time," he says, "but now we are in our sixth year and there's an abundance of fish, turtles, and hundreds of reef herons nesting on the island – it's just incredible."
But the ambitious CEO is not stopping there. He plans to secure the leases on two uninhabited neighboring islands to increase the footprint of the marine reserve and restore even more of the precious coral reef. The idea, he says, is to open a super-exclusive private club with just 10 members that are willing to invest heavily in conservation.
Going forward, Delvaux believes guests' priorities will continue to shift post-pandemic, with a greater value placed on giving back. "People have lost their livelihoods, their loved ones and their freedom," he reflects. "I think within the luxury space, less will be more."
"People will be looking for sincere, genuine sustainable and conservation projects," he continues, "places where they can have maximum impact on the community and really be part of something meaningful. I think that's exactly what Thanda Island can offer."