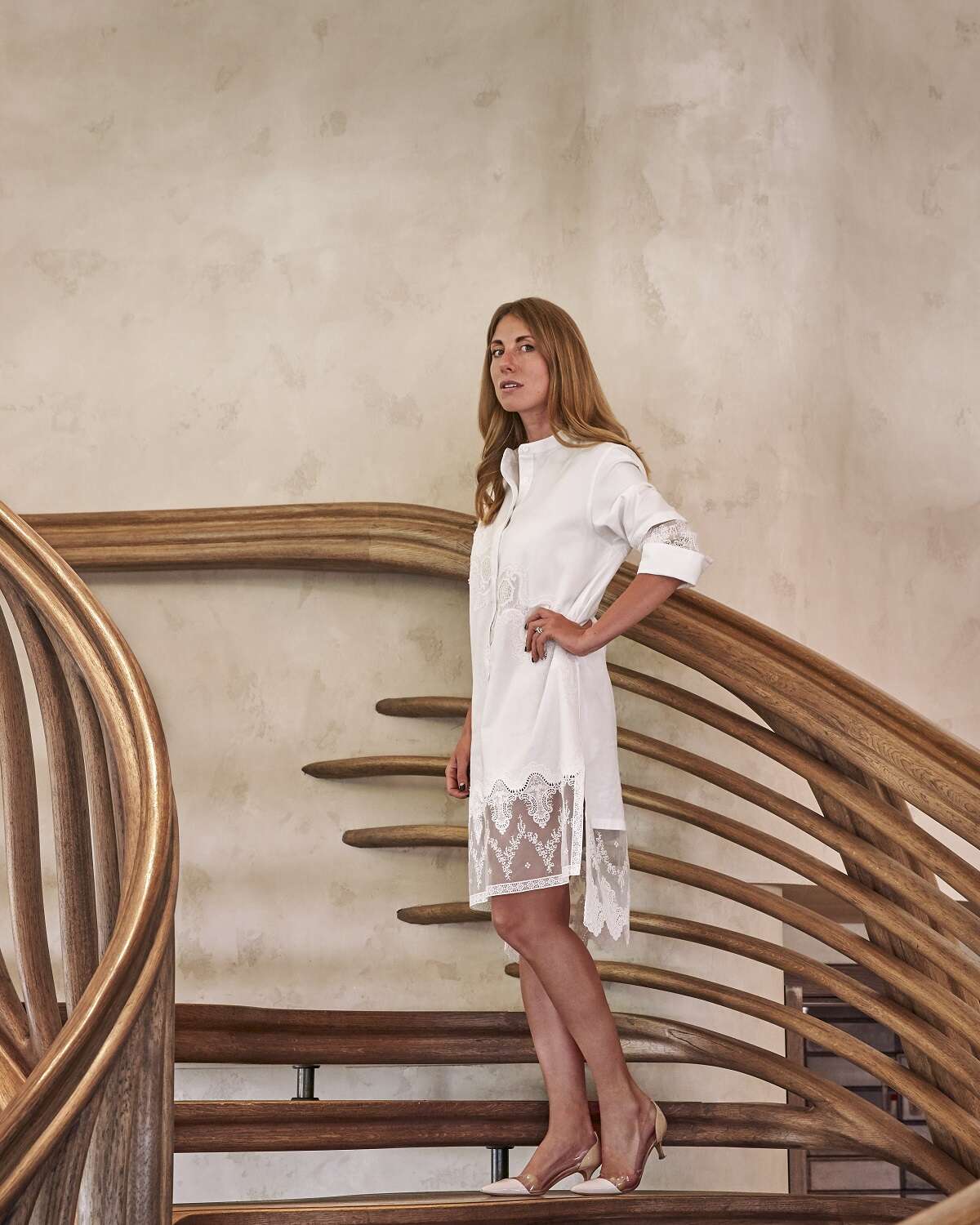 A week before Putin ordered his troops into Ukraine, Tatiana Fokina was out for drinks in London with an old friend, a restaurateur from Kyiv.
"We had this really fun night out, and then, days later, I'm texting her saying, 'Please tell me you're okay. Where are you?" she recalls. "She told me, 'We had to take the children and escape – we're in a bomb shelter.' It's crazy."
It's been a turbulent and distressing time for the Russian CEO. Together with her partner Yevgeny Chichvarkin – a Russian exile who is on Putin's kill list – she runs the Mayfair-based fine wine and spirits emporium, Hedonism, and Michelin-starred restaurant, HIDE.
But when Putin began his brutal invasion in February, her world was thrown into disarray. Last month, Fokina's mother fled Russia and moved into her Chelsea home. "I begged her to come and stay with us because we've always been so vocal with our opposition views and I was worried about her," she says. "It's not healthy to live in a country which is in complete isolation, ruled by a tyrant."
[See more: Getting to Know Fine Wine and Food Expert Tatiana Fokina]
Fokina has watched many of her friends lose their jobs as the country faces crippling sanctions. "Everyone I know in Russia is devastated," she says, and pauses, her voice trembling with emotion.
"Our hearts are just breaking for Ukraine. We all have family members there – a grandma, aunt or cousin. We are historically, culturally, linguistically bound as any neighbors are. It's brotherly bloodshed. I can't blame the Ukrainians for hating us right now because they are suffering, but at the same time, this is not Russia's war. This is Putin's war, and Putin does not represent Russia."
The entrepreneur was born in Leningrad (as St. Petersburg was then named) shortly before the Soviet Union collapsed. She grew up in a family of academics with "not much money, but lots of books" and studied modern languages at the local university before moving to London at 22.
After a stint at a PR company and luxury real estate agent, she was invited for an interview with Yevgeny and became his very first employee working on a project that would go on to become Hedonism.
The next decade was a whirlwind. Together, the couple grew the business to become the world's largest fine wine and spirits emporium, before launching their first restaurant: HIDE. Within six months of opening, the eatery scooped its first Michelin star, helmed by talented head chef, Ollie Dabbous.
This was followed in quick succession by Hideaway, a boutique café on Mount Street and the White Horse, an innovative wine-led gastropub. More recently, Fokina went one step further, setting up her own interior design firm, Studio Caché, in the middle of the pandemic.
Just before the war started, she was working on a design project for a restaurant in Odessa and regularly traveling to Ukraine to visit friends. "It's such a beautiful country with such hospitable people, and now you look at the photos of Kyiv and it's just…" Her voice trails off. "I can't believe that it's happening."
Of course, as a wealthy Russian living in London, Fokina has been placed under the spotlight in recent months. Her husband, Yevgeny, is a multimillionaire mobile phone mogul, who fled Moscow in 2009, claiming he was forced out by demands from corrupt officials to pay bribes.
The couple has been long-time critics of Putin and refuse to be silenced. When asked whether taking this stance frightens her, Fokina is defiant. "I think you either become a really paranoid person looking over your shoulder all the time, or you learn to live with it," she reflects.
That isn't to say it's been easy. The couple is friends of Alexei Navalny – the courageous opposition leader and anti-corruption activist who is currently facing nine years in prison. "Imagine having a family friend who almost dies because he gets poisoned by the Russian FSB – it's insane," she says.
"Sometimes, when I used to go to Russia, taxi drivers would ask me 'Are we being followed? We've been on this route for a while and a car has been behind us the whole time'. I would laugh it off. I guess it's, unfortunately, part of our reality and, touch wood, nothing has happened to us."
While Fokina has been vocal in her opposition of Putin and his inner circle, she is keen to stress that the entire nation must not be judged by his crimes. "I have friends that tell me they don't want to admit they're Russian anymore, but I'm not ashamed to be Russian – I'm ashamed of what Putin is doing," she says.
"We took our six-year-old daughter to the Ukraine protests in London and the people were chanting 'Stop Putin, Stop the War' and I chanted with them. Then they chanted 'Cancel Russia' and my daughter asked 'Mommy why are you not chanting with them?' I told her, 'I don't agree, I don't think Russia is represented by Putin – Russia is our home.'"
The entrepreneur has found the cultural boycotts and financial sanctions imposed on Russia unsettling. In London, she worries about the impact this will have, not on the ultra-rich oligarchs and their "tainted money" but on ordinary Russian passport holders who "have jobs and kids in school".
Her hope is that the money from the yachts, private jets, villas and other corrupt assets seized from those with ties to Putin can one day be given to Ukraine to start building back the destroyed cities.
Does she worry about the impact of Russophobia on her own businesses? The answer is a resounding 'no'. After all, she says, all it takes is one Google search to read about the couple's anti-Putin views. "We've shouted from every roof and every corner," she says. "Pretty much all we've talked about for the last 15 years is the need to stop this guy because he's ruining our country."
"I've been living in London for most of my adult life – I'm a British citizen, and we've started these businesses that are well-loved, not for political stances or who the owner is, but for great food, amazing wine, nice décor. I might be vastly naïve, but I don't think so."
Struggling to overcome feelings of guilt, shame and anger as the war rages on, the couple has been undertaking efforts to support Ukraine including crowdfunding to raise money for much-needed humanitarian aid. Last month, Yevgeny drove a lorry load of medical supplies to refugees at the border in Warsaw.
The couple is also in the process of setting up a project, Tickets for Peace, to raise funds to support cultural venues in Ukraine, many of which are scrambling to stash their precious art and artifacts in underground bunkers as the missiles rain down.
For now, it's hard for Fokina to think about future plans for her businesses. When she isn't taking part in efforts to support Ukraine, the entrepreneur tries to lose herself in her work at her design studio. "It's difficult to find any sort of creative inspiration when you feel so down, and you're so inundated with horrific news," she says.
"But the studio is continuing to grow and I find it very therapeutic to take my mind off those dark, depressing thoughts, because when you're creating something it brings peace to your mind, if only for a little while."