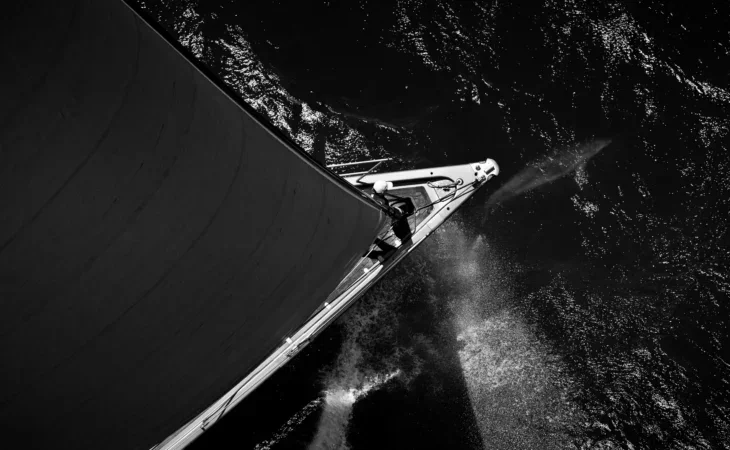 When superyachts hit the headlines, it's often for all the wrong reasons. From angry protestors threatening to pelt Jeff Bezos' $500m new vessel with eggs, to the steadily growing list of superyachts seized from Russian oligarchs, the industry has faced its fair share of bad press in recent months.
But according to Charlotte Thomas, editor in chief at the Superyacht Life Foundation, there is another side to the sector that goes far beyond its image of excess. "I think the industry is waking up to the fact that the next generation of owners are super conscious of eco-responsibility and are trying to be more sustainable," she says.
"Fundamentally it always comes back to the same thing: people want to go out and enjoy what a superyacht can offer and the extraordinary experiences you can have, but if you don't look after the oceans, you're not going to be able to enjoy them in a generations time."
Thomas, and her colleagues at the Superyacht Life Foundation, are shining a light on the positive work the industry is undertaking, as well as the far-reaching impact these efforts have on communities across the globe.
The non-profit was set up five years ago as a collective marketing campaign for the superyacht sector, representing the voices of the entire industry, from the owners and crew to the shipbuilders, designers and brokerage companies.
Changing perceptions of the industry isn't easy, but if anyone is up to the challenge it's Thomas. The editor in chief has over two decades of experience under her belt working in the yacht industry, including a stint as a skipper and crew mate.
Seeing the negative press can, at times, be frustrating. "The headline figures come out saying 'so and so has just spent $500m on a superyacht, isn't that ridiculous'," she says. "But no one talks about how the money is spread between tens of thousands of people – everyone from your designer to your piper to your fabricator to your interior specialist. It's the ultimate redistribution of wealth."
Supporting these talented craftspeople is something Thomas is fiercely proud of. She tells me about a London-based designer, who creates bespoke leather details for superyacht interiors. "The only reason he can do that," she insists, "is because of ultra-high-net-worth clients. If it wasn't for these people, his skill would have died out entirely."
[See more: Innovative Yachts on the 21st Century]
In recent years, Thomas has watched sustainability climb the agenda. Onboard operations have become much greener and cleaner thanks to crews coming together under initiatives like the Clear Ocean Pact which aims to eliminate all single-use plastic in yachting.
There has also been heavy investment in eco-friendly technology. Thomas points to vessels like Bill Joy's 58-meter sailing yacht, Ethereal, powered by a groundbreaking twin hybrid electro-mechanical propulsion system that recharges her battery bank, and Oceanco's Black Pearl which is powered largely by kinetic energy generated from her enormous sails.
In this way, Thomas likens the superyacht industry to Formula 1. "It's this hotbed of exciting advancement where money is invested in technology that can be applied far beyond yachting," she says.
Alice Widdows, the events and partnerships manager at Superyacht Life Foundation, adds: "You hear about owners that will go and live near the yard to really get involved in the build process. That's how passionate they are."
Beyond technology, the sector is encouraging valuable scientific collaboration projects. Nekton's 'Yachts for Science' program, for example, matches marine scientists with private vessels to undertake research in hard-to-reach locations.
But what does Thomas say to critics that question whether superyachts should sail to previously untouched corners of the planet, like, say Antarctica or the Galapagos Islands?
"I think the numbers are still relatively few, so the impact is minimal," she replies. "But what it does do is raise awareness among the people who have the means to make a difference. Of course, it's got to be done responsibly – that's the key."
Scientific research and eco-friendly tech aren't the only areas where superyacht owners are making a real difference, according to Thomas. Their efforts, she explains, often extend to the local communities, providing disaster relief for those in need.
YachtAid Global, for example, was set up in 2006 to help the yachting community provide humanitarian aid for coastal communities across the planet. Since then, superyacht owners have used their vessels to provide emergency relief for those in Tonga following the 2021 volcano eruption, and those in The Philippines affected by Typhoon Rai, among other projects.
"The great thing about a superyacht is that it's this self-contained eco bubble," explains Thomas. "It doesn't need power, water or food because it carries supplies and can produce its own light and power. So you can visit remote communities and not take any of their precious resources. Quite often owners will say 'my boat is in New Zealand – it's available if you want to deliver supplies.'"
Widdows adds: "When you're on the dock in Palma and you're sitting in your superyacht and you know that just behind you there are hospitals struggling and children aren't being fed properly, there's this huge disconnect, so the crew and owners do get very involved supporting the local communities at their home bases."
The pandemic has only served to accelerate this shift towards more responsible yachting and a desire among owners to help the communities that have given them so much.
"I think everyone's very conscious they come from a place of privilege," concludes Thomas. "It's almost a case of getting that message out to the next generation of owners: don't feel guilty because it's costing a lot of money – look at all the people that rely on it."
[See more: Lürssen Reveals Climate-Neutral Yacht Concept]