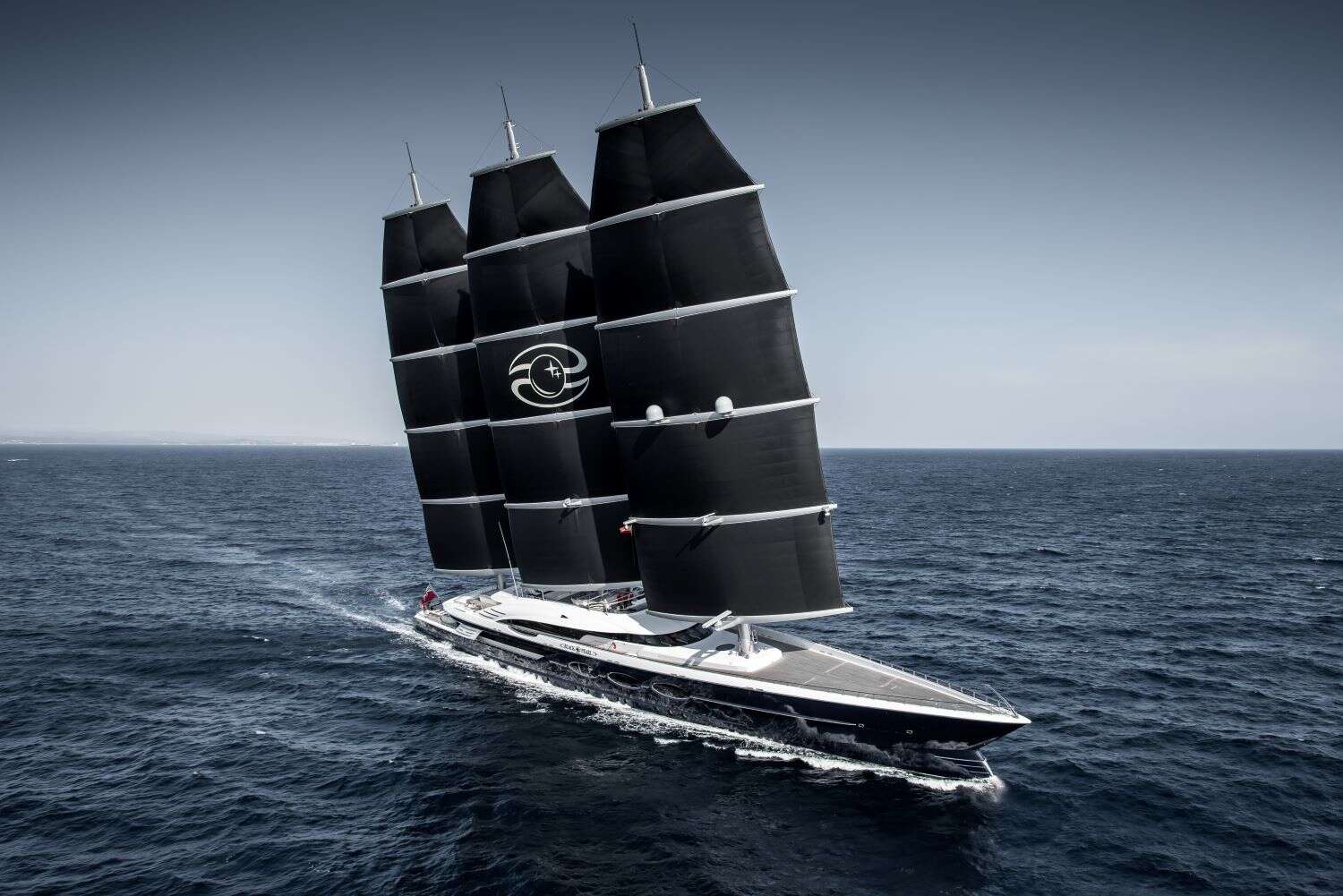 Standing at 350ft, Black Pearl is the world's largest sailing yacht and is estimated to have cost in excess of $200 million. The unique vessel was garnering global attention long before her maiden voyage thanks to her revolutionary design, eco-credentials and technological advancements, all of which have set a new industry standard and seen her scoop-up numerous awards for innovation. 
Delivered in 2018 by Dutch shipyard Oceanco, the three-mast yacht is said to be the realization of a radical vision by her owner who wanted "to build something that was out of the ordinary in every way," according to the ship's captain Chris Gartner. Who is Black Pearl's owner? This, along with much of her interior details, has never been officially released, all adding to Black Pearl's mystique. That being said, she is widely believed to belong to the Russian businessman, Oleg Burlakov.
[See also: What Do We Know About Jeff Bezos and his Yacht?]
This unmistakable vessel is not the product of one designer but in fact the result of an ambitious cross-industry collaboration between some of international yachting's greatest creative minds. UK-based Ken Freivokh Design (responsible for the iconic Maltese Falcon) and Italian studio Nuvolari Lenard (behind Steven Speilberg's Seven Seas yacht) teamed up to create her striking exterior. However, it is not just her aesthetics that sets her apart, but also her utilization of the very latest green technology, which according to Oceanco, has rendered her capable of crossing the Atlantic without using any fuel. "How?" one might ask. 
Let's start with her three imposing 230ft DynaRig carbon masts designed by Dykstra Naval Architects. The innovative structure sees her sails subdivided into smaller sections that can be set or furled at the touch of a button. "The key to the DynaRig's effectiveness is just how easy it makes sailing Black Pearl rather than relying on propulsion from fossil fuels,"  says Gartner. "With a single person able to set 2,900 sq meters (31, 215 sq ft) of sail area in just under seven minutes, we can quickly and simply turn off the main engines and harness the power of the wind, which costs nothing and is better for the environment."
[See also: How Much Does a Yacht Cost to Build?]
[See also: Step Inside the Lady Moura Yacht]
In fact, under sail, the yacht can reach an incredible 30 knots and regenerate enough energy to power the boat's full house load, removing the need to run generators. 
Black Pearl is also powered by an advanced hybrid propulsion system that Oceanco designed in collaboration with specialist consultancy BMT Nigel Gee. Gartner explains how the complex system generates electricity through the vessel's spinning propellers: "Her hybrid propulsion installation has two shaft lines, each with a controllable pitch propeller.
In normal sailing mode, the propellers are set to minimize drag and prevent the shafts from turning. But when we want to harvest some of that kinetic energy to be stored and used onboard, the pitch of the propellers is altered to create a lifting force as the water passes over them. This rotates the shafts, which are connected to a permanent magnet electric propulsion motor, effectively converting the wind energy that is moving Black Pearl through the water into electrical energy."
Stay
Her interiors – which remain a closely guarded secret – were also designed by Nuvolari Lenard and French architect Gerard Villate. Other than that, what we do know is that she has six cabins providing accommodation for up to 12 guests, including a master suite and two VIP cabins. Black Pearl's total interior volume is a roomy 2,700 GT, significantly overshadowing the world's second-largest sailing yacht the EOS at 1500 GT. 
No actual pictures of the inside of the vessel have ever been released but according to Nuvolari Lenard, the interior is a celebration of Louis XVI French design (think elaborate neoclassical touches like wood carvings, gold accents and sumptuous fabrics) as well as some art deco touches. The Italian design studio has also shared a handful of interior renderings to give us a hint of what may lie inside the Black Pearl yacht. These include an elaborately decorated dining room that can seat up to 16 guests. We would expect to see this same level of grandeur throughout her accommodation. 
[See also: What are Explorer Yachts?]
Relax 
Black Pearl is said to have a wealth of recreational spaces spread across her three decks, though due to her secretive nature, little information has been published as to what delights she offers her passengers. Aerial photographs reveal a pool aft of the main deck as well as a hot tub aft of the upper deck. There is also a fold-down platform at the aft of the yacht which is likely to transform into a full-beam beach club. 
Ken Freivokh Design features a mysterious unnamed 328-ft-plus DynaRig yacht on its website which some may speculate could give us an insight into the luxury facilities on board the vessel. The unidentified yacht includes a substantial toy and tender garage housing two limousine tenders, a hydroplane and a range of utility tenders and jet skis. It is also said to feature a helipad and an extending forward deck that can be used for entertaining guests as well as spotting dolphins. If that wasn't enough, other out-of-this-world amenities include a glass-fronted swimming pool and an aquarium. Could Black Pearl host similar facilities? It's anyone's guess. 
Explore
A true sailing vessel, the Black Pearl yacht is built for adventure and her lower carbon footprint means her voyages are much kinder to the planet than those of a typical motor yacht of similar stature. 
Despite her transatlantic credentials she appears to spend most of her time cruising around Europe with regular sightings in Gibraltar as well as stopovers on the Isle of Portland on England's south coast, the Spanish ports of Cadiz and Tarragona, the Russian city of St.Petersburg and of course Monaco where her owner is said to reside.
According to Marine Traffic, at the time of publication, she was docked in Montenegro at the small but glamorous port of Tivat, located in an enclave of the Adriatic. 
[See also: Style and Sustainability: The New Sunreef 80 Eco Catamaran]