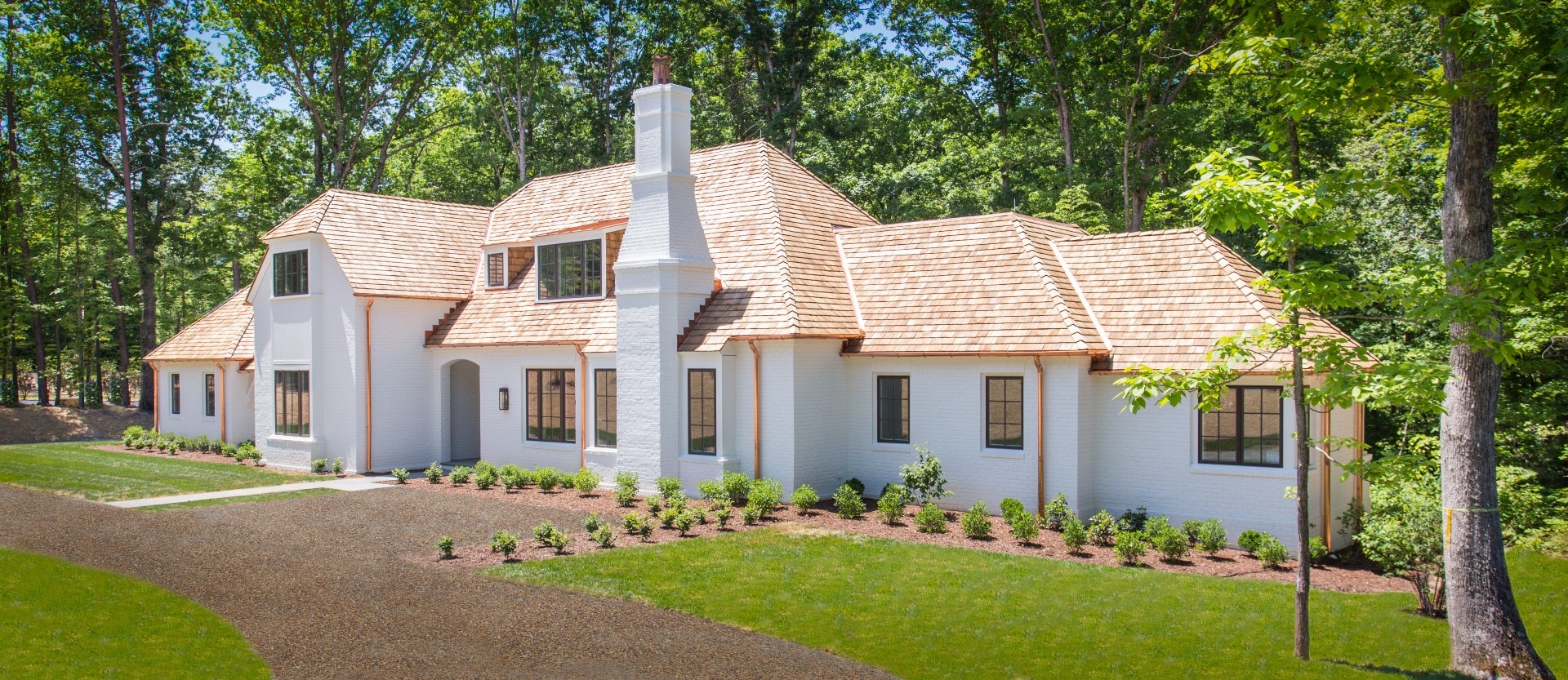 Designed to emulate an English country manor, this beautiful four-bedroom property is situated on a 2.7-acre plot in the heart of Keswick Estate, a private residential community at the foothills of the Southwest Mountains in Virginia. Once completed, the community will have a total of 118 residences spread across the spacious 675-acre estate.
Each property is surrounded by beautiful natural landscapes including meadows, groves of mature trees and various native plants. The community also lies adjacent to the magnificent Keswick Hall and Club, which is currently undergoing a full refurbishment and is set to re-open this summer. Residents of the estate will be able to enjoy all of Keswick Hall and Club amenities, which includes an award-winning golf course, spa and tennis on European red clay courts.
Set at 2571 Palmer Drive, this delightful English country manor-style home features a white brick exterior and an eye-catching wood shingle roof with intersecting gables. Inside, the layout and interior design is a contemporary update on the traditional manor style, set across two floors.
[See also: The American Designers that You Should Know]
There is a large living and dining room to the left of the home's entrance, which features an open fireplace and opens up to a covered porch overlooking beautiful green woodland. Other spaces on the first floor include a laundry and mudroom, a garage with space for two cars, a large kitchen with a second dining area that is perfect for family breakfasts and another space with large bay windows that could act as a den, cinema or family room.
The master bedroom – complete with a large en suite and two built-in wardrobes – is also found on the ground floor. Upstairs on the second floor are three generously sized guest bedrooms, all of which feature en-suite bathrooms and large windows that fill the spaces with natural light, as well as inviting residents to look out at the surrounding landscape.
Each property on Keswick Estate is being built with a series of guiding principles in mind, including for the homes to be of "enduring value… that will complement the existing beauty of the area". In order to retain the existing natural landscape – which is currently home to native wildlife including white-tailed deer and red fox – each property has been thoughtfully designed in harmony with the surrounding area, including limiting damage to vegetation and protecting existing trees.
From $2,625,000. Visit keswickestate.com for full details.