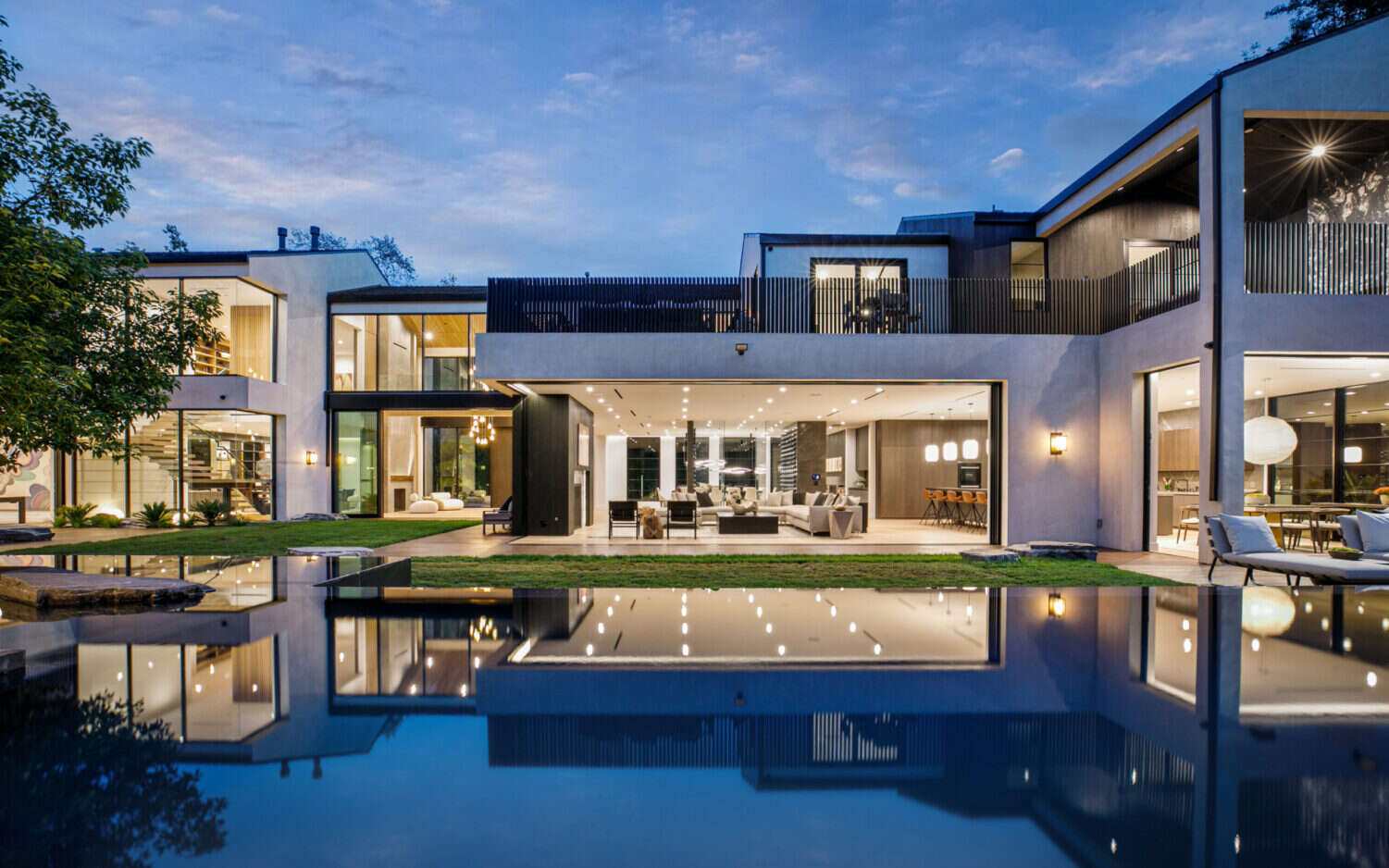 It goes without saying that in certain parts of LA, only a mansion will do. With breathtaking properties on every block, it can take a lot to impress the notoriously demanding house hunters scouting the city's most upmarket neighborhoods in search of their dream home. But it would be hard for even the most hard-to-please LA buyer not to be blown away by ONIN, a Japanese Arts-inspired mansion by architect Eran Gispan and interior designer Jae Omar.
"We've taken the popular yet timeless concept of a farmhouse and introduced an entirely new spin with ONIN," explains Omar. "Farmhouses at their roots are accessible, simple and uncluttered. More than just deconstruction, we've stripped away the barriers and embraced an openness and tactility that feel both expansive and intimate at the same time."
ONIN is a million miles away from the fussy white-columned abodes often associated with Beverly Hills and Bel Air. This is refined luxury at its finest. Omar has taken his inspiration from a singular philosophy tied to the eruption of creativity throughout Japan following the Ōnin War during the mid-1400s, hence the property's name. 
Bespoke in every sense of the word, Omar has woven a host of authentic and intricate features into the fabric of the Japanese-influenced home. From the traditional Japanese wood-burning 'shou-sugi-ban' technique utilized on both the interior and exterior paneling to the 4,500-lb boulder for a sink that occupies a secret powder room, the property truly is one of a kind.
Spanning an enormous 19,500-sq-ft of living space, the unique mansion is located in the upmarket LA enclave of Encino and offers eight bedrooms and nine bathrooms, plus an extra bedroom and bathroom in its equally chic guesthouse.
At ground level, the towering 12-ft front door leads to a double-height entry foyer of epic proportions named the 'Butterfly Pavilion'. This is in homage to the butterflied marble slabs that flank either end of the space.  The foyer leads to a  modern and expansive open living space with numerous living and dining areas illuminated by light thanks to the towering walls of energy-saving low-emissivity glass that blur the lines between inside and out. 
[See also: A First Look at Interiors Aboard Superyacht Somnio]
Much of the property is adorned with sustainable ash wood cladding and wide plank oak flooring, punctuated by impeccable stone and marble finishes. This ties in perfectly with the kitchen's stunning Molteni 'Ratio' cabinetry from Vincent Van Duysen, which is topped with elegant stone surfaces. Nearby, one of the dining spaces is perfectly positioned next to a glass-walled climate-controlled wine storage room, perfect for showing off the new owners' collection. 
At the back, the property opens onto a 65-ft glass infinity pool with a striking marble backdrop featuring a trickling waterfall. Decking extends over the outdoor living and dining areas, complete with a boulder fireplace. This in turn leads to a lush landscaped garden. 
Back inside, climb up ONIN's floating modernist staircase to the second floor and you will discover a vaulted 3,500-sq-ft master suite which includes an attached open-air courtyard with bonsai tree. "The soaring ceilings and walls are clad with white oak planking, concealing the door to one of the two voluminous closets, creating a seamless aesthetic," says Omar. 
As well as offering an exquisitely designed living space, ONIN provides all the amenities you'd expect from an LA mansion of its caliber. The 1.3-acre property includes a gym, tennis court, bocce ball court and basketball court.
Away from the sports courts, downtime can be enjoyed with the family in the spacious games room or state-of-the-art theatre. ONIN also boasts its own spa, complete with steam room, sauna and plunge pool, the perfect place to unwind. 
Of course, a house as impressive as this needs an equally impressive set of wheels, and the property's six-car garage with electric vehicle charging point is a real selling point.
ONIN is on the market for $26m, sallyforsterjones.com
[See also: Bask in Pacific Sunsets From This Sprawling Mexican Villa]