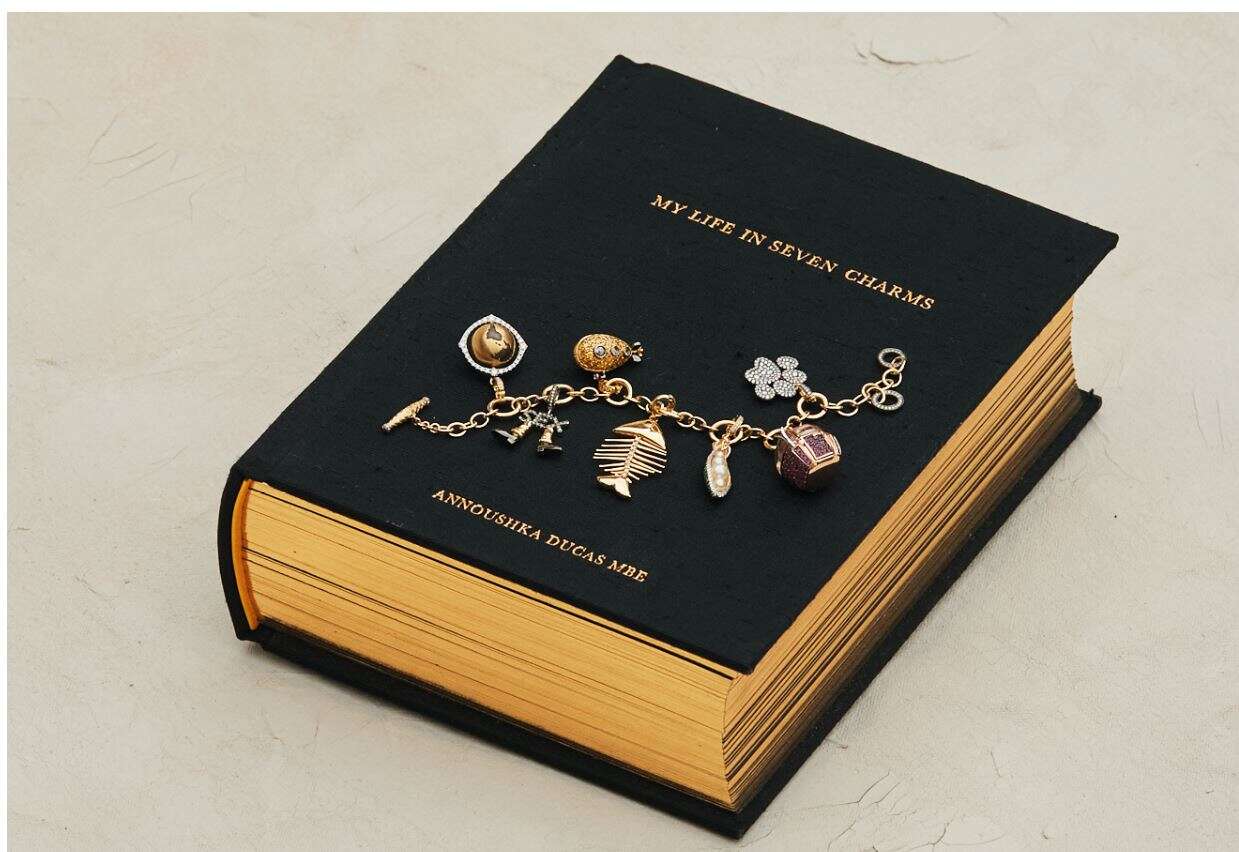 Widely regarded as one of Britain's greatest contemporary jewelry designers, Annoushka Ducas MBE has been dominating the industry since she launched the iconic Links of London in 1990. Although Links of London is now in her past, jewelry is not, with last year marking the 10th anniversary of her eponymous label, Annoushka. We spoke to Annoushka about her latest bespoke service, My Life in Seven Charms, how the pandemic has altered her outlook and how to shop for jewelry sustainably.
As you may imagine, someone who has been in an industry for over 20 years will inevitably have seen significant swings in consumer attitudes, most notably in recent years regarding sustainability. "In the last year alone, we have seen a global shift in consumerism, particularly around waste," notes Annoushaka when asked about how the industry is responding to environmental concerns. "You might think this is less of an issue in jewelry, but with the rise of demi-fine jewelers' using base metals plated in gold, many consumers are left confused and disappointed when their "gold" necklace discolors – often meaning landfill."
Although buying new jewelry can never be considered truly sustainable, the best way to prevent pieces from heading for the landfill is, of course, quality. "At Annoushka, we only use solid gold – an endlessly recyclable material, which never has nor will lose its intrinsic value nor its beauty," she explains. "We know that solid gold costs more than the dipped or plated versions, but we encourage consumers to buy less and buy better and invest in jewelry with true sentimental value that can be treasured and passed on to the next generation."
[See also: The Sustainable Jewelry Brands You Need to Know]
And what better way to create sentimental value than through a bespoke charm bracelet designed to tell the story of your life? Annoushka's My Life in Seven Charms – launched to celebrate its 10th birthday – invites clients to work directly with her (for now, virtually, of course) in the crafting of seven unique charms, each of which will reflect a significant period or element of their life.
The concept was inspired by Annoushka's love of all things miniature. As a child, she would collect tiny trinkets given to her by her mother, and this collection eventually transformed into a lifelong obsession in designing miniature items: "One of the things I enjoy most is perfecting the intricacies of each tiny form, but really, it is a charm's ability to tell a story and evoke a memory, which has been my most constant source of inspiration."
Annoushka's own My Life in Seven Charms bracelet, which she created before opening the service up to customers, includes an encrusted yellow sapphire submarine, an ode to the Beatles song she remembers dancing to with her mother; a twinkling ruby cable car in a nod to the years she spent skiing in the French Alps; and a diamond paw that represents her lifelong love of dogs.
Although charms and talismans have always been integral to the Annoushka brand, this is the first time it has launched a fully bespoke, commissionable service. The creation process of My Life in Seven Charms is incredibly personal. "We have an initial consultation where we talk through ideas and topics, milestones and memories, narrowing it down to the seven charms, although we've had commissions for 10, as sometimes seven isn't enough," Annoushka explains.
"From there, we design and sketch the charms; we add color to illustrate the stones I think would work best and annotate each to describe how the charm might open or spin and include all the little intricate details." Once the client is happy, the team gets to work carving the masters before finally working on the finished pieces.
[See also: Behind the Scenes at Theo Fennell's Studio and Workshop]
Once complete, the charms (which can be worn on a necklace or a bracelet) are presented in a personalized book, which opens to reveal a suede jewelry box. The impeccable attention to detail doesn't stop here, however; clients are also presented with a special scrapbook of their life that includes all the mementos gathered through the process, such as photos, tickets and love letters. "Altogether, this is an incredibly special biography of one's life and a completely unique heirloom to be passed on, revealing the life and character of its owner. [It] is a complete joy [to work on] from start to finish," Annoushka concludes.
To accompany the bespoke My Life in Seven Charms experience, Annoushka has launched a podcast of the same name, in which she interviews inspiring women to uncover their own seven charms and the stories behind them. Among the collection of guests is the author and former lady in waiting to Princess Margaret, Lady Anne Glenconner.
"[Lady Anne] was a particular favorite in series one," says Annoushka. "One of her seven charms was Queen Elizabeth's coronation crown (Lady Anne was a maid of honor). In reality, the crown has something like 4,000 diamonds set in it – there was no way we could ever manage to match that, so it was definitely a challenge to work out how we could reimagine something so iconic."
However, aside from trying to condense a lifetime's worth of memories into seven charms, the other significant challenge of the past year has obviously been Covid-19. Like many other businesses, Annoushka was forced to rethink its operations, with a significant chunk of its staff put on furlough. "It's certainly been the most challenging year to date, but I've learned so much through sheer necessity," Annoushka says. "It's been a steep learning curve, but our team has been nimble and creative, and together we've weathered the past year better than we could ever have hoped."
The restrictions caused by multiple national lockdowns have actually allowed Annoushka to explore new techniques and platforms that may have otherwise not have been approached: "I've personally overcome many of my tech phobias and shared my feelings more openly through our blog and social [media] channels. With the support of the team, I've hosted my first Instagram Lives, led digital Q&As and launched our first podcast – and the response has been overwhelmingly positive."
And of course, international travel being on hold for much of 2020 allowed Annoushka to reconnect with the countryside surrounding her Sussex home, which she notes as one of her greatest inspirations for her work. Be it "in the garden, on a cycle ride along the Sussex Downs or a dog walk along the beach, as long as I have connections to nature, I always seem to find inspiration."
The My Life in Seven Charms commissionable experience by Annoushka starts at $47,900.