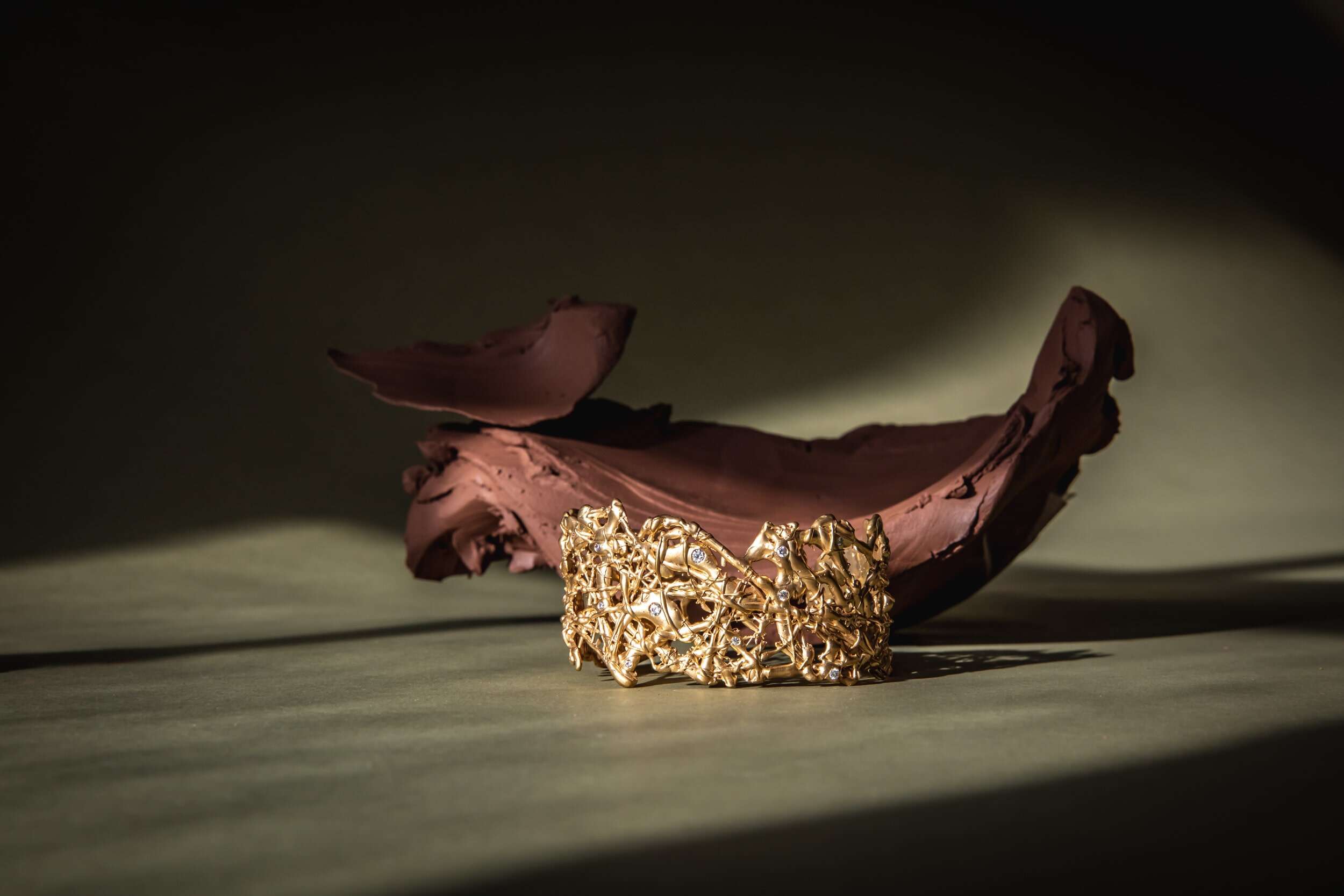 Opting to shop exclusively with sustainable jewelry brands doesn't mean that your jewelry box should be dull, and the leading environmentally and socially conscious labels are here to prove it.
Despite outward appearances, the jewelry industry isn't as sparkling as it may seem. Peel back the first layer of luxury and a murky past is revealed, with dangerous employment practices, destructive mining techniques and wasteful production processes all combining to create a significant social and environmental impact.
To help ensure that your next jewelry purchases actively protect both the planet and its inhabitants, we have rounded up our favorite sustainable jewelry brands, all of which are committed to making a lasting change in the jewelry industry, from exclusively working with recycled gold to adopting pioneering new technologies.
Jessie Thomas Jewellery
It's fair to say that Jessie Thomas has jewelry in her blood; her father is esteemed master goldsmith David Thomas, whose pieces remain on display in the V&A among other institutions. However, while Jessie continues to reference her father's use of rugged textures in her work, this isn't to say she hasn't developed her own unique style. Her pieces are simplistic and contemporary yet artfully beautiful, with a heavy focus on wearability. Ethical and sustainable practices are at the heart of Jessie Thomas Jewellery: Jessie designs and handmakes every piece herself in her London workshop using only 100% recycled gold, responsibly sources stones and the highest-quality conflict-free diamonds.
[See more: Valentines Day 2021: Eco-Conscious Luxury Gifts For Her]
AnaKatarina
Ana-Katarina has proudly been at the forefront of sustainable jewelry since she bought the first diamonds mined in Canada in 1999. Now, as a war correspondent-turned-jewelry designer, she continues to apply rigorous research to the origins, mining and cutting practices of all of the materials in her jewelry, which includes 18K recycled gold and palladium, conflict-free and fair-trade diamonds, precious stones and fossils. In addition to ethically sourced new diamonds, Ana-Katarina also uses reclaimed stones from old pieces of jewelry. Her striking jewelry typically features thematic motifs and captivating colors, with a firm injection of Ana-Katarina's personality found in each piece.
Great Heights
While traceability is key for all sustainable jewelry brands, some companies are thinking outside the box to create environmentally and socially conscious pieces. One such brand is Great Heights, which exclusively deals with lab-grown diamonds. Mirroring the natural growing process, lab diamonds are molecularly and aesthetically identical to a standard stone – just without the potentially destructive mining process and questionable ethics. Great Heights's diamonds are available in both earrings and rings, making it the perfect choice for an eco-conscious and ethical engagement ring, with the option to build your own piece for a completely personal look.
John Hardy
Sustainable luxury is ingrained into every aspect of Bali-based fine jewelry brand John Hardy. Dedicated to creating handcrafted, artisan jewelry, the John Hardy brand champions the essential values of community, tradition and authenticity. Its eco-conscious compound employs over 750 local craftspeople, many of whom are second or third-generation employees, making it the largest employer on the island. In addition to the jewelry workshop, showroom and boutique, the compound is home to an organic farm and kitchen. John Hardy jewelry is made of recycled precious metals and ethically sourced gemstones, with the signature woven chains drawing upon ancient Balinese traditions.
Futura Jewelry
Highlighting the devastating impact of unregulated gold mines that use mercury to uncover the precious metal, Futura is on a mission to clean up the gold-mining industry while creating highly coveted pieces of luxury jewelry. Futura only uses Fairmined Certified Ecological mercury-free 18K gold, which prevents the emission of toxic chemicals in the mining process, ensures the safety and livelihoods of gold miners and guarantees complete traceability through the entire supply chain. In addition to pushing shoppers toward more sustainable jewelry, Futura actively helps mining communities around the world with environmental cleanups and provides financial support to help them transition to cleaner mining.
Jonne Amaya
One of the increasing concerns surrounding the sustainability of both jewelry and fashion is the recent move toward mass-produced collections. However, fine-jewelry designer Jonne Amaya is tackling the issue head-on by committing to only working with ten clients per month, describing herself as a "personal jeweler." This model in itself is impressively sustainable, but Jonne takes the eco commitment further by primarily recycling and repurposing metals and stones from clients' existing pieces. Each piece is approached on an individual and intimate basis; some clients want to rework inherited jewelry, others want to take a stone from an old piece and set it in a new style, while some are in the market for an entirely new item.
Pascale James
UK-based contemporary fine-jewelry brand Pascale James, led by couple-duo Antonia Pascale and Christopher James, has been imagined with environmental consciousness at its core. Each piece is made to order and carefully crafted by hand using only recycled or Fairtrade precious metals and conflict-free, ethically mined and fully traceable Canadian or lab-grown diamonds. In addition to nature-inspired collections (that refuse to conform to strict seasonal models), Pascale James offers bespoke services, including the reworking of heirlooms. Its artistic jewelry is presented in antique ring boxes or recycled packaging to further minimize environmental impact.
Bario Neal
Considered an industry leader in ethical sourcing and progressive manufacturing, Bario Neal considers sustainable operations integral to the brand. Bario Neal was initially a product of designers Anna Bario and Page Neal's disillusionment with the jewelry industry continually turning a blind eye to the environmental and human toll of precious-metal and stone procurement. Now the brand exclusively works with Fairmined and reclaimed metal, as well as fully traceable diamonds and colored gemstones. Artfully clustered gems are the brand's signature style, although its eclectic pieces transcend fashions to be eternally stylish.
Pippa Small
Having received an MBE from the Queen of England in 2013 in recognition for her contributions to ethical jewelry, Pippa Small is considered to be one of the world's most sustainable jewelry brands. Working directly with craftspeople around the globe, Pippa believes that providing direct fine-jewelry training as well as access to a global marketplace are considerably more effective and sustainable than simply sending financial aid. In partnership with the Turquoise Mountain charity, Pippa trains individuals who have been marginalized by conflict, disease and production outsourcing in order to restore historic areas and traditional crafts as well as create jobs for local people.
[See also: Aequem: The Platform Making Sustainable Shopping Simple]