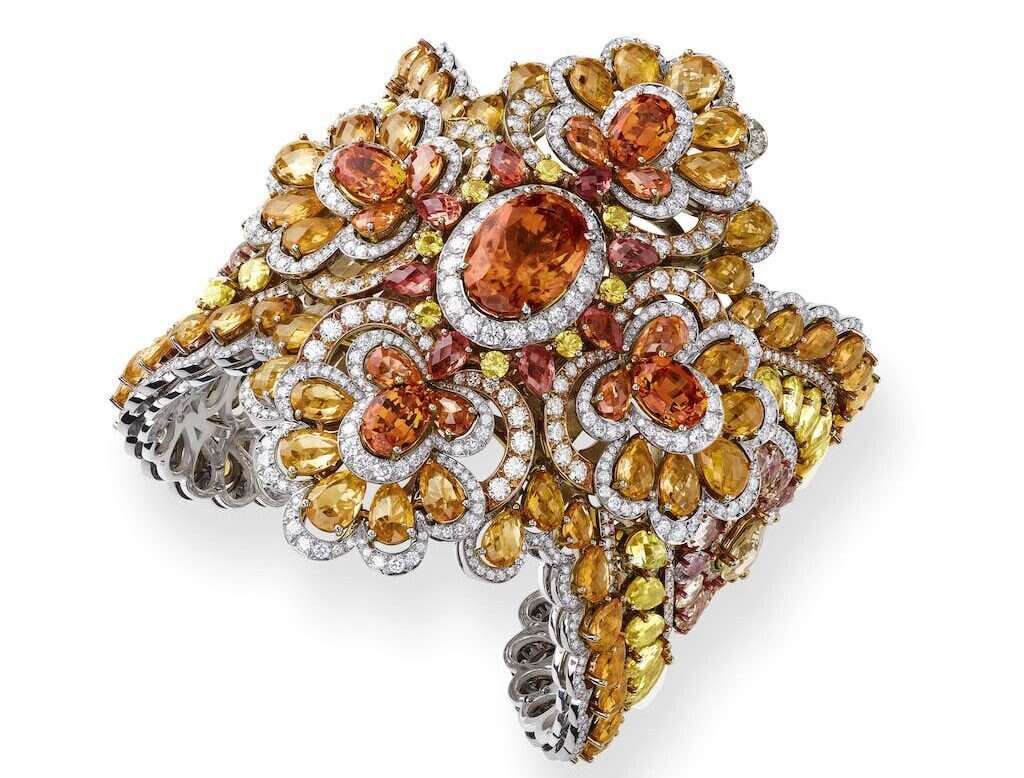 Chopard Red Carpet Collection cuff
Chopard has a lengthy partnership with the Cannes Film Festival — the Palme d'Or, the most coveted award of the festival, has been crafted by Chopard since 1998. And every year, the famed jewelry house reimagines its Red Carpet Collection for the event.
Caroline Scheufele, Chopard's co-president and artistic director, has designed no less than 76 high jewelry masterpieces. On Scheufele's many travels, she jots down inspiration in her diaries; this unbridled curiosity translates into magnificent pieces.
This cuff bracelet (pictured above) is set in Fairmined-certified ethical 18-karat white gold and titanium, set with an oval-shaped garnet (12.11 carats), oval-shaped mandarin garnets (10.79 carats), rose-cut yellow-orange sapphires (129.55 carats), brilliant-cut yellow sapphires (1.01 carats) and brilliant-cut diamonds (12.12 carats).
Price on request, chopard.com
Harry Winston Royal Adornments The Maharani Necklace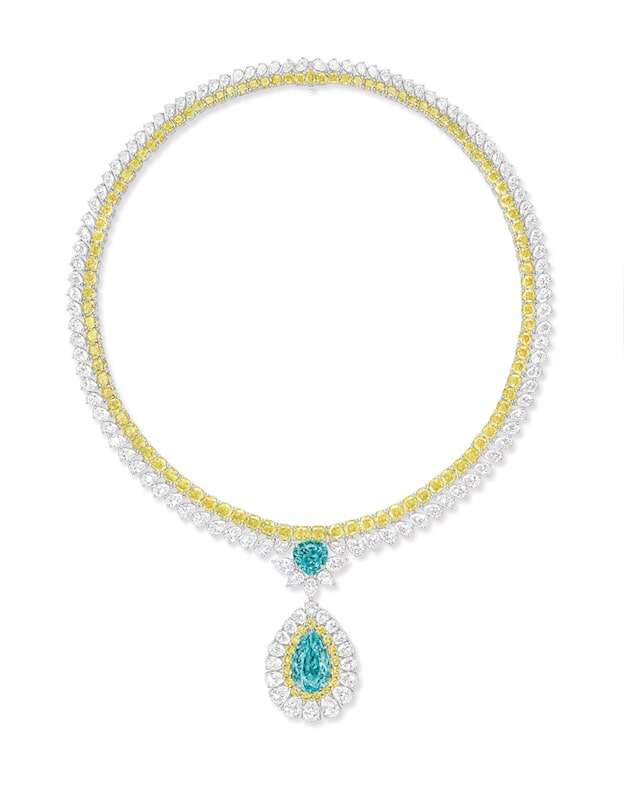 Harry Winston has long enjoyed a relationship with royal families (the founder himself was known as the King of Diamonds); the brand's latest collection of high jewelry, called Royal Adornments, takes inspiration from historic pieces and pays homage to the story behind each one — "it's regal, redefined," according to the house.
In 1953, Winston purchased a pair of cabochon emerald and diamond anklets from the Maharaja of Baroda, and redesigned them so they could be worn as one larger necklace. The two-strand necklace was part of Winston's Court of Jewels exhibition and was subsequently purchased by the Duchess of Windsor. The Duchess wore the necklace to the Paris Ball — where she had an intriguing encounter with its original owner, the Maharani of Baroda — and never wore the necklace again.
In the late 1980s, in the state of Paraíba, Brazil, a new type of tourmaline was discovered — a copper-rich type that resulted in stones in striking shades of blue, green and purple. In Harry Winston's Maharani Necklace, a 9.39-carat pear-shaped Paraíba is the centerpiece of a two-row necklace composed of white and yellow diamonds. A second trillion-shaped Paraíba of 4.19 carats joins the two strands. The central Paraíba is framed by an inner halo of yellow diamonds and an outer halo of pear-shaped diamonds.
Price on request, harrywinston.com
Mikimoto body necklace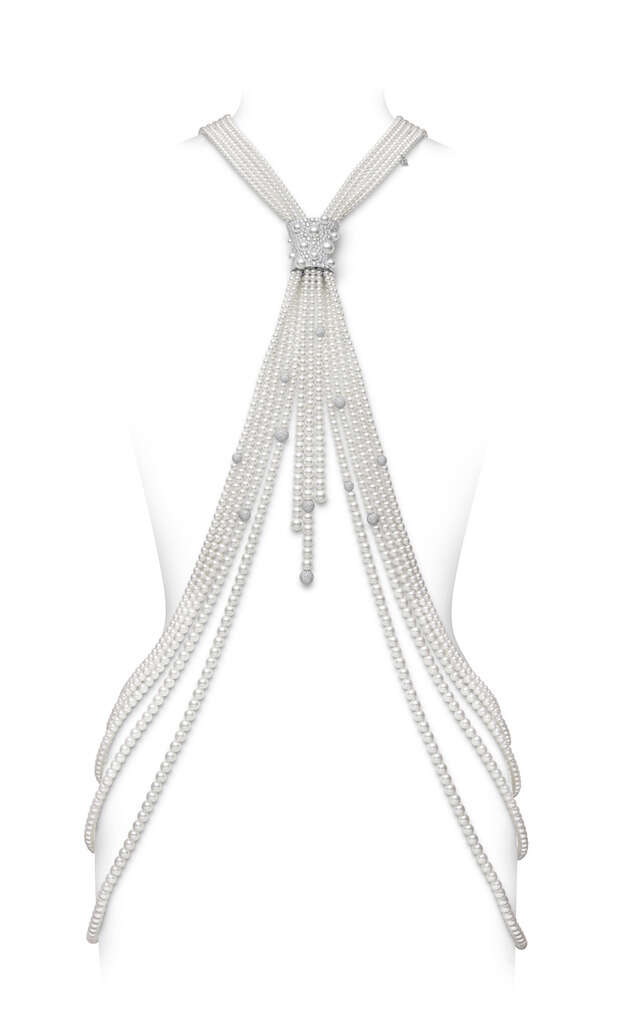 Mikimoto's latest high jewelry collection, called Praise to the Sea, is a celebration of the ocean and all its wonders. Drawing inspiration from the water's surface and the gradient of colors from dappled shallow waters to the unexplored deep, the collection's designs encapsulate the ocean's majesty. This statement body necklace is one of the stand-out pieces from the collection — a head-turning creation that drapes the wearer's back with Ayoka pearls and 23.23-carat diamonds.
Price on request, mikimoto.com
Davidor Arch Florale High Jewelry earrings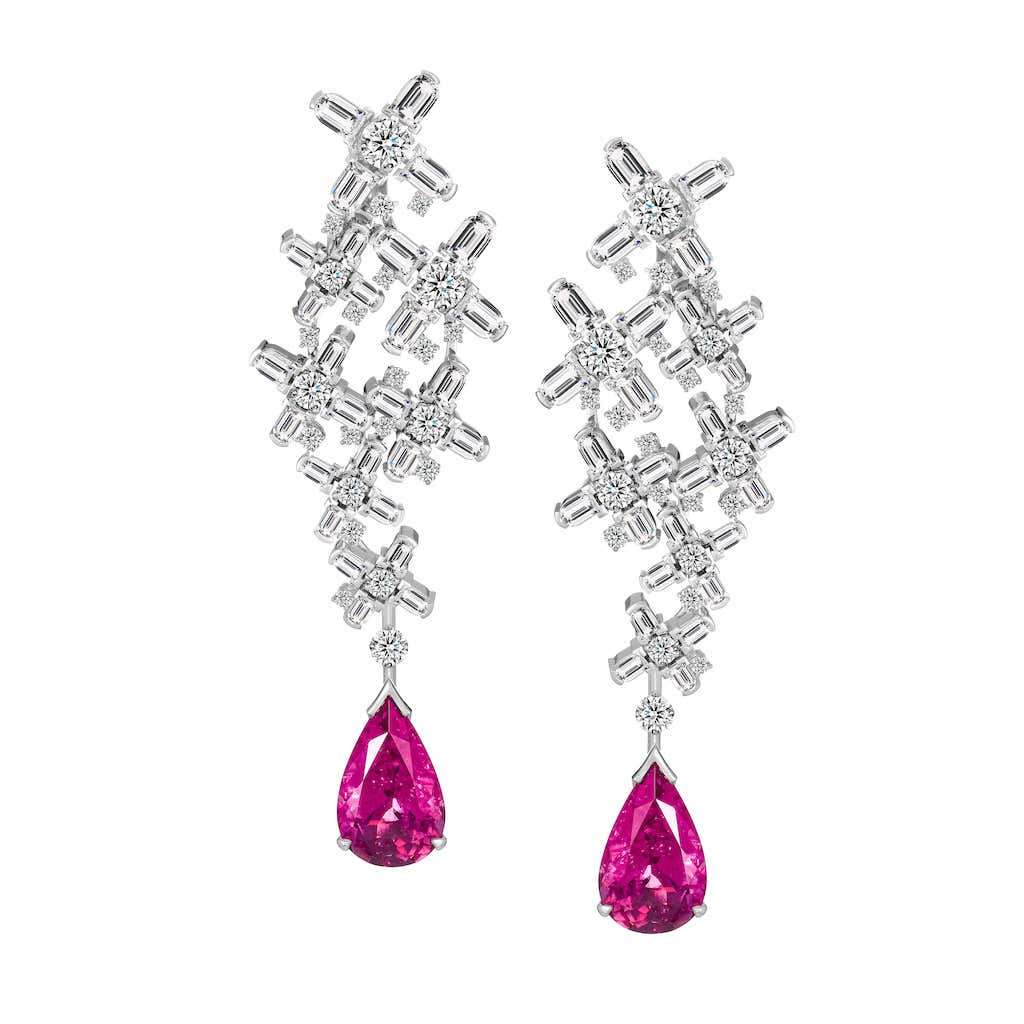 Davidor's Arch Florale collection is inspired by the beauty of nature, and these divine 18-karat white gold earrings are crafted from four arch cut diamonds and arranged around a brilliant diamond to create a floral-esque pattern. The dangling pear-shaped 18.17-carat rubellites add a touch of whimsical vibrance (and they can be detached to create a new look).
$225,000, davidor.com
Fendi Triptych High Jewelry Gravitus double ring in yellow sapphire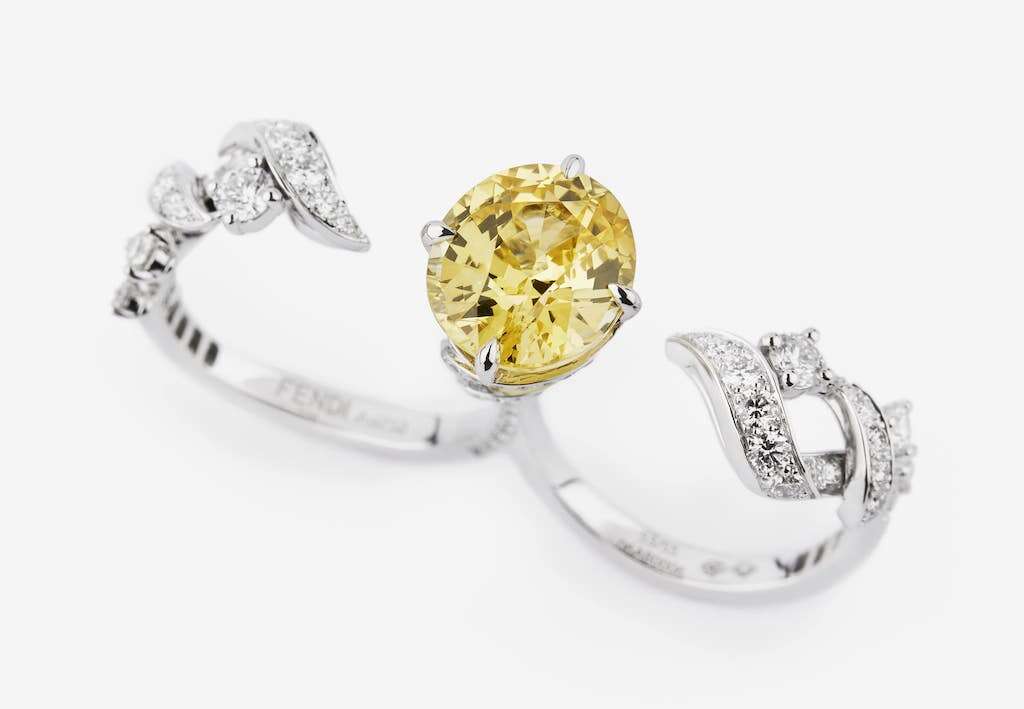 Fendi recently unveiled Triptych, the debut high jewelry collection by the house's artistic director of jewelry, Delfina Delettrez Fendi. The collection was revealed at Fendi Couture Autumn/Winter in Paris and, as the collection's name suggests, it is split into three 'chapters:' Roma Rosa, Gioiello Giallo and Bianco Brillante. This fabulous double-finger ring is from the Gioiello Giallo chapter and has an oval-cut yellow sapphire that appears to magically float above the fingers.
Price on request, fendi.com
Shachee Fine Jewellery x Gemfields hummingbird on sakura ring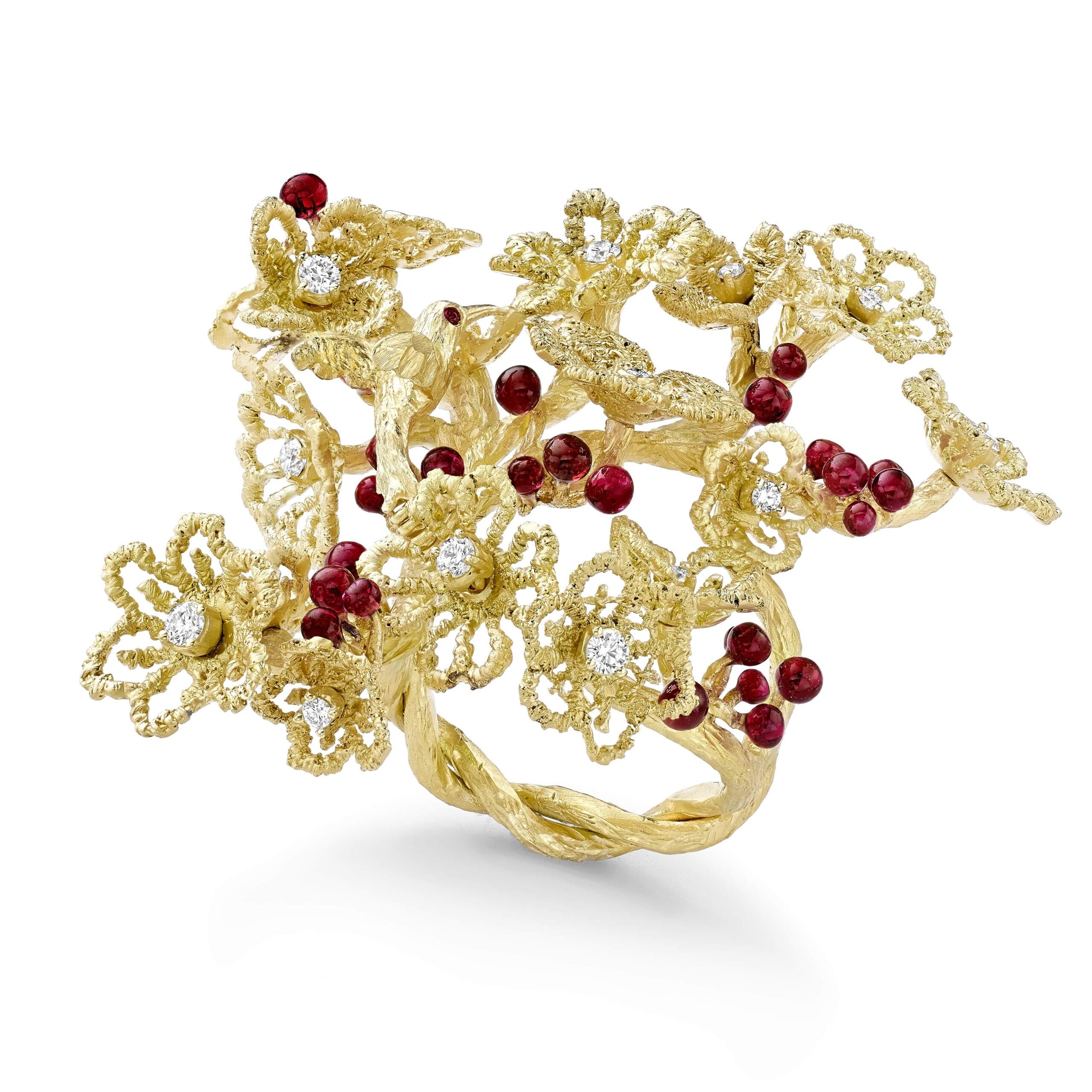 Unveiled at Journées de la Haute Joaillerie in Paris earlier this year, Gemfields's playful new collection of rings is the result of collaboration with fine and high jewelry designers. Gemfields, a world-leading responsible miner, worked with fellow designers who hold the same values. This pretty 18-karat gold ring sees a delicate hummingbird resting on cherry blossoms with 3.78-carat, no-heat sphere cut rubies and 0.48 carats diamonds.
$4,325, gemfields.com