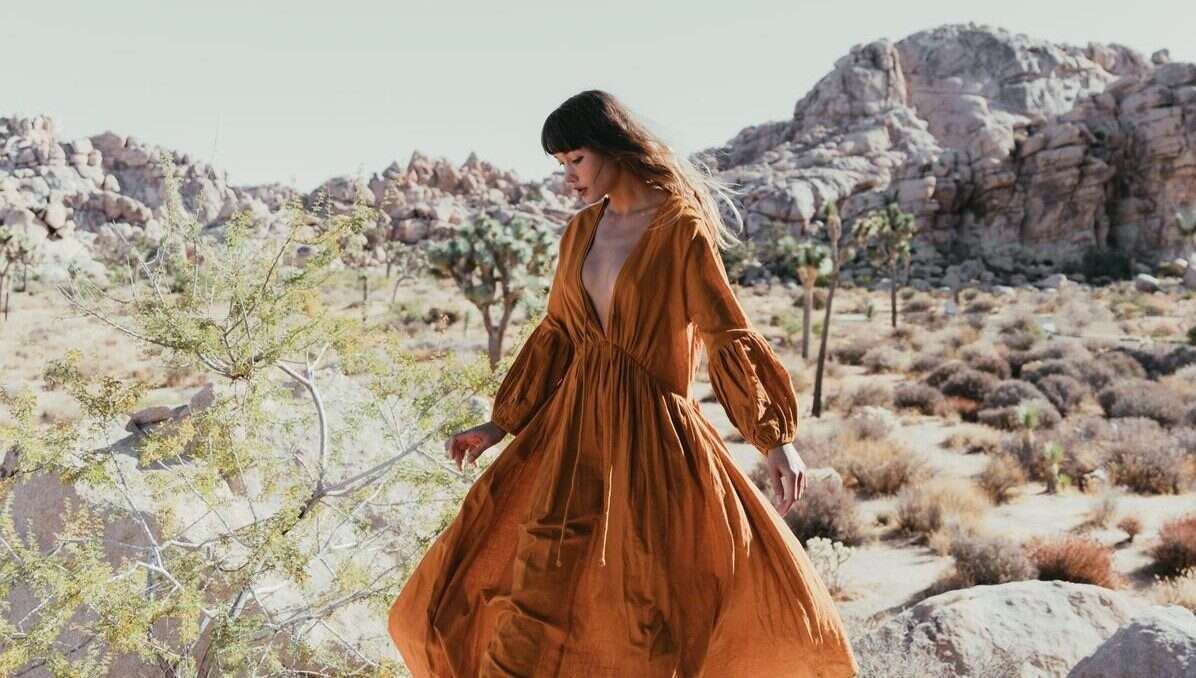 Fashion's devastating impact on the environment can no longer be ignored; the industry is responsible for 10% of humanity's carbon emissions and is the second-largest consumer of the world's water supply. But is there a way for us to continue enjoying fashion in a more environmentally conscious way? Magda Daniloaia and Ieva Balciute, co-founders of sustainable shopping platform Aequem, think so.
Launched in mid-2019 with a collection of just 20 brands, Aequem is quickly becoming the go-to for fashion lovers hoping to shop in a more eco-friendly way. Now the platform offers upwards of 80 sustainable brands, with everything from accessories and clothes to lingerie and homeware available to shop in one convenient destination.
Aequem was initially born from Magda and Ieva's frustration when trying to shop sustainably online: "Two and a half years ago, there wasn't a centralized marketplace for eco-friendly designer brands, and the ones that existed were not both ethical and sustainable, which was confusing," notes Magda. "We thought if you're going down this avenue of sustainability, you need to be both socially and environmentally conscious."
From here, the pair developed strict sustainability criteria for all the brands they work with, which must fall into at least one of four categories: Organic, Upcycled, Recycled or Tech. For example, one of the pair's favorite brands, The Ethiquette, repurposes deadstock haute couture fabrics that would otherwise be discarded to create new and intriguing pieces.
While all four of Aequem's categories are equally important, it is the tech section that the founders appear most excited about. In this category, you'll find innovative solutions to making clothing, with a combination of new technologies and smart uses of byproducts from other industries. For example, Tencel, which is a fiber made from the pulp of eucalyptus trees, can be combined with organic cotton to give the luxurious feel of silk. Or alternatively, pineapple leaves and fish skins can be used to make impressive imitation leather.
Although there is already plenty of sustainable tech on the market, Magda and Ieva are sure this is just the beginning: "Brands are always innovating in this space, so we are finding more and more new materials which shows the possibilities we have in fashion. It doesn't have to be what we were doing 20 years ago. The possibilities are much broader and much more exciting."
[See also: The Most Luxurious Eco-Friendly Hotels]
Aequem is also proudly aligned with the UN Sustainable Development Goals (SDGs) – and is the first multi-label e-commerce platform to do so. This means that in addition to the company's strict internal scrutiny, each brand listed on Aequem must conform with at least one of the UN's 17 SDGs, which range from Responsible Production and Consumption to Gender Equality and Decent Work and Economic Growth. Aequem clearly identifies which SDG every product aligns with on its website, giving customers complete confidence in the impact of their purchase.
But even if we know the options are there, how can Aequem convince shoppers to abandon the brands and products they know in favor of a more sustainable alternative? "Ultimately, what convinces people is how fashion looks," says Magda. "Sustainable fashion should be stylish. It should make you look good, feel good and be confident. That's when people really buy into it. No one is going to buy anything just because it's organic or it's upcycled if they don't like the actual product."
Education also plays a huge part in adopting a more sustainable lifestyle. Although awareness is rising and most people now know that the fashion industry has a lot to answer for in terms of environmental damage, more can always be done. As Ieva explains, "A lot of people would make better choices if they knew the extent of the harm fashion can have. Fashion looks so innocent; it sounds fluffy and nice; it doesn't sound polluting or harmful. But we need to show [customers] that is bad, not only to the environment but to society."
[See also: Paravel Aims to Become First Sustainable Luggage Brand]
As leaders in the push for more sustainable shopping and fashion, Magda and Ieva are addressing this need for education with a significant amount of time invested into the Aequem blog. "We're trying to create an ecosystem through our blogging community. We want Aequem to be a place of information, not just a shopping platform. We want to provide people with everything they need in terms of sustainability," says Magda.
The Aequem Journal offers a wealth of knowledge for those wanting to live more conscientiously, from examinations of our relationship with food, interviews with designers and tips on small changes that can make a big impact, with talk also of launching a YouTube channel to drive engagement, build a wider community and eventually secure Aequem's status as a hub for like-minded customers.
However, as impressive as Aequem's commitment to championing sustainable shopping is, can the existing model and pressure to buy items from new collections every season ever be truly eco-friendly? Ieva and Magda are committed to the idea that as consumers, we should be the change we want to see in the fashion industry and shop considerately: "Before I buy something new, I always consider how often I will wear it. Will I wear this at least 30 times? Will it fit into my wardrobe? Can I wear it with multiple things or will it only work for one season?" questions Ieva.
Despite founding a platform dedicated to shopping (albeit sustainably), the pair are also open to promoting other means to fulfilling a fashion fix without damaging the environment – most notably, the rise of rental fashion.
Platforms such as Hurr, which launched in 2017 with the aim of prolonging the lifespan of luxury garments, have skyrocketed in popularity among conscientious style fanatics. "I think women especially are under pressure to always wear a different outfit, which is terrible in itself, but it's about making people realize there are alternatives to always buying new, such as rentals or borrowing an outfit from friends," explains Ieva.
Ultimately, the purpose of Aequem is to offer a solution, even if this solution isn't yet perfect. Magda concedes that "it is impossible to make all garments 100% sustainable, but at Aequem we are trying to provide consumers with the best possible product and the most sustainable product there is on the market … it's important to have the best alternative in everything we do."
[See also: A Guide to Chamonix Fashion and Shopping]