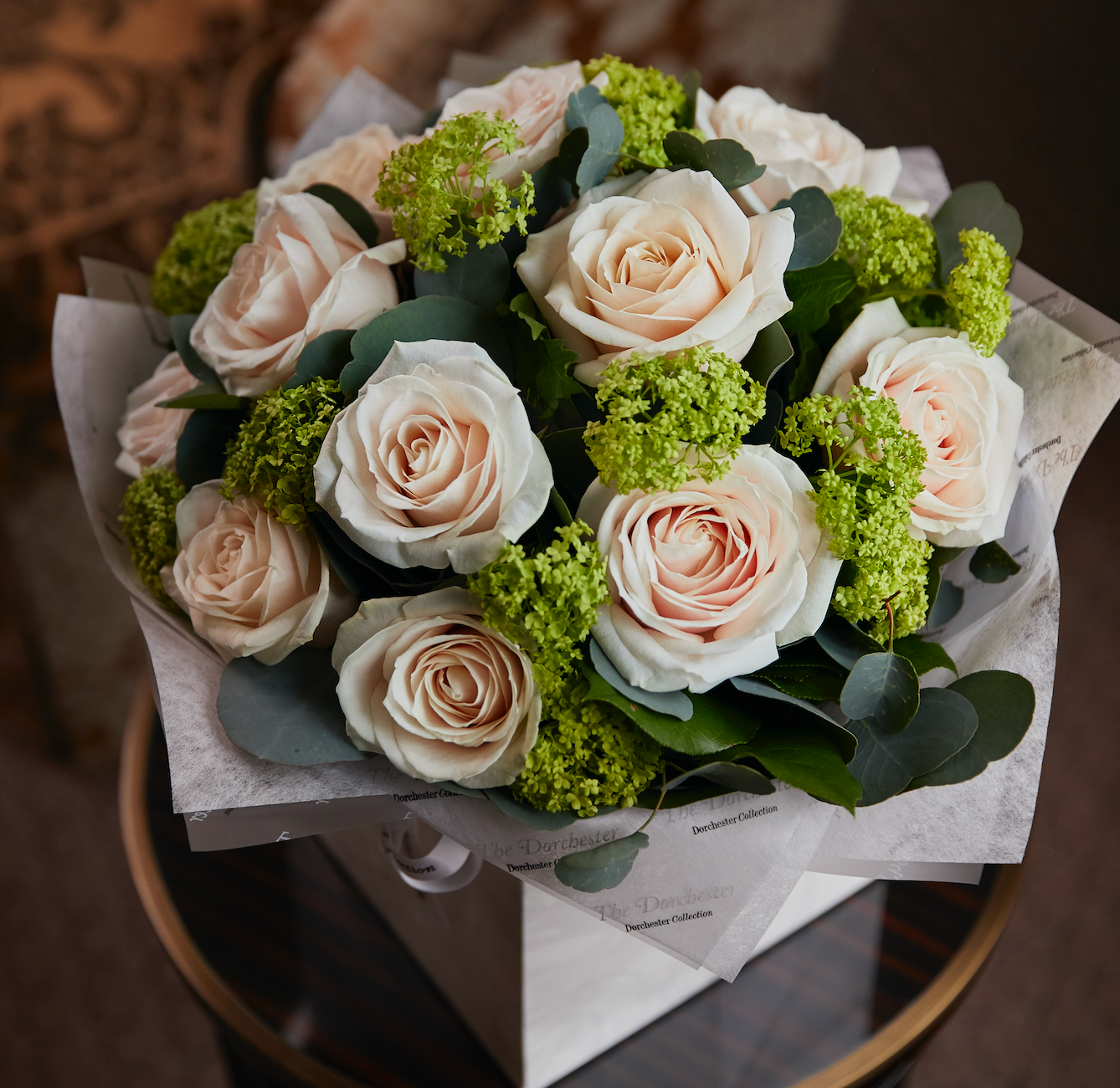 Valentine's Day is the perfect opportunity to show the special lady in your life just how much she means to you. Nothing says it better than a beautiful bouquet of flowers or a stunning piece of high jewelry. In this carefully-curated guide, Elite Traveler brings you a list of luxury Valentine's gifts for her that are sure to be a hit.
The Dorchester Rose Bouquet
Every Valentine's Day should start with a beautiful bouquet of roses, and The Dorchester, one of London's most iconic hotels, has released an extra-special variety perfect for the occasion. The Dorchester Rose was developed by Meijer Roses over the course of seven years. The result is a flower that is blousy in composition and has a pale blush coloring, with the pink tones developing as the rose opens. Meijer Roses hand-selected The Dorchester to carry the name of the new variety, and it is only available through at the Florist at The Dorchester boutique or the website. And if you are in London for Valentine's Day, a stop at the Park Lane hotel is definitely worth your while. Roughly 1,000 Dorchester Roses are currently on display in the hotel's lobby, transforming it into a floral paradise and making it one of the city's most romantic spots this month.
$85, shop.dorchestercollection.com
Wendy Yue, 18K White Gold Multi-Stone Ring
Cast from 18-karat rose gold, this stunning floral-inspired ring from Wendy Yue would make the perfect Valentine's Day gift for the collector of high jewelry. The piece is defined by its central flower comprised of 2.66-carat of rubellite. The apex silhouette is thoroughly detailed with 6.57 carats of white sapphires and 1.34 carats of rubies. Each point is accented with pink sapphires and white diamonds, totaling 0.71 carats.
$7,700, modaoperandi.com
Jaeger-LeCoulture, Rendez-Vous Night & Day Watch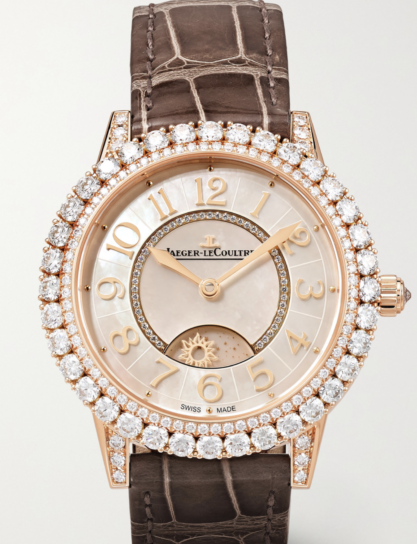 A stunning timepiece that has been designed with delicacy in mind. The dial is crafted from mother-of-pearl and the diamond dial is created using several gem-setting techniques. One such technique is claw gem-setting, a subtle art that helps to accentuate the natural beauty of brilliant-cut diamonds. The watch contains 168 diamonds totaling 3.43 carats. The dial joyfully indicates the different phases of day and night with as much precision as preciousness, using an automatic self-winding movement.
$43,900, jaeger-lecoultre.com
Sutra Jewels, 18K rose and white gold Kashmir earrings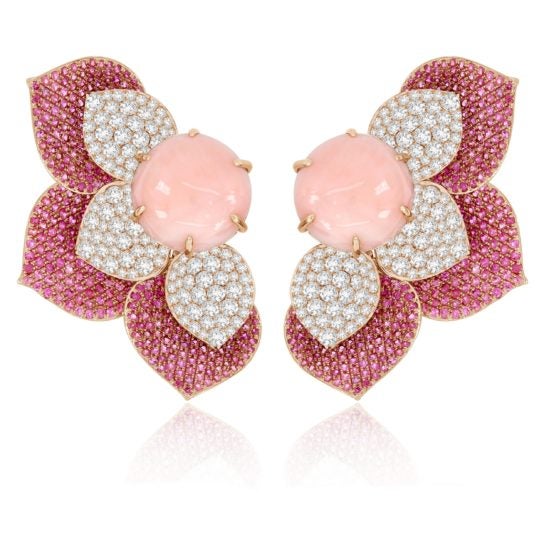 Sutra Jewels is known for its stunning gemstones, and these earrings from the Opal collection are a beautiful example of the talent that lies with the company. The earrings feature two opals (7.94 carats) surrounded by three shimmering diamond petals totaling 2.5 carats. The floral effect is complete with a further three petals of pink sapphires, totaling 7.22 carats.
$18,000, sutrajewels.com
Verdura Lace Gold Necklace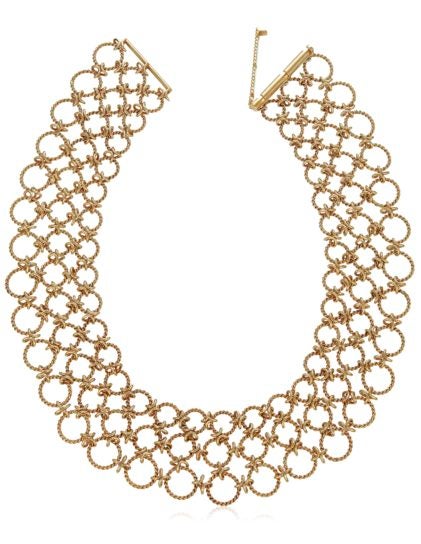 Duke Fulco di Verdura is thought to be the most original designer of the 20th century. His pieces were prized by collectors not so much for the mere display of wealth but for as an ode to beautiful design. Verdura's legacy continues to this day and is best displayed in the Lace Necklace II. Crafted with 18k yellow gold, the necklace succeeds in appearing both lavish and delicate.
$22.500, verdura.com
Graff, Ruby and Diamond Bracelet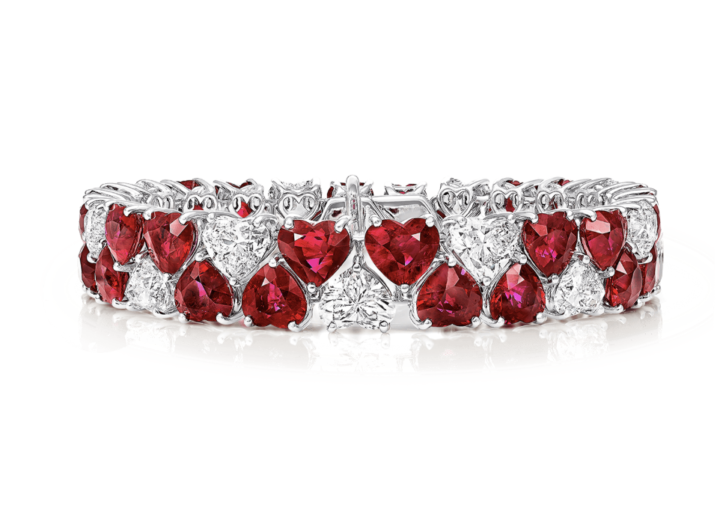 Nothing quite says romance than the deep red of rubies, and in this stunning bracelet from Graff, you get 46.90 carats worth if them. The bracelet was created in celebration of the most romantic diamond cut of all-time, the heart, which makes it one of the best Valentine's gifts for her this year. It features rows of heart shape rubies and diamonds (17.67 carats), ingeniously set so that the stones come together in perfect harmony, with the tips facing one another.
Price on request, graff.com
Saint Laurent, Cassandra Mini Leather-trimmed Canvas Tote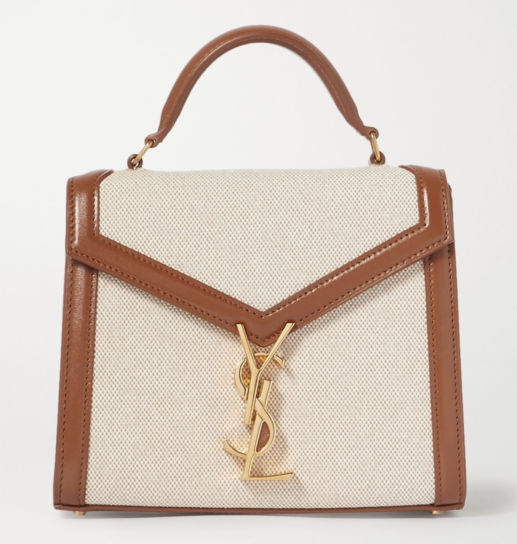 This bag is named in honor of legendary graphic designer Adolphe Jean-Marie Mouron, who was affectionately known as Cassandra and designed the iconic 'YSL' monogram in 1961. Naturally, his YSL monogram plays a central role in the design of this tote bag, which is in gold. The bag, which is crafted in Italy to the highest standards, is made from canvas trimmed with tanned leather.
$2,150, net-a-porter.com
Alexander McQueen, Knuckle crystal-embellished suede clutch bag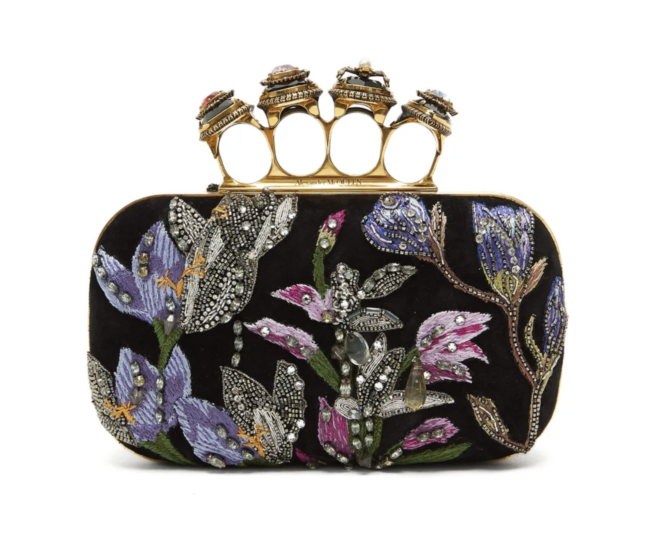 The ultimate accessory for a night in good company, this beautiful clutch bag is a reimagined version of Alexander McQueen's iconic Knuckle clutch bag. Created by Sarah Burton, the detail includes blooming embroidered flowers for Resort 2020, expressing the house's affinity with the natural world. The bag is adorned with crystals and metallic beads, which give it a glittering effect from all angles. The logo is engraved on the gold-tone metal frame while the interior is lined with fine pink suede.
$3,400, matchesfashion.com