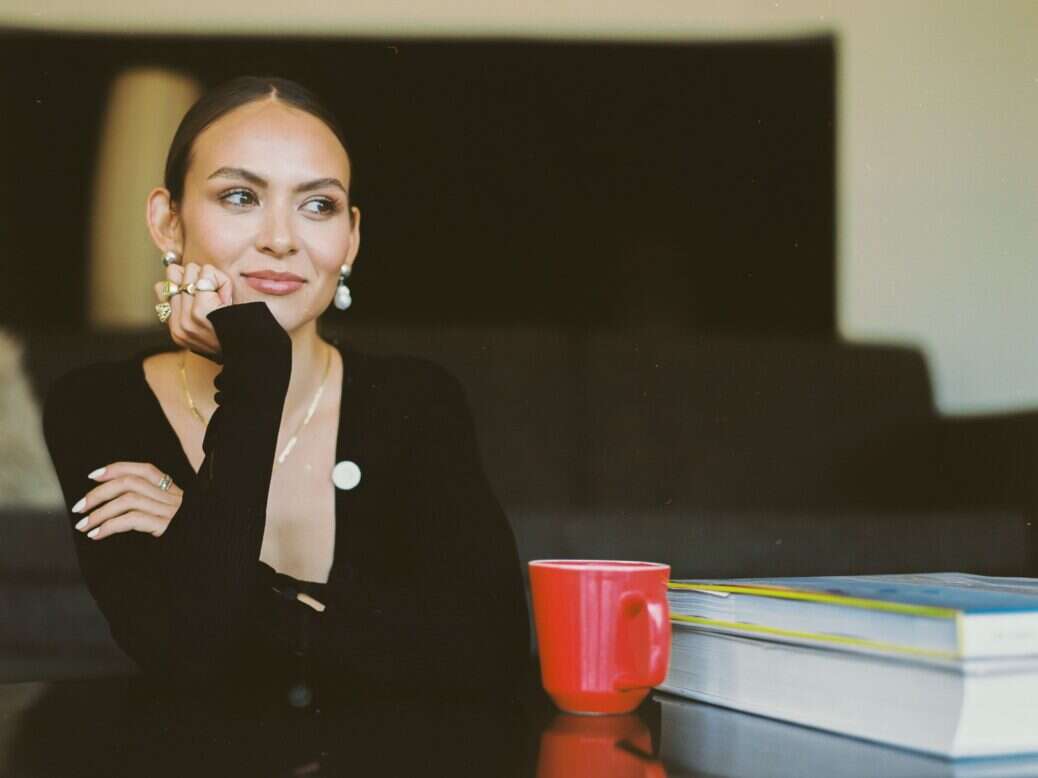 "Oh yeah," Emily Oberg laughs. "The bedbug thing is gross." Sat across from me in a – what else? – cashmere Sporty & Rich sweater, her fresh face glowing so radiantly I notice it from across the Zoom divide, Oberg, 29, is so effortlessly chic that it's difficult to imagine the world's most universally detested insect ever even existing in her company.
I ask her about it because at the time of the interview all the world can talk about is bedbugs, and Oberg is talking to me from Paris, right at the heart of the hysteria. She's there for Paris Fashion Week, but that's just this week; with her office based in the French capital, she's been "coming to Paris for the last four years".
"My team is here," she explains, smiling. "My office is here."
The love affair between Sporty & Rich and Paris extends beyond the base of headquarters. Just a few months ago, the States' hottest new brand launched its Le Bristol Paris collab – the third of its hotel collaborations, after Sunset Tower and Cap du Eden Roc – which saw its coveted pieces sell out in mere days, a waiting list that extended considerably across the world.
But for those that know Sporty & Rich – which is, by this point in 2023, a considerable number, with an Instagram following of over half a million, no doubt aided by its fanbase that includes models Hailey Bieber and Elsa Hosk – waiting lists for new collections are the norm, the brand alerting its many followers weeks in advance.
[See also: In the City of Light, Le Bristol Paris Dazzles]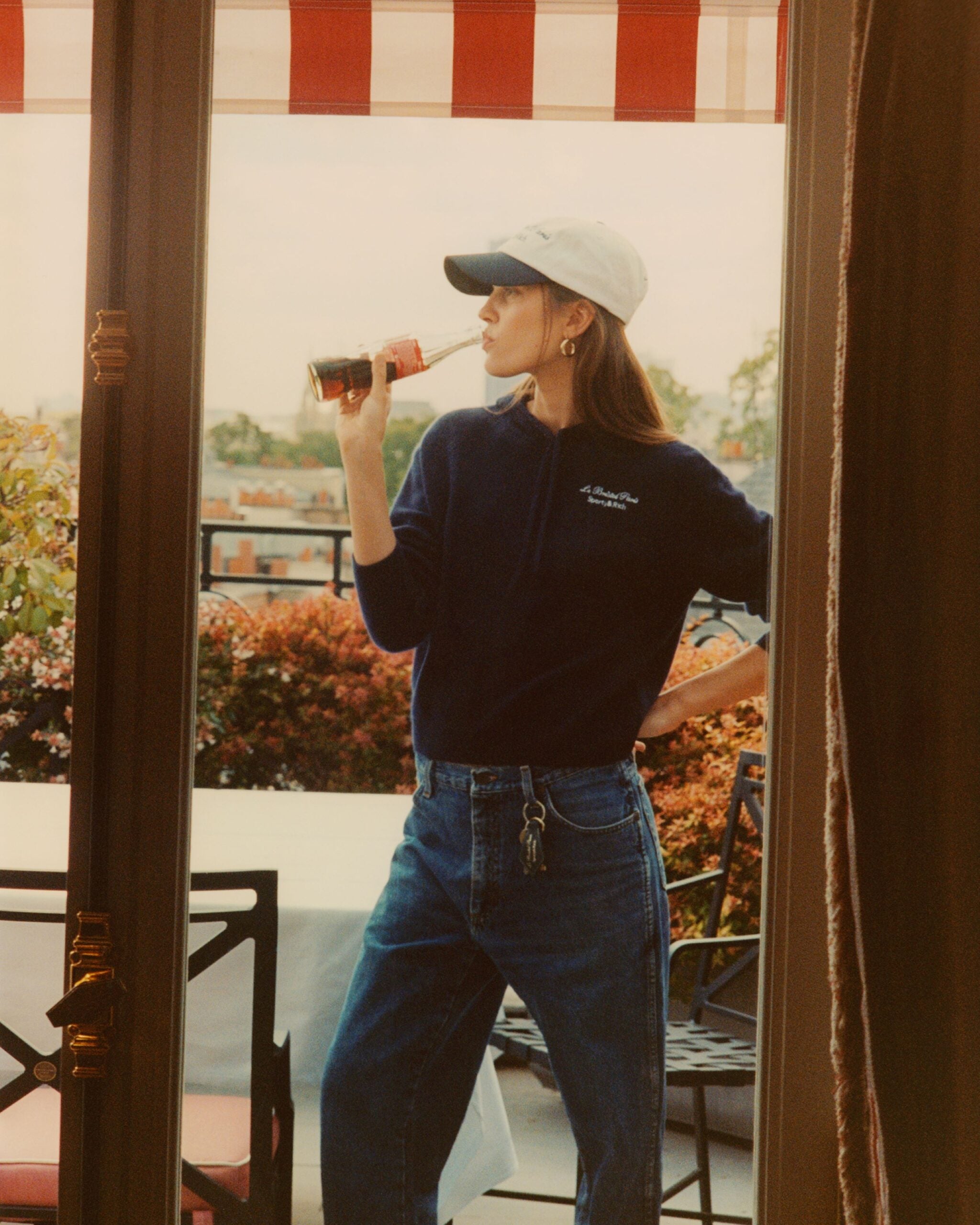 The company, which is something of a Gen Z love child between Ralph Lauren and Gwyneth Paltrow's Goop that found itself nannied by Friends' Rachel Green, has taken the fashion world by storm. Don't expect outlandish couture; it's all subtly branded everyday pieces that include athleisurewear and jackets, sportswear, and jeans, usually for a solid three-digit dollar mark.
More country club than night club, on a recent trip to New York City I managed to count four branded pieces worn by women in one singular afternoon spent in the city's Upper East Side. It's true all-American prep for the Gossip Girl generation; and within that, those that prefer Nate Archibald to Dan Humphrey.
I love Le Bristol, I tell her, as we discuss what was at the time of the interview, the brand's most recent drop, recently eclipsed by its fall-palette Hamptons collection. It's impossible to visit the Palace hotel without falling in love with the 1920s institution of luxury, and Oberg smiles again as she explains her personal relationship with the hotel.
"It was one of the first hotels that I visited when I came to Paris," she tells me. "And I just look kind of in awe of it. The history – I love these very iconic historical properties, with such great stories – and just so many iconic people who visited and stayed and I just – I just love the history aspect of it."
"For us, it was like, you know, we're a nice brand. But I kind of consider us a Paris-based brand too. So I think it makes sense, for our story being here."
It's an interesting fusion between New England prep and Parisian chic. "The Bristol brand is very much the rich component, and I think combining that with our sportwear, and American feel, was just this great combination; everything that I feel the brand represents."
[See also: The Best Hotels of New York for Thanksgiving]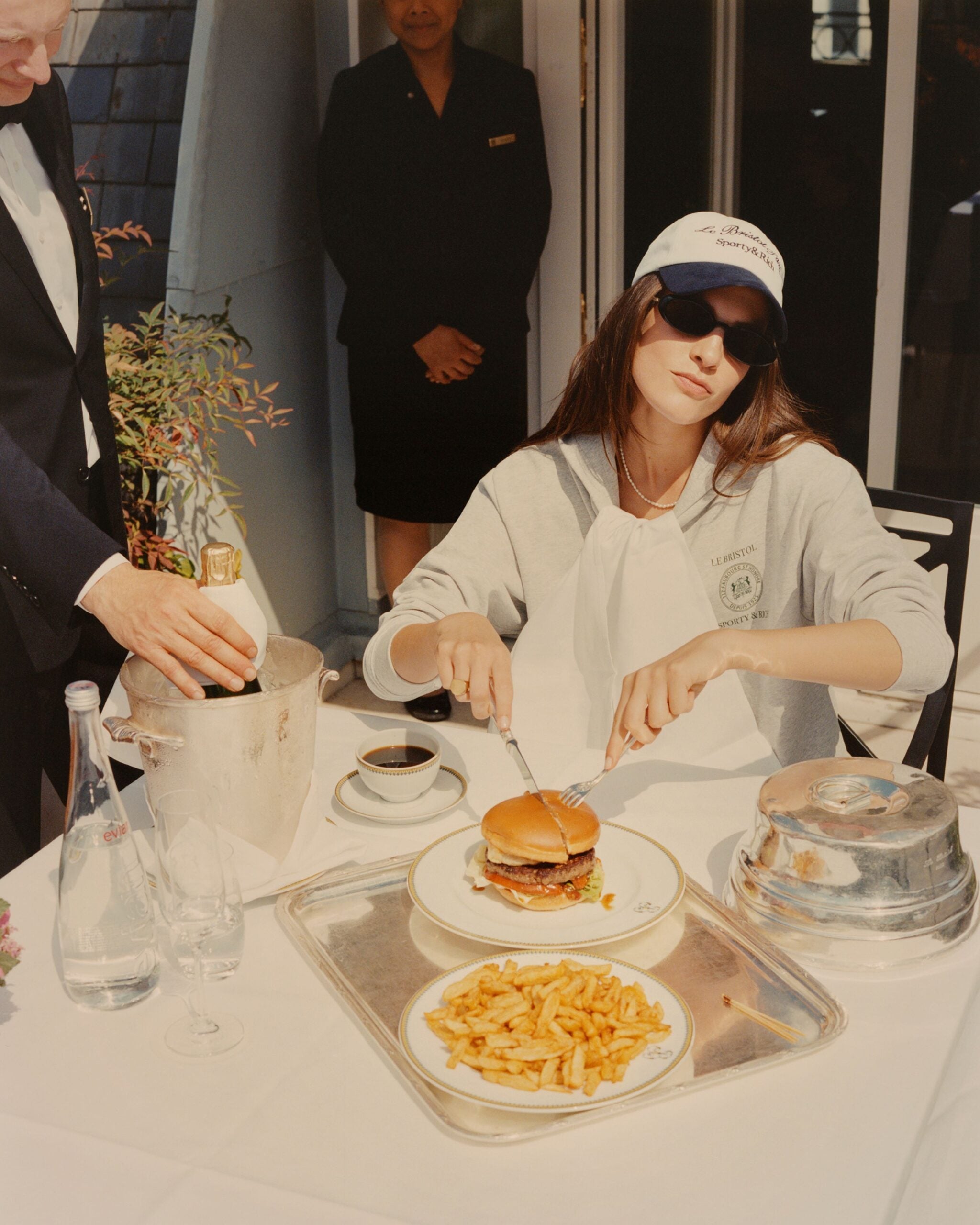 But this is 2023: no brand can just be one thing. Having first launched as an online store in 2019, the New York City flagship – which reached $4m in sales in the first three months of opening, well above the projected $2.5m – has already published its Sporty & Rich Wellness book in early 2023, and recently a spa within the shop mere months ago, with an adjacent skincare line that debuted in September this year.
You're going from strength to strength, I tell Oberg. I could not do what you're doing without three naps a day and a biweekly breakdown. She laughs and smiles bashfully. And with this year's emphasis on wellness, I ask, what is your approach on the matter, for someone who is very much at the peak of her career?
"I mean, I really launched the business because I wanted to kind of design my life," Oberg says of the brand that originally came into the world as a personal mood board, before great buzz led her to launch a clothing line inspired by it.
"And I wanted to have a healthy balance; I would say more leisure and taking care of myself than work. And I think I've been lucky enough to have such an amazing team; that's really important in this business, you have to know what you're not good at, and just surround yourself with the best people."
"I'm lucky that my team handles things like logistics and production and finances," Oberg concludes. "These things that kind of kills creativity. I'm very efficient, I'm not a procrastinator; we're smart, and not hard. That's always been my mentality."
I ask Oberg what's next in the pipeline for Sporty & Rich, and what she's thinking of for the long term.
[See also: The Best Hotels in The Hamptons]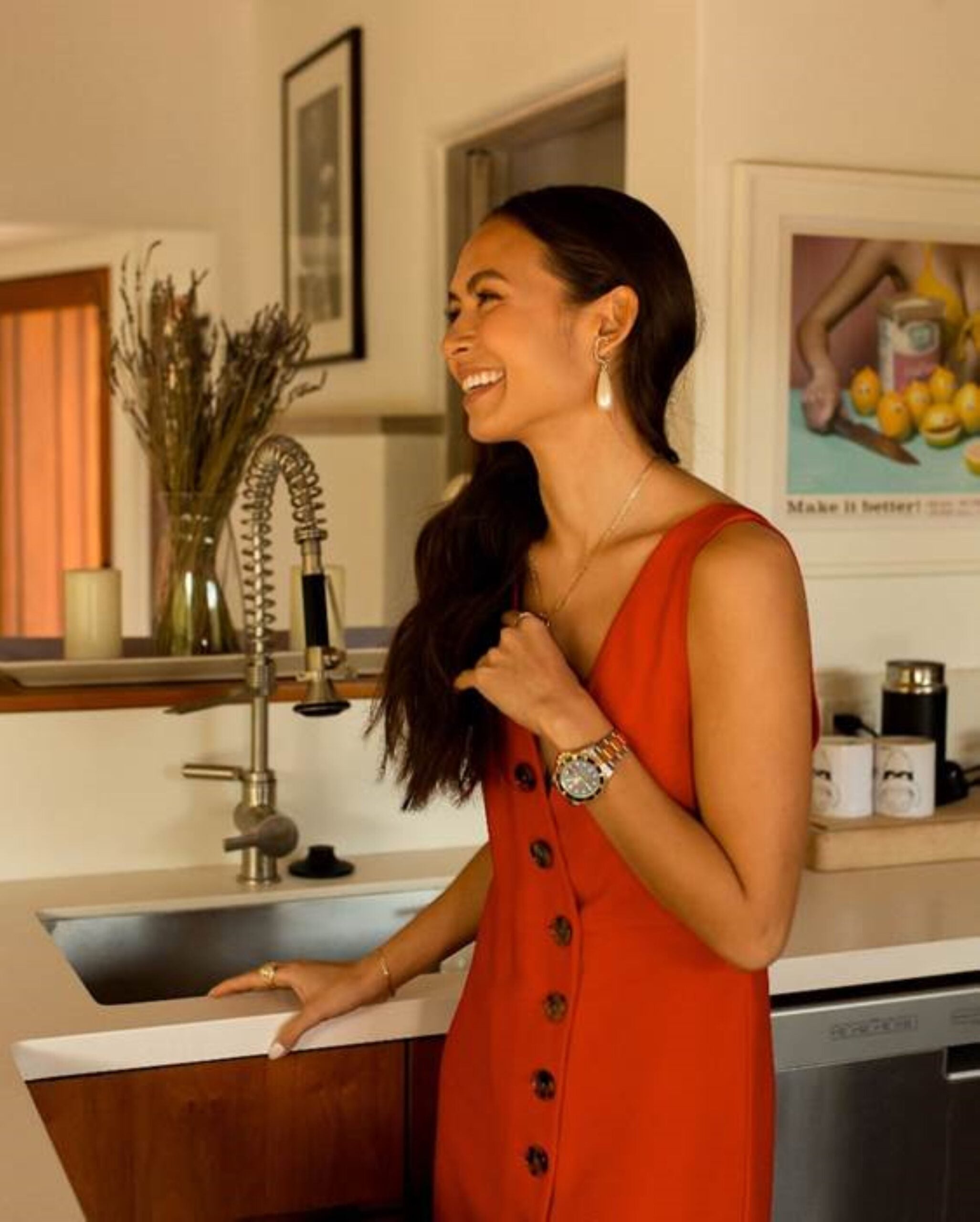 "I think we will continue to expand retail in different areas, product categories. I'm happy with where we are. So I just want to keep doing what we're doing and see where it goes; I'm really happy with right now."
"I don't want to miss a moment," she continues thoughtfully. "I think I'll look back one day and I'll miss this… I just want to be focused on the present."
As is the case with any success story in the business, it hasn't always been an easy journey, despite Oberg's cool and collected disposition. Oberg, who started her career at Complex Media before moving to fashion full-time in 2019, found herself in sporadic occasions of deep water on the social media sphere for posts and remarks she made. One, for example, was an Instagram post comparing the prices of fast food and vegetables that suggested Oberg thought personal finances were no excuse not to eat healthy.
There were times in 2020 when people were really angry at you, I say. And yet today it's been left to the dusty attic corners of the internet; your business has not been impacted in the long term at all.
"I do believe that it's okay for people to call you out and for you to learn, and then move forward in a different way," she says when I ask her about the impact of cancel culture within business building.
"I think that's part of life. I'm definitely against online bullying; I don't think it's the best way to maybe have that change come about."
[See also: The Best Coats for Fall 2023]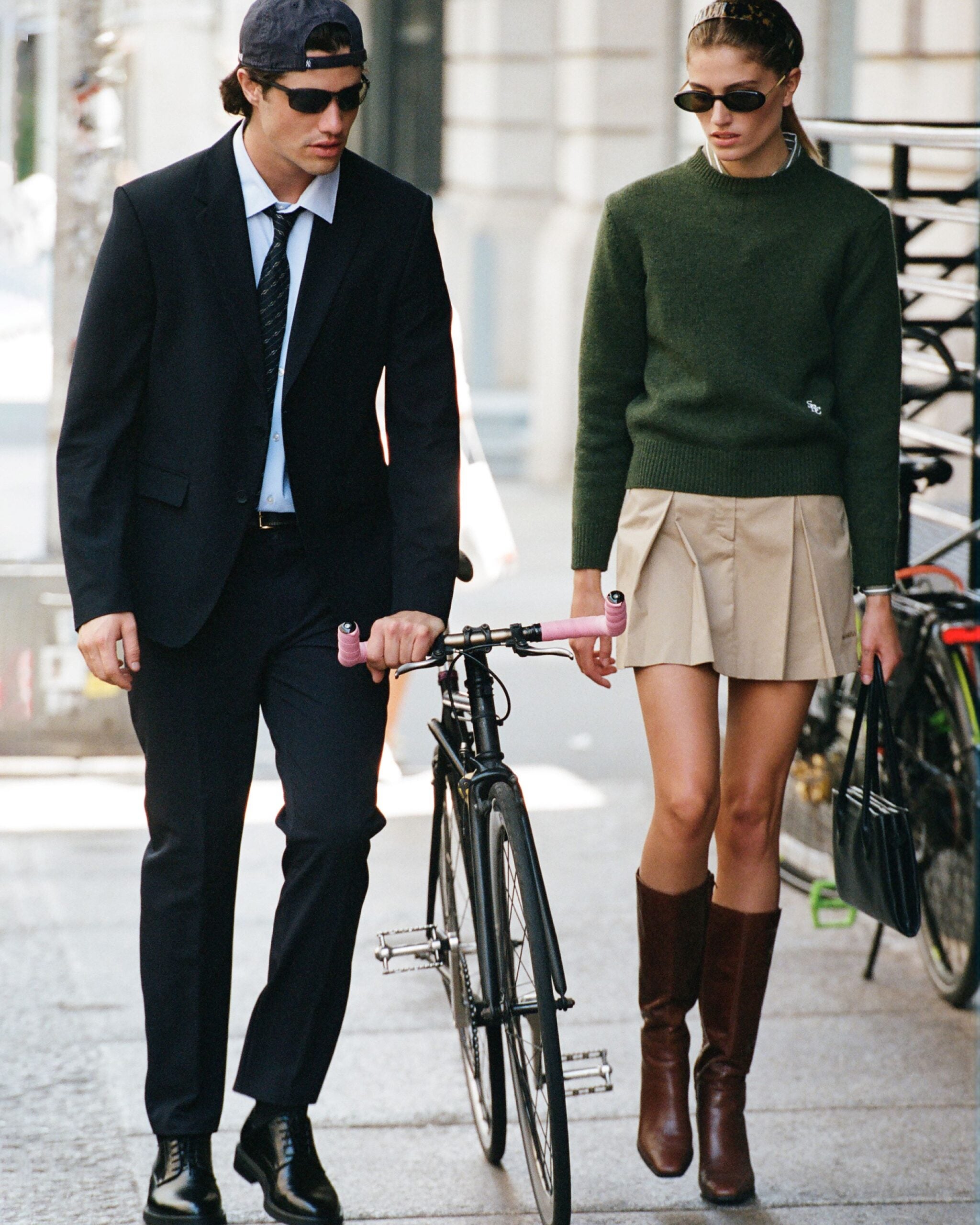 "But at the same time," Oberg continues, "I think if people learn from those mistakes, and they check themselves and educate themselves – and, you know, make the proper changes – I think that's fine."
For somebody so accomplished, it is a testament to Oberg's character that chatting to her feels akin to a nice conversation you'd strike up with someone in a club smoking area, admittedly a space one would assume that she doesn't frequent that much. Rather, she says, she loves "working out and eating well."
"When I'm in LA, I go hiking and I do my Pilates and I play tennis." Tennis is a staple within the brand's online identity, and Oberg mentions her love for the sport several times in the interview. "I think it's just really making the time for things that make you feel good, right?"
But even when working, work is, evidently, all a labor of love for Oberg, who describes the brand as "really personal."
"It's who I am and what I like, and I don't make things that I wouldn't wear myself. It's just me."
But it's not just Oberg; evidently, it's everyone else too. Her success lies in managing to capture the young generation's zest for wellness with an aspirational desire to belong to the worlds of the States' and Europe's wealthy and classy, refined and sophisticated. The brand's Essentials drop this summer took a tongue-in-cheek cue from paparazzi shots of John F Kennedy Jnr and Carolyn Bessette; the Instagram account celebrates the clothing alongside shots of iced coffees and strolls down New England beaches.
It's all very quiet luxury, I say.
"Old money styles are very popular right now," she agrees. "There's a sense of timelessness to that look. And even though now it's popular, years from now, I do see it still being relevant."
A far cry from the other side of today's fashions, which Oberg decrees to be "not timeless" at all: "techno Berlin goth meets 2000s, very low pants and miniskirts." Almost automatically, my hand moves to pull my low-rise jeans up, such is the power of Oberg's gentle prowess. It's Emily Oberg's world, after all; we can only aspire to be athletic and wealthy enough to be in it. Or, as the zeitgeist has determined, sporty and rich.
[See also: The Countryside Inspiration Behind Dior Men's Summer 2023]