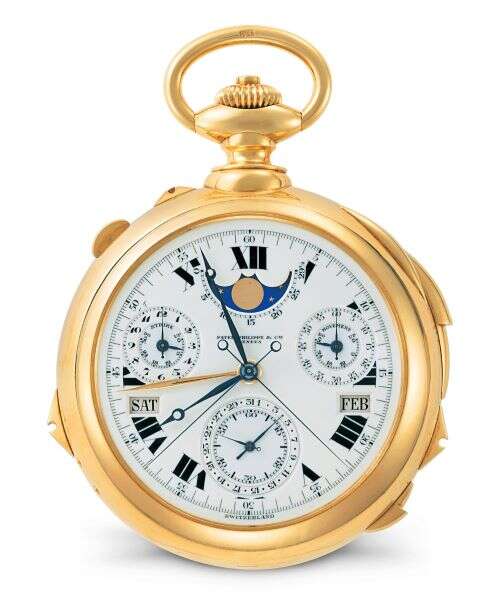 It's been a tough year for the global economy but that hasn't stopped high-end timepieces from flying off the shelves. Indeed, Watches of Switzerland reported a 17% increase in revenue for the three months up to 29 January 2023, with luxury watch sales climbing 22% to a whopping $426m. The most expensive watches of all secure enormous sums at auction, often far exceeding their asking prices.
What justifies the hefty price tags? More often than not these are one-of-a-kind timepieces that are hand-produced and take several months (or even years) to produce. Meticulously crafted with precious stones and intricate engravings, these are no ordinary watches.
The most elusive of all are tied to a personal story. Paul Newman's Rolex Daytona – considered the holy grail among the most discerning collectors – is inscribed with a message from his wife Joanne Woodward on the caseback which reads "Drive Carefully Me" in reference to his passion for race car driving.
One name that takes all but one spot on our list of the most expensive watches ever sold at auction is the legendary Genevan watchmaker Patek Philippe. A staple of the auction house, these incredible timepieces are revered for their complexity and high-quality craftsmanship. Here, we explore what makes them so special.  
[See also: Watches & Wonders 2023: The Best New Releases]
10. Patek Philippe 5208T — $6.23m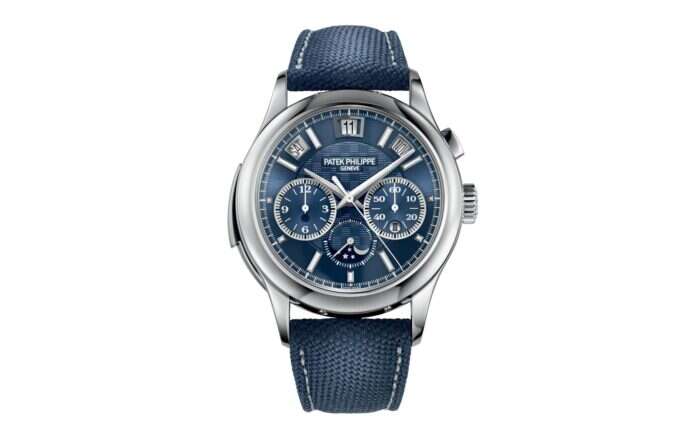 Created especially for Monaco's famed Only Watch auction –  the biennial charity auction of luxury timepieces that raises funds for research into Duchenne Muscular Dystrophy — the Patek Philippe Titanium 5208T sold for $6.23m in November 2017. 
A one-of-a-kind titanium version of the 5208 model, it was crafted using an inky blue color pallet and features a sapphire-crystal case back, hand-guilloché details, gold indexes and an 18K gold dial plate. 
Ahead of the auction, Thierry Stern, President of Patek Philippe told Christie's: "Not only is the Ref. 5208 one of our most complex watches to produce, in titanium the intricate case is even more difficult to make."
9. Patek Philippe Nautilus 5711 Tiffany Blue — $6.5m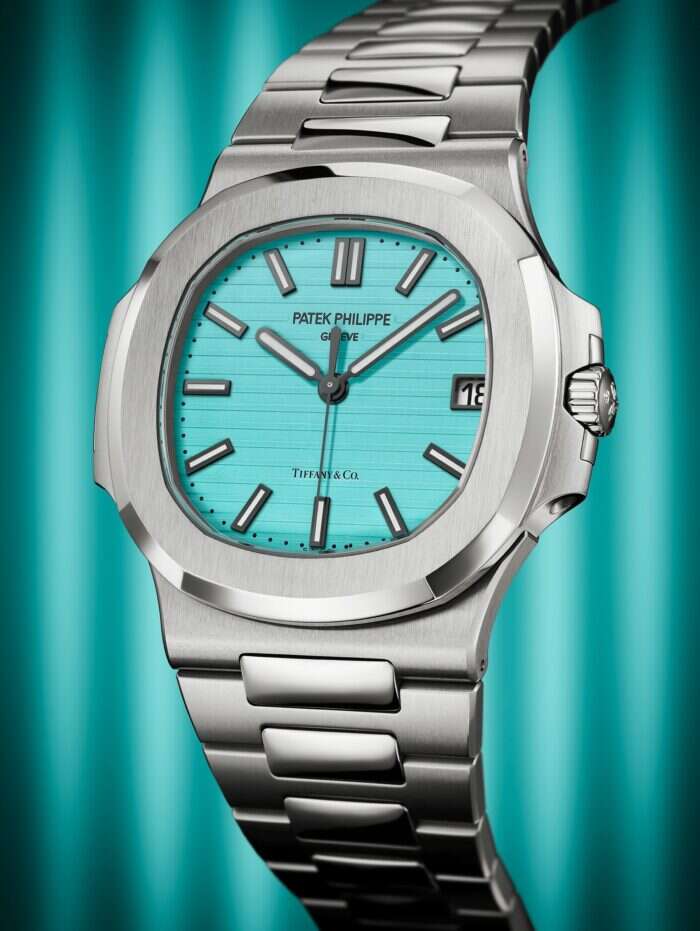 Always one to defy expectation, when the Patek Philippe Nautilus Ref. 5711 became a bestseller, instead of making more, the watchmaker discontinued it making those already in existence even more sought after. So, you can imagine the frenzy that ensued when Patek Philippe announced a limited-edition release of a new Nautilus 5711 – this time with a Tiffany Blue face.
Just one has headed to public auction so far, with the hammer finally hitting on $6.5m (including fees) in late 2021, making it the most valuable Nautilus in the world. All proceeds were donated to The Nature Conservancy.
8. Patek Philippe 5016A — $7.26m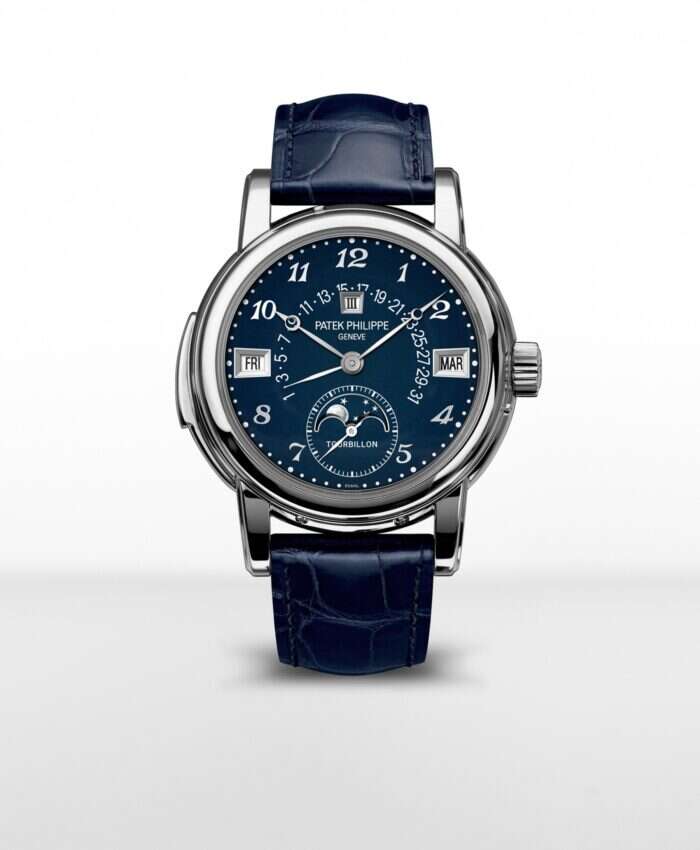 Seventh on our list of the most expensive watches ever sold at auction is the Patek Philippe 5016A which sold at the Philipps watch auction in Geneva in 2015 for over ten times its pre-auction estimate.
One of the most sought-after pieces from Patek Philippe's Grand Complications Series (a complication is any other function on a watch other than the display of the time), the auction gave bidders the rare chance to get their hands on a highly-coveted model that ceased production in 2011. 
The watch features 506 parts, all painstakingly finished by hand, and is unique in that it combines three highly-prized features: a tourbillon (an exposed mechanism that offers higher accuracy), a minute repeater and a perpetual calendar with a moon-phase display. 
[See also: Audemars Piguet Releases New Royal Oak Watches]
7. Patek Philippe Ref. 2499 – $7.68
In April 2022, a Patek Philippe Ref. 2499 in 18k pink gold fetched a cool $7.68m at Sotheby's spring watch auction in Hong Kong. It was part of The Nevadian Collector – a sale of 38 watches and one lot of vintage Gay Freres bracelets all owned by a single American collector.
The stunning 37.5mm timepiece from 1957 was extremely rare, featuring a dial signed by Italian retailer Gobbi Milan and a brown calf strap.
After a dramatic bidding war, one of the telephone bidders set the record for the most expensive Ref. 2499 ever sold at auction, surpassing the previous record by over $3m.
6. Patek Philippe Gobbi Milan 'Heures Universelles' 2523 —  $8.97m 
Only seven Patek Philippe Gobbi Milan timepieces in pink-gold with blue enamel centers were created. This is why in November 2019, the watch smashed Asian auction records when it went under the hammer in Hong Kong. 
Created in 1953 — long before the internet was even a twinkle in Tim Berners-Lee's eye — the watch can tell its wearer the time in 40 global locations from Samoa to Buenos Aries. 
One of just two 2523s in pink-gold with blue enamel centers known to have survived, this one was unique in that it is the only one known to be double-signed by both Patek Philippe and Gobbi (Patek Philippe's prestigious Milan retailer.)
[See also: Fine Wine and Watches Lead Luxury Investment Growth]
5. Patek Philippe Prince Mohammed Tewfik A. Toussoun Pink Gold 1518 with French Calendar – $9.57m
Once owned by Prince Mohammed Tewfik, this "pink on pink" 1518 sold at Sotheby's in New York for an eye-watering $9.57m. Almost 300 ref.1518s were produced but only about a fifth of them were created in pink gold, and just 14 of the "pink on pink" models feature salmon-toned dials and a matching pink case. This extremely rare timepiece was found in the Egyptian prince's safety deposit box where it had remained untouched for over 70 years.
4. Patek Philippe Stainless Steel 1518 —  $11.14m
The Patek Philippe Stainless Steel 1518 holds impressive historical significance as the world's first perpetual calendar chronograph. This 1943 model became the most expensive wristwatch ever sold at auction when it went under the hammer at the Phillips watch auction in 2016, but has since been overtaken by others on our list as watch collection continues to grow.
In the past, it was the pink gold 1518 that was the most prized by collectors but the stainless steel version has now taken its place thanks to its rarity. Out of all 281 1518s models produced, today only four stainless steel versions are known to have been completed and still exist. 
[See also: Iconic Men's Watches of the 21st Century]
3. Paul Newman's 'Exotic' Rolex Daytona 6329 —  $17.75m
The only one on our list of most expensive watches ever sold at auction to not bear the Patek Philippe name is Paul Newman's 'Exotic' Rolex Daytona, which sold in New York in 2017 for a record-breaking $17.75m.
A lover of the Rolex's iconic Daytona model (built for timing car races), a number of watches from Newman's collection have broken records but this one from 1968 was particularly special. Given to Newman by his wife, it is engraved on the back with the words 'Drive Carefully Me' following his 1965 accident. The actor was subsequently pictured wearing the watch regularly, including at high-profile races. 
Not every Rolex 6329 possessed the exotic dial like Newman's, which is now known as the 'Paul Newman dial'. The dial was manufactured by Singer and came in multiple styles but collectors coined its new name after its most famous wearer in the 1980s. 
2. Patek Philippe Henry Graves Supercomplication – $23.98m
Not only is Patek Philippe Henry Graves Supercomplication (pictured above) the only pocket watch to make our shortlist, but it is also thought to be the most complicated ever created, warranting that impressive price tag.
Taking eight years to complete, the timepiece is named after the American banker who commissioned it in 1925. The 18k gold pocket watch features 24 complications including Westminster chimes, a perpetual calendar accurate to the year 2100 and a celestial chart for the nighttime sky of New York City, as seen from Graves's Fifth Avenue apartment.
The piece, which sold in 2014 at Sotheby's, is still the most expensive pocket watch ever sold at auction. Apparently last wound in 1969, it is thought to still be working today.
[See also: The Best Entry-level Watches from Patek Philippe]
1. Patek Philippe Grandmaster Chime 6300A-010 — $31.19m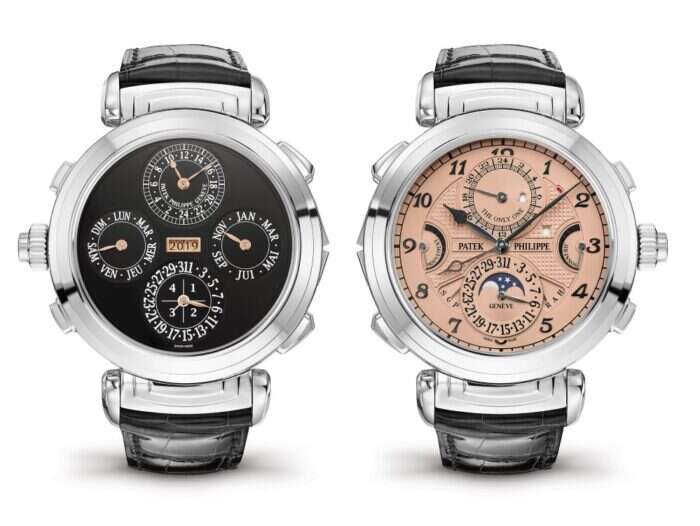 The most expensive watch ever sold at auction is the Patek Philippe Grandmaster Chime 6300A-010 selling for $31.19m at the Only Watch Auction in Geneva in 2019. 
Created especially for the charity auction, this particular model is the first and only Grandmaster Chime in steel, a material rarely used by the watchmaker to create a Grand Complication. 
Thought to be the most complex Patek Philippe wristwatch ever made, the spectacular timepiece features 20 complications, including a number of acoustic functions. Two of these are patented premières: an alarm that strikes the preprogrammed alarm time and a date repeater that sounds the date on demand. Just to up the exclusivity stakes, the dial is also inscribed with the words 'The Only One'.
[See also: The Most Influential Watch Brands in the World]