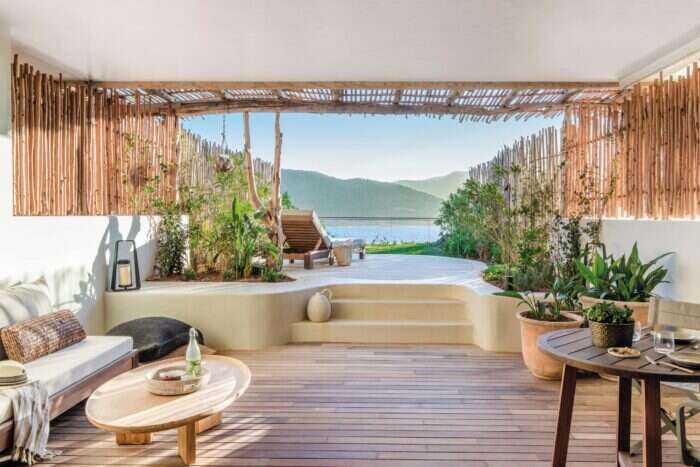 For many of us, going on vacation has traditionally meant a pre-flight shopping trip. However, with the increasingly worrying environmental impact of fashion at the forefront of many guests' minds, Six Senses Ibiza has introduced the Cinderella Room – a new rental retail experience that allows guests to borrow clothes, rather than buy new.
Hosted in the resort's in-house boutique, Agora, the Cinderella Room is on a mission to break the mold of throwaway fashion – in which shoppers wear an outfit just once – by shedding some light on the benefits of the rental market. By renting rather than buying, the lifespan of each item can be extended by up to 15 times, dramatically reducing the number of clothes ending up in landfill.
The new retail concept has been imagined by Agora co-founders and former fashion editors Tiffanie Darke and Daniela Agnelli as a core component of the boutique's sustainability mission. Separated into the four pillars of 'Recycle', 'Restore', 'Reduce' and 'Rent', Agora is challenging all components of the fashion industry.
[See also: The Most Coveted Luxury Sustainable Fashion Labels]
'Recycle' is focused on championing both new material science and utilizing otherwise discarded offcuts; 'Restore' celebrates traditional crafts and artisans from around the globe; 'Reduce' encourages consumers to look inwardly at their shopping habits and reimagining items already within their wardrobes, and finally, 'Rent' promotes hiring outfits rather than buying new.
And, while the renting industry has come under scrutiny recently from a study by the scientific journal Environmental Research Letters which questioned the environmental impact of clothes rental, there is no escaping the fact that extending the lifespan of each garment is infinitely more responsible than buying a new outfit for every occasion.
"Fashion knows it cannot go on burning through the materials that are devastating our environment," say Agnelli and Darke, "but we firmly believe the answer is not in shaming those at fault, but rather championing those that are approaching sustainability with commitment and innovation. Ultimately our industry will be shaped by the customer; it is our job as storytellers to convince them that if isn't sustainable, then it really isn't chic."
[See also: A Guide to Ethical and Sustainable Design]
The Six Senses Ibiza Cinderella Room will officially launch on September 18 with an immersive evening of fashion, art and music. During the multisensory event, guests can choose their outfits for the evening from a selection of garments from the likes of The Attico, Temperley London and Halpern, provided by leading fashion rental company, My Wardrobe HQ. Once suitably attired, attendees are invited to grab a martini courtesy of Grey Goose and head to Six Senses Ibiza's ocean-front Live Cave terrace for a live music performance.
The Cinderella Room joins Six Senses Ibiza's host of other sustainable initiatives, including running its own organic farm, seasonal dining courtesy of chef Eyal Shani and home-grown botanicals in the spa. The resort itself was also built using renewable materials and makes smart use of the land's topography, which together helped it become the island's first BREEAM certified resort.