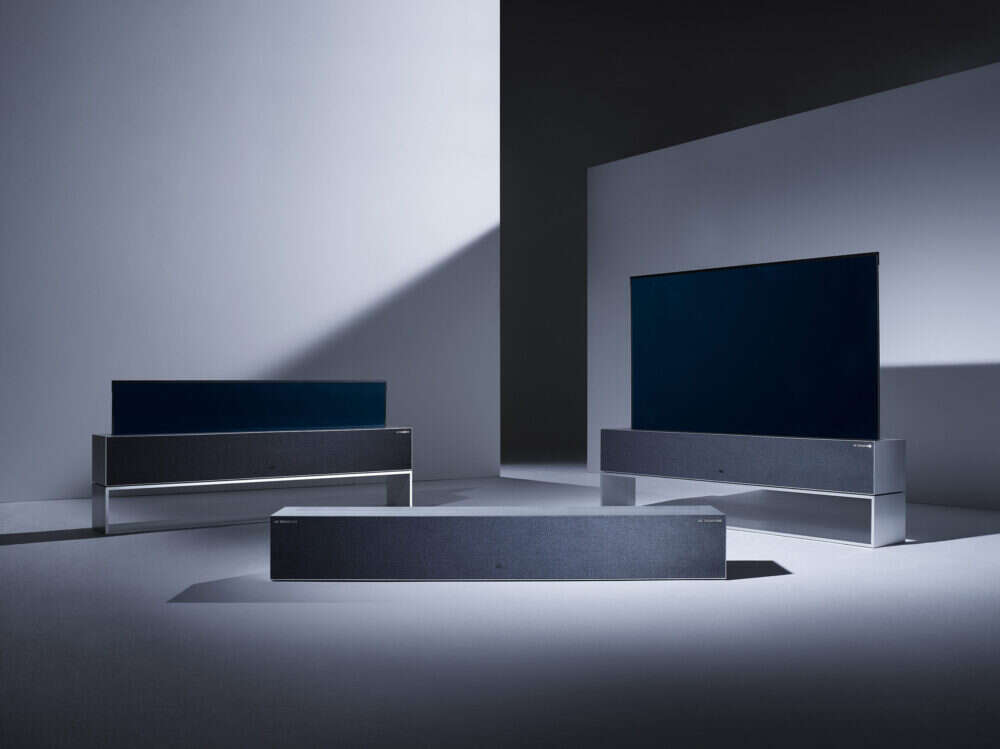 Now you see it, now you don't. Whether you're watching your favorite content in Full View mode, setting the mood in Line View, or maximizing space with Zero View, the LG Signature OLED R brings entertainment to new heights. With an ultra-thin screen that rolls into a state-of-the-art sound system, the world's first rollable TV seamlessly transitions from stylish speaker to premium screen. Soon it can be yours for a staggering $100,000. 
At the UK launch event this past July, commercial director Peter Booth described it as "a real work of art. You'll see a beautiful picture. You'll hear incredible sound. It really is extraordinary in technology, and when you get closer to the product you really start to appreciate that."
[See also: Louis Vuitton Launches Wireless Horizon Light Up Speaker]
Taking Booth's advice, guests marveled at the ingenuity of this TV. Straight out of sci-fi fantasy, the thinness and flexibility of the 65-inch screen are possible thanks to OLED's self-lit pixels. Most screens are LED LCD, which use a backlight to illuminate their pixels. In contrast, OLED screens have self-illuminating pixels. This means that individual pixels control the light of an OLED display, producing a sharper image with unprecedented realism. 
Along with its revolutionary screen, the TV has a fourth-generation α9 AI processor, which learns to recognize and improve picture quality. A state-of-the-art Dolby Atmos sound system accompanies these exquisite visuals or immerses listeners in an excellent sonic experience in its own right. 
[See also: Jacob & Co Reveals Stunning Alec Monopoly Watch]
Finally, the TV comes equipped with webOS 6.0, LG's latest version of its smart TV platform. Through this upgrade, the brand's virtual assistant ThinQ is more intelligent and compatible than ever before. This means that users can move between broadcast channels, streaming services, and applications with ease. Paired with the Magic Remote, which now has a more user-friendly design, the system's AI learns the preferences of each user and tailors features to suit their needs. 
Also on display at the launch were the rest of the LG Signature line, an elegant collection of cutting-edge appliances. Exhibited next to each other, each Signature product certainly catches your eye, but together they also leave a lasting impression. Their sleek, high-quality finishes and utilization of the latest technology result in a visually cohesive household system that caters to the needs of a modern lifestyle. However, with its ability to elevate any space, the OLED R is certainly the pinnacle of the collection.
LG Signature OLED R, $100,000, lg.com
[See also: Devices to Turn Your House into a Smart Home]