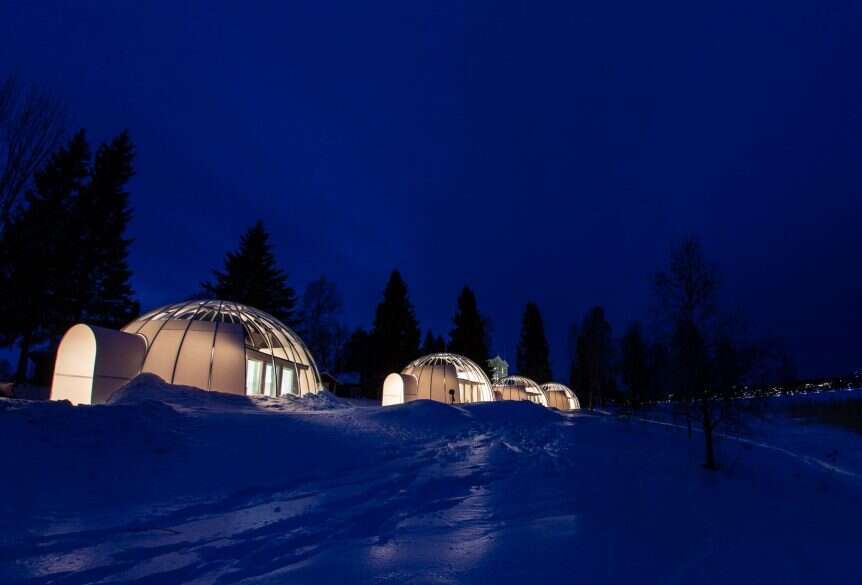 Like something out of a storybook, these cabins in Swedish Lapland sit on the banks of an Arctic river and, as the unique accommodations are self contained, they can be moved to different (and equally incredible) places in the region. The cabins sit within heated igloo-shaped 'bubbles' that make you feel as if you are right out in the wilderness — but without the extreme cold.
Each one can sleep two people and includes an open-plan sleeping and sitting area, and a private bathroom. It's classic Scandi design inside, with select photography from local photographer Lennart Åström, who captured the region across different seasons from the frozen snowy winter to the abundant forests of summer. There is also an 'outdoor' area contained right within the bubble.
The cabins took years of testing and development to create and have little impact on the local ecosystem. While the bubbles certainly connect you with the surroundings, you can take it up a notch and head out on a snowmobile or icebreaker tour, or try your hand at ice fishing.
Best for: A unique igloo experience
From $265 per night. Contact Maarit Lindvall, founder, maarit@gransresor.se, +46 725 300 583, ice-and-light.com