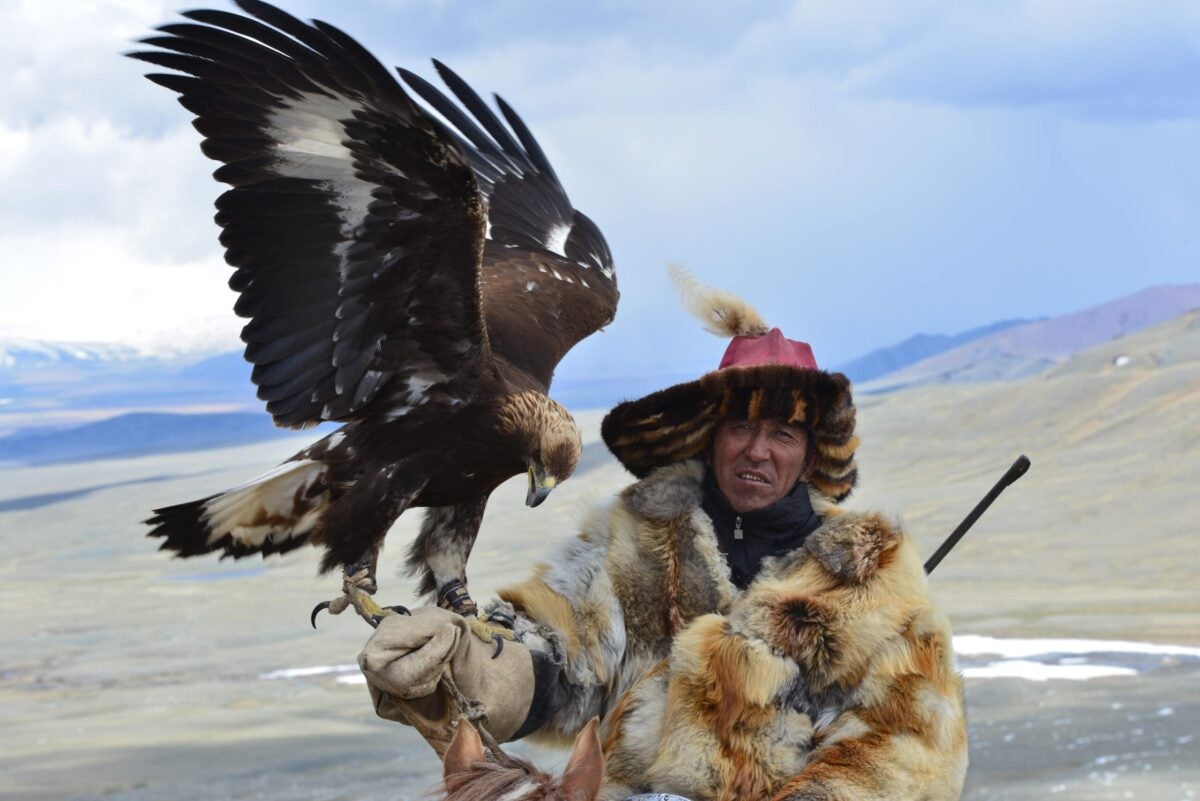 In Mongolia, nomadic culture is still an honored way of life. It's a vast land of seemingly impossible contrasts—arid stretches in the east, and lakes and rivers in the north-east where forests flourish in steep mountain ranges.
This itinerary from Based On A True Story and VistaJet is an unforgettable journey into Asia's true wilderness. Venture through untouched rolling hills, visit the gigantic Lake Khövsgöl, and meet Tsaatan reindeer herders. You'll see strange landscapes by 4×4, helicopter and light aircraft, spending nights with nomads in traditional ger tents (but with all the modern luxuries).
Experience life in the imposing Altai Mountains, home to the Kazakh eagle hunters. Learn of this centuries-old tradition from your host while you horseback-ride with these hunters. Next, help local researchers and conservationists track the rare, endangered Mongolian snow leopard: Assist field experts in setting up camera traps, tagging satellite tracking collars, and learning how local communities and conservationists work together to safeguard these big cats.
You'll take part in a Naadamfestival (known locally as eriin gurvan naadam, or "the three games of men." The games are Mongolian wrestling, horse racing and archery). Then, climb to the top of the Khongoryn Els dunes (known as 'The Singing Dunes' after the sound the wind makes there) in the Gobi Desert, and take a camel ride to the Flaming Cliffs of Bayanzag, the world's largest dinosaur graveyard.
While you will surely never forget this experience, a world-class photographer and/or videographer will capture your journey, which will later be presented as a brag-worthy coffee-table book or documentary film.
From $350,000 for up to four people. Contact Oliver von Holzing, managing director, enquiries@basedonatruestory.co.uk, +44 203 875 8004, basedonatruestory.co.uk