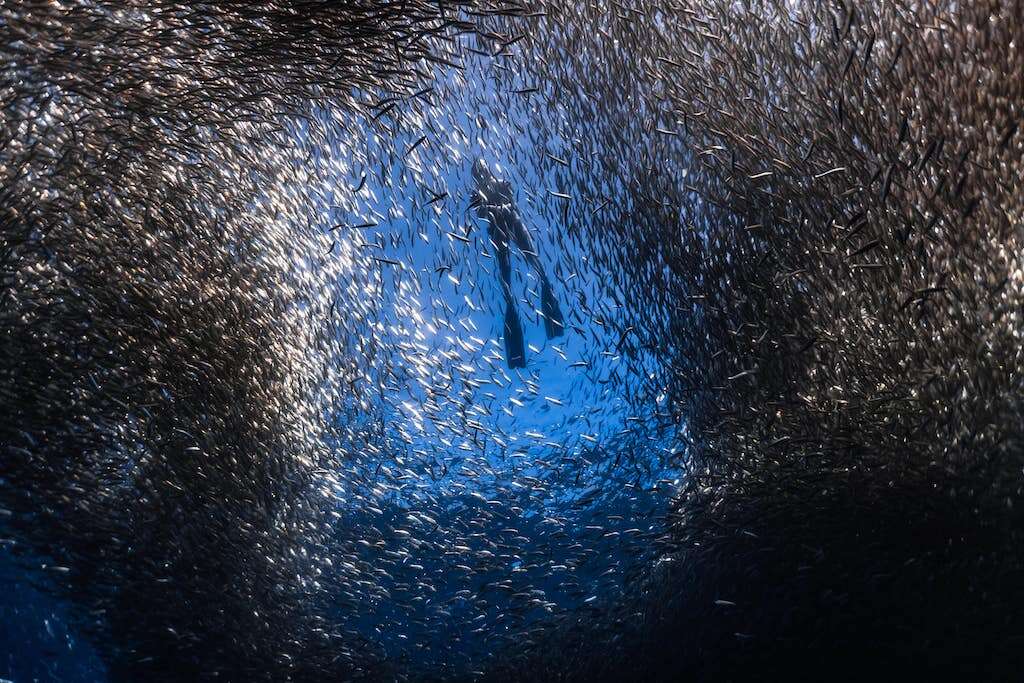 From May to July, the sardine run, one of the world's greatest marine spectacles, takes place in South Africa. Billions of sardines spawn in the cool waters of the Agulhas Bank and then move northward along the east coast — it's the largest biomass migration on Planet Earth.
The immense volume of sardines creates a feeding frenzy along the coastline: Birds plummet from the sky to feed on the fish, and a great number of shark species come to feast — bronze whalers, bull sharks (locally called Zambezi sharks), hammerheads and great whites can be seen by the hundreds.
Bottlenose and common dolphins join the dinner party and adopt a group hunting strategy where they herd the sardines into a tight ball known as a 'baitball.'
This itinerary from Untold Story Travel focuses on the event: Setting out on a private boat, you'll track the migration and, when the sardines are spotted, depending on whether they are fast moving or not, you will either snorkel or scuba dive.
There's also the choice to see the run from above in a microlight flight — the shoals are often more than four miles long, one mile wide and 30 yards deep so are easily seen from the skies.
If you want a lasting memento of the experience, a member of the Blue Planet team (the wildlife documentary series, presented and narrated by David Attenborough) can come along for the ride and help create your very own documentary.
From $30,000 for two people. Contact Mark Allvey, founder, team@untoldstorytravel.com, +44 207 523 5858, untoldstorytravel.com